LUXURY HOTEL INSIDER
The Luxury Hotel Insider
: Exclusive luxury hotel deals, features and special rates from the luxury hotel experts at Five Star Alliance.
Named one of Tripbase's
Best Luxury Travel Blogs for 2011
, below are Five Star Alliance's newest articles featuring exclusive information on luxury hotels worldwide including special offers and deals at the world's best hotels.
---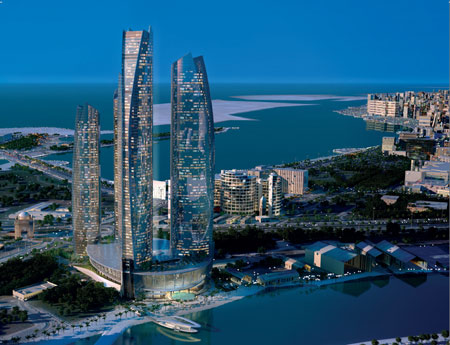 Conde Nast Traveler, purveyor of fine hotel reviews and travel advice, has just released its 2012 edition of the Hot List, a list of hotels that are setting the hotel world aflame with fresh designs and new concepts, or maybe just a solid new look at classic luxury. 41 reporters embedded themselves anonymously in hotels across the globe to review their targets. What results is a list of 121 hotels around the world that are so on fire they should be put on your watch list, just in case they end up burning down.
When the entire administration of my alma mater left for Abu Dhabi, it engendered a bunch of jokes, including the seminal Miley Cyrus parody Party in the UAE (warning: you probably don't want to click on this link). Now I can say with a certain amount of authority that if anyone were having a hoedown in the sandiest of cities, they would be remiss if they didn't consider the Jumeirah at Etihad Towers Hotel for its venue. Quest, their signature Asian fusion restaurant is just about the hottest thing in town, and you'll know just from the first sip of your welcome drink that you've happened upon something special. The hotel tower is paired with four others that make a brilliant complex that accents the city skyline quite impressively, and your views from any of the higher floors are impressive to say the least, whether they look upon the city or the Persian Gulf, which stretches out from the beach that flanks the hotel. The in-house Talise spa also features 13 treatment rooms and the latest in therapy. The Jumeirah at Etihad Towers Hotel showcases the feats of modern architectural achievement, and its interior stands up to the lofty challenge of matching its first impression.
---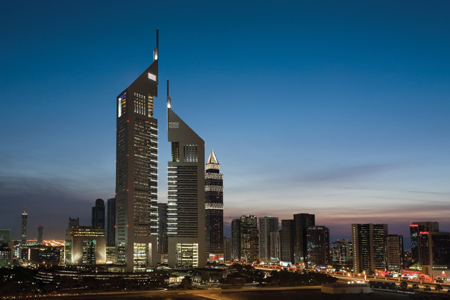 There's a very interesting split in the travel industry between business and leisure travelers. And if you're one of the business types, you know well that you're on the road constantly and the things that matter to you, travel convenience, efficiency, and connectivity, are almost the opposite of what a leisure traveler might want. If the word 'secluded' ever appeared in a hotel description, you'd cross it off the list immediately. So I'm here to use some adjectives you might appreciate hearing in describing some of the world's best business hotels. Today? Dubai.
In a city filled with tower hotels, stretching upward as if to be the first to reach the heavens, one stands out from the rest as a place for the businessman who finds himself in the world's aspiring international mecca of finance. The Jumeirah Emirates Towers spear the sky in the center of the city's bustling business district and serves an architectural marker for the city's great success. Two towers, side-by-side, serve as a dual home for offices and residences, everything the traveling businessman needs, connected by a central shopping podium.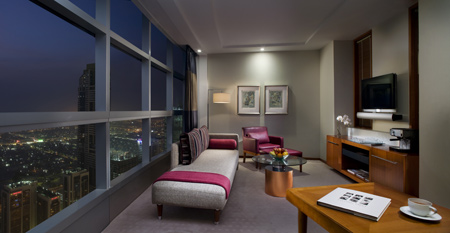 The rooms and services of the hotel are also tailored specifically with the international businessman in mind. Even the standard rooms of the Jumeirah Emirates come with an IT workstation, including 24-hour tech support. An entire floor is reserved specially for female travelers who are looking for a more private, comfortable atmosphere, and rooms there come standard with a cosmetics fridge, in-room yoga mat, and a line of Chopard products. Fine dining is available on-site, and due to the great variety of options in its 15 restaurants, lounges, and bars, you'll never have to travel far for an exquisite meal. Next time you're heading to Dubai to close a business deal, look to The Jumeirah Emirates Towers as the premiere place to stay.
---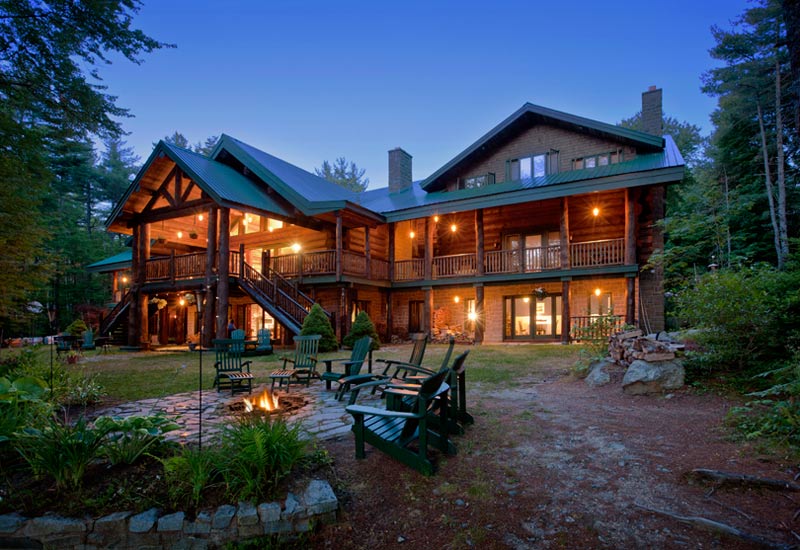 I have a particular soft spot for hotel lodges. Maybe it's my Appalachian heritage or my simple love for all things naturey, but there's a certain charm to a hotel that has but 8 rooms and whose greatest attractions are the wonders that surround it. Traveling there, you feel a natural heartbeat that's stronger and more primal than a city's. For a brief while, you're a part of an ecosystem rather than a society, and that's a wonderful feeling.
The Trout Point Lodge, by virtue of being located in the incredibly diverse region of Nova Scotia, manages to straddle two of these ecosystems, giving you the opportunity to explore both the natural woodland and the nearby sea. Whale watching, sea kayaking, and trails aplenty will greet you upon arrival. In East Kemptville, which is preferable to its far less tidy neighbor, West Scruffytown, you can enjoy the maritime cuisine that the region is famous for. The fresh seafood at Trout Point rivals that found anywhere in the world. Stay in one of their Fireplace Junior Suites to make use of a handcrafted granite fireplace and outdoor porch overlooking the nearby river. The Trout Point Lodge is the wilderness escape we're all dreaming of while stuck at our desks on a lovely spring afternoon.
---
We at Five Star Alliance are all about the best and most luxurious hotels. We certainly keep up with the happenings in the luxury travel world and take pride in bringing our clients the latest luxury travel news. Keep up with our newest blog series where we'll be featuring luxury hotels opening in 2012 to stay on top of the trends and make your reservations at the newest hotspots.
The Four Seasons Hotel Baku is opening mid-2012, and they are currently accepting reservations for arrivals from June 15th, 2012! Located in Azerbaijan's capital on the Caspian Sea, the Four Seasons presents a beautiful luxury hotel on the waterfront promenade, just steps from the Old City. Its 142 classic yet modern guest rooms and 29 luxurious suites almost all open to a balcony with stunning views of the city or of the Caspian Sea. Explore the city of Baku, swim in the glass-roofed atrium, or relax in the penthouse spa. Be sure to visit this up-and-coming area and be one of the first to experience everything the Four Seasons Hotel Baku has to offer!
---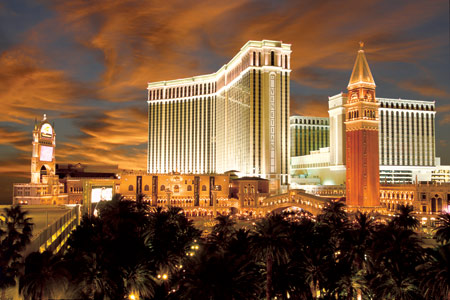 Las Vegas is one of the few cities in the world where the ethnic districts are not marked out by a cultural difference in the food or architecture, but rather wholly created by casino hotels. The Venetian Las Vegas has carved out its own special place in Vegas for the other city that starts with V and has quite a bit more of a storied history to it. The Venice on the strip offers a facsimile of the canaled streets, narrow buildings, and thousands of years of Italian history that come with the real thing. While you might not see the authentic purveyors of Murano glass in this Venice, you will dine on amazing italian food while staying in any of their all-suite rooms. The grand canal shoppes are practically a mall in and of themselves, but with all the charm of old Italian streets, with over 80 international boutiques to choose from.
19 restaurants feature in the Venetian, with an unprecedented six James-Beard-award-winning chefs from Emeril Lagasse to Wolfgang Puck. Madame Tussauds' famous wax museum is a part of the resort, as is the Guggenheim Hermitage Museum for those who prefer their art to be a little less malleable. It's hard to call anything an authentic Las Vegas museum, when so much is built upon the pageant of mimicry, but it is certain that no one does that better than, or on the same scale as, the Venetian Las Vegas.
---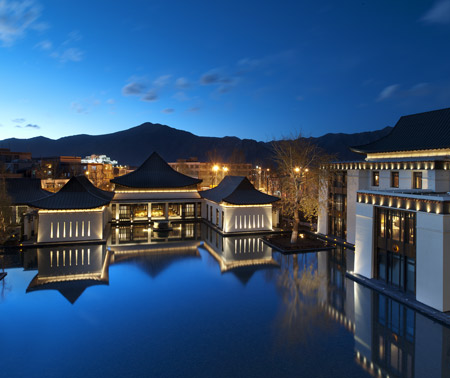 The St. Regis Lhasa Resort is a rare chance to experience the wonders of one of the traditional spiritual regions in the world. Nestled in the mountains of Tibet, the Lhasa Resort stands on the roof of the world, granting you a perspective on life you have never before seen. Of course, that may just be due to the lightheadedness from a low oxygen count, but either way, it seems incredibly revelatory.
The property itself is gorgeous, merging the traditional beauty of Tibetan forms with modern architectural feats to create a mixture of the local with the international, bringing you into its private world. Iridium, the on-site spa, soothes the world-weary traveler using thousands of years of accumulated physical and spiritual knowledge. Its 162 rooms and villas are individual tailored to your experience by the St. Regis butler, who is happy to help you design the perfect stay to surpass your own expectations. And any hotel with a tea room is a winner in my book. Check out the St Regis Lhasa Resort for a truly wonderful stay at the heart of a spiritual movement.
---
Hapuna Beach Prince Hotel: It means no worries for the rest of your days. At least while you're there. Which probably means that if you stay there, you'll end up extending your vacation indefinitely until you forget to return home, abandoning life as you know it to sit on a Hawaiian beach, relaxing to the soft sounds of waves lapping at your ankles as the wind ruffles your thematically appropriate tropical shirt. That sounds pretty good actually. Maybe we should all take a little more vacation. I know when I do, my next one will be to the Hapuna Beach Prince Hotel.
On the Kohala Coast, the Hapuna Beach Hotel shares 1,839 acres of beachfront property with the Mauna Kea Beach Hotel, another gorgeous five-star property. With that much space, you're practically lost in the wilderness. The rooms and property itself are wonderful, modern and understated, allowing the natural beauty of the surroundings to shine through and carry the experience of the true escape. The Hapuna Beach Hotel is the perfect Hawaiian getaway.
---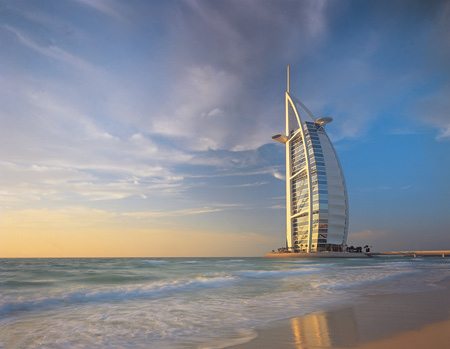 In today's competitive world, everyone needs a way to stand out from the crowd. Luxury hotels certainly are no different and are always looking for ways to outshine their competitors and attract more visitors. We understand that our travelers look for the best of the best, and we would like to introduce you to our blog series, Hotels with an Edge. We'll be highlighting and featuring a few hotels we feel truly stand out and offer their guests more than is expected. Be sure to check in with us to explore various hotels that deserve recognition for their supreme levels of luxury.
Today's featured hotel is the Burj Al Arab located in Dubai. This luxury hotel has received a significant amount of recognition and has quickly become one of the most famous luxury hotels and one of the most photographed structures in the world. Its unique architectural design has caught the eyes of travelers, making it easily distinguished from all other hotel properties. It is designed to resemble a wafting sail; this all-suite luxury hotel soars 321 meters and dominates the Dubai skyline. It is illuminated at night by choreographed lighting representing water and fire, and it has a private beachfront, opportunities to embark on a desert safari, and some rooms offering phenomenal views of the Arabian Sea.
Explore this luxury hotel and make your reservations here! Be sure to keep up with our blog series for a little inspiration on where to stay next!
Posted in:
Middle East
,
United Arab Emirates
,
Dubai
,
Romantic Travel
,
Travel with Kids
,
Business Travel
,
Beach and Island
,
'Best Of' Lists
,
Luxury Suites
,
What a Hotel!
,
Luxury Shopping
---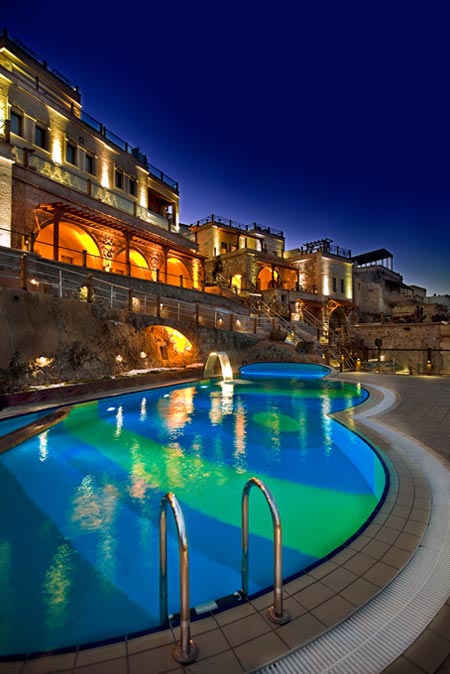 Unless you're a professional spelunker, a cave probably isn't something you see every day, although sometimes I do think my cubicle feels like one. But if you're the kind of guy who's got a nice corner office and a fulltime assistant just to get coffee for you, then yours probably feels a bit more like the Cappadocia Cave Resort and Spa. Nestled into the jagged landscape of the Cappadocia region of Anatolia, known for its extensive system of caves, this resort is the perfect offbeat destination.
Combining the Turkish spa tradition with modern techniques, you'll bathe in the natural healing powers of an area that dates back to 4,000 BC, when people first began to hew their monasteries directly from the rock formations. With only 79 rooms, it's the perfect intimate getaway, an escape from the banal normality to a place exotic and alive, so natural as to be formed from the very earth itself. I love the Cappadocia Cave Resort for its innovative adaptation of one of the most historic regions on Earth to the modern luxuries we all hold so dear. Check out the Cappadocia Cave Resort and Spa. It's a luxury you shouldn't take for granite.
---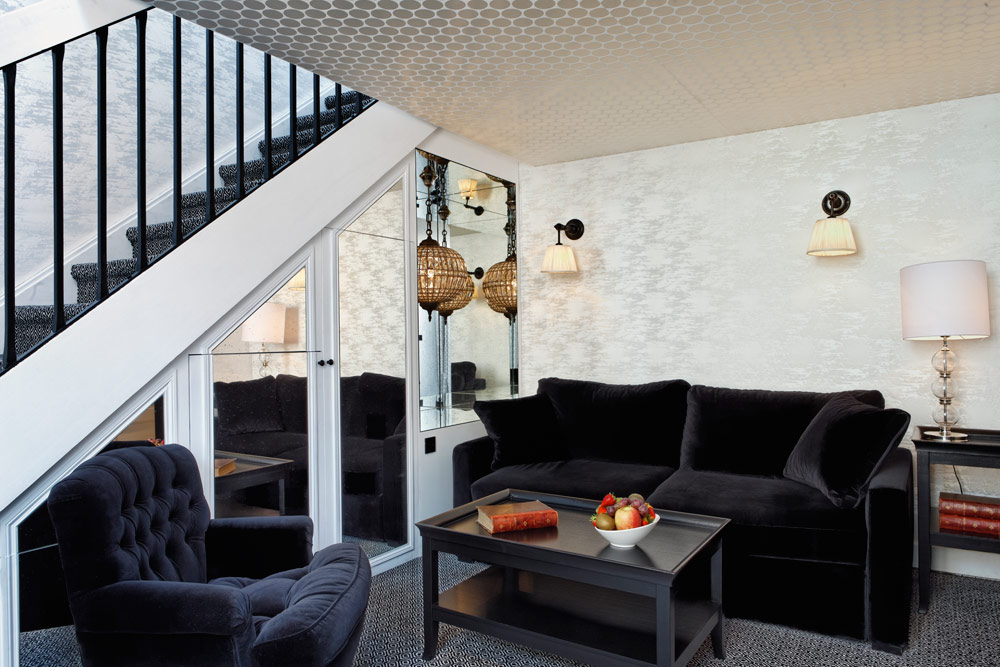 I have a special place in my heart for tiny boutique hotels. It may be a little smaller than some of the other chambers, and there aren't enough spots for everybody, but that just makes the few who do make their way into my good graces all the more special. I can give each and every one the loving care and attention they deserve. And thus began my new segment on boutique hotels that I just adore.
Today we turn our attention to the Relais Christine, a beautiful manor home in the heart of Paris. Within easy walking distance of both the Louvre and Notre Dame, the hotel is located in the intellectual and cultural heart of Paris. The perfect destination from which to begin your exploration of the city, Relais Christine is welcoming and distinctly Parisian. And you can bring your favorite smaller member of the family along since canines and felines are allowed, and it's decidedly kid-friendly as well. Explore the underground caves of Champagne Pommery's for a lovely winery tour or take a dinner cruise on the seine for one of the most romantic experiences of your life. Relais Christine is a lovely place to sit back, relax, and take in the site's of possibly Europe's most storied city and from the comfort of a boutique hotel that keeps you secluded from the reams of tourists packing in to other, larger places to have a less unique experience. Learn more about the Relais Christine here.
---