LUXURY HOTEL INSIDER
The Luxury Hotel Insider
: Exclusive luxury hotel deals, features and special rates from the luxury hotel experts at Five Star Alliance.
Named one of Tripbase's
Best Luxury Travel Blogs for 2011
, below are Five Star Alliance's newest articles featuring exclusive information on luxury hotels worldwide including special offers and deals at the world's best hotels.
---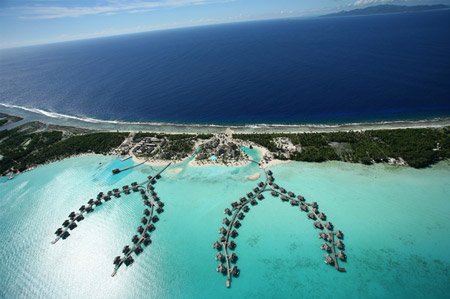 We understand that no one aims to come in second place; there is no recognition for mediocrity. We at Five Star Alliance understand better than anyone the importance of offering the most luxurious resorts in the world, so we notice what's going on in the industry, and it matters to us, because it matters to you. We work hard to offer you the best in the industry, and we'd like to welcome you to our second blog series where we feature the best and most luxurious resorts in the world. But don't take our word for it. These resorts have been recognized as the best in the business and have made the prestigious Condé Nast Traveler Gold List 2012.
The Condé Nast Traveler Gold List 2012 is the eighth of their annual lists, and the hotels chosen by their team of editors and experts are the best for service, food, location, rooms, leisure facilities, ambiance and design.
The Intercontinental Thalasso Spa Bora Bora in French Polynesia is featured on the Gold List 2012: Best for service. This luxury hotel is located on Motu Piti Au or 'Two Hearts' in Tahitian, and it offers revolutionary solutions in both comfort and environmental protection. Its 80 over-water bungalows are decorated in a bright color palette and have floor-to-ceiling windows, spacious terraces, and private platforms for sunbathing. A few of the InterContinental's phenomenal facilities available to its guests include a beautiful infinity pool, a fitness center, and a stunning spa. The service at the hotel and the spa is truly exceptional with the staff going above and beyond to ensure that your experience is relaxing and rejuvenating. This luxury hotel's most unique trait is that its spa features glass-floor treatment rooms so guests can view the marine life while enjoying their spa appointments! Make your reservations at this phenomenal luxury hotel here!
Posted in:
Australia & The South Pacific
,
French Polynesia
,
Bora Bora
,
Featured Luxury Hotels
,
Adventure/Ecotourism
,
Romantic Travel
,
Food and Wine
,
Luxury Spas
,
Beach and Island
,
Hot Spots
,
'Best Of' Lists
,
What a Hotel!
---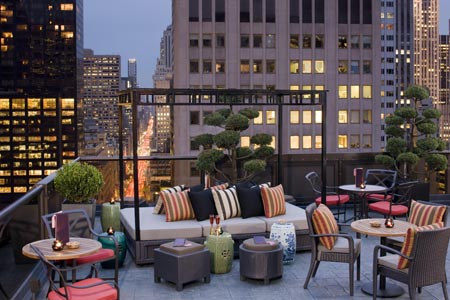 The Peninsula New York is launching a monthly rooftop French film series starting this Monday, July 30th. The series is called "Ciné Sous Les Étoiles," and it will feature classics such as A Very Long Engagement, Chocolat, The Artist, and Amelie, a 2001 romantic comedy which will kick start the series this Monday. The movies will be shown at Salon De Ning's West Terrace the last Friday of every month, and cocktails as well as snacks such as popcorn, hotdogs, nachos, and ice cream will be served throughout the screening. No reservations are needed, but there is a one cocktail minimum requirement. We can't think of a better way to generate buzz for Peninsula's next big luxury hotel opening in Paris than creating a Parisian feel in the heart of New York City!
---
With the much anticipated premiere of Christopher Nolan's third and final Batman movie, The Dark Knight Rises, we certainly want to go beyond just seeing the films. For all of the Batman aficionados who hope to experience some of the scenes first hand, we bring you the numerous faces of Gotham City.
The Dark Knight had scenes shot in Chicago, Hong Kong, and London. The opening robbery of 'Gotham National Bank' by the Joker takes place at the Old Chicago Post Office, the offices of Harvey Dent and the boardroom of Wayne Enterprises are in the IBM Building in Chicago, and the restaurant where Bruce Wayne crashes Rachel's and Harvey's date is the Criterion Restaurant in London. The theater where Harvey attempts to take Rachel to see the ballet is the Chicago Theater on 175 North State St, and the meeting with the crooked financial tycoon is held in Hong Kong's IFC2, the tallest building in the city. The views over the Chicago River from Bruce Wayne's penthouse are actually taken from the 39th floor of the 71 Hotel, which is also where the bedroom of Wayne's penthouse was filmed.
Want more? Check out the other pieces of Gotham City here!
Hoping to view all of these movie destinations in person? Make your reservations for London, Chicago, and Hong Kong here!
Photo of the 71 Hotel exterior
Posted in:
Articles
,
Adventure/Ecotourism
,
Business Travel
,
Luxury Spas
,
Europe
,
North America
,
Asia
,
Hot Spots
,
Museums
,
Luxury Suites
,
What a Hotel!
,
Luxury Shopping
,
Events
---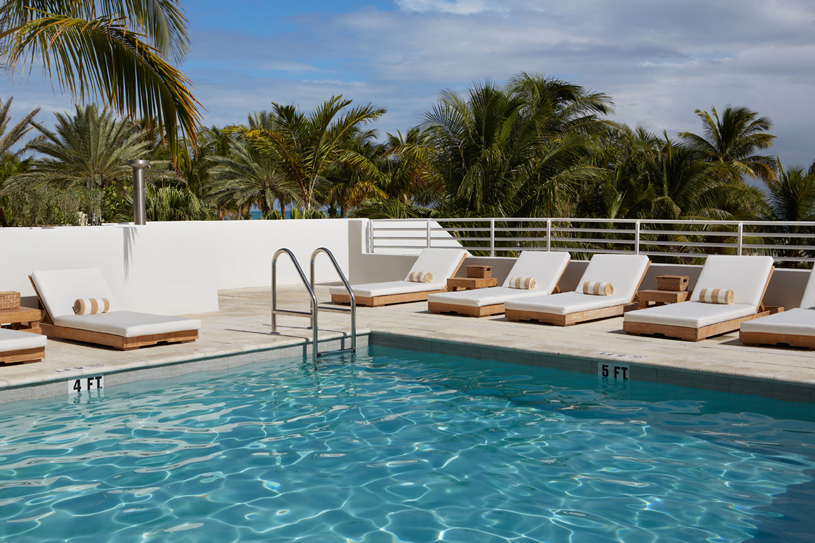 The James Royal Palm, one of Forbes Magazine's "top 10 most anticipated openings of 2012," is scheduled to throw
open its doors in October 2012.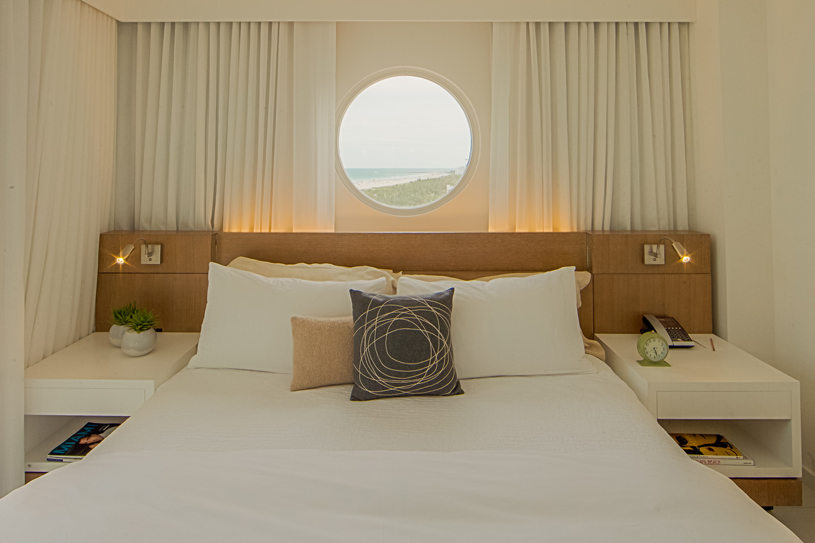 The hotel will serve as a modern tribute to the Royal Palm Hotel's rich history, keeping intact many signature
elements of the original architect's design.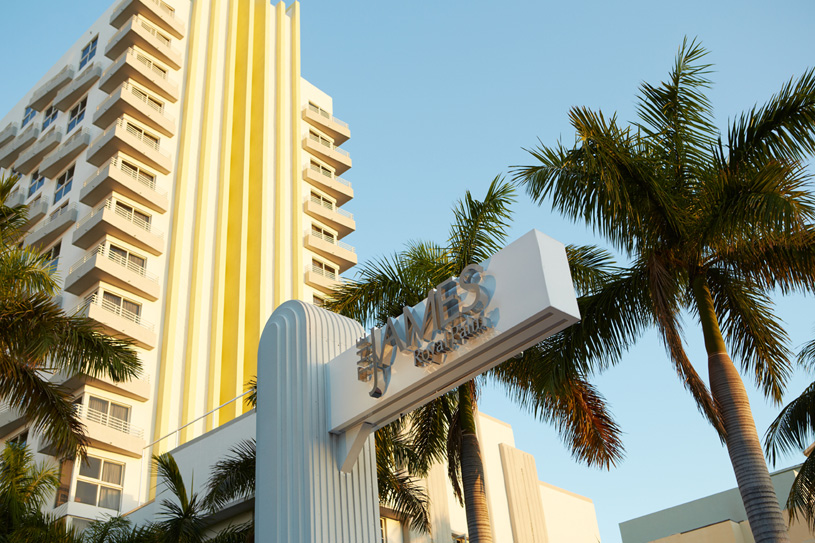 The hotel will feature two swimming pools, two dining options, poolside bar, lobby lounge, full-service spa,
Lil' James offerings for children, retail shop and a gym.
---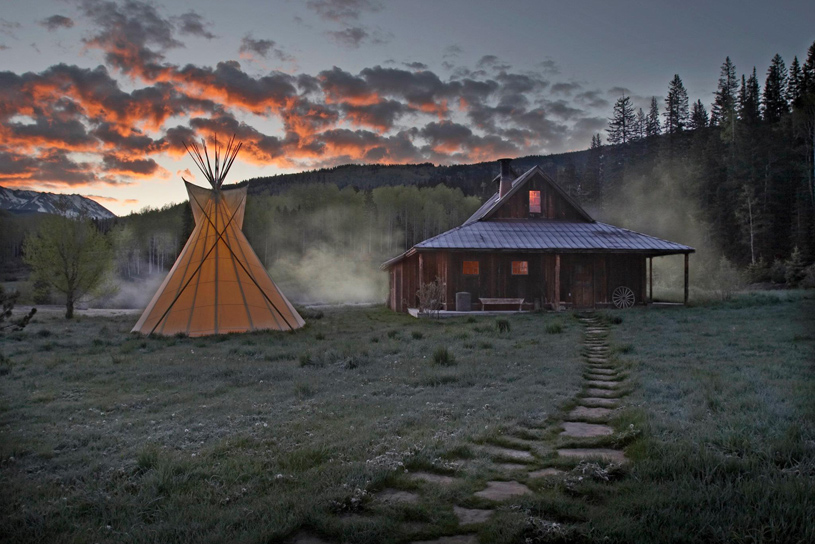 We've recently added Dunton Hot Springs to Five Star Alliance. This Colorado resort is one of the coolest spots we've ever seen.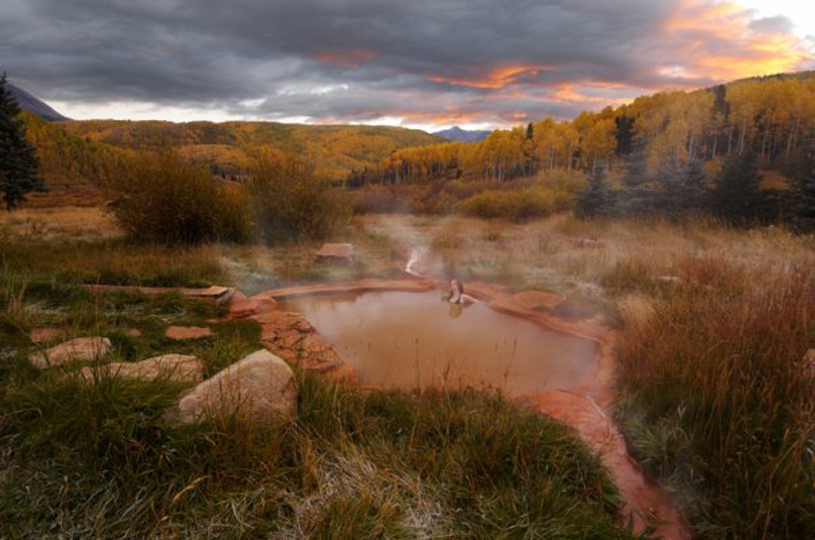 It's as if summer camp grew up and got luxurious.
---
As summer hits the northern hemisphere like a hot blanket soaked in mosquitos, I find myself longing for something a little more wintery. It's also a hotel that's about as unlikely as the Kool Aid man entering through a doorway. The Hotel de Glace is a hotel made entirely of ice. No, stop checking your glasses. You read that correctly. It is a hotel made of ice. It's only open in the spring season, but it might be worth setting yourself up for next year already. I imagine such a hotel derives most of its appeal from novelty, since bedding down within an ice sculpture may be the coolest thing since Archimedes invented buoyancy, but staying for more than a few nights might leave you with a case of the sniffles.
The hotel is available for nightly stays, tours and even for full wedding parties who are looking for the most exotic possible way to celebrate their union. Next winter, make sure to check out the chilliest of accommodations at the Hotel de Glace. For the summer months, however, you'll be better off sticking to Quebec hotels whose walls don't depart with the spring thaw.
Photo via Hotel de Glace.com
---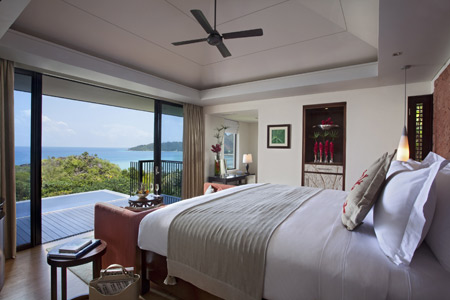 Conde Nast Traveler, purveyor of fine hotel reviews and travel advice, has just released its 2012 edition of the Hot List, a list of hotels that are setting the hotel world aflame with fresh designs and new concepts, or maybe just a solid new look at classic luxury. 41 reporters embedded themselves anonymously in hotels across the globe to review their targets. What results is a list of 121 hotels around the world that are so on fire they should be put on your watch list, just in case they end up burning down.
There's not a lot that needs to be said about the Raffles Praslin Seychelles. It pretty much speaks for itself. A supreme level of personal service abounds at the 86 villas, all with butlers and private plunge pools. The Seychelles couldn't be much more idyllic, with sandy beaches and azure oceans almost fading into the background you become so used to their astounding beauty. The Raffles Praslin's spa is also not to be scoffed at. 12 treatment pavilions allows your vitalizing treatment to come with a free helping of fresh sea air. Open windows and private deck space are almost a guarantee, even in rooms where you might not expect it. All in all, at the Raffles Praslin is exactly how I would want to spend my summer.
---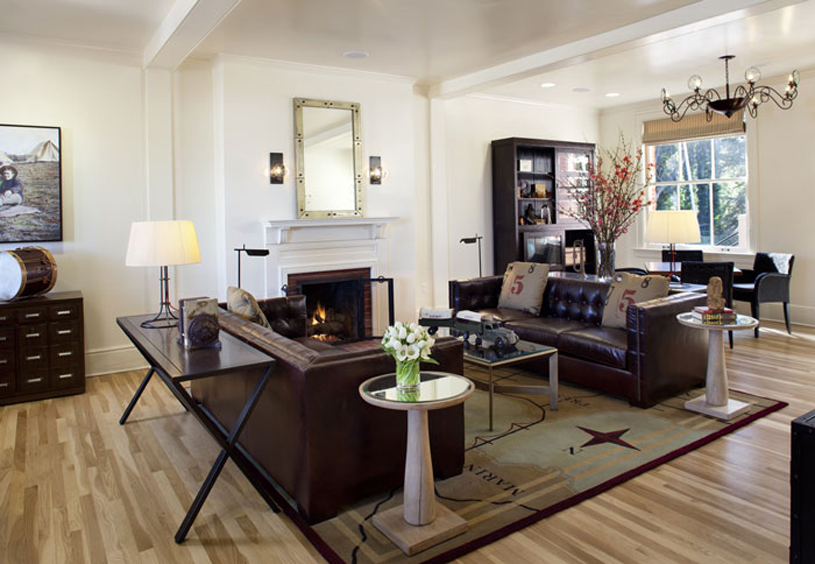 I have a special place in my heart for tiny boutique hotels. It may be a little smaller than some of the other chambers, and there aren't enough spots for everybody, but that just makes the few who do make their way into my good graces all the more special. I can give each and every one the loving care and attention they deserve. And thus began my new segment on boutique hotels that I just adore.
I have been spotlighting a lot of cutting edge designer hotels lately. There is another side of boutique hotel with a perfectly American flavor that is not represented in this group. The small boutique hotel can also be a down-home experience that mimics the classical elegance of the old-school inn and upscale roadhouse. The Inn at the Presidio is just that, a 22-room house that gives the impression that San Francisco was built around it, though that is not to say that it appears in any way dated. In fact, given that description, you would never expect that the Inn at the Presidio is as freshly minted as they come, opening just in April of this year.
The interior spaces are slick and well-crafted, bringing the American Inn into the 21st century. The Inn at the Presidio is what a classic inn would be if it were opened in 2012, rather than a preservation of antique furniture. Most importantly, the privileged position afforded the Inn, right by the waterfront, means that third floor rooms boast a breathtaking view of the Golden Gate Bridge. The one-bedroom suites that make up the bulk of the rooms offer a separate sitting area and gas fireplace alongside the standard bedroom. While the Inn at the Presidio certainly couldn't accommodate gold rush numbers, that only enhances its charm, and you would do well to give it a gander next time you're heading westward.
---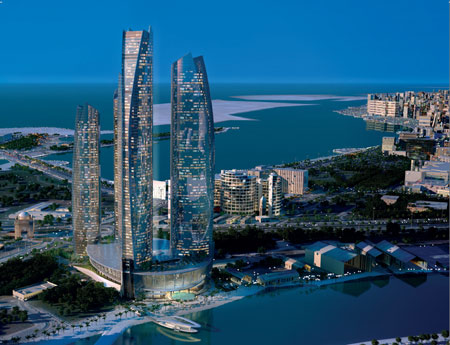 Conde Nast Traveler, purveyor of fine hotel reviews and travel advice, has just released its 2012 edition of the Hot List, a list of hotels that are setting the hotel world aflame with fresh designs and new concepts, or maybe just a solid new look at classic luxury. 41 reporters embedded themselves anonymously in hotels across the globe to review their targets. What results is a list of 121 hotels around the world that are so on fire they should be put on your watch list, just in case they end up burning down.
When the entire administration of my alma mater left for Abu Dhabi, it engendered a bunch of jokes, including the seminal Miley Cyrus parody Party in the UAE (warning: you probably don't want to click on this link). Now I can say with a certain amount of authority that if anyone were having a hoedown in the sandiest of cities, they would be remiss if they didn't consider the Jumeirah at Etihad Towers Hotel for its venue. Quest, their signature Asian fusion restaurant is just about the hottest thing in town, and you'll know just from the first sip of your welcome drink that you've happened upon something special. The hotel tower is paired with four others that make a brilliant complex that accents the city skyline quite impressively, and your views from any of the higher floors are impressive to say the least, whether they look upon the city or the Persian Gulf, which stretches out from the beach that flanks the hotel. The in-house Talise spa also features 13 treatment rooms and the latest in therapy. The Jumeirah at Etihad Towers Hotel showcases the feats of modern architectural achievement, and its interior stands up to the lofty challenge of matching its first impression.
---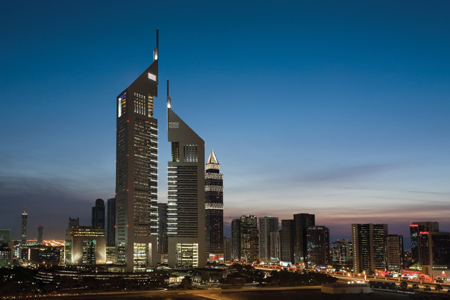 There's a very interesting split in the travel industry between business and leisure travelers. And if you're one of the business types, you know well that you're on the road constantly and the things that matter to you, travel convenience, efficiency, and connectivity, are almost the opposite of what a leisure traveler might want. If the word 'secluded' ever appeared in a hotel description, you'd cross it off the list immediately. So I'm here to use some adjectives you might appreciate hearing in describing some of the world's best business hotels. Today? Dubai.
In a city filled with tower hotels, stretching upward as if to be the first to reach the heavens, one stands out from the rest as a place for the businessman who finds himself in the world's aspiring international mecca of finance. The Jumeirah Emirates Towers spear the sky in the center of the city's bustling business district and serves an architectural marker for the city's great success. Two towers, side-by-side, serve as a dual home for offices and residences, everything the traveling businessman needs, connected by a central shopping podium.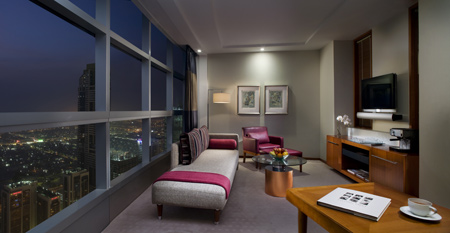 The rooms and services of the hotel are also tailored specifically with the international businessman in mind. Even the standard rooms of the Jumeirah Emirates come with an IT workstation, including 24-hour tech support. An entire floor is reserved specially for female travelers who are looking for a more private, comfortable atmosphere, and rooms there come standard with a cosmetics fridge, in-room yoga mat, and a line of Chopard products. Fine dining is available on-site, and due to the great variety of options in its 15 restaurants, lounges, and bars, you'll never have to travel far for an exquisite meal. Next time you're heading to Dubai to close a business deal, look to The Jumeirah Emirates Towers as the premiere place to stay.
---