LUXURY HOTEL INSIDER
The Luxury Hotel Insider
: Exclusive luxury hotel deals, features and special rates from the luxury hotel experts at Five Star Alliance.
Named one of Tripbase's
Best Luxury Travel Blogs for 2011
, below are Five Star Alliance's newest articles featuring exclusive information on luxury hotels worldwide including special offers and deals at the world's best hotels.
---
In veneration of the Honorable Alex Kozinski (don't click this until the end, or you're cheating), we're going to do a little something special with this post. It's risky business when two ideas face off in a single article. On one level, I'll be talking about the wonderful Inn of the Spanish Garden. On the other, well, see if you can find the clue, or, perhaps, I've left you clueless. In any case, let's get to it.
Opening just eleven years ago in 2001, the Inn of the Spanish Garden brings a distinctly Mediterranean flavor to the West coast. It is a true American beauty, the fusion of European sensibilities with a level of relaxation only California could achieve. Staying in any of the 23 rooms at the Inn is just about as good as it gets. The small size means that the 24-hour staff is available to personalize your experience so you can have it just as you like it. With either a private balcony or patio in every room that may open up to the secret garden within their beautiful courtyard, you don't have to leave the outdoors behind. Their 30-person banquet hall is perfect for parties looking to host a small wedding or party in a small hotel that you can really make your own. The verdict? The Inn of the Spanish Garden is a great escape from the bustle of the world outside.
---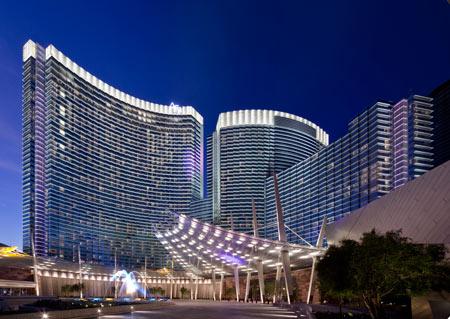 Have you had an unforgettable vacation this year? Or gone to back to an old favorite that you just keep away from? Now's your chance to make sure your favorite hotels, resorts, and vacation destinations are getting the accolades they deserve. Nominate them for the Conde Nast Reader's Choice Awards by heading over here and taking a simple survey. Not only that, if you throw your opinion into the ring, Conde Nast will enter you to win a $10,000 trip to Las Vegas! So you can vote on your previous favorite and perhaps make a new one while you're at it: The Aria Resort and Casino will put up the lucky winner where you can dine at Sage, one of the top new restaurants in the city. This is a chance both to vote on your favorite hotels and to come away with something nice. Get your voice in by April 30 to make sure you're counted. It's a win-win situation, really.
---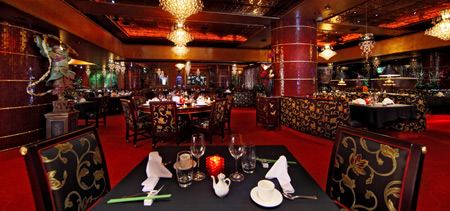 I love Reno, NV. There's something about the southwestern US that makes it give birth to organic growths of neon, and the sequined glamour comes with enough glitz to make lovers of earth tones run for the hills. And that's precisely the draw of it. People don't go to Reno or Las Vegas for an understated evening alone with nature. It's fast-paced, colorful, and exciting. One of the marks of a good Reno hotel is that it wholeheartedly embraces this action, and one of the marks of a great one is that it does it with its own personal style. It's not enough just to buy into the technicolor dream, you have to take it and make it your own, and the Peppermill Resort Spa and Casino's particular touch is to take the gaudy flair of the strip and apply a layer of pure class to it.
That class begins as you walk down the front promenade. The sheer scale of the resort is what strikes you first. With 1,630 rooms, 9 restaurants, and 16 bars and lounges, the Peppermill is a self-contained city, a palatial enclave with everything you'll need for your stay. The rooms are boundlessly luxurious and defined by their old world standards of service. The most recent Tuscan expansion has even expanded on those options, and by the name, you can tell that the hotel is even large enough to split itself into separate themed areas. Tour the world without even stepping outside. The Peppermill Resort Spa and Casino is just what I expect when I stay at a 5-star resort in Reno: All the glitz and glamour of the commercial lifestyle with the high standards of service of an internationally renowned hotel.
---
I think a lovely photo is excuse enough to write a blog one of my favorite properties, and it's time we follow in nature's footsteps and shed some light on the Sedona Rouge Hotel & Spa anyway. A small, modern boutique hotel and spa, Sedona Rouge combines a mediterranean flair with gorgeous Southewestern scenery and Andalusian luxury. The aptly named Sedona Spa is the perfect place to slough the trail dust off after an outdoor adventure by making use of one of their personalized treatment plans. Once you've got a nice spring in your step, head on over to REDS restaurant for the finest cuisine this side of the Pacific Ocean that's served in an outdoor bamboo garden. The mountain landscape is the perfect backdrop for a weekend (or longer!) away from the helter skelter stress of daily life. And this weekend, nature gave her seal of approval with a lovely rainbow.
Photo courtesy of the Sedona Rouge Facebook Page.
---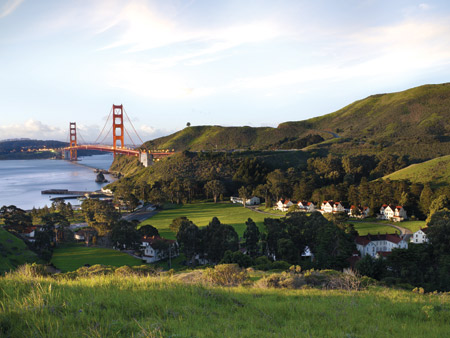 It's a hallmark occasion coming up in about a month for the Golden Gate Bridge in San Francisco. May 27th marks the 75th anniversary of the bridge's construction, and times will be hopping in the Bay Area. The Cavallo Point Lodge is making a point to celebrate in style over the weekend with a Terrace Party and Gala Dinner. If you're looking to be in San Francisco, the hotel is the perfect place to celebrate. A breathtaking view of the bridge from the terrace is a wonderful place for a party to commemorate one of the crowning engineering achievements in the United States.
Cavallo Point has some great rooms and suites available for the weekend, and some are even original officer's residences from historic Fort Baker and have wonderful skyline views. You can also, of course, stay in any of our other fantastic San Francisco hotels. Just be sure to make it out to the bridge while you're there.
---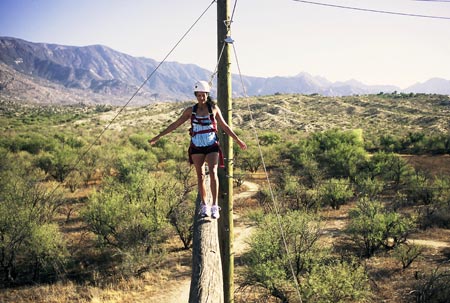 The Miraval Arizona Resort and Spa is already a wonderful location for a southwestern retreat. In the rugged heart of Arizona, Miraval is the perfect combination of luxury with the outdoors. The Catalina mountains are the perfect backdrop to horseback riding trip through the Sonoran desert. Voted the #1 Resort and Spa by Zagat Survey and readers of Conde Nast, the adult resort couples moments of reflection and relaxation in their award-winning spa with the adventure of the outdoors. Four outdoor pools, one reserved specifically for Aqua Zen treatments, are the perfect place to wash away the heat of the desert sun. I have a soft spot for the hard things in life, and there's something about the Miraval Resort and Spa that makes you feel alive. It might be the mixture of adventure and relaxation or the exotic desert beauty, I'm not really sure. But the feeling of vitality is there in every activity, and it's a glorious feeling indeed.
Not only that, the Miraval is unveiling a new spa in the month of May that will be a wonderful upgrade to the already amazing options, and they're also unveiling new villas on the property. The Miraval Arizona Resort & Spa was already on our radar, but now the blip is growing brighter and beeping faster and faster and, oh my, it's coming right for us! Take evasive action!
---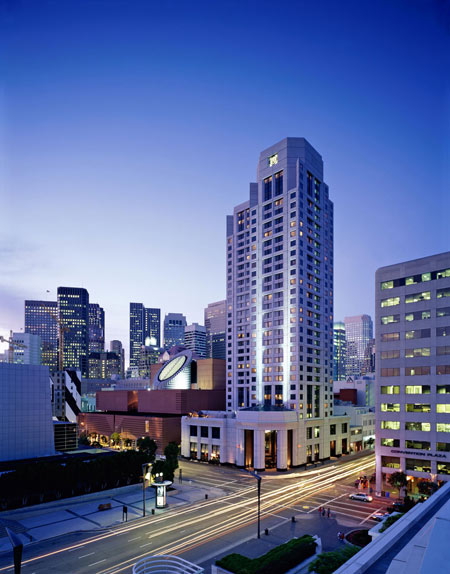 This blog series is for all of the business travelers who are looking for a luxury hotel that is located near the Convention Center of specific cities. We understand that you have places to be, people to meet, and conferences to attend, so we try to make your travels as stress-free and convenient as possible without forgoing luxury.
The Moscone Center in San Francisco is our center of focus for this blog post. The following are 5 and 4 star hotels located less than one mile from the Convention Center. We've listed them in order of proximity, and they are all a short walk or a speedy cab ride away!
Intercontinental San Francisco – 187 feet from the Convention Center
Hotel Palomar San Francisco – 0.4 miles from the Convention Center
St. Regis Hotel San Francisco – 0.4 miles from the Convention Center
W San Francisco – 0.4 miles from the Convention Center
Four Seasons San Francisco – 0.5 miles from the Convention Center
Hotel Monaco San Francisco – 0.6 miles from the Convention Center
Campton Place Hotel – 0.6 miles from the Convention Center
Clift – 0.6 miles from the Convention Center
The Palace – 0.7 miles from the Convention Center
Ritz Carlton San Francisco – 0.8 miles from the Convention Center
The Fairmont San Francisco – 0.9 miles from the Convention Center
The Huntington Hotel – 0.9 miles from the Convention Center
Four Star Properties:
Parc 55 Wyndham San Francisco Union Square – 0.3 miles from the Convention Center
Hotel Nikko San Francisco – 0.4 miles from the Convention Center
JW Marriott San Francisco Union Square – 0.6 miles from the Convention Center
Sir Francis Drake Hotel – 0.6 miles from the Convention Center
The Prescott San Francisco – 0.6 miles from the Convention Center
InterContinental Mark Hopkins San Francisco – 0.8 miles from the Convention Center
---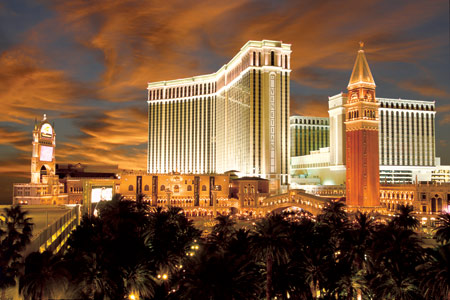 Las Vegas is one of the few cities in the world where the ethnic districts are not marked out by a cultural difference in the food or architecture, but rather wholly created by casino hotels. The Venetian Las Vegas has carved out its own special place in Vegas for the other city that starts with V and has quite a bit more of a storied history to it. The Venice on the strip offers a facsimile of the canaled streets, narrow buildings, and thousands of years of Italian history that come with the real thing. While you might not see the authentic purveyors of Murano glass in this Venice, you will dine on amazing italian food while staying in any of their all-suite rooms. The grand canal shoppes are practically a mall in and of themselves, but with all the charm of old Italian streets, with over 80 international boutiques to choose from.
19 restaurants feature in the Venetian, with an unprecedented six James-Beard-award-winning chefs from Emeril Lagasse to Wolfgang Puck. Madame Tussauds' famous wax museum is a part of the resort, as is the Guggenheim Hermitage Museum for those who prefer their art to be a little less malleable. It's hard to call anything an authentic Las Vegas museum, when so much is built upon the pageant of mimicry, but it is certain that no one does that better than, or on the same scale as, the Venetian Las Vegas.
---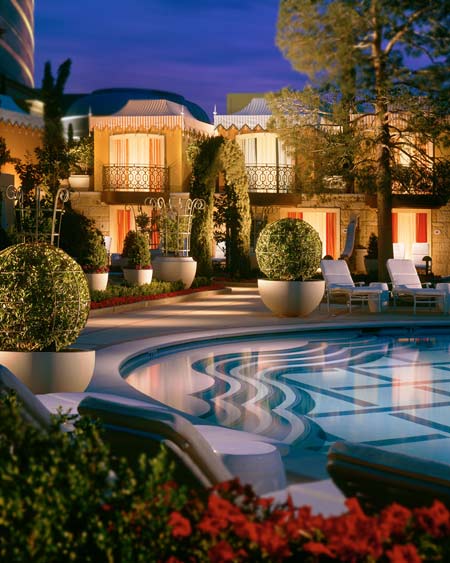 With the summer rolling in and temperatures on the rise, the luxury hotels in Las Vegas are combating the heat by opening their pools for their guests! Check out the list of the best luxury hotels in Vegas to find the perfect pool to swim, lounge, and tan!
Wynn Las Vegas and Encore
These two sister properties have 6 pools total, so you have your choice between a variety of options and styles. There are two semi-secluded European pools which allow topless sunbathing and feature black jack tables or bars, and the Encore Beach Club is a lively scene with Djs and lily pads for lounging.
This is a four star hotel and it is a casino-free and smoke-free property, which can offer a pleasant break from the craziness of Las Vegas. This hotel has a 40,000 square foot pool deck for guests only, and it is lined with chaise lounges and daybeds available for rent.
There are 2 lap pools and a Jacuzzi on the 8th floor of the hotel perfect for families as well as a plunge pool and a hot tub set up in a quiet zone for adults. Only guests can access the pool on weekends, but anyone can reserve a cabana Monday through Thursday, which come with drinks, fruit, soft robes, and a flat screen TV.
This hotel's three pools are considered to be the center of the hip and trendy. Its Marquee Dayclub has 3 story bungalows with private infinity edge plunge pools. The Bamboo Pool is a quiet, more relaxing scene, and the Boulevard Pool is the largest one which has activities such as ping pong and foosball available for its guests.
The Venetian and The Palazzo Resort Hotel Casino
These sister properties have the perfect pool options for partiers and loungers alike. Tao Beach and Azure are the pools for the party crowd, and the rest of the pool options offer a calm and relaxing atmosphere, featuring a children's pool.
Posted in:
North America
,
United States - West
,
Las Vegas, NV
,
Romantic Travel
,
Business Travel
,
Luxury Spas
,
Hot Spots
,
Luxury Suites
,
Events
,
Casino Hotels and Resorts
---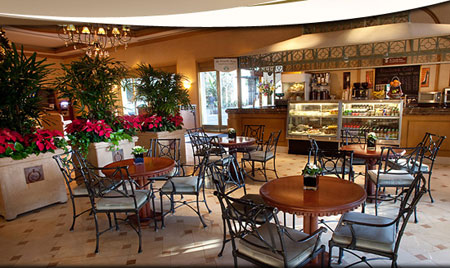 Jenna Talackova is a controversial figure and an amazing one at that. A symbol of the movement for trans rights, the famous transgender was recently removed by Donald Trump from his Miss Universe competition after it was made public that she entered the competition as a transgender, a complicated move to arbitrate since she clearly identifies wholly as female, so to speak of her as subverting the rules of the competition misunderstands it. And it's certainly not a case of taking advantage of anti-discrimination; Miss Talackova is gorgeous and everything that the Miss Universe pageant looks for, which in and of itself challenges negative preconceptions about transgendered people. Fortunately, after a public outcry, they reinstated Jenna Talackova in the competition.
Now Jenna Talackova is out and about, furthering her modeling career at the Hotel Wilshire, and she's been barred from something else. Only this time, it has nothing to do with discrimination, just an unauthorized photo shoot. She and her entourage arrived at the Hotel Wilshire with cameramen in tow, ready to take some model shots. However, the room they had been offered was not ready for them, so they moved up to the pool deck without authorization and began a shoot alongside the hotel's lovely restaurant. The hotel shut it down for the sake of the guests dining in their establishment and Miss Talackova had to move inside to another prepared room where she could continue her photo shoot. This is a star I'm following with interest, and I'm happy to see her making use of a great Los Angeles establishment in the Hotel Wilshire.
Via HotelChatter.
---