LUXURY HOTEL INSIDER
The Luxury Hotel Insider
: Exclusive luxury hotel deals, features and special rates from the luxury hotel experts at Five Star Alliance.
Named one of Tripbase's
Best Luxury Travel Blogs for 2011
, below are Five Star Alliance's newest articles featuring exclusive information on luxury hotels worldwide including special offers and deals at the world's best hotels.
---
The 41 Hotel in London is a little like the Radiohead of the hotel world. Mixing contemporary electronics with classic themes, they are always pushing the boundaries of what to expect. This English property is becoming internationally renowned, and we're not really sure why they're so good at what they do, but they consistently deliver an original and off-beat experience that leaves you wanting to return.
And like a best friend coming to offer you free concert tickets, Five Star Alliance is proud to announce that as part of expanding the way in which we interact with our fans, we're giving away a chance to stay at the 41 Hotel for three nights for free! To enter, simply like us on Facebook, and if you win, you'll be able to stay at the 41, or two nights at The Carlyle in New York, depending on which city strikes your fancy.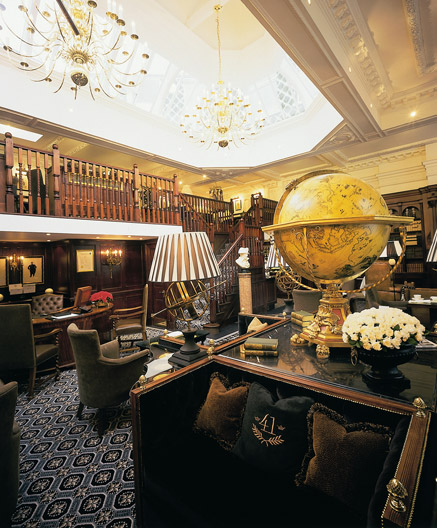 1. It's called the 41. If it's possible for a hotel name to be cool, they've managed it.
2. Awarded Best London Hotel by TripAdvisor in the 2011 Traveler's Choice Awards.
3. The contemporary decor mixes stark, pure hues of black and white with rich mahogany to create a feel that is both cutting edge and timeless. Honestly one of my favorite design choices of any hotel, anywhere.
4. Located opposite Buckingham palace, the views are simply royal in quality.
5. With a ratio of 2 staff to every guest, not only is their service exceptionally personal, they beat out Harvard's student-faculty ratio by 14 times.
6. Work out or let it all out with a complimentary day pass to the nearby LA Fitness Spa and Health Club where you can enjoy the sauna, spa, swimming pool, and state-of-the-art exercise equipment and even book a personal trainer.
7. The crown jewel Master Suite allows you to gaze upward at the stars through a glass ceiling that traps in the heat as well as it lets out your imagination.
8. A romantic turndown, available on request, leaves a touch of lavender perfume on your pillows and candles floating in the bathtub.
9. A pet concierge. That's a concierge, for your pet. I don't know why I'd need it, but now I definitely want it.
10. Most of the rooms feature working fireplaces.
11. Once the Executive Lounge shuts down for the evening, feel free to Plunder the Pantry for free snacks and drinks.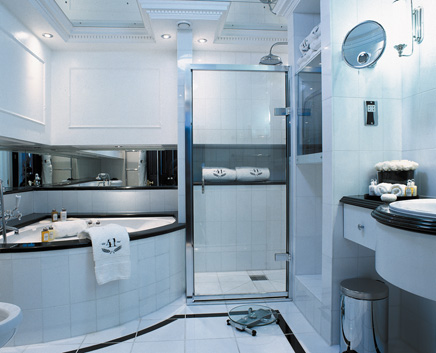 12. New York Times Syndicate declared that "No better cocoon in England's capital exists."
13. Executive hospitality suite allows you to separate business and pleasure in your own room, with two separate entrances and a distinct meeting space, you can keep the utmost professional atmosphere.
14. Every room brings a unique touch to the black-and-white themed decor.
15. Formerly the grand ballroom of the nearby Rubens at the Palace, 41 decided that wasn't quite opulent enough, and converted itself into an exclusive residents-only boutique hotel. It's almost like the entire hotel is a VIP room.
16. Similarly, the Executive Lounge that features as the centerpiece of the hotel allows only residents.
17. The nearby Rubens, however, does not offer the same exclusivity and its famed restaurant, the Library serves the highest quality English food and is open to guests of 41 and can even be charged to your room. If you were ever to try at Yorkshire pudding, this would be the place.
18. The Leopard Champagne Bar is no less than what you expect, and you can feel free to cozy up to a surprisingly tasteful leopard-print pillow will sipping on the finest champagne and cognac.
19. The sunlit glass roof of the lounge is guaranteed to brighten your morning brunch, served until 1pm on Sundays.
20. Rooms are tech-savvy, featuring iPod docking stations, LCD tvs, and just about anything else you could require.
21. Whether for business or pleasure, there's free wired internet in every bedroom and wireless throughout the hotel.
22. Choose an aromatherapy pillow from their exclusive pillow menu. I recommend the extra-soft, which goes perfectly with the fruity overtones of a Riesling or Pinot Grigio.
23. Their pet services from the aforementioned concierge are so comprehensive, at first I thought they were pulling my leg. On check-out, you can even receive a framed photo of your pet along with a certificate of stay.
24. If you're looking to host an event, look no further than the personalized Event Coordinator, who will sort out all the personal touches to a memorable celebration.
25. Fuzzy slippers for ladies and gentlemen.
26. A welcome drink on arrival helps you settle in.
27. Split-level suites offer maximum comfort and spaciousness if you're looking to take your vacation to especially lofty heights.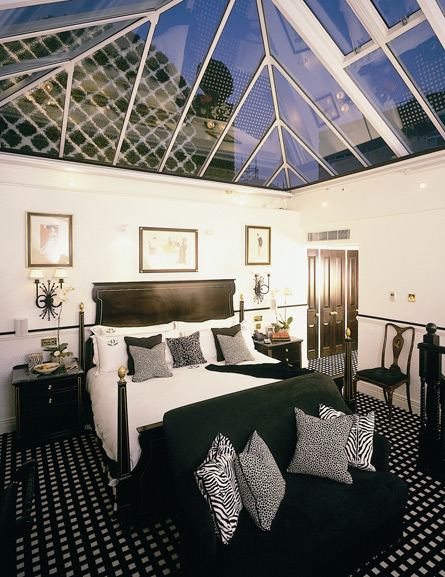 28. In-room massage for when you need to be so relaxed that you don't have to even move.
29. If you're carrying a bouncing baby, rock them to sleep in available baby cots
30. Some rooms face the Royal Mews, which is not a troop of cats but the stables for the royal family.
31. The small touches, like the fresh fruit and scented candles, add flourish to already memorable rooms.
32. If you're looking for some off-beat cuisine, the Bbar Restaurant, also at the Rubens, offers delicious South African cuisine.
33. Dine on the separate Mezzanine level of the Executive Lounge for a more exclusive experience.
34. If a longer stay is in the cards for you, the 41 even arranges for nearby 1 or 2-bedroom apartments.
35. If you'd like an escape from the city streets, miles of jogging trails are available in Green Park and St. James Park.
36. 41 supplies all of its guests with luxurious Fragonard toiletries.
37. Take out a Nintendo Wii on loan if you'd like to enjoy some quality in-room gaming.
38. Child daycare if you simply need to get away from the little one for a quiet evening.
39. A complimentary newspaper (that matches your room!) every morning.
40. And, of course, there's 24-hour room service for the midnight snackers among us.
41. It could be free! Simply 'like' us on Facebook and you'll be automatically entered to win three nights at the 41 Hotel in London!
---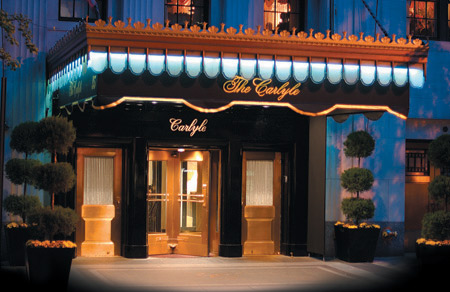 We are extremely excited to offer a Five Star Alliance Giveaway! We are always looking for ways to give back to our loyal clients, and we couldn't think of a better way to say 'thank you' then by giving away free nights at a few of our favorite luxury hotels. Simply 'like' Five Star Alliance on Facebook before March 1st and automatically be entered to win. To make it a bit more of a challenge, we've decided to try to hit 5,000 likes by March 1st, 2012, and the sooner we hit that target, the sooner we'll pick our lucky winner. And the perks of getting involved with Five Star Alliance on Facebook and Twitter certainly won't end with this contest. We will be offering special offers and promotions, more giveaways, advice from our expert agents, the latest luxury travel news, and much more!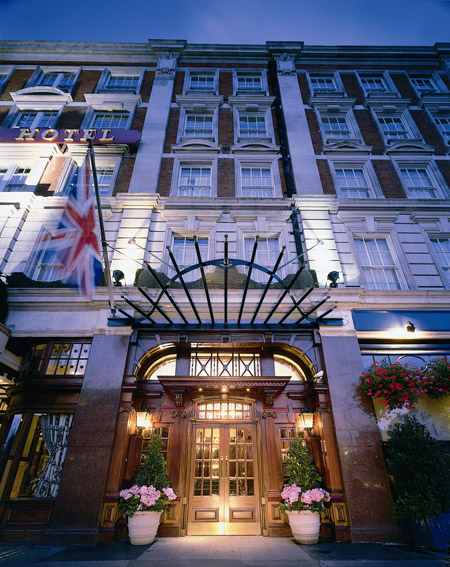 The winner will have the option to choose either 2 free nights at The Carlyle, a Rosewood Hotel in New York City or 3 free nights at the 41 Hotel in London. The Carlyle prize will entitle the winner and 1 guest to 1 complimentary Deluxe Room for 2 nights. The prize expires on July 31st, 2012, and it is subject to availability. It may be used between January 1, 2012 to April 30, 2012 and July 1, 2012 to July 31, 2012. Please be aware that the expiration date regrettably cannot be extended. All other expenses (food, beverages, service charges) to be settled upon departure. Other terms and conditions may apply. The 41 Hotel prize will entitle the winner and 1 guest to a 3 night stay in a luxurious King Bedded Room, including full English Breakfast. (Any additional charges to be settled on departure). The voucher is valid until June 30th 2012, it's subject to availability, and some black-out dates may apply. Other terms and conditions may apply. For further contest details, please click here.
To view hotel photos, descriptions, availability, and more, we encourage you to visit the following sites!
---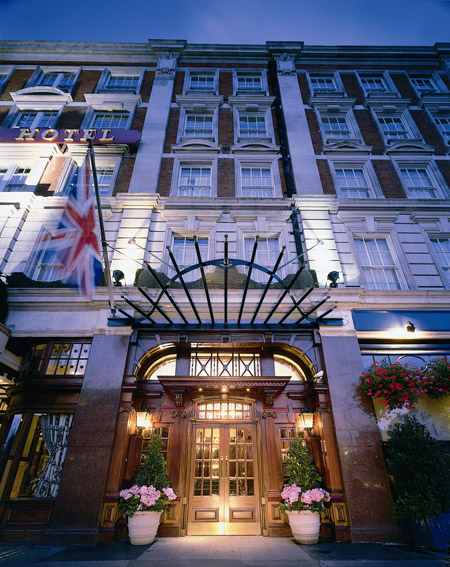 The 2012 Summer Olympics in London will take place July 27th – August 12th, and while that seems like a ways away, fans are already making their arrangements to ensure they get to experience the thrill first hand. Don't get left out of the fun and make your reservation at any of the 95 luxury hotels in London!
A few incredible luxury hotels in London are the Egerton House Hotel, the 41 Hotel, and the Milestone Hotel and Apartments. The Egerton House Hotel is located in the heart of Knightsbridge, and it's a luxurious boutique with only 30 unique rooms. The 41 Hotel is a discreet, beautiful hotel overlooking the Royal Mews at Buckingham Palace, and it takes pride in offering an outstanding level of personal services. The Milestone Hotel and Apartments overlooks Kensington Palace, and every room is uniquely decorated with luxurious furnishings, fully equipped to fulfill the needs of every traveler.
---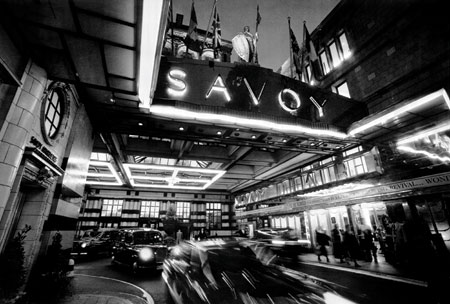 If you're the kind of person who follows celebrity gossip, you're already well aware that Russell Brand and Katy Perry have filed for divorce, and while Katy was partying it up in style, Mr. Brand decided to take the melancholy route on New Year's. The Savoy London housed his usual ironic distance and sardonic wit for the night, and he is even reported by The Mirror to have responded to wishes for a happy new year, "Here's hoping it gets better." The poor guy ordered room service and generally spent the night alone, while Katy Perry partied it up in West Hollywood. At least he got some top-quality comfort food.
We hope that next time you make a trip to The Savoy, you're not in the middle of a multi-million-dollar divorce because it really is a lovely place. And most of the celebrities who make their stay there are looking for great time: Rihanna certainly made a splash.
---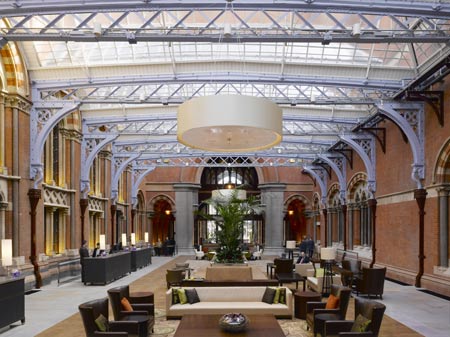 It can be somewhat of a rarity in the hotel world to find a hotel that focuses as much on defining an architectural niche for itself as it does the comfort of its patrons. The St. Pancras Renaissance London Hotel has certainly managed to do both in striking style, its stark, striking gothic exterior evoking the romanticism of early rail travel. Saved from demolition by a series of protests in the 60s by a Poet Laureate, the architectural wonder of the station has transformed from travel to hospitality, abandoning its railway roots in favor of a fresh redesign that takes advantage of its spacious interior. The red-brick exterior seems to be stretching skyward, following the sharp lines of its gothic spires.
Ever at the forefront of affluent equality, the St. Pancras offered the first Ladies Smoking Room in all of Europe and ushering a formerly sequestered activity into the public eye. And if you're a stargazer (and I don't mean those in the sky), it's worth a trip for its staircase alone which has been featured in films and videos as widely known as the Spice Girls debut single, "Wannabe."
So next time you're passing by London, make sure to check out the St. Pancras. Whether you're a railway enthusiast or a movie buff, or just a weary traveler looking for some extra-fluffed pillows to melt into, you're going to love the St. Pancras Renaissance London Hotel.
---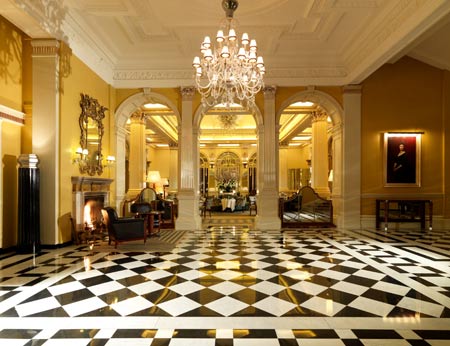 Recently the hotel lifestyle got quite the shout-out in the New York Times. Guy Trebay offers an insightful look at the experience of being a frequent traveler and the allure of luxury hotels as well as the simple charm of a roadside motel. It's part story of a lifetime of travel and part examination of the the at-home feeling of otherness we all feel as strangers temporarily filling up an empty space with our lives. The transience of a hotel room, coupled with the fake familiarity of its wait staff is both welcoming and fleeting, like a summer romance. He gives special mention of a few hotels with which he's shared the remarkable journey: Claridge's, Halekulani, the various Raffles hotels, the Grand Hotel d'Angkor. It's certainly well worth a read – he understands well the mind of the restless traveler, at home in impermanence, on the vacation that is so beautiful precisely because it is stepping out of your life.
---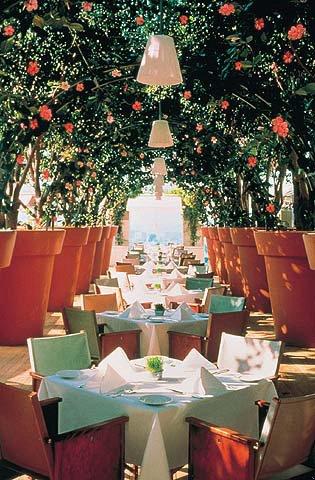 The sixth Mondrian Hotel will be coming to the South Bank of the London Thames River in 2014. This hotel is expected to have 100 more rooms than the Mondrian in New York, and it will be the first Mondrian hotel in Europe. This swanky hotel will reportedly have a restaurant, a ground floor bar, and a rooftop bar. This hotel is expected to bring a new excitement to the already exciting city of London, so keep an eye out for its grand opening in 2014!
Don't want to wait until 2014? Then we encourage you to check out a few other Mondrian properties including the Mondrian Soho in New York City, the Mondrian South Beach in Miami Beach, and the Mondrian Hotel in West Hollywood.
---
Need to get cleaned up for your company's annual holiday party? Hot-foot it to The Langham London, where you'll get a serious pick-me-up at the swank Chuan Spa.* They've just launched a revolutionary new spa treatment... and jade stones are involved. Long prized in China by the Imperial Court (and crafted into objets d'art by skilled artisans), jade is celebrated for its healing and restorative properties. The 75-minute Chuan Yu Facial is designed for the ultimate in skin rejuvenation, using jade to stimulate and massage facial acupoints with the Ancient Gua Sha technique-- one of China's traditional national therapies used by Traditional Chinese Medicine doctors for relieving blocked meridians. The facial eliminates toxins and improves blood circulation- meaning you'll look and free great. Starting off with a short breathing ritual to aid relaxation, the treatment also includes a nourishing face mask, a full facial hydrating ritual and ear auricular therapy to help stimulate internal organs. The Chuan Yu facial costs £100.
*The Langham's Chuan Spa opened earlier this year to much fanfare.
---
Here's your chance to win a getaway to London! The Langham, Boston has rolled out a cool, new Facebook sweepstakes where one lucky winner will have a chance to jet off to London in luxury with Premium Economy airfare for two courtesy of Virgin Atlantic Airways and stay three nights at The Langham, London-- originally opened in 1865 as Europe's first 'Grand Hotel.' (Don't miss Afternoon Tea in Palm Court!) All you have to do to enter the contest is spot The Langham, Boston's Pink Taxi around Beantown, snap a photo, and upload it to The Langham, Boston's Facebook page. Submissions will be accepted on Facebook from now until January 12, 2012 with the winner to be picked at random and announced on or about January 31, 2012.
We're loving this authentic English taxi in Langham's signature pink!
---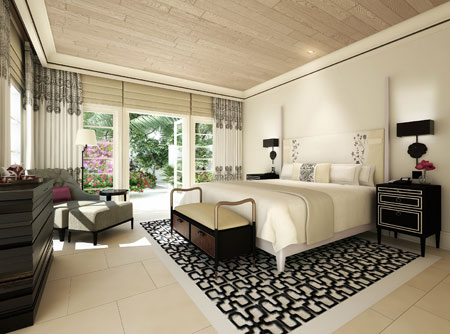 Looking to get inspired for your next getaway? The savvy editors at Fodor's have just released their first-ever list of the world's best hotels. After careful deliberation, the team of Fodor's editors and writers curated the "Fodor's 100 Hotel Awards 2011" spanning eight hotel categories. Here's a sampling of some of our favorites that made the cut.
New & Noteworthy- The Year's Best New and Reinvented Hotels: Marina Bay Sands in Singapore, Mondrian Soho in NYC, Hotel Bel-Air & The Redbury in Los Angeles
Grande Dame- Legendary Hotels with Superlative History and Service: The Carlyle in NYC, Hotel Plaza Athenee in Paris, Hotel du Russie in Rome, The Savoy in London
Casual Chic- Effortlessly Stylish Hotels with Rustic-Modern Appeal: Cavo Tagoo in Mykonos, Bardessono in Napa, The Allison in Oregon
Design- Cutting-Edge Boutique Hotels at All Price Points: Hotel Missoni in Edinburgh, Jia in Hong Kong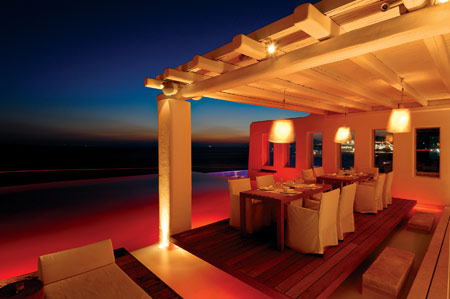 Local Flavor- Go-To Hotels for a Truly Authentic Experience: Fairmont Chateau Montebello in Quebec, Evason Ma'in Hot Springs and Six Senses Spa in Jordan
Clubby Atmosphere- Hip Urban Pied-à-Terres: 21C Museum Hotel in Louisville, The Liberty in Boston, The Augustine in Prague
Luxurious Retreat- Top Choices for a Complete Escape: Little Palm Island Resort and Spa in the Florida Keys, Blackberry Farm in Tennessee, Inkaterra Machu Picchu
Trusted Brand- World-Class Examples of International Hotel Chains: Mandarin Oriental Hong Kong, Park Hyatt Paris Vendome, The Peninsula Bangkok
Posted in:
North America
,
Central & South America
,
Bermuda & The Caribbean
,
Europe
,
Asia
,
Australia & The South Pacific
,
Canada
,
United States - Northeast
,
United States - South
,
United States - Midwest
,
United States - West
,
New York, NY
,
Boston, MA
,
Portland, OR
,
Napa, CA
,
Machu Picchu
,
Paris
,
London
,
Hong Kong
,
Featured Luxury Hotels
,
Travel Industry News
,
'Best Of' Lists
,
The Practical Traveler
---