LUXURY HOTEL INSIDER
The Luxury Hotel Insider
: Exclusive luxury hotel deals, features and special rates from the luxury hotel experts at Five Star Alliance.
Named one of Tripbase's
Best Luxury Travel Blogs for 2011
, below are Five Star Alliance's newest articles featuring exclusive information on luxury hotels worldwide including special offers and deals at the world's best hotels.
---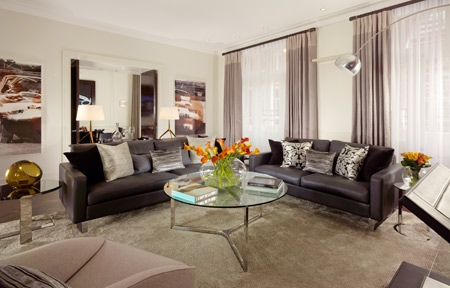 51 Buckingham Gate, Taj Suites and Residences, in London has opened up its newest suite, inspired by the design of one of the finest luxury vehicles, the Jaguar. Though it's not a Mustang, the new Jaguar suite is bucking trends: It's sleek, modern, and one of (if not the first), rooms to bring a sports car aesthetic into the lap of luxury. Buckingham Gate is bringing the cool Jaguar vibe indoors with sleek wood paneling and custom wallpaper. Minimalistic design choices hint at the unique curves of the vehicle itself, and they go so far as to shape the fireplace in the form of the iconic rear window. The devil is in the details, and Buckingham Gate has gotten it all right. From the dark leather to the custom wallpaper, the room evokes Jaguar's design choices without ever approaching gaudiness. It's well-crafted, timeless, and minimalistic, and I wish I were staying there right now.
If you have even a passing appreciation for the artistry that goes into a fine luxury car, you are guaranteed to fall in love with the space the Buckingham Gate has crafted in its new Jaguar suite.
---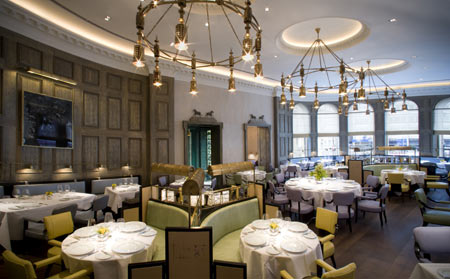 I've been around the world in eighty brews, to see the place it takes me to
To make a brew that tastes like the cream cakes made by angels do
-Professor Elemental, "Cup of Brown Joy"
It may be that we've finally found the elusive brew the Professor sought: The Langham London offers a classic tea time that will take you places you've never dreamed of. We recently posted about the signature Halloween drinks their bartender is whipping up, but if you're in the mood for more traditional fare, The Langham's Stephen Webster limited edition Bijoux tea is the best money can buy. For those less familiar with the British tea tradition, tea is more than a drink; it's a three-course afternoon adventure including sandwiches, cakes and scones. Eschewing the standard cucumber sandwiches in favor of smoked salmon and cream cheese with cucumber pearls and a poached quail breast, the tea's best feature is actually its standard scones, whose melt-in-your-mouth texture tastes suspiciously of ambrosia. I entreat even teetotalers to try this total tea experience. So throw on your tea-shirt and sashay scone-wards, because the Bijoux brew is not just Britney's favorite, it's the best Cup of Brown Joy your taste buds can touch.
---
Remember the "Tarantula and Scorpion Cocktail" we told you about? You know- the one infused with oven-baked tarantula and scorpion to add woodsy notes to the Courvoisier punch? Well it doesn't stop there. Alex Kratena, the award-winning mixologist at the Langham London's Artesian bar, keeps outdoing himself. His latest concoction for Halloween? Kratena took the classic Vieux Carré Cocktail, originally created in 1938 by bartender Walter Bergeron at NOLA's legendary Monteleone Hotel, and added something positively ghoulish: a side of toasted Colombian giant ants and Mopani worms. Artesian's creepy-crawly Vieux Carré is made with the finest cognac and rye whiskey aged with infused vermouth, bitters and herbal liqueur, served over a crystal clear ice ball. Available at the Langham London through the entire month of October 2011 for £16.50.
---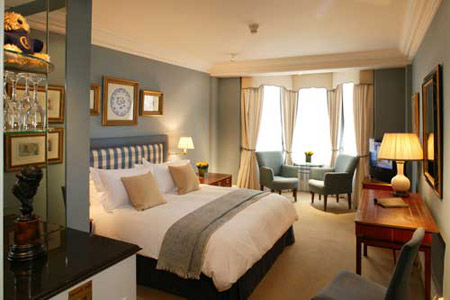 2012 will be a big year for Britain, says Travel Agent Magazine. London is prepping for a series of blockbuster events, starting with the Queen's Jubilee in June, honoring Her Majesty Queen Elizabeth II's 60 years on the throne (can we say gigantic flotilla on the Thames?) If you're eager to get in on the action, and also partake in Olympic fever, it's best to book your hotel room ASAP. The USA Today reports that "hotels are expected to fill about 92% of their rooms, which will mean many sold-out nights"-- according to a new forecast from Pricewaterhouse Coopers. "And that's despite a number of new hotels that have opened, including Dorchester Collection's tony 45 Park Lane in Mayfair and Starwood's trendy W in the heart of Leicester Square."
Looking for a hotel in London or the surrounding area? Five Star Alliance has a number of recommendations- whether you want a family-friendly boutique hotel or an opulent palace on the Thames. There are also a slew of four-star hotels available.
Pictured: The Athenaeum Hotel and Apartments.
---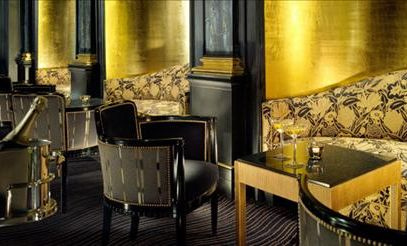 When The Savoy opened its gilded gates in London last year after a staggering £220 million restoration project, London couldn't stop talking about it. (And when we dropped by for a visit earlier this year, there was an impressive line of visitors gawking at the famous bars and lobby.) A lot of ink has been spilled about the "most ambitious hotel restoration in British history"-- but did you know that it was also an eco-friendly one? (Fairmont-- who manages the hotel-- gets serious props for its green programs.) The Savoy is all about sustainable luxury, having installed the latest in green technology in the hotel, and having launched various sustainable initiatives. To show guests the green side of London, the hotel has launched "The Savoy Elements Package." Here's what it includes:
* Overnight accommodation
* Return transfers in a luxury hybrid vehicle from a London airport or station
* A "Savoy Green Butler" to assist with requests such as packing and making travel arrangements as well as advising on green initiatives within the hotel and places of interest around London
* Welcome green gift on arrival

* Choice of inspirational 3-hour walking green tour of London

* Complimentary valet car parking if arriving by hybrid vehicle

* Complimentary use of a BMW bicycle with helmet provided

* An organic, 3-course dinner in either the River Restaurant with a pre-dinner, biodynamic cocktail

* Organic breakfast with selected organic juices

* A one-day travelcard allowing free use of London's public transport network

* A donation of £10 to London charity Thames 21, on behalf of the guest

* An organic, gourmet picnic hamper and blanket can be arranged at an additional cost

* Details of outdoor activities, including heritage sites, nature walks, cycle and jogging routes, wildlife centres, conservation programmes and community projects for volunteering are available through the Concierge
Rates from £825 per night, based on double occupancy and subject to availability.
---
The awards keep coming in for Dinner by Heston Blumenthal-- easily the best new restaurant in London this year. The latest for the Mandarin Oriental Hotel's eatery? It was selected as "Top Newcomer" at the Awards Ceremony for 2012 Zagat London Restaurants Guide. Needless to say, it's impossible to get reservations at a restaurant of this quality. (For more information about Chef Heston Blumenthal's masterpiece, check out this article in Luxury Travel Advisor.) But we just got a clue-- in the form of an email-- about how you can increase your odds. If you book the Suite Gourmet Package at the Mandarin Oriental at Hyde Park, you'll get a priority booking for two people at Dinner by Heston Blumenthal with a with a food credit of GPB 200 credit room. You'll enjoy accommodations in one of the hotel's spectacular suites, full English breakfast, and a signed copy of Heston Blumenthal's Cook Book. Valid until December 31, 2011, from just GBP 745, subject to availability.
---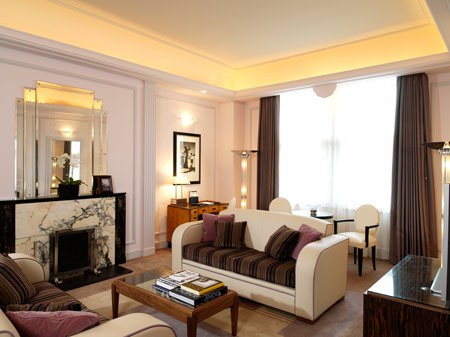 Claridge's and children go together like a horse and carriage. Claridge's Mayfair Hotel is offering a new child-friendly package of toys and games to keep your kids entertained while you enjoy their fine dining or luxury spa options or just want to lie down and have a nap. The kit includes an adventure checklist of things to do around the hotel or in the room, like riding the escalator or brushing your teeth, a card game called "I Insist," wind-up flying butterflies, and a Make Your Own Hotel kit that allows you to, well, make your own hotel with the cunning use of stickers.
And in case you're a fan of reality tv, Claridge's can entertain you, too, when you dine at Gordon Ramsay, the restaurant imagined by the new Chef/Reality Star. Starting a new series where he investigates and fixes mismanaged hotels, Gordon Ramsay will be traveling the world to examine poor hotel properties. At this fine dinig experience, you can judge for yourself how he stacks up against his own image as hotel aficionado.
Departing from the traditional model of a business hotel, Claridge's Mayfair Hotel is making itself a great destination for families as well.
---
We've tossed back our share of scary libations (oh Jägermeister, how you warm the hardest of college-age hearts)... But never have we seen anything quite like this. The Langham in London is getting in the Halloween spirit by serving up "Tarantula and Scorpion Cocktails" at its Artesian bar. (This swank watering hole has garnered all kinds of awards, including "World's Best Cocktail Menu" at this year's Spirited Awards.) Artesian's mixologist Alex Kratena created the drink with Courvoisier punch infused with oven baked tarantula and scorpion which is said to "add notes of wood and tobacco to the cocktail." Staying in London for Halloween? The Langham is offering its annual October package for £333 (the same number as The Langham's most haunted room) including overnight accommodation for two persons, a Tarantula Cocktail for two in Artesian, a Jack The Ripper Walking Tour and a complimentary history book (complete with ghost stories) of The Langham, London from The Langham Book Butler.
---
After reading CNN's own list of great hotel pools, we decided to put our heads together and write up our thoughts on the matter. Who has the 10 best hotel pools in the world? To truly know, you'll have to visit yourself and see. But these are certainly our favorites.
10. The Banyan Tree Seychelles
With the simple application of basic mathematics, the Banyan Tree has figured out how to improve upon the tried and true concept of the private pool: By giving its two-bedroom suites two private pools – and what a sight they are. That's the kind of thinking I can get behind.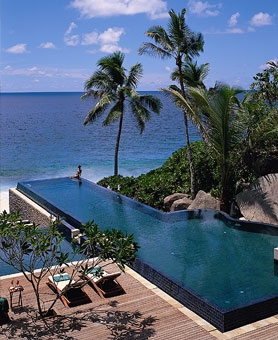 9. Le Palais de la Mediterranee, France
Le Palais de la Mediterranee in Nice rolls in at number 9 with its incredible 3rd floor indoor/outdoor pool. Just feet from a sun terrace with a gorgeous view of the Mediterranean, this is a pool that was tailor-made for lounging. If to you a vacation means leaning back, lowering your sunglasses over your eyes and relaxing the afternoon away, then this is the hotel for you.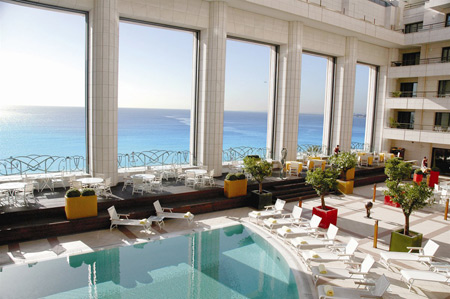 8. The Berkeley, London
While some other pools may be more spectacular, as you'll see in a moment, none offer the same level of comfort year-round as The Berkeley rooftop pool in London. The heated pool features a wonderful open-air swimming experience in the summer, but unlike most hotels, when it gets a bit colder, you don't have to take the party inside. The Berkeley instead rolls out its retractable roof, and you can now enjoy the comfort of a perfectly climate-controlled rooftop pool in winter.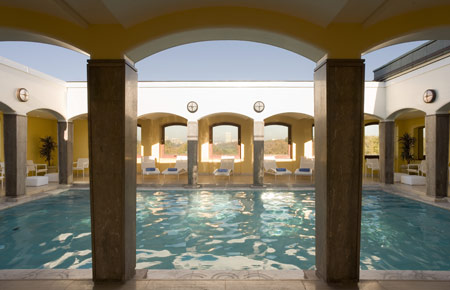 7. Villa d'Este, Italy
The pool at Villa d'Este on Lake Como would make Archimedes blush. Floating above the very lake that the Villa rests against, the pool features a built-in Jacuzzi and fantastic view of the surrounding mountains. It's like swimming in the lake just inches below your feet, but it's always the perfect temperature.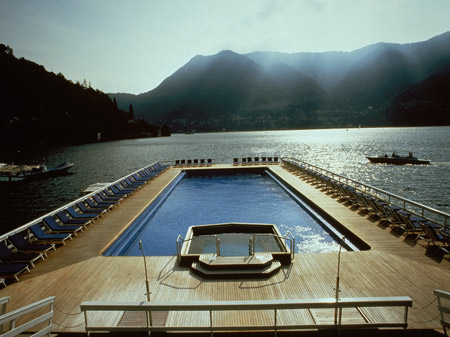 6. Blue Palace Resort and Spa, Crete
The Blue Palace Resort and Spa is truly deserving of its sixth place finish, and really if we were fair it'd be on this list twice. The aptly-named Blue Palace is renowned for the private pools that come standard with most of their rooms and suites. With pools up to 40 sq. meters in size for just you and your companion(s), there couldn't be a more private or luxurious swimming experience. And if that weren't enough, the Blue Palace is famous for its unique Grecian Thalassotherapy, which combines the relaxing powers of a world-class massage with water-cleansing rituals guaranteed to revitalize your body.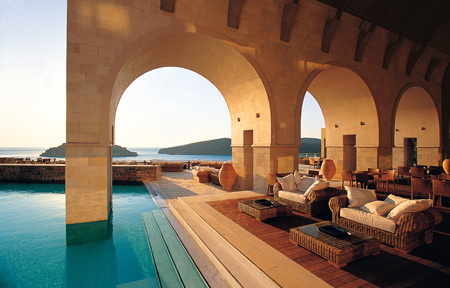 5. The Library Koh Samui, Thailand
In this case, the picture speaks for itself. The Library Koh Samui is built around the innovative concept that a vacation is about relaxation and people should be allowed to free their minds from stress by engaging in the simple pleasures of cracking open a book and enjoying the company of their family or friends. They've also turned their pool red - which is both surreal and strangely captivating, like green ketchup or a fish riding a bicycle.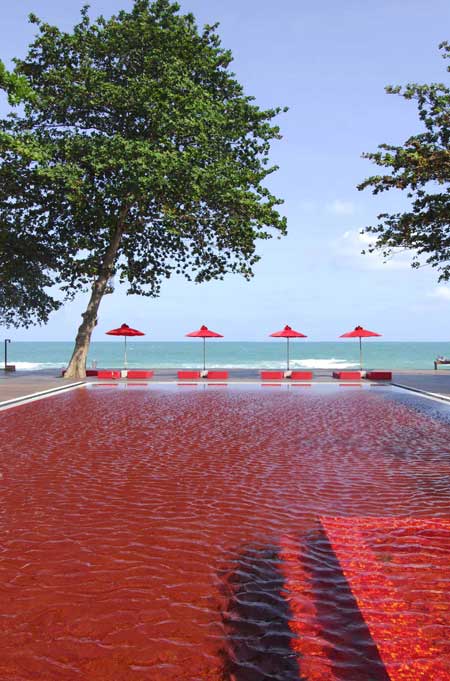 4. Rawi Warin Resort and Spa, Thailand
The 1000 sq. meter infinity edge pool at Rawi Warin looks as if the water is fading into the ocean, with only little beach umbrellas poking above the water line to let you know that it doesn't go on forever. The illusion is compelling and gorgeous. As if that weren't enough, Rawi Warin also has Asia's first ocean swimming pool, extending 100 meters into the water and allowing you to swim with the fishes in an entirely literal way.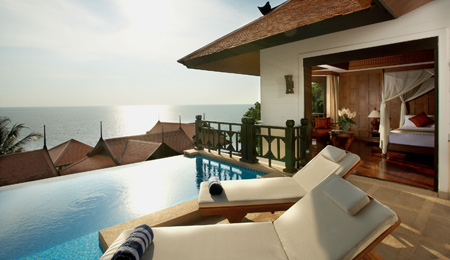 3. Palazzo Sasso, Italy
The Palazzo Sasso has one of the more innovative designs for a hotel pool we've ever seen. Situated on the edge of a cliff 1000 feet above sea level, the pool at Palazzo Sasso offers underwater windows with a view of the sea below, thus discovering the heretofore unknown condition of subaqueous vertigo. But seriously, it is the single most impressive thing I've seen at the bottom of a pool.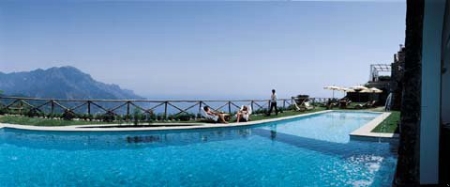 Atlantis the Palm Dubai may just be the best thing ever. If you got all the things together in one place, and made me pick, I'd say, "I want that thing. It looks like the best thing." So what is this thing I'm so excited about? Well, it just might be a standard luxurious hotel pool, only it's attached to a full water park! I don't bandy about with exclamation points lightly, but this seems to be worth one. If you, like me, have ever thought, "wow, this vacation is really relaxing, but what I'd really like is to go launching out of a ziggurat at high speeds into a pool of water," then this is the destination for you. And even more than that, much of the hotel is themed around this aquatic experience. There are underwater mazes, a four-and-a-half hectare dolphin habitat, and something they just call Aquaventure.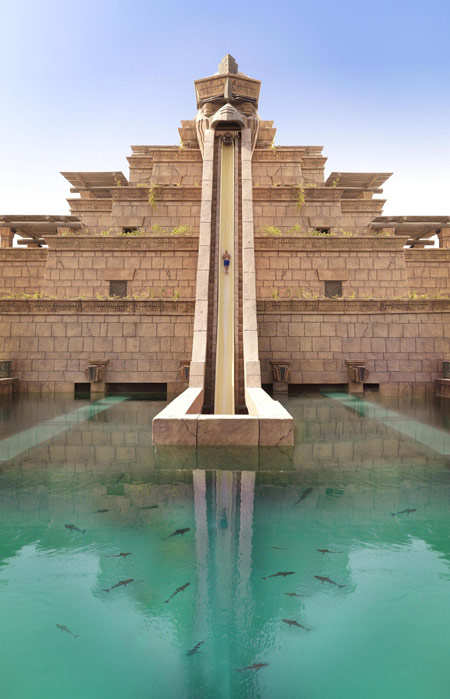 Occasionally, a feat of engineering comes along that's so remarkable, you have to doff your hat to the architects of its design. The Marina Bay Sands Infinity Pool in Singapore is more like what would result if Leonardo da Vinci were in the hotel business. Resting 200 meters above the ground in the Sands SkyPark, the Infinity Pool is as breathtaking as it is surreal – the edge of the pool seems to fade into the horizon itself. Swimmers are greeted with a panoramic vista unequaled anywhere. Without a doubt, the Infinity is the coolest hotel pool we've ever seen and not just for the breeze.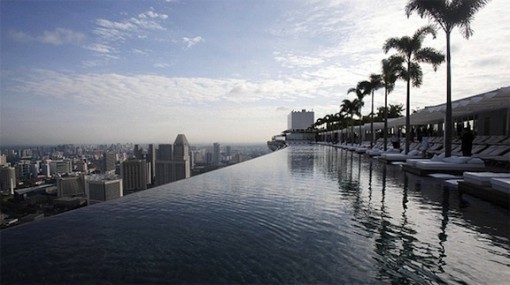 So throw on your swim trunks and book a room at any of these amazing hotels (maybe in the other order), and soon you'll be enjoying the sun by some of the most amazing pools in the world.
Posted in:
France
,
Italy
,
Thailand
,
Seychelles
,
Nice
,
Crete
,
Lake Como
,
London
,
Singapore
,
Koh Samui
,
Krabi
,
Mahe Island
,
Dubai
,
Articles
,
Featured Luxury Hotels
,
Travel with Kids
,
Luxury Spas
,
Beach and Island
,
Hot Spots
,
'Best Of' Lists
,
Luxury Suites
,
Our Favorite Sites
---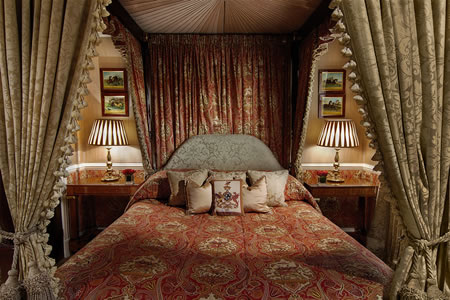 Calling all you insomniacs out there... Sometimes even a Hästens mattress wrapped in 300-thread-count sheets and feather duvets is not going to cut it. You need tips from a specialist to ensure a "sound sleep experience." Enter The Milestone Hotel and Apartments, the award-winning property in Kensington. According to London Hotels Insight, the boutique hotel launched a package this summer which includes a luxurious night's stay, a private, one-hour consultation with sleep therapist Tej Samani, treatments in the hotel's spa therapy room and an assortment of aromatherapy oils, eye masks and other helpful aids to help you drift off. Get this: You can even take advantage of the Alpha Sleep Pod, "a matchbox-sized machine with earphones that pump out audio to match your sleep dilemma, whether you can't fall asleep, can't get back to sleep or just want a power nap." Starting at £976 per room per night based on two people sharing a Deluxe King room.
---