LUXURY HOTEL INSIDER
The Luxury Hotel Insider
: Exclusive luxury hotel deals, features and special rates from the luxury hotel experts at Five Star Alliance.
Named one of Tripbase's
Best Luxury Travel Blogs for 2011
, below are Five Star Alliance's newest articles featuring exclusive information on luxury hotels worldwide including special offers and deals at the world's best hotels.
---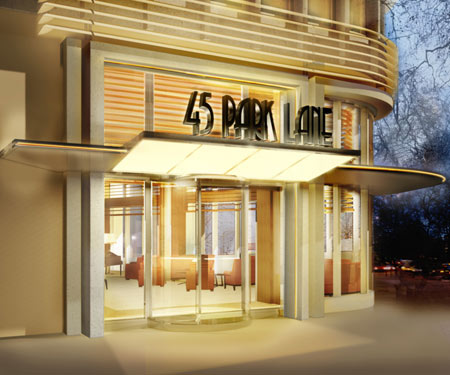 I have a special place in my heart for tiny boutique hotels. It may be a little smaller than some of the other chambers, and there aren't enough spots for everybody, but that just makes the few who do make their way into my good graces all the more special. I can give each and every one the loving care and attention they deserve. And thus began my new segment on boutique hotels that I just adore.
I like hotels with numbers in their names. Though the 41 may be my all-time favorite hotel name if simply for the fact that it left the alpha- out of alphanumeric, my definite second-favorite London hotel in the field of using numbers that begin with 4 is the 45 Park Lane. Interestingly enough, I've found that there's more in a number than meets the eye. Many hotels with numbers in their names are not without their similarities. As is the case with the 45, numbered hotels are often looking to stand out from the crowd with a stark, modern decor and may go a bit off the beaten path. But there's a lot more to love about this boutique hotel than just its love of numbers and modernism.
The hotel's 45 rooms and suites (see what they did there?) all offer views of Hyde Park, and their penthouse suite has a wraparound terrace that puts less-ideally-located penthouses to shame. CUT at 45 Park Lane is Wolfgang Puck's first European restaurant, and the refined take on on American steak is a pure joy. The hotel is just steps from the famed Dorchester Spa, and you can get outdoors in Hyde Park. I love what New York architect and designer Thierry Despont has done with the place, and 45 Park Lane is definitely one to check out for your next trip to London.
---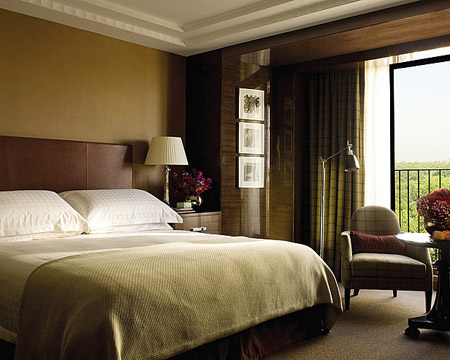 The Four Seasons Hotel London at Park Lane is located on a quiet street in the heart of Mayfair. It is one of the few luxury hotels in London that has greenery and open spaces on all sides, allowing visitors access to the best of both worlds; nature and the city. Hyde Park, Green Park, and St. James Park are all located nearby, and the hotel is just a short stroll from to the West End theatres, Bond Street, Knightsbridge, and Buckingham Palace. Aside from an incredible location, this luxury hotel has a few other distinguishing factors that make it one of the best hotels in London. It has a putting green on its terrace as well as a glass-walled rooftop spa offering 360 degree views of the treetops and the city. The Four Seasons Hotel London at Park Lane is also a wonderful choice for families, and it certainly goes out of its way to welcome young travelers. The concierge is extremely accommodating and always available to assist with making reservations for a family dinner, a babysitter, and more.
Need more details about the Four Seasons Hotel London at Park Lane? Be sure to explore room types, availability, and photos here!
---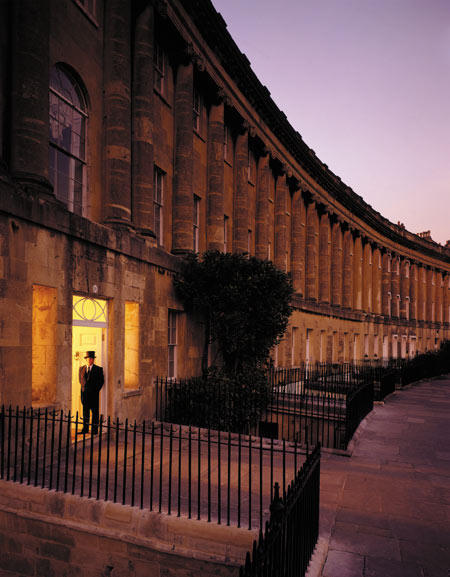 We understand that no one aims to come in second place; there is no recognition for mediocrity. We at Five Star Alliance understand better than anyone the importance of offering the most luxurious resorts in the world, so we notice what's going on in the industry, and it matters to us, because it matters to you. We work hard to offer you the best in the industry, and we'd like to welcome you to our second blog series where we feature the best and most luxurious resorts in the world. But don't take our word for it. These resorts have been recognized as the best in the business and have made the prestigious Condé Nast Traveler Gold List 2012.
The Condé Nast Traveler Gold List 2012 is the eighth of their annual lists, and the hotels chosen by their team of editors and experts are the best for service, food, location, rooms, leisure facilities, ambiance and design.
The Royal Crescent Hotel is featured on the Gold List 2012: Best for location. It is the most impressive hotel located in the beautiful city of Bath, United Kingdom. This luxury hotel occupies the two central buildings in the entire crescent, and it has some of the most breathtaking features in one of the world's most enchanting cities. Take in the stunning setting and marvelous architecture that has remained unchanged since the 18th century. The hotel is much more than a remarkable pair of buildings; it allows you to experience a style of extravagant living from the age when Bath was the heart of the civilized world. Certain accommodations feature a working fireplace and four poster beds, and the renowned Bath House spa and fine dining restaurant offer the finishing touches to this perfectly located hotel!
Be sure to explore the photos and room options at the Royal Crescent Hotel!
---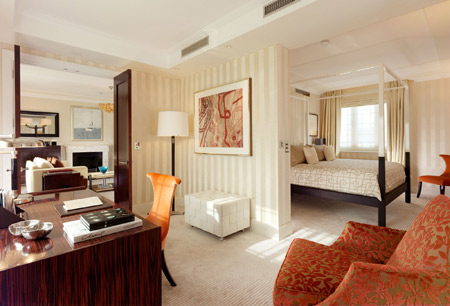 We've been spotlighting a list of Conde Nast's award-winning Gold List Hotels for 2012, and each one is amazing in its own right. In a clear case of never enough of a good thing, Conde Nast has yet an additional level to their awards, the meta-prestigious Platinum Circle Hotels, distinguished for being consistent Gold List winners for the last five years. Perhaps it could have been more aptly named the Conde Nast Award for Continued Excellence in the Having of Conde Nast Awards, but that's probably just my jealousy talking. It takes a certain level of cachet to be able to recognize someone for being recognized by you, and the Conde Nast Awards carry that weight. Regardless, the Platinum List hotels are undoubtedly some of the best of the best and have the mark of consistency that other hotels can only aspire to.
This week, we're spotlighting The Dorchester in London. Occupying one of the most prestigious locations in all of England overlooking Hyde Park, The Dorchester regularly plays host to the movers and shakers in British high society. And with decor and decorum straight out of the 1930s, but with a bit of contemporary flair, you'll be treated like royalty. Its four restaurants, Alain Ducasse, The Grill, China Tang, and The Promenade, offer a variety of options for the lover of luxury cuisine, and the hotel's 54 suites come in enough varieties to please any refined traveler. And having been remodeled in 2011, it's even fresher and newer than in the first years it won the Conde Nast Awards. So check out The Dorchester today, and you won't be disappointed.
---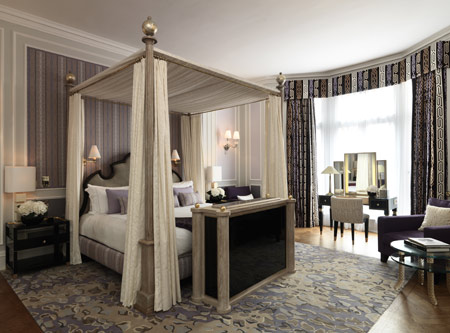 Claridge's is currently offering a few incredible packages and deals that are too good to pass up! This luxury 5 star property is located in the heart of Mayfair, surrounded by ample designer shops and two of London's finest parks. All of its 203 rooms and suites boast the latest technology and its Foyer and Reading room serves delightful breakfast, award winning afternoon tea, and dinner.
Weekend Indulgence Package
Make a reservation and stay Friday, Saturday, or Sunday night and enjoy welcome champagne and a traditional English breakfast.
This package is available until December 31st 2012. Rates are based on double occupancy per room, per night, exclude of VAT of 20% and a service charge of 5%. Special offer rates are subject to limited availability on selected dates, and the offer may not be used in conjunction with other offers or negotiated rates.
Suite Heaven Package
Make your reservation at the Claridges' one or two bedroom suites for a luxurious and stylish stay. Enjoy personal butler service and champagne while exploring the traditional art deco of the distinctively restored suites.
Offer is available until December 31st 2012, subject to availability and exclusive of VAT at 20% and a discretionary service charge of 5%. Offer may not be used in conjunction with other offers or negotiated rates.
Family Heaven Package
This package is perfect for families traveling to London and provides 2 rooms for the price of 1! This package also includes welcome champagne and traditional English breakfast. The young travelers will enjoy smoothies and cookies upon arrival as well access to a selection of game consoles (including Nintendo Wii, subject to availability).
Valid until December 31st 2012, and rates exclusive of VAT at 20% and a discretionary service charge of 5%. This offer applies to 2 adults and 2 children up to the age of 16 only. Special offer rates are subject to limited availability on selected dates, and may not be used in conjunction with other offers or negotiated rates. Connecting rooms can be requested at time of booking but are subject to availability.
Be sure to check out Claridge's to view photos, availability, and make your reservations!
---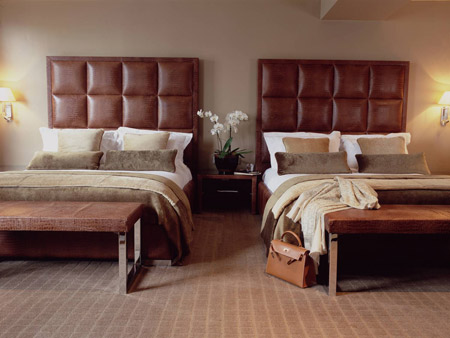 The majority of luxury hotels in London have been sold out for the 2012 Summer Olympics, but a few have luckily been able to release some rooms back into the system! Check out the following 5-star hotel that currently has availability for various dates ranging from July 27th – August 12th. Be sure to make your reservations as soon as possible; these availabilities won't last long!
The May Fair Hotel has between 5 to 10 of each room type available. These rooms are subject to 20% Government Tax, and there is a minimum of 3 nights stay required. These are full prepay rates that are non-cancellable.
The May Fair Hotel is a luxury 5-star hotel centrally located in the most fashionable area of Mayfair. It is a 1 minute walk to the Green Park Tube Station and a 3 minute walk to Piccadilly Circus. All of the rooms are a generous size with the standard king room starting at 350 square feet, making the May Fair Hotel's rooms some of the largest in London. A few key features of this hotel are that it offers complimentary wireless internet access, a private theater, and a luxurious spa.
The May Fair Hotel currently has the following room types available:
Queen
King Superior
Twin Superior
King Deluxe
Family Room with 2 Queen Beds
Studio Suite
Please be advised that rates and availability are subject to change prior to making a reservation. Make your reservations today to ensure that you'll be in the heart of the action for the 2012 Summer Olympics!
---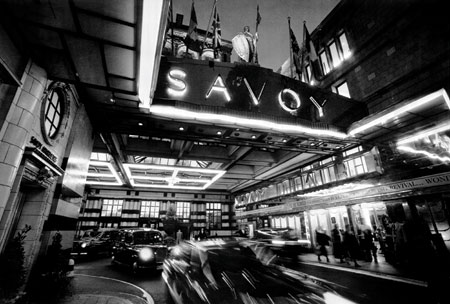 As inevitably as salmon swimming upstream or the coming of the next political scandal, lovers of Rock 'n' Roll are sure to jump at the opportunity to see the ancestral home of arguably the greatest band of all time. Courtesy of HotelChatter, we're happy to report that Fairmont-owned properties, including the famed Savoy, are allowing guests to reserve behind-the-scenes tours of the iconic Abbey Road studios.
Not only that, if you fancy shredding some chords between the same panelled walls as Lennon and McCartney, they're also giving you the opportunity to set up a recording session in selfsame studio. All this is due to the fact that the Savoy's in-house design team is heading the restoration project of the 80-year-old studio. So come together with Sgt. Pepper and make a club band, and, with a little help from your friends, you'll be ready to put together your own album in the very place the Beatles launched their fame. Just steer clear of Yoko, and your stay at the Savoy in London could be one of the coolest vacations in history.
---
The 41 Hotel in London is a little like the Radiohead of the hotel world. Mixing contemporary electronics with classic themes, they are always pushing the boundaries of what to expect. This English property is becoming internationally renowned, and we're not really sure why they're so good at what they do, but they consistently deliver an original and off-beat experience that leaves you wanting to return.
And like a best friend coming to offer you free concert tickets, Five Star Alliance is proud to announce that as part of expanding the way in which we interact with our fans, we're giving away a chance to stay at the 41 Hotel for three nights for free! To enter, simply like us on Facebook, and if you win, you'll be able to stay at the 41, or two nights at The Carlyle in New York, depending on which city strikes your fancy.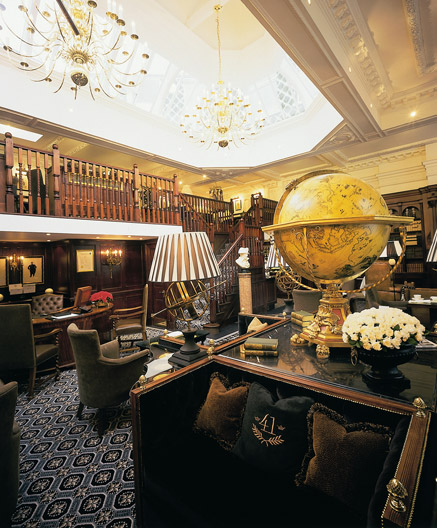 1. It's called the 41. If it's possible for a hotel name to be cool, they've managed it.
2. Awarded Best London Hotel by TripAdvisor in the 2011 Traveler's Choice Awards.
3. The contemporary decor mixes stark, pure hues of black and white with rich mahogany to create a feel that is both cutting edge and timeless. Honestly one of my favorite design choices of any hotel, anywhere.
4. Located opposite Buckingham palace, the views are simply royal in quality.
5. With a ratio of 2 staff to every guest, not only is their service exceptionally personal, they beat out Harvard's student-faculty ratio by 14 times.
6. Work out or let it all out with a complimentary day pass to the nearby LA Fitness Spa and Health Club where you can enjoy the sauna, spa, swimming pool, and state-of-the-art exercise equipment and even book a personal trainer.
7. The crown jewel Master Suite allows you to gaze upward at the stars through a glass ceiling that traps in the heat as well as it lets out your imagination.
8. A romantic turndown, available on request, leaves a touch of lavender perfume on your pillows and candles floating in the bathtub.
9. A pet concierge. That's a concierge, for your pet. I don't know why I'd need it, but now I definitely want it.
10. Most of the rooms feature working fireplaces.
11. Once the Executive Lounge shuts down for the evening, feel free to Plunder the Pantry for free snacks and drinks.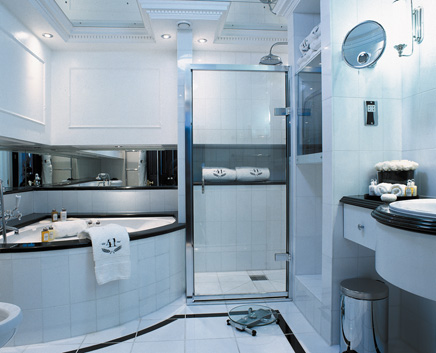 12. New York Times Syndicate declared that "No better cocoon in England's capital exists."
13. Executive hospitality suite allows you to separate business and pleasure in your own room, with two separate entrances and a distinct meeting space, you can keep the utmost professional atmosphere.
14. Every room brings a unique touch to the black-and-white themed decor.
15. Formerly the grand ballroom of the nearby Rubens at the Palace, 41 decided that wasn't quite opulent enough, and converted itself into an exclusive residents-only boutique hotel. It's almost like the entire hotel is a VIP room.
16. Similarly, the Executive Lounge that features as the centerpiece of the hotel allows only residents.
17. The nearby Rubens, however, does not offer the same exclusivity and its famed restaurant, the Library serves the highest quality English food and is open to guests of 41 and can even be charged to your room. If you were ever to try at Yorkshire pudding, this would be the place.
18. The Leopard Champagne Bar is no less than what you expect, and you can feel free to cozy up to a surprisingly tasteful leopard-print pillow will sipping on the finest champagne and cognac.
19. The sunlit glass roof of the lounge is guaranteed to brighten your morning brunch, served until 1pm on Sundays.
20. Rooms are tech-savvy, featuring iPod docking stations, LCD tvs, and just about anything else you could require.
21. Whether for business or pleasure, there's free wired internet in every bedroom and wireless throughout the hotel.
22. Choose an aromatherapy pillow from their exclusive pillow menu. I recommend the extra-soft, which goes perfectly with the fruity overtones of a Riesling or Pinot Grigio.
23. Their pet services from the aforementioned concierge are so comprehensive, at first I thought they were pulling my leg. On check-out, you can even receive a framed photo of your pet along with a certificate of stay.
24. If you're looking to host an event, look no further than the personalized Event Coordinator, who will sort out all the personal touches to a memorable celebration.
25. Fuzzy slippers for ladies and gentlemen.
26. A welcome drink on arrival helps you settle in.
27. Split-level suites offer maximum comfort and spaciousness if you're looking to take your vacation to especially lofty heights.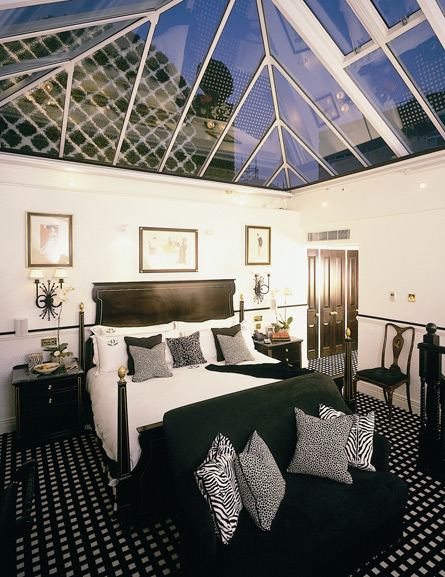 28. In-room massage for when you need to be so relaxed that you don't have to even move.
29. If you're carrying a bouncing baby, rock them to sleep in available baby cots
30. Some rooms face the Royal Mews, which is not a troop of cats but the stables for the royal family.
31. The small touches, like the fresh fruit and scented candles, add flourish to already memorable rooms.
32. If you're looking for some off-beat cuisine, the Bbar Restaurant, also at the Rubens, offers delicious South African cuisine.
33. Dine on the separate Mezzanine level of the Executive Lounge for a more exclusive experience.
34. If a longer stay is in the cards for you, the 41 even arranges for nearby 1 or 2-bedroom apartments.
35. If you'd like an escape from the city streets, miles of jogging trails are available in Green Park and St. James Park.
36. 41 supplies all of its guests with luxurious Fragonard toiletries.
37. Take out a Nintendo Wii on loan if you'd like to enjoy some quality in-room gaming.
38. Child daycare if you simply need to get away from the little one for a quiet evening.
39. A complimentary newspaper (that matches your room!) every morning.
40. And, of course, there's 24-hour room service for the midnight snackers among us.
41. It could be free! Simply 'like' us on Facebook and you'll be automatically entered to win three nights at the 41 Hotel in London!
---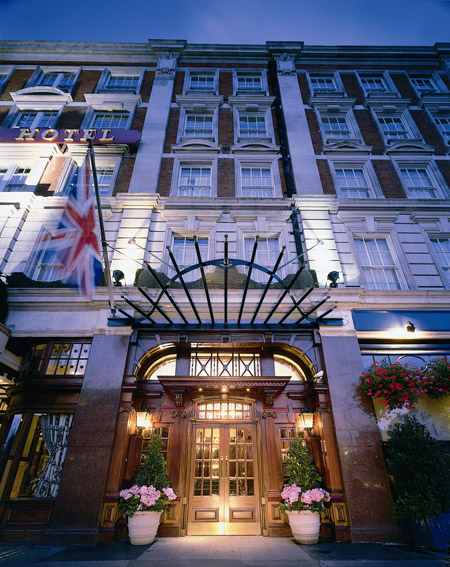 The 2012 Summer Olympics in London will take place July 27th – August 12th, and while that seems like a ways away, fans are already making their arrangements to ensure they get to experience the thrill first hand. Don't get left out of the fun and make your reservation at any of the 95 luxury hotels in London!
A few incredible luxury hotels in London are the Egerton House Hotel, the 41 Hotel, and the Milestone Hotel and Apartments. The Egerton House Hotel is located in the heart of Knightsbridge, and it's a luxurious boutique with only 30 unique rooms. The 41 Hotel is a discreet, beautiful hotel overlooking the Royal Mews at Buckingham Palace, and it takes pride in offering an outstanding level of personal services. The Milestone Hotel and Apartments overlooks Kensington Palace, and every room is uniquely decorated with luxurious furnishings, fully equipped to fulfill the needs of every traveler.
---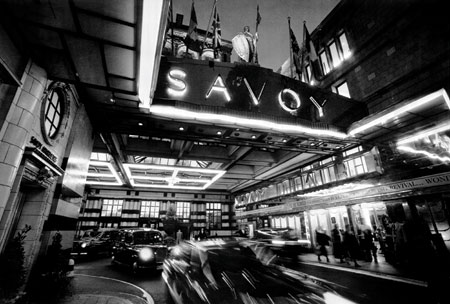 If you're the kind of person who follows celebrity gossip, you're already well aware that Russell Brand and Katy Perry have filed for divorce, and while Katy was partying it up in style, Mr. Brand decided to take the melancholy route on New Year's. The Savoy London housed his usual ironic distance and sardonic wit for the night, and he is even reported by The Mirror to have responded to wishes for a happy new year, "Here's hoping it gets better." The poor guy ordered room service and generally spent the night alone, while Katy Perry partied it up in West Hollywood. At least he got some top-quality comfort food.
We hope that next time you make a trip to The Savoy, you're not in the middle of a multi-million-dollar divorce because it really is a lovely place. And most of the celebrities who make their stay there are looking for great time: Rihanna certainly made a splash.
---