LUXURY HOTEL INSIDER
The Luxury Hotel Insider
: Exclusive luxury hotel deals, features and special rates from the luxury hotel experts at Five Star Alliance.
Named one of Tripbase's
Best Luxury Travel Blogs for 2011
, below are Five Star Alliance's newest articles featuring exclusive information on luxury hotels worldwide including special offers and deals at the world's best hotels.
---
In today's competitive world, everyone needs a way to stand out from the crowd. Luxury hotels certainly are not any different and are always looking for ways to outshine their competitors and attract more visitors. We understand that our travelers look for the best of the best, and we would like to introduce you to our blog series, Hotels with an Edge. We'll be highlighting and featuring a few hotels we feel truly stand out and offer their guests more than is expected. Be sure to check in with us to explore various hotels that deserve recognition for their supreme levels of luxury.
Our second featured hotel is the soon-to-be tallest hotel in the world, the JW Marriott Marquis Dubai. The Ritz-Carlton Hong Kong is to relinquish its tallest hotel crown and take the seat behind this new property in Dubai. The JW Marriott Marquis Dubai has announced that its two towers will stand 1,164 feet tall, and it will offer 1,608 rooms. Unlike other exceptionally tall hotels, this property will be dedicated to hotel operations only. It will offer 9 restaurants, 5 lounges, a 16,000 square foot spa, 24 meeting rooms, private event space, and more. This hotel is scheduled to open in two phases starting in October, and it will have 804 rooms ready for guests. If you can't wait until then, check out the other luxurious properties we have in Dubai!
Missed our first feature, the current tallest hotel in the world? Check it out here! Be sure to keep up with our blog series for a little inspiration on where to stay next!
A look into the presidential suite; photo courtesy of HotelChatter
---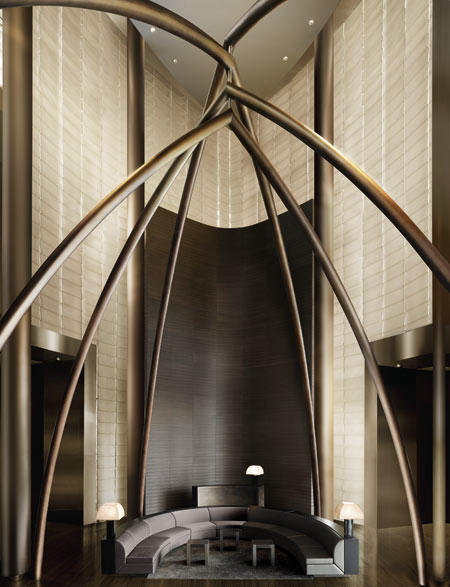 Here at Five Star Alliance, we have a number of superlative hotels, in a very literal sense of the word. The Armani Hotel Dubai's claim to fame is that, as the name suggests, it is the very first hotel designed by the world famous Giorgio Armani. Epitomizing the stylistic elegance of the fine suits the same Armani is well known for, the hotel is sleek, modern, minimal, and luxurious. It's hotel that feels comfortable in its clothes, and it knows it. From the Eramosa stone floors to the zebrawood panelling, you'll find the Armani brings a unique understanding of unorthodox pairings that somehow feel natural together.
While you're there, enjoy any one of eight restaurants and relax in a 12,000 sq ft spa whose thermal suites will melt the tension in your muscles like the chocolate from the Armani/Dolci sweets store will melt in your mouth.
Of special note is the personally designed Armani Dubai Suite with breathtaking views of the Arabian Gulf from your 390 sqm. space 39 floors above the streets below. Two bedrooms, a spacious living room, and a bathroom with separate shower and bathtub are all uniquely laid out to maximize luxury, and that's not even to mention the full-service bar and pantry.
The Armani Hotel Dubai is sleek, stylized, and hip and makes every effort to tailor your stay to the exact fit. In a city made of luxury, the Armani somehow manages to stand out from the crowd, and that's certainly worth a second look.
---
In the final days of 2011, Five Star Alliance is counting down the Top 20 Luxury Hotels & Resorts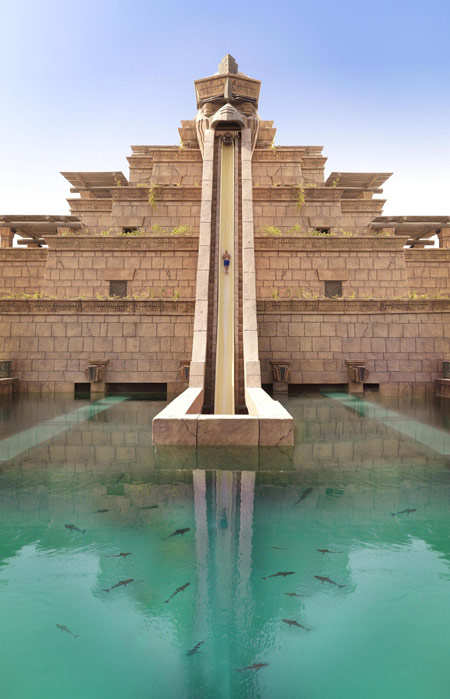 Worldwide, as decided by our guests.
In the #8 spot, we have the Atlantis the Palm Dubai, an aquatic Dubai resort.
Quick facts about the Atlantis the Palm Dubai:
- The entire Atlantis is built around an oceanic tribute to a mythological age where sharks and dolphins roam the seas and Poseidon invites guests to enter his realm of aquatic beauty.
- On the coastline of the largest man-made island in the world, Atlantis the Palm is surrounded by the sea of the Arabian Gulf at the very tip of the palm island crescent.
- With over 1,500 rooms and suites available and 16 restaurants, the sprawling Atlantis never lacks for entertainment, fueled by 15 million gallons of salt and freshwater attractions.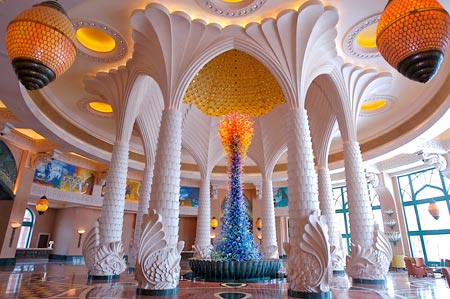 - Aquaventure, the waterpark, includes a 30-meter ziggurat that sends swimmers down waterslides that pass through shark-infested waters (with glass safely in between, don't worry).
- Its pool/aquatic experience came up #2 on our list of the Ten Best Hotel Pools in the World, and here's what we had to say about it:
'Atlantis the Palm Dubai may just be the best thing ever. If you got all the things together in one place, and made me pick, I'd say, "I want that thing. It looks like the best thing." So what is this thing I'm so excited about? Well, it just might be a standard luxurious hotel pool, only it's attached to a full water park! I don't bandy about with exclamation points lightly, but this seems to be worth one. If you, like me, have ever thought, "wow, this vacation is really relaxing, but what I'd really like is to go launching out of a ziggurat at high speeds into a pool of water," then this is the destination for you. And even more than that, much of the hotel is themed around this aquatic experience. There are underwater mazes, a four-and-a-half hectare dolphin habitat, and something they just call Aquaventure.'
- Atlantis the Palm even includes a specialized kids program through the Atlantis Kids Club and Club Rush, where your children can go to enjoy the aquatics either with their parents or supervised by specialized Atlantis staff, so you can enjoy some more adult vacation time.
View photos, learn more about the hotel, and check availability at the Atlantis the Palm Dubai >>
Be sure to keep up with our countdown as we spotlight a new hotel every day until the New Year!
---
Now that's a lot of Christmas stollen. The chefs at the Kempinski Hotel Mall of the Emirates have been hard at work preparing for the 6th Annual Stollen Charity Cake Sale which will take place on Friday, December 9th at the Mall of the Emirates' Galleria. They've been churning out loaf after loaf of the German yuletide cake- just check out the photo! The fundraiser will benefit the children of the Dubai Center for Special Needs. Buy a morsel of stollen for AED 5, or an entire loaf for AED 100, and revel in the charitable spirit of the festive season. There will be all kinds of fun and games for kids, to boot. Try face painting, music, and a special appearance by Santa Claus. Shop til you drop in the Mall of the Emirates, one of Dubai's landmark retail destinations, or hit the slopes- in the middle of the desert! The Kempinski is the only hotel with direct views onto Ski Dubai-- a unique indoor ski destination with five different runs and a 3,000 square-meter Snow Park featuring a snow cavern. When you tire of the snow, hit the hotel's infinity pool to bronze in the sunshine.
---
For his first eponymous hotel, Giorgio Armani didn't exactly go about it quietly. He chose the tallest building in the world-- the towering Burj Khalifa-- as the setting for the sleek Armani Hotel Dubai, which embodies the fashion mogul's sophisticated style even in the tiniest of details. Now Armani has done it again-- this time with a brand new "palazzo" hotel in his home town of Milan. Situated on via Manzoni in the city's designer shopping district, the Armani Hotel Milan recently held a star-studded opening gala where celebs like Jessica Alba donned their finest Armani apparel.
Conde Nast Traveller says: "Giorgio Armani has created a home from home, or casa della casa, for suitably stylish guests in Milan. Interiors are perfectly in keeping with Armani/Casa's sleek style and his clothing line; a continuation of his ocean-inspired Spring/Summer 2012 ready-to-wear collection - think silver and sophisticated gold." Luxury Travel Advisor is smitten with the suites that come with private gyms and personal kitchens. "Each guest is assigned his or her personal "lifestyle manager," (think 24/7 butler). There is a rooftop spa with Japanese onsen-style Jacuzzi and gym overlooking the Duomo and La Scala (posh indeed!)."
Related Articles:
Where to Stay for the Annual Dubai Shopping Festival
---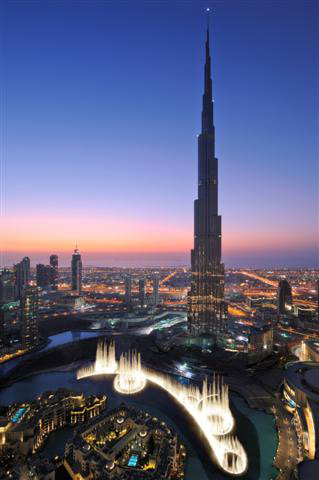 Calling all shopping addicts. Come winter, the Dubai Shopping Festival is where it's at. Get a tan (and soak up the balmy temps) while you're sprinting between boutiques. Indulge in some retail therapy with serious discounts on luxury brands, and you'll also be privy to the region's biggest "entertainment extravaganza"-- ie. huge fireworks displays, daily car raffles, and more. The best part of all? Shopping in Dubai is entirely tax-free. The annual month-long fest takes place from January 20- February 20, 2012 and attracts some three million visitors. Looking for a place to stay? Five Star Alliance has the skinny on a number of glamorous Dubai hotels- from the "seven-star" Burj Al Arab to Armani's very own pad (pictured). Take a gander at the full list here.
---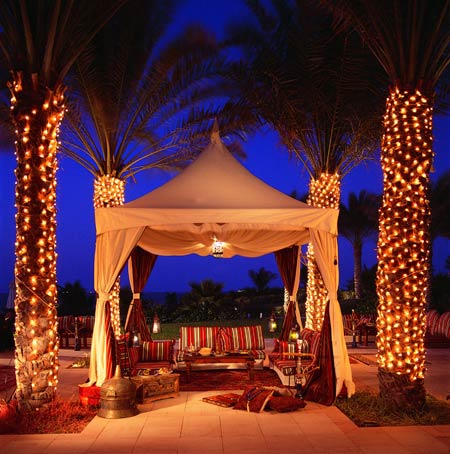 The Ritz-Carlton resorts have been known to provide exceptional service and luxurious accommodations, and the Ritz-Carlton Dubai is no exception. This hotel, however, is taking luxury a step further and is now proudly offering the services of a Hookah Sommelier. The Ritz-Carlton Dubai embraces the United Arab Emirates culture and ensures that its guests experience true Arabian hospitality.
With its very own Hookah Sommelier on staff, the Ritz-Carlton Dubai now has a professional to recommend a shisha flavor that goes well with your food and drink. Aside from creating the perfect tobacco blend, the Hookah Sommelier, upon request, can craft a unique shisha flavor which will be recorded and remembered for your future visits. Not an avid hookah smoker? Not a problem. Guests at the Ritz-Carlton Dubai can also relax on white sand beaches, enjoy incredible shopping opportunities, or simply take in the astonishing sites of Dubai.
---
After reading CNN's own list of great hotel pools, we decided to put our heads together and write up our thoughts on the matter. Who has the 10 best hotel pools in the world? To truly know, you'll have to visit yourself and see. But these are certainly our favorites.
10. The Banyan Tree Seychelles
With the simple application of basic mathematics, the Banyan Tree has figured out how to improve upon the tried and true concept of the private pool: By giving its two-bedroom suites two private pools – and what a sight they are. That's the kind of thinking I can get behind.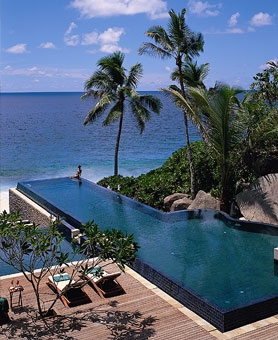 9. Le Palais de la Mediterranee, France
Le Palais de la Mediterranee in Nice rolls in at number 9 with its incredible 3rd floor indoor/outdoor pool. Just feet from a sun terrace with a gorgeous view of the Mediterranean, this is a pool that was tailor-made for lounging. If to you a vacation means leaning back, lowering your sunglasses over your eyes and relaxing the afternoon away, then this is the hotel for you.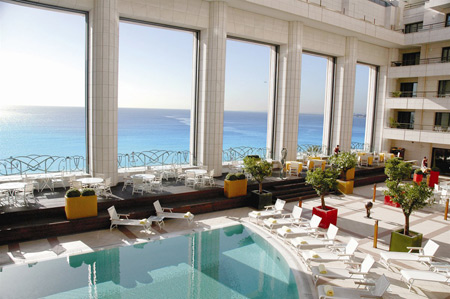 8. The Berkeley, London
While some other pools may be more spectacular, as you'll see in a moment, none offer the same level of comfort year-round as The Berkeley rooftop pool in London. The heated pool features a wonderful open-air swimming experience in the summer, but unlike most hotels, when it gets a bit colder, you don't have to take the party inside. The Berkeley instead rolls out its retractable roof, and you can now enjoy the comfort of a perfectly climate-controlled rooftop pool in winter.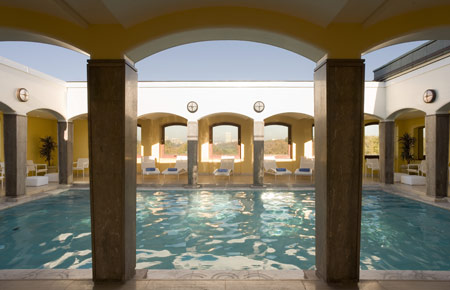 7. Villa d'Este, Italy
The pool at Villa d'Este on Lake Como would make Archimedes blush. Floating above the very lake that the Villa rests against, the pool features a built-in Jacuzzi and fantastic view of the surrounding mountains. It's like swimming in the lake just inches below your feet, but it's always the perfect temperature.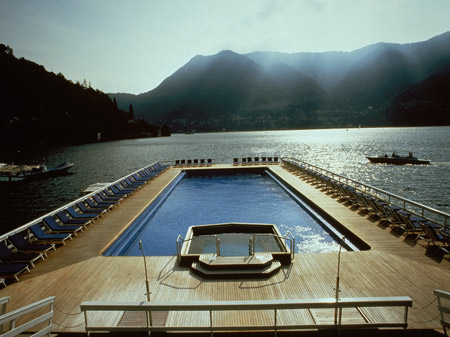 6. Blue Palace Resort and Spa, Crete
The Blue Palace Resort and Spa is truly deserving of its sixth place finish, and really if we were fair it'd be on this list twice. The aptly-named Blue Palace is renowned for the private pools that come standard with most of their rooms and suites. With pools up to 40 sq. meters in size for just you and your companion(s), there couldn't be a more private or luxurious swimming experience. And if that weren't enough, the Blue Palace is famous for its unique Grecian Thalassotherapy, which combines the relaxing powers of a world-class massage with water-cleansing rituals guaranteed to revitalize your body.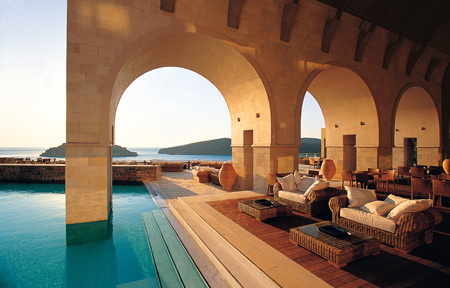 5. The Library Koh Samui, Thailand
In this case, the picture speaks for itself. The Library Koh Samui is built around the innovative concept that a vacation is about relaxation and people should be allowed to free their minds from stress by engaging in the simple pleasures of cracking open a book and enjoying the company of their family or friends. They've also turned their pool red - which is both surreal and strangely captivating, like green ketchup or a fish riding a bicycle.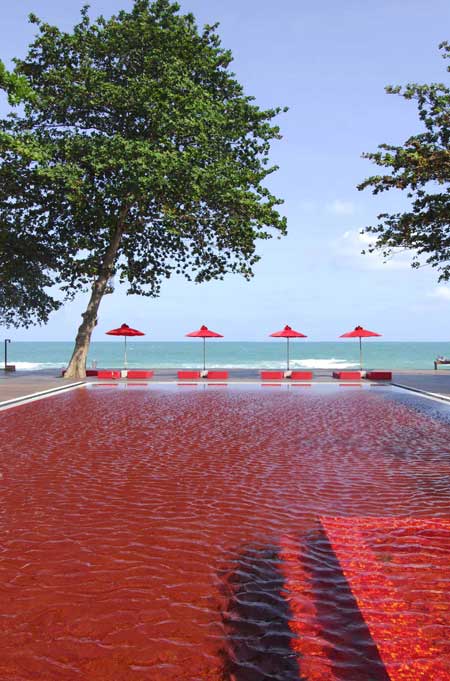 4. Rawi Warin Resort and Spa, Thailand
The 1000 sq. meter infinity edge pool at Rawi Warin looks as if the water is fading into the ocean, with only little beach umbrellas poking above the water line to let you know that it doesn't go on forever. The illusion is compelling and gorgeous. As if that weren't enough, Rawi Warin also has Asia's first ocean swimming pool, extending 100 meters into the water and allowing you to swim with the fishes in an entirely literal way.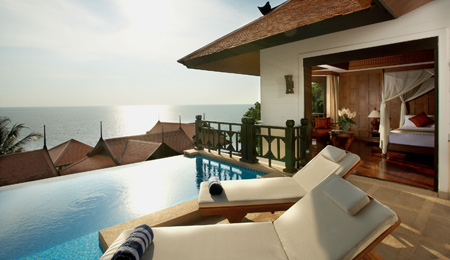 3. Palazzo Sasso, Italy
The Palazzo Sasso has one of the more innovative designs for a hotel pool we've ever seen. Situated on the edge of a cliff 1000 feet above sea level, the pool at Palazzo Sasso offers underwater windows with a view of the sea below, thus discovering the heretofore unknown condition of subaqueous vertigo. But seriously, it is the single most impressive thing I've seen at the bottom of a pool.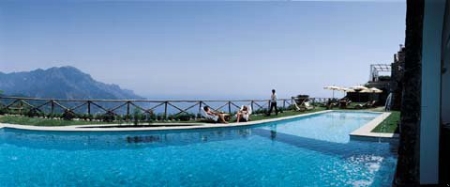 Atlantis the Palm Dubai may just be the best thing ever. If you got all the things together in one place, and made me pick, I'd say, "I want that thing. It looks like the best thing." So what is this thing I'm so excited about? Well, it just might be a standard luxurious hotel pool, only it's attached to a full water park! I don't bandy about with exclamation points lightly, but this seems to be worth one. If you, like me, have ever thought, "wow, this vacation is really relaxing, but what I'd really like is to go launching out of a ziggurat at high speeds into a pool of water," then this is the destination for you. And even more than that, much of the hotel is themed around this aquatic experience. There are underwater mazes, a four-and-a-half hectare dolphin habitat, and something they just call Aquaventure.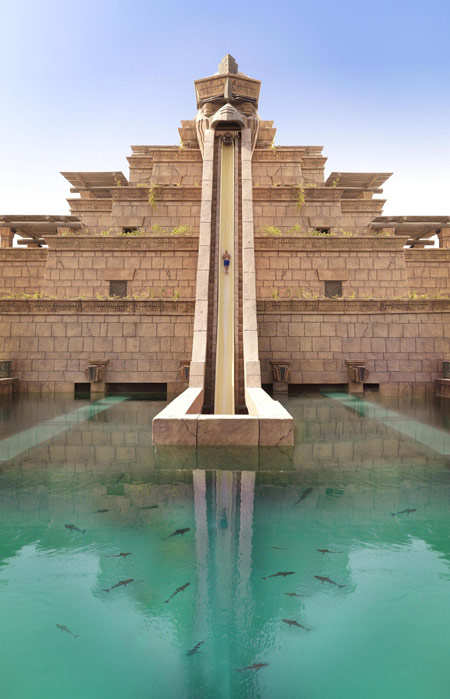 Occasionally, a feat of engineering comes along that's so remarkable, you have to doff your hat to the architects of its design. The Marina Bay Sands Infinity Pool in Singapore is more like what would result if Leonardo da Vinci were in the hotel business. Resting 200 meters above the ground in the Sands SkyPark, the Infinity Pool is as breathtaking as it is surreal – the edge of the pool seems to fade into the horizon itself. Swimmers are greeted with a panoramic vista unequaled anywhere. Without a doubt, the Infinity is the coolest hotel pool we've ever seen and not just for the breeze.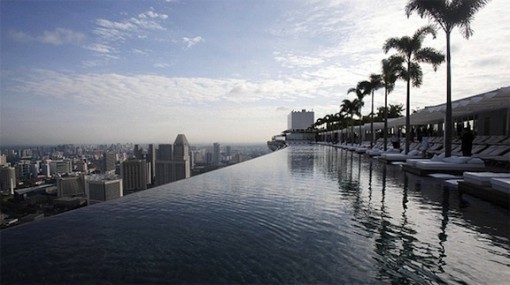 So throw on your swim trunks and book a room at any of these amazing hotels (maybe in the other order), and soon you'll be enjoying the sun by some of the most amazing pools in the world.
Posted in:
France
,
Italy
,
Thailand
,
Seychelles
,
Nice
,
Crete
,
Lake Como
,
London
,
Singapore
,
Koh Samui
,
Krabi
,
Mahe Island
,
Dubai
,
Articles
,
Featured Luxury Hotels
,
Travel with Kids
,
Luxury Spas
,
Beach and Island
,
Hot Spots
,
'Best Of' Lists
,
Luxury Suites
,
Our Favorite Sites
---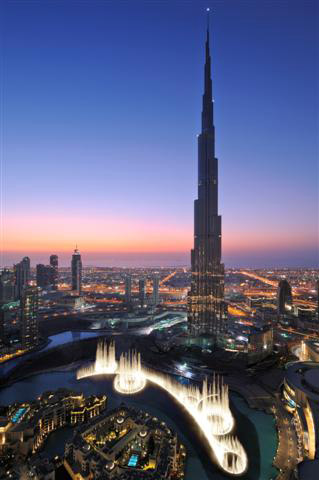 It looks like massive tourism growth in glitzy Dubai has had a big impact on Dubai International. The airport handled 4.7 million passengers in the month of July alone, and is on track to eclipse Hong Kong and Paris Charles de Gaulle. The Centre for Asia Pacific Aviation has determined that Dubai's airport will move into place this November as the world's second busiest international airport. London's Heathrow continues to be the world's busiest airport. Interested in jetting to Dubai to check out the indoor ski resort or the LED light show at InterContinental Dubai Festival City? Browse the Five Star Alliance collection of four- and five-star hotels...
Related Articles:
Where to Stay in Dubai for the Middle East's Top Tennis Tournament
Special Five Star Alliance Rates at the Armani Hotel Dubai
---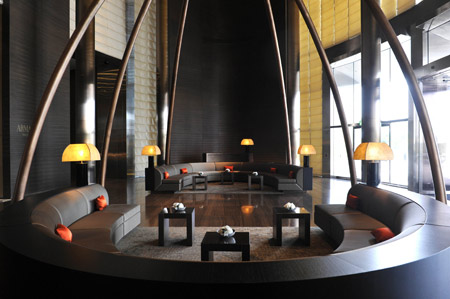 We found ourselves daydreaming about Giorgio Armani's pad in Dubai (you know, the one the fashion mogul designed himself- inside the world's tallest building), then the next thing we knew, we were checking out room rates for a summertime trip. Imagine our surprise when we found out that the Armani Hotel Dubai is running a special promotion. Stay two nights and save AED 400 per night in the Deluxe and Classic Rooms, as well as the Premier Suite room category. Book a Fountain Suite (with spectacular views of the sound and lights of The Dubai Fountain) for four nights and save AED 1,000 a night. Channeling minimalist elegance, the hotel's 160 rooms and suites were designed with sophisticated colors and unique textures. From the hand-made Florentine leather to the bathrooms made with Brazilian green bamboo marble-- every detail was personally chosen by Armani. Facilities, including eight restaurants, an indoor gold souk, and a decadent spa, reflect the Armani lifestyle.
---