LUXURY HOTEL INSIDER
The Luxury Hotel Insider
: Exclusive luxury hotel deals, features and special rates from the luxury hotel experts at Five Star Alliance.
Named one of Tripbase's
Best Luxury Travel Blogs for 2011
, below are Five Star Alliance's newest articles featuring exclusive information on luxury hotels worldwide including special offers and deals at the world's best hotels.
---
KSL Resorts have made a couple of new additions to their collection in 2012, and a change in ownership is always an exciting time for guests of a hotel. New ownership means a new philosophy, and often most importantly, an infusion of investment that allows for extensive renovations. KSL has taken over the iconic Grove Park Inn in Asheville, NC, and invested in renovating the Hotel del Coronado in San Diego, CA.
The Grove Park Inn is a huge attraction for locals and travelers alike, a perfect getaway for a weekend of relaxation for anyone on the East Coast or even just visiting the area. Its spa is top-notch, and it has a real down-home authentic feel to both the rooms and the hospitality. We're excited to see what KSL is doing with their newest addition.
While the Grove Park Inn epitomizes southern luxury, Hotel del Coronado has its feet firmly planted in west coast culture. The 368 have also been completely redesigned and purposed for rejuvenation. The resort itself rests on Coronado Island, sunning itself on the picturesque California beaches. With a distinctly Victorian atmosphere coupled with California's standard of relaxation, its no wonder that the Travel Channel has rated it the number one wedding destination in America. The Hotel Del Coronado is already a great resort, and we're looking forward to trying out the redesigned rooms.
---
The Mandarin Oriental in Atlanta, Buckhead is now open for business, which created a bit of a conundrum for me. See, there are just so many great headlines for Buckhead. Alternate titles included, "Ahead of the Trend," "The Buck Stops Here," and "Mandarin Oriental Opens a New Hotel in Buckhead," which was the generous contribution of the portlier half of my brain. Thanks, left brain, but you're not very good at this. Anyway, after my painstaking research into optimized punnillanimity, I turned my eyes to the actual details of the newest addition to the Buckhead neighborhood. The Mandarin Oriental promises terrace views of the city skyline from some of the rooms on higher floors, and its Premier Terrace Suite offers a more panoramic view from either of its two balconies, from which you can enjoy some fantastic in-room breakfast or dinner. Stay in any of its 127 guest rooms to enjoy its 15,000 sq ft spa and Taipan Cocktail Bar. Also, look for the More in Atlanta package to grab a third night free.
---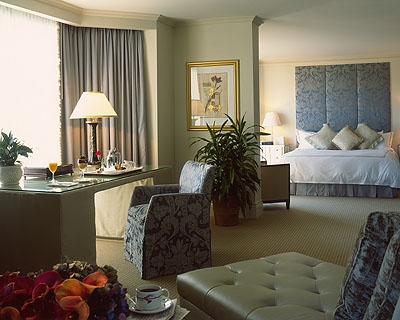 The Four Seasons, while known for its all-weather capability, is taking the spring and early summer to get ready for their grand opening in Toronto. As summer winds down and autumn approaches, the newest addition to the Four Seasons brand will be opening its doors to all comers. Reservations can now be made online beginning on October 1st, 2012 and that date may be pushed up as opening day is finalized, so be sure to keep checking in for earlier days as the opening approaches.
This new Four Seasons property takes the refined style of the internationally renowned brand and adds a little twist of 2012 on top. Four Seasons Toronto will be sleek and modern, and their world class spa and restaurants cannot be ignored. You'll be frequenting the largest spa in the city at the Four Seasons, and the restaurants have been reimagined by international restaurateur Chef Daniel Boulud. His namesake restaurant Boulud and the d | bar are aiming to become fixtures of the Toronto scene, pioneering a trendy hotel bar atmosphere. I, for one, am excited to see the Four Seasons expanding to more wintry climes in time to keep me cozy for next Christmas.
---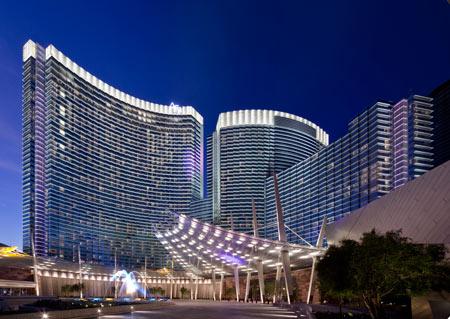 Have you had an unforgettable vacation this year? Or gone to back to an old favorite that you just keep away from? Now's your chance to make sure your favorite hotels, resorts, and vacation destinations are getting the accolades they deserve. Nominate them for the Conde Nast Reader's Choice Awards by heading over here and taking a simple survey. Not only that, if you throw your opinion into the ring, Conde Nast will enter you to win a $10,000 trip to Las Vegas! So you can vote on your previous favorite and perhaps make a new one while you're at it: The Aria Resort and Casino will put up the lucky winner where you can dine at Sage, one of the top new restaurants in the city. This is a chance both to vote on your favorite hotels and to come away with something nice. Get your voice in by April 30 to make sure you're counted. It's a win-win situation, really.
---
The Embassy Suites Chevy Chase Pavilion, a feature of northwest DC, has finished up its eight weeks of renovation and is gearing up for its reopening come May 7th. Located within one of the northwest's great shopping centers, the Embassy Suites is a great DC Hotel, and their renovation is polishing all the corners and reapplying a fresh coat of paint to an already modern hotel. Grab one of their reopening packages for a crazy set of amenities:
- Complimentary Wifi
- Two free all-day metro passes
- Discounted $10 metro parking
- Free tote bag (Oh, yeah!)
- Complimentary cooked-to-order breakfast
- Manager's evening reception
Photo via Embassy Suites
---
The wonderful new Four Seasons property in Baku is a little bit off the beaten path, but we're certainly looking forward to its opening. Coming up on June 15, 2012, Four Seasons is bringing its signature style to the Caucasus region. The Beaux-Arts hotel is the perfect stop for the business traveler or tourist looking to experience the vibrant social scene. The Penthouse Spa is the ultimate destination for relaxation. Take a load off after a rough day of business by loosening your muscles through proven Turkish and Persian treatments. A two-story atrium with heated swimming pool is your spot for a relaxing float. Book now for the summertime at the Four Seasons Baku.
Photo via Four Seasons Baku.
---
In the spirit of the holiday, the Tempo Miami has rechristened itself as the Casa Moderna Miami. The new hotel is celebrating the name change in style, and there's not been a better time to stay in one of its 56 rooms and suites on gorgeous Biscayne Bay. Enjoy the view from its 14th-floor sky pool deck or lounge in its 8,000 sq ft spa. The boutique resort is perfect for someone who wants to get out to the beaches of Miami without the bustle of the larger hotels.
Casa Moderna is making a concerted effort to upgrade its dining experience as well. For the month of April, you can even text 'fresh' to 84700 in order to receive a coupon for a free Tea Forte cocktail at their delicious restaurant, Amuse. They are celebrating the addition of the new Executive Chef, Kenneth Williams, to their team, and I'm looking forward to the great things he'll be up to. He was wonderful at the Fisher Island Club and Gotham Steak. It will be great to see if the rebranding efforts will run deeper than the new website and new name to the essence of the hotel. At the very least, the new leadership for Amuse should provide an interesting change of pace. Learn more about the Casa Moderna here.
---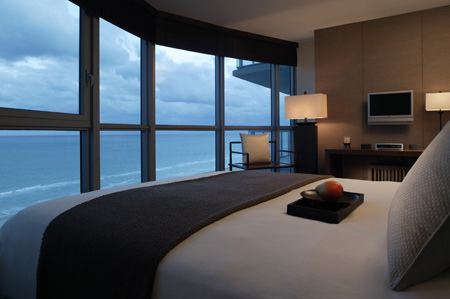 It's not often that the hotel industry gets good drama. In a move that I imagine happening a little something like this, the Setai was invaded by armed enforcers, who physically removed managing hotel group, General Hotel Management, from the premises. The enforcers were controlled by the Setai owners, affiliates of Lehman Brothers Holdings, who were clearly unsatisfied with the way their property was being managed. GHM President Hans R. Jenni claimed they were completely blind-sided by this maneuver, even noting that they had posted the second highest profits of any year immediately prior to their displacement. This in answer to the allegations that the management group was overspending. The staff is reported to be filing an injunction against Lehman Brothers, but in the past such moves have been met with little success.
Executives from all sides are claiming that this should have no effect on your stay at the hotel, but we can bet that at the very least, you'll be hearing some good gossip from the staff. It's not every day that an armed posse of off-duty cops and private security storms into your place of work to eject your boss from the building. My favorite part of this story is that the folks doing the accusations of money mismanagement are most well-known for their 2008 Chapter 11 bankruptcy that catalyzed a national recession. So at least we know they're in good hands. Head on over to the Setai in Miami Beach to see for yourself.
Read more about the two sides at HotelChatter.
---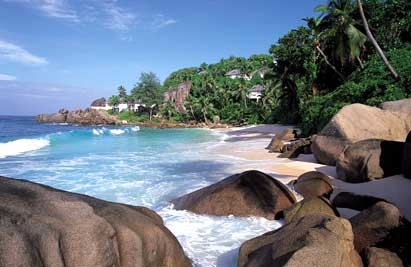 As our friends at Luxury Travel Advisor report, something big is afoot at the upcoming Banyan Tree Kerala. Set to open on the 1st of December this year, the hotel is redefining what to expect of a secluded resort. In a scene that I imagine belonging more in the Lord of the Rings than anywhere in real life, arrival to the Banyan Tree Kerala will be heralded by your approach. An approach in a boat, sailed through the tranquil waters and right into the hotel lobby, thus giving them the best boat-to-lobby distance ration (BTL) of any hotel in the world. We all have to be great at something, right? Seriously, it's such a novel concept for a resort brand that prides itself on its exclusivity, and I'm a huge fan of non-traditional lobbies. And what could be more non-traditional than the potent lobby-harbor combination? As their PR Rep told me, "I heard you like boats, so I put a boat in your lobby, so you can check-in while you boat."*
This is certainly a hotel property to be on the lookout for. Banyan Tree always seems to deliver on their particular brand of luxury, and they're clearly looking to innovate on their already successful concept. While you're waiting for the Banyan Tree Kerala to open, check out our other Banyan Tree resorts.
*Not Intended To Be a Factual Statement
---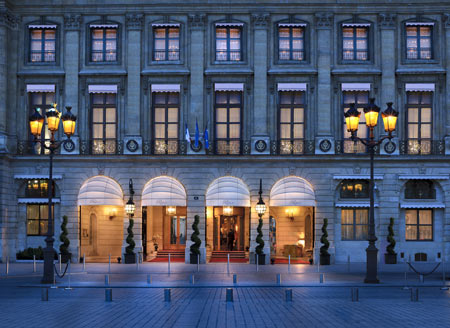 Last week, we reported that the Ritz Paris suffered the incredible misfortune of a nearby garage catching fire, and we now know a little bit more of the story. As HotelChatter reports, despite the quite imposing pictures, the hotel itself was fortunately largely unaffected. The fire was contained mostly to a single level of the parking garage, gutting some 30 vehicles parked there, but only one person was harmed, and only from smoke inhalation, and nearby buildings were only exposed to the billowing smoke clouds. There may be a little bit of exterior discoloration from the blackened soot, but the fire itself stayed away, and there are no reports of any smoke getting inside to damage rooms at the Ritz or any nearby establishments. We are happy to hear that the effects of this tragedy were relatively minor, given the possible damage.
All that's to say that the fire is no reason to shy away from one of Paris's iconic properties before their August closing.
It still looks like this, we promise.
---