LUXURY HOTEL INSIDER
The Luxury Hotel Insider
: Exclusive luxury hotel deals, features and special rates from the luxury hotel experts at Five Star Alliance.
Named one of Tripbase's
Best Luxury Travel Blogs for 2011
, below are Five Star Alliance's newest articles featuring exclusive information on luxury hotels worldwide including special offers and deals at the world's best hotels.
---
It's about time. Bangkok is scheduled to open the new Suvarnabhumi Airport in 2006, which will feature a high-speed rail link and five alternative routes to the city center to avoid that nasty Bangkok gridlock!
---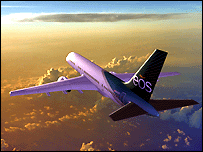 The Economist recently announced that two new niche carriers have started flying the London-New York route. We've watched the low-cost model (thank you, Southwest!) catch on in Europe and Asia, but these two new transatlantic airlines are uniquely (and notably) devoted to luxury business class. Eos has enhanced planes originally built to carry 250 passengers. Now catering to only 48 business travelers, the Eos planes provide an experience more closely akin to corporate jets than business class cabins. Flights commenced October 18, leaving London in the AM, with return fares of $6,500. The other new kid on the block is Maxjet, targeting a different part of the business market: the more budget conscious business travelers. Maxjet planes carry half their original capacity, so 102 passengers enjoy double the space per seat. Return fares are the same as full economy fares, at $1,600. (Both airlines fly from London's Stansted to New York JFK.)
---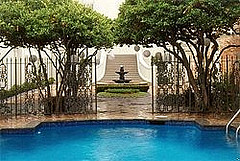 P.S. A follow-up to my post a few days ago… The New York Times "New Orleans Watch" includes a hotel status report with a list of all the hotels open in the city. Including some of my favorites like the JW Marriott, International House, Le Pavillon and the Monteleone. Come on down south, y'all! The price is right.
---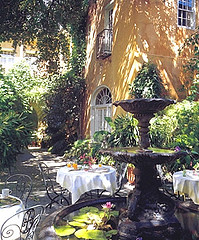 Vacationing on the placid waters of the Caribbean—from the coral reefs of Belize, the perfect windswept beaches of Mexico's Yucatan and the French West Indies, to the pulsing nightlife and crooning jazz tunes of The Big Easy—it's hard to imagine the annihilating wrath of the hurricanes that sweep through every year. And this year—as we've all been witness—has been especially destructive. After the devastating damage of Katrina and Wilma, reconstruction efforts must begin anew in these tourism-dependent regions. Relief pours into New Orleans, but it'll be a long time until the city and its inhabitants recover. In the preliminary stages, most hotels have begun reparation work, and expect 2006 reopenings. Wikipedia presents a thorough analysis of the sustained damage, including criticism of the initial relief efforts. In the Yucatan, the coastal resorts (which account for almost half of Mexico's $11 billion yearly tourism revenue) are not expected to reopen for at least two months. Many will not be ready until Easter week. The island of Cozumel was even harder hit—many of the cruise ship piers were entirely destroyed. Heard any more news? Let me know. (Read one reporter's account of Wilma's wrath.)
---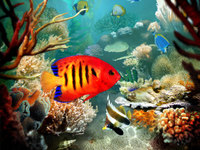 The Independent UK recently reported about the world's first sea-floor luxury resort: the Poseidon in the Bahamas. Underwater suites will boast panoramic views of unique varieties of fish on private artificial reefs, lit up by underwater lights controllable from an inside switch. And guests can enjoy use of an external fish feeder—just push a button and feed the fish outside! Additionally, each suite has a large Jacuzzi tub with spectacular views of the surrounding coral reef. Luxury underwater suites will set you back $1,500 a night. The Dude behind this development? The President of U.S. Submarines, L. Bruce Jones. Gotta figure that a submarine guy would be the one to pull off this stunt. They're shelling out US$53 million in this novel concept, so it'll (better be) good. Scheduled opening? The end of 2006.
---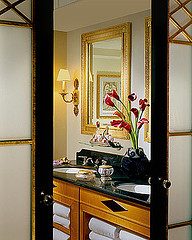 This year, the Four Seasons Washington D.C. is the only new hotel to join the prestigious list of 32 Mobil five-star hotels in the United States and Canada. The three new five-star restaurants include New York's per se, the White Barn Inn Restaurant in Kennebunkport, Maine and West Hollywood's Bastide.
Four Seasons Washington D.C., Official Site
Four Seasons Washington D.C., Five Star Alliance
---
I'm diggin' the TravelPost.com blog. Especially their description of Westin's new Renewal Suite at the Westin New York, Times Square. (This is the same hotel where Martha Stewart's Apprentice candidates struggled to create their ultimate themed hotel suite.) The Renewal Suite is complete(ly absurd) with DVD spinning classes, bamboo flooring to relieve stress, and Hepa air purifiers. As for Westin's new mini-bars? TravelPost.com says it all.
---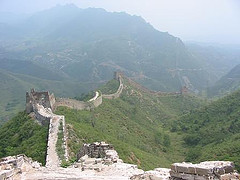 Numbers don't lie. According to the World Tourism Organization, China recently replaced Italy as the 4th most visited nation. Is this due to more tourism among the country's ginormous population? If anything, an increase in tourism among the Chinese themselves is a fabulous indicator of previously-rigid walls coming down…. (Last year I remember watching the sun set behind snow-capped peaks near China's Myanmar border, with Chinese tourists who had previously never left Shanghai and Beijing.) And Westerners are discovering that China offers a lot more than the Great Wall and Forbidden City. The southwest province of Yunnan, for example, is a wonderland of geographic marvels, history and cultural tradition. Luxury resorts have already staked an interest in Yunnan; Banyan Tree just opened a resort there, in "Shangri-La country," complete with heavenly spa.
Banyan Tree Ringha, Official Site
Banyan Tree Ringha, Five Star Alliance
---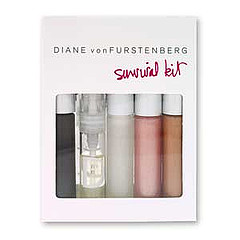 Everyone's talking about women's travel these days. This month, Travel and Leisure reports on female-friendly hotels: the Sanctuary South Beach offers discounts for women traveling solo, the St. Regis Shanghai offers a Ladies Floor staffed by female butlers, the Mandarin Oriental, New York has created the whimsical Girl's Guide to Glamour in Gotham (a Chanel makeover, a manicure at Bergdorf's and a shopping tour by limo), and London's Berkeley offers the Girls Night In weekend, a pampering extravaganza complete with in-room manicures, Cosmopolitans, Bliss products and late-night snacks.
My pick for solo women travelers? Vancouver's Le Soleil Hotel, with its Elle Suites specifically designed for the female business traveler. Amenities available include office supplies, soaker tubs with bath bombs and essential oils, Aveda body products, make up mirror, small wooden body massager, a selection of women magazines, low fat and low carbohydrate snacks in the mini bar and a selection of nylons and feminine hygiene products. Hotel Le Soleil's concierge will also provide an up to date list of around town events that may be of particular interest to women.
Also, be sure to check out Tango Diva—an online magazine devoted to women travelers.
And for women on the go... A fashion crisis on the road? Check out Diane Von Furstenberg's emergency kit (pictured) sold at W Hotels online store.
---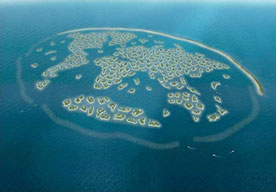 In the luxury resort market of Dubai, nothing surprises me. Home of the only 7 star hotel in the world (Burj Al Arab), the latest SKI? resort (as Gridskipper reports today about Ski Dubai), and the development of The World-- in miniature man-made islands shaped like the continents of the world. The US$1.8 billion project, expected to be complete by the end of 2005, consists of 250 to 300 private artificial islands divided into four categories—private homes, estate homes, dream resorts, and community islands. Hell, you could even buy a continent! The World is located four kilometers offshore from Jumeirah, close to The Palm Jumeirah and Burj Al Arab.
---