LUXURY HOTEL INSIDER
The Luxury Hotel Insider
: Exclusive luxury hotel deals, features and special rates from the luxury hotel experts at Five Star Alliance.
Named one of Tripbase's
Best Luxury Travel Blogs for 2011
, below are Five Star Alliance's newest articles featuring exclusive information on luxury hotels worldwide including special offers and deals at the world's best hotels.
---
Rumor has it that Ritz-Carlton is scouting out Denver's downtown. This would bring the first (and desperately needed) five-star hotel to the downtown area. Rock on!
---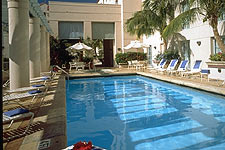 On its sun-soaked perch overlooking Miami, Coral Gables-- aka City Beautiful as it was dubbed when it was founded in 1925-- is a lot more than its 6.5 million square feet of office space, high-end boutiques and University of Miami campus. This is also the Latin American business headquarters of oodles of multinational companies (try 175 of them). It's a lush and beautiful spot, with a Mediterranean style aura. Starwood just announced plans to convert the 157-room Colonnade Hotel-- long known as the scene for important social and business events-- into a new Westin. What can guests expect at the new Colonnade, slated to open in late 2006? Why-- Westin's signature Heavenly Bed, of course, along with luxurious services, products and amenities that are all in line with Westin's new brand message of "renewal." Hence, the high thread-count sheets, down duvet and down pillows, plush bathrobes, and the newest Heavenly Bath: "a custom-designed dual showerhead that offers a choice of spray options from light mist to massaging needles." But smokers, beware. As of February 2006, Westin's paved the way for smoke-free hotels across North America.
---
Will the Dubai building boom go bust? As hyped in the press, W Hotels has recently announced its plans to bring its signature, stylish brand to the Middle East. W will open its 350-room luxury hotel in 2008 as part of the Festival City Project: a massive "City within a City" with "Riviera-style scenery and lush green landscapes… and iconic towers and luxury hotels." And it's touted as "the Middle East's largest, privately funded mixed-use real estate development." The W seems its centerpiece, to be designed by a renowned architect and packed full of the W brand signatures like loft suites, open "Living Room," and Bliss spa. Can the booming hotel and resort landscape of Dubai become as packed as the Vegas Strip? Related Articles: The Lobby, "W Comes to Dubai"Luxist, "W Hotels Heads to Dubai"CNN Money, "W Hotels Arrives on Shores of Dubai, the Global Brand's First Location in the Middle East"TravelPost Insider, "W Hotels Plan 2008 Dubai Opening"
---
Disney descended on Hong Kong last September, and-- in the ultimate symbol of China's newly (and increasingly) ravenous consumer hunger-- is now planning a park on the Chinese mainland as well. Indeed, Hong Kong Disneyland was so mobbed during the Lunar New Year that hordes were denied entrance to the park. As quoted by CNN:
"China has a very large population. We now have 1.3 billion people. The market is very large. As far as I know, Hong Kong Disneyland is now very crowded," said Shao Qiwei, director of China's State Administration of Tourism, whose comments were broadcast on Hong Kong's Cable TV.
---

Say hello to the brand spanking new Raffles Beijing Hotel. The decadent 171-room hotel makes its debut on May 28, and Raffles is celebrating big time. A little background: the hotel is not a new glass skyscraper or contemporary architectural icon. This building was constructed in the 1900s, and is cloaked in history. This is an illustrious Beijing address, located just a few minutes from the Forbidden City and Tiananmen Square. Inside, the guest rooms are beautifully decorated, a fusion of Asian and French elegance. There is fine dining aplenty, and a gorgeous fitness center (squash or indoor tennis, anyone?) with its own indoor swimming pool. And the Raffles Beijing Hotel is celebrating its opening with a fantastic introductory offer. Two nights luxurious accommodation includes the following amenities: complimentary breakfast for two, arrival car transfer from the airport, complimentary wireless internet, and personal on-call valet services. Starting at CNY 2,180 per night for a Landmark Room, and CNY 2,680 for an Executive Room. Available May 28-August 31, 2006. Did I mention that the first 1,000 guests receive a special free commemorative gift?!
---
According to a new survey, Fortune 500 companies are prepping in a big way for the avian flu pandemic. After all, the forecasters are predicting that the avian flu could reach US shores in just a few months:
In particular, the companies are placing measures in place to track employee travel as being central to risk mitigation efforts, according to International SOS, one of the top providers of medical assistance, international healthcare, security services and outsourced customer care.
Thus, if I fly to Vietnam, China, or-- God forbid!-- France, am I considered at-risk by these same venerable companies? My travel plans and activities logged and databased to protect me from spreading the contagion?
---
Apparently 14 trillion unredeemed miles are floating around the black hole of frequent flier programs. According to the IHT's fabulous piece "Earning Miles: Is It Worth It?":
Since American Airlines introduced AAdvantage 21 years ago, an estimated 124 million travelers worldwide are busy counting miles with one or more of the 140 airline programs, many of which have scores of airline and non-airline partners, such as hotels, car rental firms and credit cards... Many airlines make money from the programs by selling miles to their program partners. United Airlines is said to generate more revenue from "Mileage Plus" than it does selling airline seats. Likewise, American Airlines with its "AAdvantage" program. Frequent-flier programs enable airlines to build a database of travelers, especially very frequent travelers, with the opportunity to build a direct relationship with them.
Could this really be the most successful marketing idea of all time?
---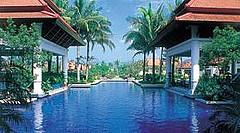 Arguably the world's best spa resort, the Banyan Tree Phuket is an exotic spa paradise facing Thailand's turquoise Andaman Sea. These exquisite tropical surroundings have recently become the sought-after setting for Banyan Tree's Destination Spa program: a series of fitness, wellness and cultural activities available in three, five and seven-night packages. The program includes accommodation for two in award-winning villas at Banyan Tree Phuket, daily breakfast, afternoon tea and dinner, two 90-minute massage sessions, an Intimate Moments experience, complimentary participation in daily fitness and wellness program and a special gift from Banyan Tree Gallery. In addition, guests are provided their own personal resort host to assist and recommend the best spa treatments. Rates begin at US$1,980 for a three-night package in a Deluxe Villa.
Banyan Tree Phuket, Official Site
Banyan Tree Phuket, Five Star Alliance
---
My home town is getting a makeover and I couldn't be happier. Kimpton-- that most delightful hotelier-- has bought the aged, decrepit Holiday Inn in Old Town, Alexandria and plans a complete overhaul. At long last: the return of glamour and class to this prime real estate in the heart of Old Town's cobblestone streets, flickering gas lamps and gorgeous colonial homes! Kimpton is pumping in $22 million in its conversion; the new Hotel Monaco, Alexandria will have 241 colorful and unique guest rooms, a pool, fitness club, and fine dining. Bring it on.
---
From Lanny Grossman, Director of Communications, Small Luxury Hotels of the WorldIn the last 18 months, SLH has received over 1100 enquiries for membership. In 2005 alone, the brand received over 650 membership enquiries via its website, of which only 17 hotels met the standards and earned membership for 2006. Regionally, SLH received 23 requests for membership from hotels in Thailand but only 5 became members for 2006. 91 requests were received from the U.S.A. but only 6 became members. A total of 55 requests from Italian hoteliers lead to the biggest grouping of 11 new members; finally, 30 requests from the UK and 26 from France both only delivering two members each. Although Small Luxury Hotels of the World continues to receive requests for membership in the traditional markets, the brand is making a concerted effort to expand into newer, emerging markets. This effort has already paid off for 2006 with the addition of hotels in Laos, China, South Korea and Russia. Areas of interest for future growth in 2007 are Dubai, South America, Eastern Europe, China and Japan where the brand is already in serious discussion with luxury boutique properties. The total collection now stands at 359 hotels in 59 countries, and for the first time includes a presence in South Korea, Laos, St Lucia, Russia and Estonia. See the list after the jump.
In The Americas 1. Adara Hotel at Whistler; Canada 2. Le Chateau du lac Sacacomie; Quebec, Canada 3. Dolphin Bay Hotel & Residences; San Louis Obispo, CA 4. The Inn of the Five Graces; Sante Fe, NM 5. Oheka Castle Hotel & Estate; Huntington, NY 6. Goodstone Inn & Estate; Middleburg, VA 7. Marina Inn at Grande Dunes; Myrtle Beach, SC 8. Castle Hill Resort & Spa; Ludlow, VT 9.Sivory Punta Cana; Dominican Republic 10.Discovery at Marigot Bay; St Lucia 11. Gaia Hotel & Reserve; Manuel Antonio, Costa Rica In Asia Pacific 1. Echoes Boutique Hotel & Restaurant; Katoomba, Australia 2. The Country Club Sydney; Nr Sydney, Australia 3. Island Hideaway Spa Resort & Marina; Dhonakulhi Island, Maldives 4. The Fortress; Galle, Sri Lanka 5. The Beach Negombo; Negombo, Sri Lanka 6. Banyan Tree Lijiang, Lijiang, China 7. Fuchun Resort Hangzhou; Hangzhou, China 8. Losari Coffee Plantation Resort & Spa; Central Java, Indonesia 9. Maison Souvannaphoun Hotel; Luang Prabang, Laos 10. Eros Spa & Resort Club Parthenon; Chungnam Province, South Korea 11. Hotel Hera Club Parthenon; Chungnam Province, South Korea 12. The Baan Thai Wellness Retreat; Bangkok, Thailand 13. D2hotel chiang mai; Chiang Mai, Thailand 14. The Racha; Phuket, Thailand 15. Nakamanda Resort & Spa; Krabi, Thailand 16. Aleenta Resort & Spa; Phang Nga, Thailand In Europe 1. Hoteldorf Gruner Baum; Salzburg, Austria 2. Manos Premier Hotel; Brussels, Belgium 3. Padaste Manor; Muhu Island, Estonia 4. Estate Hotel Schwarzer Adler; Baden-Wurttemberg, Germany 5. Brandenburger Hof; Berlin, Germany 6. De Hoefslag; Utrecht, The Netherlands 7. Dwor Oliwski Hotel & Restaurant; Gdansk, Poland 8. Savoy Moscow; Moscow, Russia 9. Royal Park Hotel; Bernese Oberland, Switzerland 10. Chateau de Cely; Ile de France, France 11. L'Hermitage Gantois; Lille, France 12. St Nicolas Bay Resort Hotel; Crete, Greece 13. Villa Le Scale; Isle of Capri, Italy 14. Albergo San Montano; Isle of Ischia, Italy 15. Townhouse 12; Milan, Italy 16. Townhouse 31; Milan, Italy 17. Townhouse 70 Suite Hotel; Turin, Italy 18. Masseria Torre Coccaro; Puglia, Italy 19. Inn at the Roman Forum; Rome, Italy 20. View at the Spanish Steps; Rome, Italy 21. Relais la Suvera; Tuscany, Italy 22. Grand Hotel Principe di Piemonte; Tuscany, Italy 23. I Casali di Monticchio; Umbria, Italy 24. Selenza Thalasso Wellness Hotel; Andalucia, Spain 25. Hotel Club Maritimo Sotogrande; Andalucia, Spain 26. Vincci Seleccion La Plantacion del Sur; Canary Islands, Spain 27. Mas Passamaner; Tarragona, Spain 28. The El Rodat Hotel; Alicante, Spain 29. The Goring; London England 30. Isle of Eriska Hotel, Spa & Island; Argyll, Scotland 31. La Stampa Hotel & Spa; Dublin, Ireland 32. La Sultana Hotel & Spa; Marrakech, Morocco
Our question? Who dropped out ...
Small Luxury Hotels of the World
, Official Site
Small Luxury Hotels of the World
, Five Star Alliance
---