LUXURY HOTEL INSIDER
The Luxury Hotel Insider
: Exclusive luxury hotel deals, features and special rates from the luxury hotel experts at Five Star Alliance.
Named one of Tripbase's
Best Luxury Travel Blogs for 2011
, below are Five Star Alliance's newest articles featuring exclusive information on luxury hotels worldwide including special offers and deals at the world's best hotels.
---
For 722 bucks from LA, and 782 from NYC (and this is the airline voted #3 in the mag's readers' choice world's best international airlines!) Thanks to Travel and Leisure's Hot Deals-- which is hotter than hot, with featured deals including Belgian Bargains (winter weekend with airfare and hotel for mere pocket change) and Luxury Alaska Cruises for 3,497 bucks.
---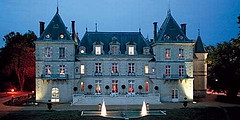 Consider this. The Louvre, Eiffel Tower and Notre Dame without the summer hordes. No line at Andre's in
Atlantic-facing La Rochelle for a sumptuous poisson feast (or other decadent items from the tempting menu du jour), while gazing at the ancient ramparts and centuries-old towers jutting over the sparkling sea, even the gargoyles seeming to smile down in languid contentment. Indeed the crowds have evaporated, leaving the majestic Loire chateaux and even Versailles empty for the taking (and gaping). The icing on the cake? A temperate climate that never sees the ghastly winter lows of Washington DC, so one could even score a bit of a sun tan basking in the sun (while bundled in a trendy winter coat, of course.)
Interested in the pictured Chateau? It's dreamy, and just a hop from Bordeaux and Cognac.
---
Courtesy of Forbes.com (and we are proud to say our very own Manager of Client Services-- Sarah Anderegg-- helped compile the domestic travel spending data), an interesting article on travel spends and hot spots for the new year:
With the new year comes the inevitable tide of resolutions, remorse (for overdoing it during the holidays), anticipation for the 12 months ahead and, for many people, a bad case of the winter blahs.
Time to hit the road, to such sought-after locales as the
Mandarin Oriental Dhara Dhevi
, Chiang Mai, Thailand or
The Palms
in Turks and Caicos, or the brand new
Ritz-Carlton Grand Cayman
.
---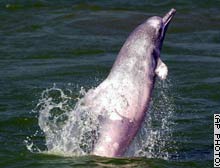 You've got to be kidding me. But as CNN reports, HK is no longer just about glitzy skyscrapers, designer shopping and gourmet eats. Throw ecotourism in the mix; the city is one of the best spots to see Indo Pacific humpback dolphins, which just happen to be totally, completely bubblegum-pink. Sign up with tour operator Hong Kong Dolphinwatch, who normally spots these uncanny creatures 97 percent of the time on tours in the South China Sea.
---
Speaking of the devil... The Times UK reports that many British homeowners regret their decision to invest in Dubai. That terrible third-rate workmanship of "luxury" properties and poor management belie the slick, glossy brochures advertising the glittering sea, sand and skyscrapers of developments in Dubai. (Thanks Alex!)
---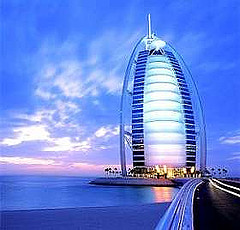 Why exactly is it so appealing? Since I'm a Dubai virgin-- passing through the airport on a Delhi-Moscow flight doesn't count for much-- I can only hazard a guess or two. Beaches, warm climate, awe-inspiring architecture that continues to push the envelope, underwater restaurants, the world's only seven star hotel... But Europeans calling it the new Côte d'Azur and buying up real estate like it's their job?! Proximity can't be the reason. Dubai is hot; it's been marketed as hot, and the incredible development continues to gather steam. Thus I implore you, dear reader... let's talk about Dubai. What makes it so damn hot?
---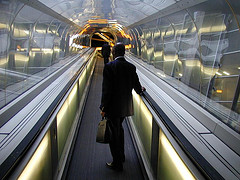 Can they send the funds to Paris Charles de Gaulle instead? The airport is the pits. I'm sure when it was constructed in the 70's, it was considered the epitome of cool. A space age vision of the future. Escalators and moving walkways ascending and descending hills through the maze of flashing white lights, crisscrossing the vast circular interior through plastic tubular structures. (The French tell me it resembles-- um-- camembert cheese.) Good luck trying to find the shuttle to the TGV. (It would require a map and pages of carefully detailed instructions.)
---
Redeem awards for unrestricted travel on any airline? Or take those miles and stock up on goods like iPods, Bose sound systems or lux spa treatments? No, this is not a joke. Just when almost every other airline out there has raised the number of awards necessary to get a free ticket (and upped the blackout dates), Eos-- the premium airline I've obsessed over before-- has introduced a brilliant frequent-flyer program. Both Travel Weekly and the Online Travel Review are talking it up this week. (And it's easy to understand why.)
---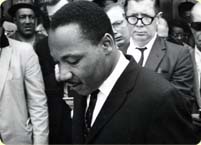 In honor of Dr. King, the Birmingham Civil Rights Institute is offering free admission all day long. Opened in 1992, the Institute offers the best, most comprehensive and moving exhibitions on the history of the Civil Rights Movement in the United States. A walk through the galleries—past replicas of segregated streetcars and fountains, a replica of the bombed and scarred Freedom Riders' bus, films and media presentations—is a journey through the events of the 1960s and the struggle for equality and racial justice. Importantly, the exhibitions highlight the Civil Rights Movement in relation to the ongoing international human rights movement today.
---
Originally published in the Bangkok Post, Wednesday 21 December 2005 By George Romanyk Even as I write this, the guttural growl of a Harley Davidson (not to mention a roaring chorus of other Harleys, BMWs and Japanese superbikes) is still echoing in my ears. You see, I've just returned from a five-day road trip to the Golden Triangle, along with an assortment of biker friends who also happen to be company presidents, CEOs and entrepreneurs. Now, before you start wondering what this has to do with a column on branding (or start snickering "born to be mild''), I'd like to share some insights I garnered during the course of this challenging and exhilarating journey. While our group was on the road during the days, we certainly weren't averse to roughing it. We got our motors running, we headed out on the highway, and when the highway occasionally deteriorated into a rutted, muddy track, we were well up for it. Ah, but at the end of each day, the discomforts of the road were eased by the unique boutique resorts on the Mekong our assistants had booked us into, as well as some first class meals, and the imported wines and cheeses and some truly tasty Cuban cigars we had smuggled along in our saddlebags. My point (besides making you green with envy) is that our little jaunt was a good example of a major change sweeping the world right now in how luxury is perceived and experienced. For many of the "baby boomers'' and the swelling ranks of "Generation X'' (people born between 1964 and 1976 or thereabouts), the era of ostentatious luxury is over, and instead they are demanding authenticity and adventure. We still want our luxuries, but we want them contemporary, with a hip twist; luxury that "keeps it real'', as it were. Particularly in the luxury hotel and travel sector are these demands being felt. At the recent International Luxury Travel Market in Cannes, the age of ostentatious travel was proclaimed to be over, with new research unveiled showing today's wealthy travellers needed "authenticity, exclusivity and attention to detail'' to keep them happy. "Personalised'' and "private'' were also big buzzwords. In a survey of 248 travel suppliers from around the world who service the needs of the affluent, 84% agreed their clients sought a more subtle form of luxury than in the past. The survey, by the Future Foundation, concluded: "No longer content to visit the classic haunts of the rich and famous, today's luxury traveller would prefer to be a trailblazer, albeit in great comfort, and visit new and less discovered destinations.'' According to ILTM's founder, Serge Dive: "The tastes of the rich don't stay still. Our research shows that the luxury traveller of today doesn't just want to be pampered-- they want a total escape from their highly pressured lives and they want to come back from their holiday having experienced something new.'' Another trend is that as more people get rich younger, they take less formal but shorter trips, with technology allowing them to blur the line between business and leisure travel. Also, little things often count for much: 65% of those surveyed said the toiletries on offer in a hotel were important, with recognised luxury brands meriting maximum brownie points. After our trip, I can heartily agree with that last point: eight windblown hours in the saddle of your steel steed, and you really appreciate little treats like a scented hot towel, some luxurious shampoo and shower gel, and a unique hotel experience. These findings also echo research our own firm has conducted during the course of a major re-branding project with one of our major hotel clients. Our research results concur that well-heeled travellers prefer service that gives them space to be themselves and to feel totally relaxed (while still meeting their every need of course) rather than the more intrusive and obsequious style of service offered by many five-star hotels in the past. A recent article in Newsweek notes: "Travel used to be divided into two basic categories: luxury and no-frills. The former consisted of flying first class, dining at three star restaurants and staying in decadent comfort; the latter involved backpacking and camping out in some of the world's most beautifully remote spots. Now, tourists can have their wine and see the wildlife too; communing with nature and living the good life are no longer mutually exclusive.'' Newsweek defines this as "rustic luxury'': a group of wealthy "new nomads'' toting Mount Everest-ready backpacks by luxury luggage-makers like Tumi, who want to visit the most rugged deserts, jungles, mountains and forests, and go rock-climbing and wreck-diving, but want their designer coffee and Egyptian cotton sheets when the day's adventuring is done. There is also the element of one-upmanship among this growing demographic. As one new nomad tells Newsweek: "It's a status game. Staying at the Four Seasons seems kind of bourgeois, since any doctor from the Midwest will know about it.'' To me, getting wild without losing the luxury is like a marriage made in heaven. There's nothing like zipping through rugged jungle tracks on your hog, getting down and dirty, when you know that some prime rib, a nice glass of Bordeaux and a fat stogie have your name on them. George Romanyk is chief executive officer of Creative Inhouse, a local branding consultancy and ad agency.
---