LUXURY HOTEL INSIDER
The Luxury Hotel Insider
: Exclusive luxury hotel deals, features and special rates from the luxury hotel experts at Five Star Alliance.
Named one of Tripbase's
Best Luxury Travel Blogs for 2011
, below are Five Star Alliance's newest articles featuring exclusive information on luxury hotels worldwide including special offers and deals at the world's best hotels.
---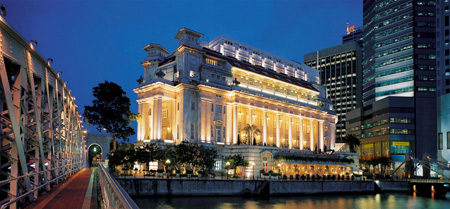 Two-star Michelin Guest Chef Claudio Sadler is coming to the Fullerton Hotel Singapore March 29th – April 1st, 2012. Claudio Sadler is one of Italy's most highly regarded chefs, and he will be creating his exceptional creations for only 4 days at the Lighthouse Restaurant. Enjoy culinary masterpieces like the Risotto laced with Franciacorta Rose Braised Red Onion, Pan Fried John Dory on Burrata Cheese Sauce, and Fennel Seed Roasted Suckling Pig Loin with Carrot and Campari Puree while taking in the stunning vistas of the Marina Bay.
Make your reservations today at the Fullerton Hotel Singapore and experience the phenomenal creations of Chef Claudio Sadler for yourself!
---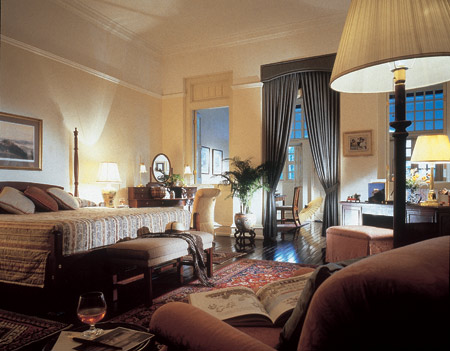 In today's competitive world, everyone needs a way to stand out from the crowd. Luxury hotels certainly are not any different and are always looking for ways to outshine their competitors and attract more visitors. We understand that our travelers look for the best of the best, and we would like to introduce you to our blog series, Hotels with an Edge. We'll be highlighting and featuring a few hotels we feel truly stand out and offer their guests more than is expected. Be sure to check in with us to explore various hotels that deserve recognition for their supreme levels of luxury.
Our fourth featured hotel is one that is exclusively comprised of suites, the Raffles Hotel Singapore. This luxurious property is one of Singapore's most elegant landmarks, and its colonial style architecture radiates a timeless grace. The suites in the hotel are certainly this hotel's distinguishing factors, specifically the Grand Hotel Suite which has 2 bedrooms, 3 bathrooms, a parlour, a private verandah and butler service. It is also the only hotel in Singapore with a movie theatre on site, a pool open 24 hours a day, and the only Singapore hotel marked as a National Monument.
Explore photos, availability, and rates at the Raffles Hotel Singapore here!
Be sure to keep up with our blog series for a little inspiration on where to stay next!
---
This post by HotelChatter is a little bit outside of the classic sense of a luxury hotel, but it's just too fun not to spotlight. They recently got to take a look at the new space suite at the Wanderlust Hotel in Singapore, a Design Hotel that features whimsical suite designs, from treehouses to typewriters to space. The room greets you with such highlights as a ceiling-high rocket ship, space-age bubble chairs, and a nightsky motif.
If you're looking for a way to take a trip back to the imagination of your childhood, when you could stare up into the darkness of the ceiling above and see straight through it into the far reaches of the galaxy, then the space suite will be happy to oblige you. It's unabashedly silly and exists precisely for those of us who wish we could be 10 again, and that's the precisely the beauty of it. In a room like this, it's easy to shed the pretenses of adulthood, pull out your crayons, and color all over the wall (note: don't do this!). You might, however, taking your actual children along with your inner one; I bet they'd get along quite well.
If whimsy fits your fancy, then check out the Wanderlust Hotel, or if you're looking for something a little more classical luxury and just want to pay a visit to this fine suite -- we have it on good authority that if you ask nicely, you might be able to have a look-see -- check out any of our hotels in Singapore.
Photo via HotelChatter.
---
We understand that an incredible view is of utmost importance to luxury travelers. After a day of exploring a new city, there's nothing more enjoyable than returning to your luxurious accommodations and taking in the miraculous view before calling it a day. For others, there simply is not enough time in a day to enjoy everything a city has to offer, and the only exploration one has time for is to take in the view from the hotel. We'd like to introduce you to our new blog series, which will be featuring incredible hotels with incredible views! Whatever your travel reasons or however much time you have to enjoy your trip, we hope you leave thinking wow what a view!
Our first feature is the Marina Bay Sands Singapore. It's located in the heart of Singapore along the Marina Bay Waterfront. This luxury hotel is the leading destination for business and leisure travelers visiting Asia. Its 2,561 rooms and suites have a classic luxury design, and the hotel has a museum, an incredible shopping mall, world-renown restaurants, a casino, and an outdoor event plaza. The rooftop Sands SkyPark is perched atop the hotel, 200 meters above the city, featuring exclusive restaurants, an infinity pool, an observation deck, and an unbeatable 360 degree view of the Singapore skyline.
Be sure to keep up with our blog series to discover various luxury hotels all over the world with the best views!
Photo via Hotel Chatter
---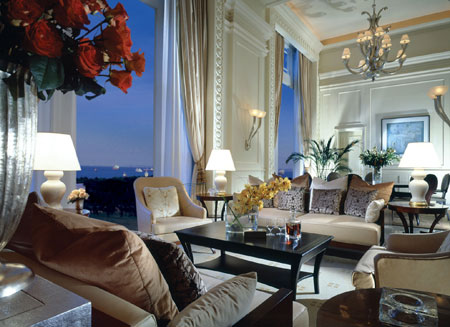 In the final days of 2011, Five Star Alliance is counting down the Top 20 Luxury Hotels & Resorts Worldwide, as decided by our guests.
In the #19 spot we have the Fullerton Hotel Singapore located in the heart of Singapore's art and financial district.
Quick facts about the Fullerton Hotel Singapore:
- This luxury hotel was transformed from the Fullerton Building which was built in 1928.
- Located a 25-minute drive from Singapore Changi Airport, 12 minutes from the Singapore Cruise Centre, and 10 minutes from the Malayan Railway Station.
- Voted the best hotel in Asia in the Conde Nast Traveler Readers' Choice Awards 2006.
- 400 spacious rooms that blend the old and new to provide luxurious accommodations suitable for business and leisure travelers.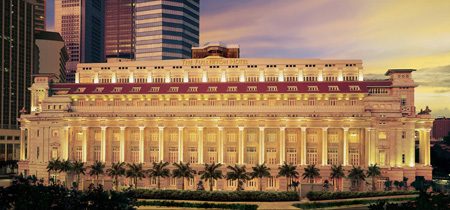 - Nine furnished function rooms which can be customized to suit your requirements.
- 25-meter outdoor infinity pool overlooking the Singapore River.
- The presidential suite was formerly the card room of the elite Singapore Club. This 199 square meter suite is furnished with a baby grand piano and has a private elevator for discreet access, and the living and dining room extends out to a spectacular verandah.
- The 8 loft suites, all two-storey duplex suites, line the building and feature French doors leading out to a balcony with a view of the Marina Bay Waterfront.
View photos, learn more about the hotel, and check availability at the Fullerton Hotel Singapore.
Be sure to keep up with our countdown! In case you missed it, here's our #20 feature hotel, the St. Regis Resort Aspen.
---
After reading CNN's own list of great hotel pools, we decided to put our heads together and write up our thoughts on the matter. Who has the 10 best hotel pools in the world? To truly know, you'll have to visit yourself and see. But these are certainly our favorites.
10. The Banyan Tree Seychelles
With the simple application of basic mathematics, the Banyan Tree has figured out how to improve upon the tried and true concept of the private pool: By giving its two-bedroom suites two private pools – and what a sight they are. That's the kind of thinking I can get behind.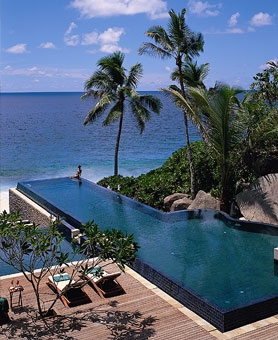 9. Le Palais de la Mediterranee, France
Le Palais de la Mediterranee in Nice rolls in at number 9 with its incredible 3rd floor indoor/outdoor pool. Just feet from a sun terrace with a gorgeous view of the Mediterranean, this is a pool that was tailor-made for lounging. If to you a vacation means leaning back, lowering your sunglasses over your eyes and relaxing the afternoon away, then this is the hotel for you.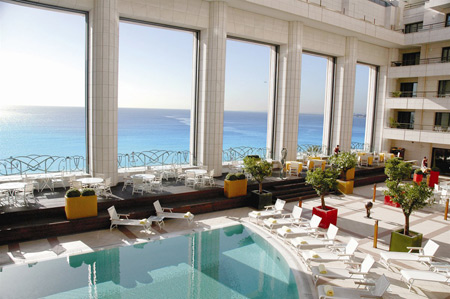 8. The Berkeley, London
While some other pools may be more spectacular, as you'll see in a moment, none offer the same level of comfort year-round as The Berkeley rooftop pool in London. The heated pool features a wonderful open-air swimming experience in the summer, but unlike most hotels, when it gets a bit colder, you don't have to take the party inside. The Berkeley instead rolls out its retractable roof, and you can now enjoy the comfort of a perfectly climate-controlled rooftop pool in winter.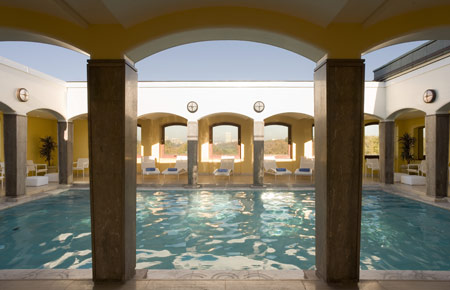 7. Villa d'Este, Italy
The pool at Villa d'Este on Lake Como would make Archimedes blush. Floating above the very lake that the Villa rests against, the pool features a built-in Jacuzzi and fantastic view of the surrounding mountains. It's like swimming in the lake just inches below your feet, but it's always the perfect temperature.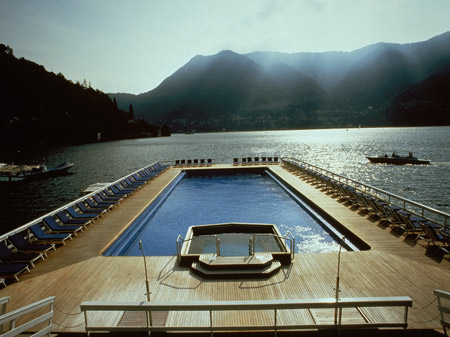 6. Blue Palace Resort and Spa, Crete
The Blue Palace Resort and Spa is truly deserving of its sixth place finish, and really if we were fair it'd be on this list twice. The aptly-named Blue Palace is renowned for the private pools that come standard with most of their rooms and suites. With pools up to 40 sq. meters in size for just you and your companion(s), there couldn't be a more private or luxurious swimming experience. And if that weren't enough, the Blue Palace is famous for its unique Grecian Thalassotherapy, which combines the relaxing powers of a world-class massage with water-cleansing rituals guaranteed to revitalize your body.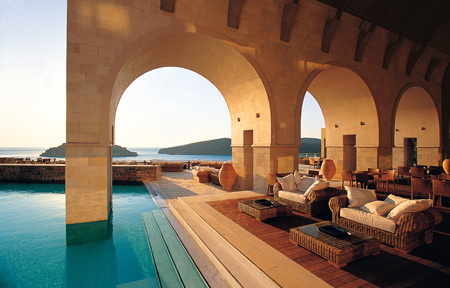 5. The Library Koh Samui, Thailand
In this case, the picture speaks for itself. The Library Koh Samui is built around the innovative concept that a vacation is about relaxation and people should be allowed to free their minds from stress by engaging in the simple pleasures of cracking open a book and enjoying the company of their family or friends. They've also turned their pool red - which is both surreal and strangely captivating, like green ketchup or a fish riding a bicycle.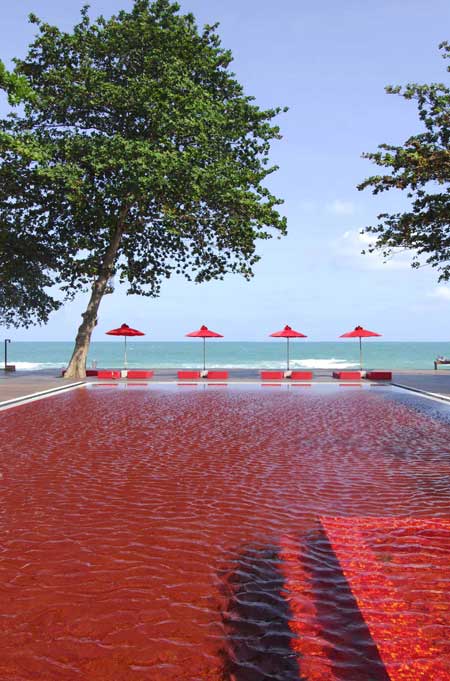 4. Rawi Warin Resort and Spa, Thailand
The 1000 sq. meter infinity edge pool at Rawi Warin looks as if the water is fading into the ocean, with only little beach umbrellas poking above the water line to let you know that it doesn't go on forever. The illusion is compelling and gorgeous. As if that weren't enough, Rawi Warin also has Asia's first ocean swimming pool, extending 100 meters into the water and allowing you to swim with the fishes in an entirely literal way.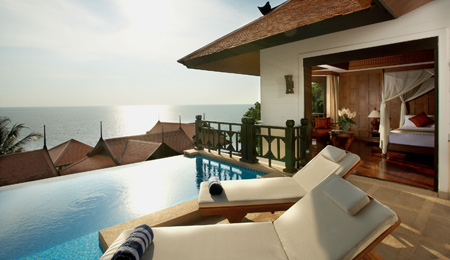 3. Palazzo Sasso, Italy
The Palazzo Sasso has one of the more innovative designs for a hotel pool we've ever seen. Situated on the edge of a cliff 1000 feet above sea level, the pool at Palazzo Sasso offers underwater windows with a view of the sea below, thus discovering the heretofore unknown condition of subaqueous vertigo. But seriously, it is the single most impressive thing I've seen at the bottom of a pool.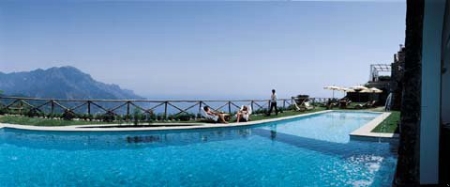 Atlantis the Palm Dubai may just be the best thing ever. If you got all the things together in one place, and made me pick, I'd say, "I want that thing. It looks like the best thing." So what is this thing I'm so excited about? Well, it just might be a standard luxurious hotel pool, only it's attached to a full water park! I don't bandy about with exclamation points lightly, but this seems to be worth one. If you, like me, have ever thought, "wow, this vacation is really relaxing, but what I'd really like is to go launching out of a ziggurat at high speeds into a pool of water," then this is the destination for you. And even more than that, much of the hotel is themed around this aquatic experience. There are underwater mazes, a four-and-a-half hectare dolphin habitat, and something they just call Aquaventure.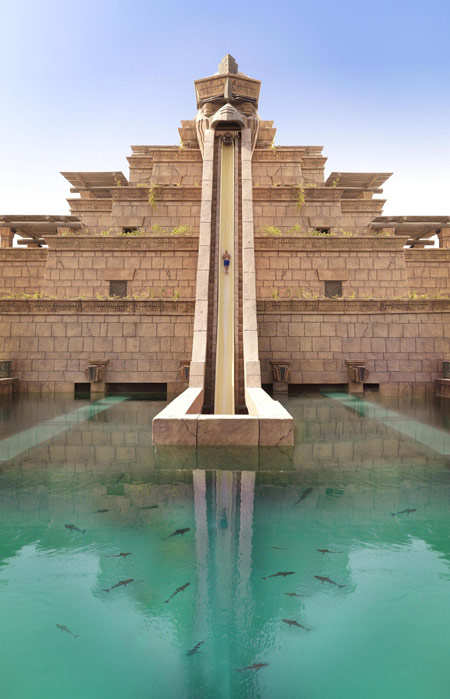 Occasionally, a feat of engineering comes along that's so remarkable, you have to doff your hat to the architects of its design. The Marina Bay Sands Infinity Pool in Singapore is more like what would result if Leonardo da Vinci were in the hotel business. Resting 200 meters above the ground in the Sands SkyPark, the Infinity Pool is as breathtaking as it is surreal – the edge of the pool seems to fade into the horizon itself. Swimmers are greeted with a panoramic vista unequaled anywhere. Without a doubt, the Infinity is the coolest hotel pool we've ever seen and not just for the breeze.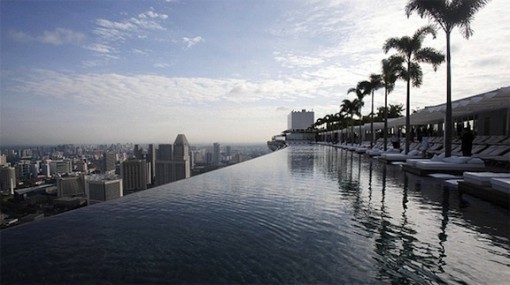 So throw on your swim trunks and book a room at any of these amazing hotels (maybe in the other order), and soon you'll be enjoying the sun by some of the most amazing pools in the world.
Posted in:
France
,
Italy
,
Thailand
,
Seychelles
,
Nice
,
Crete
,
Lake Como
,
London
,
Singapore
,
Koh Samui
,
Krabi
,
Mahe Island
,
Dubai
,
Articles
,
Featured Luxury Hotels
,
Travel with Kids
,
Luxury Spas
,
Beach and Island
,
Hot Spots
,
'Best Of' Lists
,
Luxury Suites
,
Our Favorite Sites
---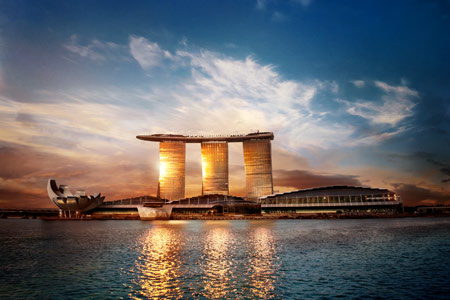 You've heard about Marina Bay Sands and it's sky-high infinity pool and plant-filled Sky Park... Now here's your chance to see it with your very own eyes, and tell all your friends back home about one of the sexiest new hotels on the planet. Located along the Marina Bay waterfront, Marina Bay Sands opened in 2010 and has already become a premier entertainment destination in Singapore. It has a lotus-inspired Museum, countless retail stores, trendy restaurants by celebrity chefs, theaters and happening night clubs, and a Las Vegas-style casino. Stay anytime til September 30, 2011 and you can take advantage of the "Sandsational Summer" package which includes:
* Two complimentary drinks from Ku De Ta—in the iconic Sands SkyPark.
* A S$50 nett destination credit per day. (Simply charge to your room and they'll waive the first S$50nett daily.)
* A 10% discount off Disney's musical "The Lion King" for all categories except Platinum
* A 23% discount off admission for two at ArtScience Museum.
Book now to enjoy this package from $339 per night on weekdays, and $399 on weekends. Does not include daily breakfast nor the 10% service charge and 7% GST.
Posted in:
Singapore
,
Featured Luxury Hotels
,
Romantic Travel
,
Travel with Kids
,
Business Travel
,
Food and Wine
,
Luxury Spas
,
Beach and Island
,
Special Luxury Travel Offers
,
Hot Spots
,
Museums
,
Luxury Shopping
,
Deals
,
Casino Hotels and Resorts
---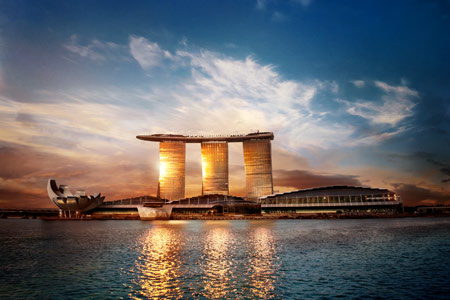 Now that's a pricey bottle of bubbly. The world's oldest bottle was recently sold at an online auction held by fine-wines auction house Acker Merrall & Condit. The winning bid? A cool €30,000 (US$42,758) paid by Singapore restaurateur Julia Sherstyuk. The Wall Street Journal recently broke the story:
Along with 144 other bottles from champagne houses like Juglar and Heidsieck, the 1841 Veuve Clicquot was salvaged last year from a 19th-century shipwreck in the Baltic Sea. The auction house believes the wines were on their way to the court of the Russian czsar in St. Petersburg when they were lost at sea. The Russian link inspired Ms. Sherstyuk, who runs Buyan, a Russian haute-cuisine restaurant in Singapore's Duxton Hill district, to foot the bill. "It was [purchased] due to [its] historical significance," she said, adding that it helps the restaurant "convey a sense of Russian history and culture."
Guests of the restaurant can catch a glimpse of the historic bottle as it will be displayed in the eatery's S$5 million wine collection alongside a €24,000 bottle of Jugler, an 1854 bottle of Lafite Rotschild and an 1859 bottle of Mouton Rothschild. Now the question remains: How will the stuff taste once the bottle's uncorked?
Pictured: Marina Bay Sands Singapore, the destination resort famous for its gravity-defying Sands SkyPark, with restaurants, a garden, and infinity pool-- all perched 200 meters above the city.
---
Traveling to Singapore? Make a beeline for the Shangri-La Hotel, where some incredible chocolate sculptures are on display in the lobby until April 30. The hotel is celebrating its 40th birthday in a sweet way: talented pastry chefs from Shangri-La hotels in Dubai, Bangkok, Beijing and Singapore are creating art with chocolate, demonstrating their own interpretation of the "Lost Horizon" using chocolate blocks. You can witness the chefs at work, a pair at a time, in the lobby until the 27th. These eight giant sculptures- made from the finest Belgian chocolate- measure two meters tall and weigh in at 1,200 kilos.
Drooling over the live chocolate carving exhibit may just have you lusting for something sweet. Lucky you: In conjunction with the exhibit, Lobby Court is presenting a series of thematic afternoon tea treats: pastries made with local fruit until April 17, then tea-flavored sweets and berries, followed by a decadent chocolate buffet (40 different types of desserts!) until May 1. Priced at SGD 38 per adult daily from 2 pm- 5 pm. More photos can be viewed on Shangri-La Hotels and Resorts' Facebook page.
---