LUXURY HOTEL INSIDER
The Luxury Hotel Insider
: Exclusive luxury hotel deals, features and special rates from the luxury hotel experts at Five Star Alliance.
Named one of Tripbase's
Best Luxury Travel Blogs for 2011
, below are Five Star Alliance's newest articles featuring exclusive information on luxury hotels worldwide including special offers and deals at the world's best hotels.
---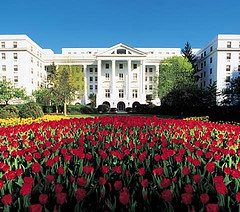 The cat's out of the bag. The ladies are flocking to the AAA five diamond Greenbrier for the March 8-12 scheduled Women's Wonderful Weekend, a relaxing four-day weekend designed just for women. The 4th annual event features an array of talented speakers, including authors Gail Sheehy and Christine Martinello, who lead sessions covering a range of topics (women's health issues, spiritual and mental growth, women in leadership roles, techniques to reduce stress, finance, fashion and beauty, etc). And of course besides the motivational discussions and reflection on personal growth, there's a birthday bash dinner party, "Not So Extreme Makeovers," and plenty of opportunities to divulge in the superb Greenbrier Spa. Rates are on the Modified American Plan (includes breakfast, dinner and a $50 spa voucher) and start at $380 per night single occupancy and $325 per night double occupancy.
The Greenbrier, Official Site
The Greenbrier, Five Star Alliance
---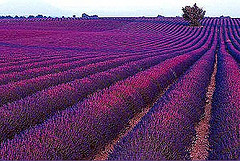 That's right, the charming city of Aix is paying tribute to the great artist—this is the father of modern art we're talking about!-- all throughout 2006. Indeed, Cézanne's light-filled paintings have become inseparable symbols of the Provençal setting they depict, the landscape that helped create the artistic genius that influenced Cubism, Fauvism and abstract art. Head to the south of France for the spectacular exhibit Cézanne in Provence, which features over a hundred of the artist's works, with 80 oil paintings and 30 water colors—all associated with the region around Aix. Now at the National Gallery of Art in Washington D.C., and showing at the Musée Granet, Aix-en-Provence, from June 9 - September 17, 2006. Additionally, starting April 8th the Tourism office will be operating a shuttle bus service to tour special Cezanne sites, including the studio at Les Lauves, the manor at Jas de Bouffan, and the quarries at Bibemus. The Cézanne 2006 season also includes performances, concerts, exhibitions, and music and dance. To really do it right in celebrating Cézanne's Provence, shack up at the Villa Gallici, an elegant paradise (and destination hotel) just 10 minutes from the town's historical center. (Where you can sip an aperitif on the statue-flanked terrace, overlooking the pool and Florentine gardens, before indulging in the evening's gastronomic feast.)
Villa Gallici, Official Site
Villa Gallici, Five Star Alliance
---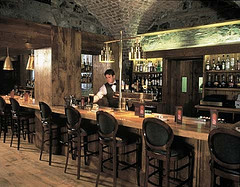 Here it is, the key to the signature Irish Coffee served by the experts at Dublin's most luxurious hotel. What better way to kill the chill of a cold winter's night.
The Merrion Irish Coffee
Ingredients:
Jameson Irish Whiskey - 35 cl and a drop for good luck
Strong freshly brewed coffee (caffeinated or decaf)
2 Brown Sugar Cubes (depending upon required sweetness)
50 m. Heavy Cream
3 Coffee Beans
Preparation:
Fill a cafe latte glass with a handle with hot water and leave to warm. Brew a pot of coffee. Empty the water from the glass and place the sugar cubes inside. Caramelize the sugar by pouring a few drops of Whiskey over them and gently light with a long match. Only let it burn for a few seconds so that the sugar just begins to caramelize. Pour in the measure of Whiskey and fill with coffee to within one inch of the rim. Ensure you keep a teaspoon in the glass at this stage. Stir well and ensure the sugar is completely dissolved to avoid a grainy texture when drinking. Place the cream in a clean cocktail shaker and shake vigorously until whipped. Using the back of the spoon, gently pour the cream into the glass. Garnish with three coffee beans and serve.
And according to the good folks at The Merrion:
On a typical winter's evening, The Merrion might serve up about a dozen Irish Coffees to patrons. However Stephen Lynch, Assistant Manager for the Drawing Rooms and Bar No. 23, reports that about two-and-a-half years ago, he and his staff prepared 150 Irish Coffees in an hour and a half much to the pleasure of the entire French Rugby Team who had taken up residence in the hotel bar that evening.
The Merrion, Official Site
The Merrion, Five Star Alliance
---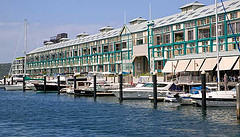 Taj Hotels Resorts and Palaces spent a mere $27.1 million for one of the hottest hotels in Sydney. On its first venture in Australia, Taj dubbed the boutique property BLUE Woolloomooloo Bay, an apt name for the luxurious marina surroundings on the Wharf at Woolloomooloo. Indeed, this is a perfect location: a hop from the Sydney Opera House, the Royal Botanical Gardens, and the central business and shopping districts. Distinguished among the top hotels in Sydney-- on the Conde Nast Traveler Gold List it was among the "Top 3 Best Hotels for Location in Australia/South Pacific"— BLUE also has an acclaimed restaurant and bar. (The Water Bar was named one of the "Top 5 Bars in the World" by Wallpaper mag in 2004 and one of the "Top 10 Bars in the World" in 2003 by CNT.) The 100 lavish guest rooms—including 36 stunning Loft Rooms-- retain authentic characteristics from the renovated historic wharf structure, but emanate urban chic and are equipped with all the latest technology. Not to mention sensational views of Sydney Harbor.
---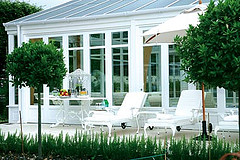 It's not too early to start planning your summer getaway. And why not think the UK countryside? Here's a favorite spot that the mags gush and rave about-- Harpers & Queen (Nov 2005) ranks the Summer Lodge as one of the 100 Best Places in the World:
With deckchairs scattered on sprawling lawns and trays laden with afternoon tea, this wisteria-clad Relais & Chateaux hotel in the beautiful Dorset Downs feels delightfully English – an atmosphere that extends into 24 extremely pretty, individually decorated rooms and suites.

X-factor: The lovely indoor pool, which is housed in a glass conservatory that looks out on the kitchen garden.
The room to choose? Why the master bedroom, of course. Room One was originally designed for famed writer Thomas Hardy and boasts a magnificent open fireplace and four poster bed overlooking the beautifully manicured English country gardens. Though you can't go wrong with the Ivy Cottage and its private hot tub in the courtyard garden.
Summer Lodge, Official Site
Summer Lodge, Five Star Alliance
---
From Kim Severini, Vice President of Sales & Strategic Marketing North America, Red Carnation Hotels It's about time someone published a thorough tips list for women travelers. Red Carnation Hotels did just that, in counseling solo women travelers on all matters safety. (Though we are a bit perturbed by #34. Bathroom floor prowlers? As if.)
SAFETY FOR FEMALE TRAVELLERS The Red Carnation Hotel Collection is pleased to provide 50 proven safety tips for women.

As with all such advice, some of it may seem overly cautious, alarmist even. But the cliche holds: it's better to be safe than sorry, especially when you're in unfamiliar surroundings. By observing these commonsense rules, you can enjoy trouble-free and secure travel just about anywhere in the world.

Choosing your hotel
1. Think intimate: small is smart. The staff should be able to distinguish between guests and strangers, and the hotel management will have taken a closer interest in its staff. Just as importantly, the smaller the lobby, the more unfamiliar faces stand out.
2. As a rule of thumb, affluent residential areas have more efficient transportation and streets that are less threatening for newcomers. Ask a female hotel employee whether she feels safe in the area at night.
3. A reception and concierge desk near the entrance is a useful deterrent to intruders.
4. The hotel should ensure privacy for guests checking in: no one should be able to overhear your name, room number, or other personal information.
5. Your room number should be written on the key envelope, not mentioned aloud or inscribed on the key so that anyone finding your key cannot access to your room.
6. Find out if there's valet parking, and it will be available when you need it.
7. Finally, ask about all the above when you book, not when you check in: you'll be tired and distracted, and too ready to compromise. And how the hotel responds to your questions will reveal how woman-friendly it is. If they seem put out or irritated by your requests, book elsewhere.
Your room
9. Request a room near the elevators, and have your key ready to use when you leave the elevator to avoid advertising your location.
11. You also want to be away from emergency exits, which might give unwanted access to the hotel, and on an upper floor away from terraces.
12. The door should have double locks - one of which is a dead bolt - and a peephole. Carry a rubber doorstop for extra security, or ask the hotel to provide one.
13. The 'Please make up this room' sign tells everyone you're not in. Not a good idea. Call housekeeping instead.
14. Conversely, the 'Do not disturb' sign will make the room seem occupied even when you're out.
15. Put expensive clothing on hangers under other garments. Thieves tend to grab what they can see.
16. Always lock your valuables in the in-room safe or the front-desk safe.
17. If your bag is stolen in the hotel, immediately recruit management to search for it. Most likely the thief will take easily stored items and dump the rest.
18. When on the elevator, stand near the elevator buttons with your back to the wall; if threatened, push all the buttons at once.
Out and about
19. Use a street map to familiarise yourself with the basic layout of your location before leaving the hotel. Getting to know what streets lead into others will help you feel more secure about your surroundings. Your hotel concierge or a female employee can mark any dangerous areas within the city on your map.
20. Once on the street, use a pocketsize guidebook to avoid looking like a tourist.
21. Don't dress in a way that makes you stand out. Avoid jewellery - even a fake gold chain may be ripped off your neck.
22. Secure a money belt with your belt loops. That way it won't fall from your waist if it's cut. If you are wearing a small backpack then wear it on the front with the flaps against your body.
23. Be especially wary when getting on or off a bus, train, or escalator; these are among pickpockets' favourite opportunities.
24. Carry just one credit card, and photocopies of important documents. Divide money into small and large denominations so you're not constantly bringing out a wad of notes. Always spend time familiarising yourself with foreign notes and coins before you need to use them.
25. Have the appropriate coins or notes ready as tips for porters and doormen.
26. Use prepaid phone cards instead of carrying your card number.
27. Ask the concierge to make your restaurant reservations. The restaurant will want more business from the hotel: use this to your advantage, have him or her say "Please take care of our guest, she's coming alone and will need a taxi home".
28. If you think a car is following you, turn and walk the other way. But don't panic: make sure you know where you're going.
29. If you are forced to ask for directions, approach families or women with children. To be extra safe mention that you're meeting your partner at your destination.
30. On the pavement, keep your handbag and other valuables away from the street side. On escalators, hold your possessions away from the opposite ramp.
31. If attacked, yell as loudly as possible.
Getting there
32. Use covered luggage tags. And write your office, not your home address.
33. Always keep all your cases locked.
34. Try to use the corner cubicle in public lavatories. That way there's only one way in for floor thieves.
35. On overnight flights, keep your valuables on your person. When you go to the lavatory, take your purse with you.
36. If it's your first time to a city, ask female flight attendants and passengers about the safety of your destination.
37. In busy areas, if you are depositing possessions on the passenger seat or in the trunk/car boot then re-lock the car doors before walking around to the driver's side.
38. Don't get out of a taxi until you're sure you've reached your destination and have paid the driver and checked that you have received the correct change after you have paid.
39. Stay close to your valuables when passing through airport security.
40. If you put a carry-on bag on the floor when sitting in a restaurant or other public area, put your foot through the strap.
41. Tear your name and address off magazines before leaving them on the plane. No need to tell the world that you're not at home.
42. Always carry a mobile phone: rent one if necessary. Put your hotel's number, and the police, on speed dial.
43. On first arrival, the layout of airports can be very confusing. If you're hiring a car, it may also be worth paying a – marked, official - taxi to lead your rental car to the main road.
44. On the road, if someone tries to get your attention or your car is bumped, don't stop until you arrive at a well-lit and busy area. Alternatively, stay in the car and sound the horn until someone comes to your aid.
45. If you're at all suspicious when help does apparently arrive, don't open the window. Hold your license up against the glass.
46. In the car, don't advertise potential vulnerability by displaying maps and guidebooks. Keep possessions out of sight: remember when hiring that hatchbacks may leave your luggage in plain view.
47. Always try to park facing out in case you need to make a speedy departure.
Sound practice
48. Don't just check the weather at your destination. Make a note of when the sun rises and sets, as well.
49. Prior to your departure, research the safety of your destination on the Internet.
50. If you're the victim of a crime, contact the police and keep the report. Insurance companies require this documentation.
Red Carnation Hotels
, Official Site
---
Leave it to the experts (Forbes.com Travel rocks) to compile this superb list of tips for enjoying the cities of your next business trip. After all, the reporters went to the pro-concierges at the cities' leading business hotels for recommended local activities. Brew a local beer in Berlin, play polo in Buenos Aires, ride an elephant in Delhi, have a suit made by the famous tailors of Saville Row in London, star in your own Western in Houston and swim with sharks in Capetown. The possibilities are endless.
---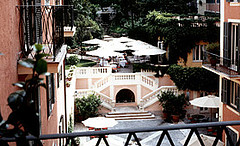 Leave it to the NYT to spill the secret: Rome in wintertime just can't be beat. Off-season hotel rates, end of season sales means shopping galore, the perfect lack of gawking crowds, and a plethora of (warm) indoor cultural activities. Where to stay? The stunning, historic Hotel de Russie (this is one of Rocco Forte's many European gems) boasts gorgeous terraced gardens and central courtyard, a peaceful oasis in the heart of the city near the Spanish Steps. And the Spa—with Turkish steam bath, hydropool, jacuzzi and sauna—ain't too shabby either.
Hotel de Russie, Official Site
Hotel de Russie, Five Star Alliance
---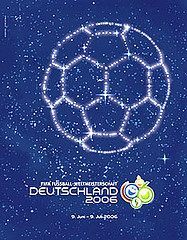 This is it. The sports event of the year and fans are already going nuts. Our advice? Get ready, set, and book those hotel ressies ASAP before rooms book up for the June games (scheduled June 9-July 9). The official site is loaded with info about this year's World Cup and its host cities of Hamburg, Hanover, Berlin, Gelsenkirchen, Dortmund, Leipzig, Cologne, Frankfurt, Kaiserlautern, Nuremberg, Stuttgart and Munich. Our picks:
In Hamburg, head for the Raffles Vier Jahreszeiten which has been the city's symbol of impeccable service for over a century. The furnishings are exquisite: 16th and 17th century Flemish Gobelin tapestries, Baroque cupboards and Renaissance chests. (The mags Travel and Leisure and CNT also love this joint, and its kick-ass spa is listed as a Leading Spa by LHW.)
In Berlin, which is just hopping with trend-setters these days, there are a plethora of worthy establishments, including the Kempinski Hotel Bristol (with its kickin address), the Radisson SAS (with its 25 meter AquaDom cyclindrical aquarium in the lobby), and the beloved favorite, Schlosshotel Im Grunewald, the historic castle hotel that offers only 54 exclusive rooms and 12 suites, designed by the one and only Karl Lagerfeld.
In Leipzig, your choice is a no-brainer. Hotel Fuerstenhof. A member of the Luxury Collection, and the city's grandest, most revered hotel. Enough said.
In the heart of Bavaria, you simply can't go wrong with Munich's Mandarin Oriental or the Bayerischer Hof, dating from 1841 and now the country's largest privately-owned hotel (with central location and rooftop pool to boot).
Now get moving.
---
As we've come to expect, the NYT shines in this superb piece about going to Turin for the Olympic Games. Cultural sites you can't miss, transportation once you're there, and all the Olympic events and venues...
---