LUXURY HOTEL INSIDER
The Luxury Hotel Insider
: Exclusive luxury hotel deals, features and special rates from the luxury hotel experts at Five Star Alliance.
Named one of Tripbase's
Best Luxury Travel Blogs for 2011
, below are Five Star Alliance's newest articles featuring exclusive information on luxury hotels worldwide including special offers and deals at the world's best hotels.
---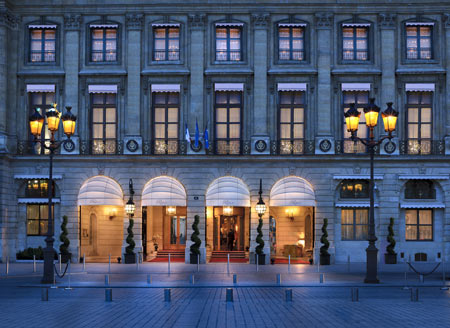 The Hotel Ritz Paris has closed its doors for an extensive 2 year renovation period on August 1st, 2012. Built in 1898, this stunning hotel has served as an opulent home away from home for familiar faces such as Marcel Proust, Coco Chanel, Elton John, and Oscar de la Renta. Below is a letter from the general manager sent out to guests:
The legendary Ritz Paris has closed its doors to embark on a two-year restoration program. Rooms, suites, restaurants and bars, the spa and the famous Ritz Escoffier cooking school will all be carefully restored and recreated under the direction of the internationally renowned interior designer Thierry W. Despont. We will ensure that the charm and personality of the Ritz Paris is kept alive and that we continue to satisfy even the most discerning travelers. We certainly hope that you will follow our progress on www.ritzparis.com or through our social media channels. All of us at the Ritz Paris are looking forward with great anticipation to welcoming you back in 2014 for the reopening of your home in Paris.
Sincerely, Christian A. Boyens, General Manager
Frank J. Klein, President
We hope the Ritz Paris can update its look without losing its classic French style and feel, and we certainly look forward to seeing how the renovations progress. Planning a trip to Paris now? Not to worry; we have 72 luxury hotels waiting just for you!
---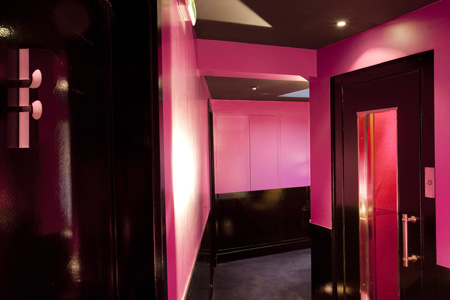 We at Five Star Alliance know that our travelers are in search of luxurious accommodations at the best prices available, so we go above and beyond to find the best promotional packages and specials to ensure you get the most from your hotel experience. We're thrilled to introduce our newest blog series where we'll be featuring luxury hotels that offer you more than just room-only rates. Whether you're traveling on business or pleasure, we certainly have something for you. Be sure to check in with us often to get the inside scoop on the best deals and packages available at luxury hotels all over the world!
I have a long-held fascination for the Mon Hotel Paris, so when I heard they were offering a special rate, I jumped all over the opportunity. Those who know me know that I have a special soft spot for smaller hotels. With a smaller inventory and often indepedent ownership, these hotels have the freedom to experiment in ways that larger brands cannot. Standardization is certainly valuable in the world where luxury is defined by certain expectations of service and amenities, but it is at smaller hotels like the Mon Hotel Paris where innovation can really shine. Its 37 rooms are distributed over six floors, each personalized in its own unique color and designed by Aurelia Santoni, and its contemporary take on Parisian luxury extends from its sleek, modern room design to the innovative French cuisine served at Mon Resto.
Book the special Five Star Alliance Rate at the Mon Hotel Paris and you'll receive, for the same price as the standard rate, a glass of champagne, a special welcome card, and free upgrade based on availability. It's the perfect chance to get something a little more special than you can find anywhere else, and that's exactly what Five Star Alliance and the Mon Hotel Paris are all about.
---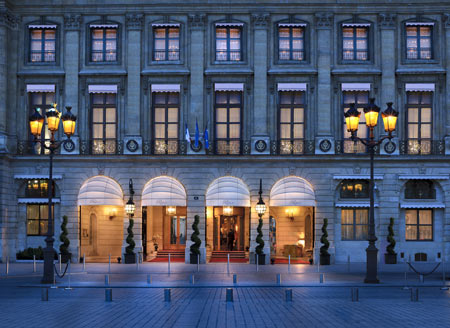 The Ritz Paris has a new oxygen treatment option available at its Ritz Health Club, and we certainly encourage you to check it out before this luxury hotel's doors close on July 31st, 2012 for an extensive 2 year renovation. Oxygen is an essential element for maintaining the vitality of the skin and is necessary for cell renewal and skin regeneration. With a partnership with the Ritz Health Club, Beauty by Clinica Ivo Pitanguy achieves anti-aging results through the unique method of using oxygen to carry ingredients to the heart of the skin cells without needles. After an hour, skin is firmer, deep wrinkles are filled, and the complexion is radiant. Make your reservation at the Ritz Paris and take advantage of this phenomenal skin treatment to come back looking years younger!
---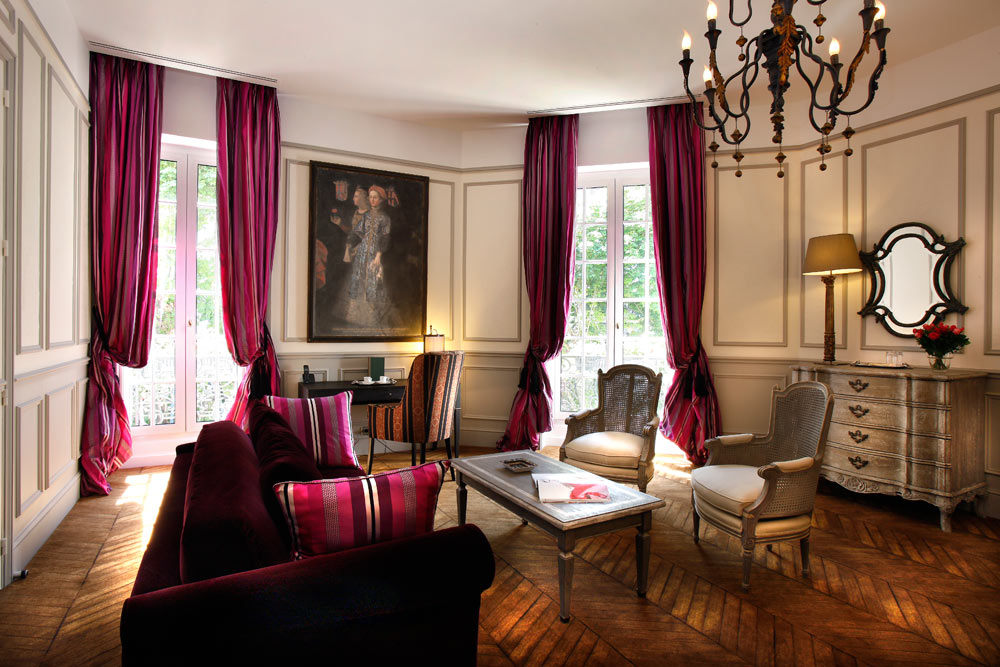 Conde Nast Traveler, purveyor of fine hotel reviews and travel advice, has just released its 2012 edition of the Hot List, a list of hotels that are setting the hotel world aflame with fresh designs and new concepts, or maybe just a solid new look at classic luxury. 41 reporters embedded themselves anonymously in hotels across the globe to review their targets. What results is a list of 121 hotels around the world that are so on fire they should be put on your watch list, just in case they end up burning down.
Paris has always been a popular destination for world travelers. Famous not just for its romance and rich cultural history, the city is a thriving hotel scene that boasts some of the most cutting-edge design in the world. While the exterior of the Saint James Paris looks much like any other neo-classical mansion, the interior boasts a bold, colorful decor that rivals the more contemporary boutique hotels. What makes it unique is that these stark colors are contrasted with more classical furnishings and old-world sensibility that allows Saint James to balance carefully on the edge between classic luxury and modern boutique. The only Chateau-hotel in the capital, Saint James was built on the old airfield where Paris's famed hot air balloons took to the sky. Now the 100-year-old hotel offers the most personalized service to its small number of guests, earning it a clear place on the Conde Nast Hot List 2012.
---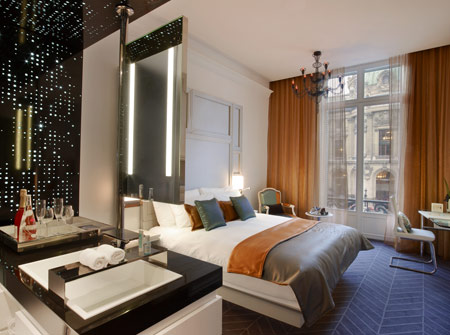 This swanky hotel opened up just two months ago, and it is certainly a beautiful luxury hotel in Paris worth checking out! Located in the heart of the City of Lights, the W Hotel Paris Opera is just steps from the Granier Opera House, the Rue de la Paix, and the Rue du Faubourg Saint-Honore. While its beautiful rooms and phenomenal location make this hotel worth visiting, the unique and exclusive art installation displayed in only one of the hotel's suites gives the W Hotel Paris Opera pizazz. In suite 112, the work of French artist Zevs is proudly displayed but invisible to the naked eye. The artist's dripping Louis Vuitton logos and tears streaming down portraits can only be seen with a black light, making these displays that much more fascinating. Be sure to visit this one-of-a kind hotel to experience a new kind of art display and see the best of Paris!
Check out the tweet below to view the art installation for yourself!
The infamous French artist creates an invisible installation of his dripping logos at the newest W Hotel j.mp/J5eAKB

— Hume Internationale (@humeint) April 13, 2012
---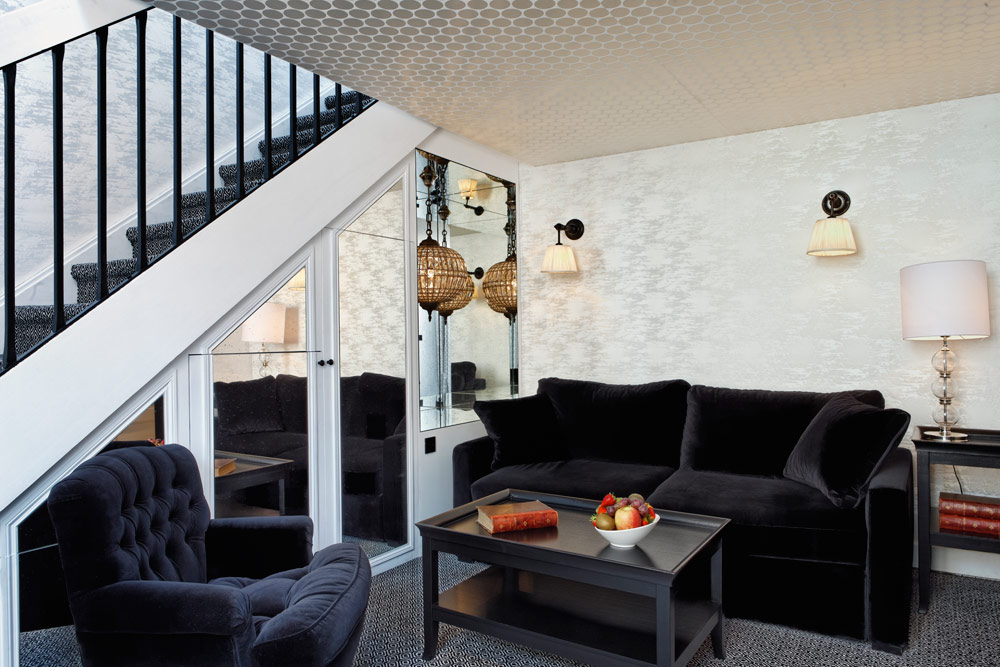 I have a special place in my heart for tiny boutique hotels. It may be a little smaller than some of the other chambers, and there aren't enough spots for everybody, but that just makes the few who do make their way into my good graces all the more special. I can give each and every one the loving care and attention they deserve. And thus began my new segment on boutique hotels that I just adore.
Today we turn our attention to the Relais Christine, a beautiful manor home in the heart of Paris. Within easy walking distance of both the Louvre and Notre Dame, the hotel is located in the intellectual and cultural heart of Paris. The perfect destination from which to begin your exploration of the city, Relais Christine is welcoming and distinctly Parisian. And you can bring your favorite smaller member of the family along since canines and felines are allowed, and it's decidedly kid-friendly as well. Explore the underground caves of Champagne Pommery's for a lovely winery tour or take a dinner cruise on the seine for one of the most romantic experiences of your life. Relais Christine is a lovely place to sit back, relax, and take in the site's of possibly Europe's most storied city and from the comfort of a boutique hotel that keeps you secluded from the reams of tourists packing in to other, larger places to have a less unique experience. Learn more about the Relais Christine here.
---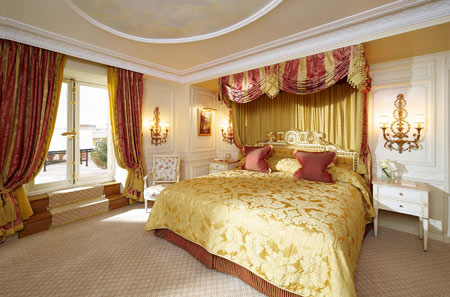 New hotels are coming into Paris, and the older ones are closing down for extensive renovations periods. We just caught word from our friends at HotelChatter that the Hotel de Crillon is expected to close on November 1st, 2012 for two years. The Hotel de Crillon will be updating and modernizing their rooms as well as adding a brand new spa. The Hotel de Crillon is a very elegant and royal 18th century style luxury hotel. While we certainly love the new and trendy hotels popping up in Paris, there is something very special and charming about a classic luxury hotel. It is located in the famous Place de la Concorde, a few steps from the Champs-Elysees and the Fabourg Saint Honore. It has 147 rooms and suites including Presidential apartments that will get a makeover during the renovation period. Make your reservations before November to experience the elegance of this hotel before it closes in November!
---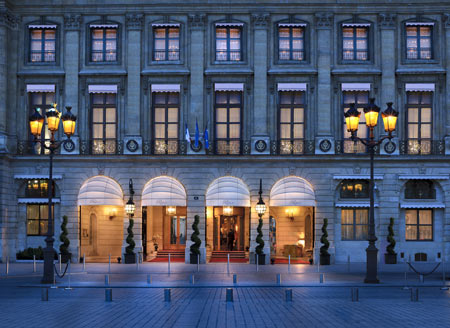 Last week, we reported that the Ritz Paris suffered the incredible misfortune of a nearby garage catching fire, and we now know a little bit more of the story. As HotelChatter reports, despite the quite imposing pictures, the hotel itself was fortunately largely unaffected. The fire was contained mostly to a single level of the parking garage, gutting some 30 vehicles parked there, but only one person was harmed, and only from smoke inhalation, and nearby buildings were only exposed to the billowing smoke clouds. There may be a little bit of exterior discoloration from the blackened soot, but the fire itself stayed away, and there are no reports of any smoke getting inside to damage rooms at the Ritz or any nearby establishments. We are happy to hear that the effects of this tragedy were relatively minor, given the possible damage.
All that's to say that the fire is no reason to shy away from one of Paris's iconic properties before their August closing.
It still looks like this, we promise.
---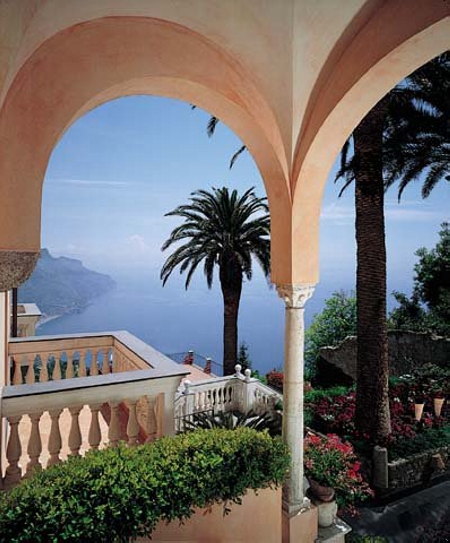 Bucket lists. We've probably all got one, and I can't get over my slightly morbid fascination of the idea of making the list of the things you'd like to live framed around dying. Maybe it's that the finitude of life creates a sweet sense of urgency that makes experience all the more poignant. But I'm not here to philosophize; I leave that to the well-bearded among us. I'm here to tell you about the second edition of 1,000 Places To See Before You Die with the much more uplifting subtitle: A Traveler's Life List.
A coffeetable book if there ever was one, 1,000 Places lays out some of the most unique and gorgeous places the world has to offer. And one of the things about the luxury hotel industry is that we've done a pretty good job of making sure that most of these places have the accommodations for you to experience them. Heading to the Amalfi Coast? Why not stay at the Palazzo Sasso, which has a breathtaking view of the ocean stretching out from its feet, 350 meters below. Or perhaps you're interested in Paris. The Plaza Athenee or Hotel de Crillon have you covered. It's really quite incredible when you step back to think how easy it is to experience the unique gems this blue-green sphere has to offer. So pick up your copy of 1,000 Places To See Before You Die and pick out your next vacation destination. We have certainly have some suggestions for you.
---
If any of the iconic hotels in Paris were going to suffer the collateral damage of a nearby underground garage going up in flames, it's probably just as well that it was the Ritz Paris. While unfortunate for anyone in the hotel industry, the Ritz is fortuitously scheduled to undergo an extensive two-year renovation coming up in August, so if anything was damaged by the smoke billowing out from the garage, you can be rest assured that the hotel was looking to replace it. No news yet on whether the interior of the hotel was affected in any way, and no one appears to have been injured in the fire, so as flaming conflagrations go, this might not be so bad. In any case, our hearts go out to the hotel, the nearby Place du Vendome, and to anyone whose things were caught in the blaze. Hopefully, we'll hear more soon. As of now, the hotel is still slated to be open up through its August closing, and unless we hear otherwise, with no reports of damage yet, future guests need not fear for the quality of their stay.
Photo via Le Parisien.
---