LUXURY HOTEL INSIDER
The Luxury Hotel Insider
: Exclusive luxury hotel deals, features and special rates from the luxury hotel experts at Five Star Alliance.
Named one of Tripbase's
Best Luxury Travel Blogs for 2011
, below are Five Star Alliance's newest articles featuring exclusive information on luxury hotels worldwide including special offers and deals at the world's best hotels.
---
We understand that an incredible view is of utmost importance to luxury travelers. After a day of exploring a new city, there's nothing more enjoyable than returning to your luxurious accommodations and taking in the miraculous view before calling it a day. For others, there simply is not enough time in a day to enjoy everything a city has to offer, and the only exploration one has time for is to take in the view from the hotel. We'd like to introduce you to our new blog series, which will be featuring incredible hotels with incredible views! Whatever your travel reasons or however much time you have to enjoy your trip, we hope you leave thinking wow what a view!
Our first feature is the Marina Bay Sands Singapore. It's located in the heart of Singapore along the Marina Bay Waterfront. This luxury hotel is the leading destination for business and leisure travelers visiting Asia. Its 2,561 rooms and suites have a classic luxury design, and the hotel has a museum, an incredible shopping mall, world-renown restaurants, a casino, and an outdoor event plaza. The rooftop Sands SkyPark is perched atop the hotel, 200 meters above the city, featuring exclusive restaurants, an infinity pool, an observation deck, and an unbeatable 360 degree view of the Singapore skyline.
Be sure to keep up with our blog series to discover various luxury hotels all over the world with the best views!
Photo via Hotel Chatter
---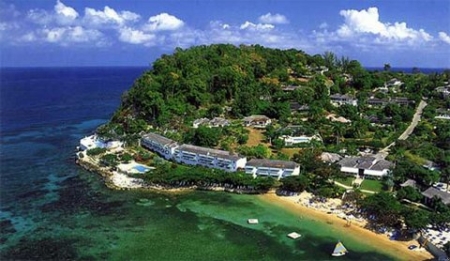 The Round Hill Hotel and Villas has been playing host a panoply of stars lately, and this holiday period was so covered with them, we'd advise the use of shades for more than just the sun. If you were down there in your post-Christmas festivities, you would've been enjoying the company of honeymooning Paul McCartney along with his daughter Stella McCartney, Ewan McGregor and wife, and if that weren't enough, the entire Ralph Lauren crew decided to come along for the ride. So next time you're there, don't be surprised if you can't walk five feet without having to play it cool.
And it's no wonder. The Round Hill has always been one of, if not the top, resorts in Jamaica and the whole of the Caribbean. Situated on Montego Bay, the cashmere sweater of luxury hotels is both soft and inviting and not showy in the least. The 18th century great house turned luxury resort is one of the most low-key in our collection, and that's exactly as it should be. If you're interested in the all-inclusive programs offered by the resort, simply make sure to mention the All-Inclusive Platinum Plan to it added into your room rates. As you're looking to shake off the winter snow and head to warmer climes, the Round Hill Hotel and Villas is definitely one to check out.
---
In the final days of 2011, Five Star Alliance is counting down the Top 20 Luxury Hotels & Resorts Worldwide, as decided by our guests.
Our countdown has come to an end, and it is time to announce the number one hotel as chosen by our discerning travelers and determined by sophisticated algorithms and more than a little bit of voodoo magic. Five Star Alliance's #1 hotel for 2011 is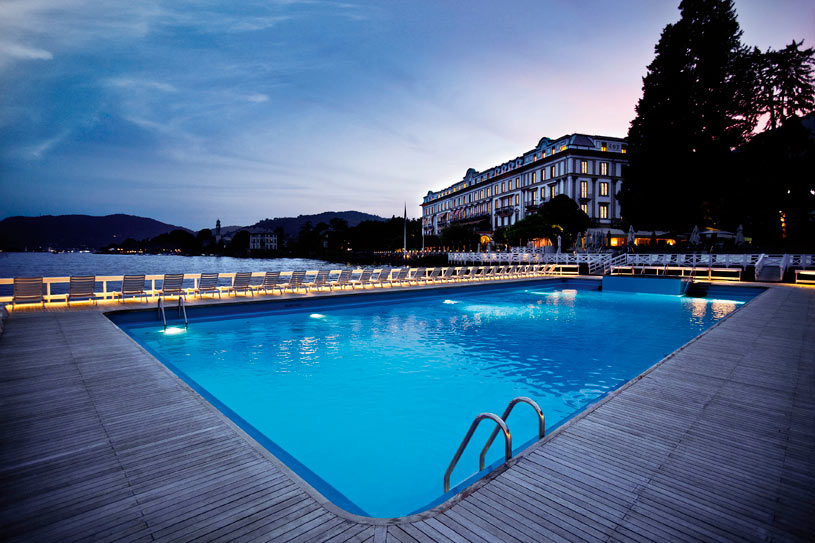 Quick facts about Villa d'Este:
- On the shore of Lake Como, one of the most secluded and breathtaking lakes in Italy, the Villa d'Este was originally the summer residence of Cardinal Tolomeo Gallio and is just a short trip north of Milan, one of Italy's most romantic cities.
- Its 152 rooms, divided between two palatial residences, each offer a unique feel, a result of the meticulously maintained renaissance decor of the original residences built in 1568. Live in true luxury, in rooms once occupied by the royal guests of the Cardinal and preserved in their original glory.
- The Villa is perfectly self-sufficient: included in its amenities are eight tennis courts, several dining options, including sushi and classical Italian, a Turkish bath and sauna, winery tours by chaffeur, and one of the most challenging par 69s in Europe only seven miles away.
- If you want a change of scenery from your grand room, simply head outdoors to enjoy the 25-acre park, which is perfectly designed and continuously manicured in its original Renaissance style: the entire park molds nature into a work of art.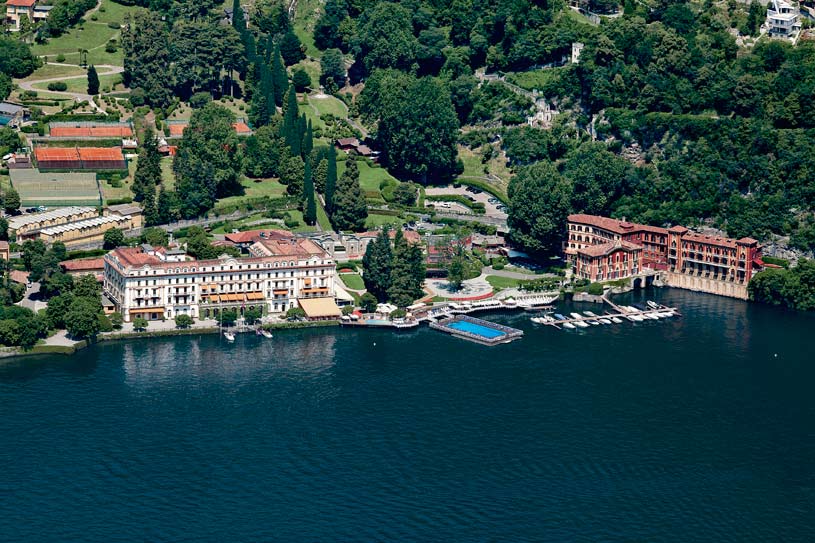 - Its hotel pool was featured in our Ten Best Hotel Pools in the World for its floating pool, literally on the lake, not to mention an additional kids pool to keep them away from your relaxation:
"The pool at Villa d'Este on Lake Como would make Archimedes blush. Floating above the very lake that the Villa rests against, the pool features a built-in Jacuzzi and fantastic view of the surrounding mountains. It's like swimming in the lake just inches below your feet, but it's always the perfect temperature."
- Four reception rooms hold up to 400 people alongside another 250 in nine different meeting rooms, all to the same standards of luxury as rest of the classical Renaissance hotel.
- As if that weren't enough, it's also a Conde Nast and Travel & Leisure Award Winner.
View photos, learn more about the hotel, and check availability at Villa d'Este > >
Be sure to keep up with our countdown! See below for the full list of Top Hotels for 2011!
#20 – The St. Regis Resort Aspen
#19 – The Fullerton Hotel, Singapore
#18 – The Peninsula Chicago
#17 - The Tower Club at Lebua
#16 - Auberge du Soleil
#15 - The Mount Nelson Hotel
#14 - The One and Only Maldives at Reethi Rah
#13 - The Hotel de Crillon
#12 - Peninsula Hong Kong
#11 - Rosewood Inn of the Anasazi
#10 - Majestic Hotel and Spa Barcelona
#9 - Jumeirah Essex House
#8 - Atlantis the Palm Dubai
#7 - Hotel Le St. James
#6 - Half Moon, a Rock Resort
#5 - Charleston Place
#4 - King George Palace
#3 - La Tremoille
#2 - Don Cesar Beach Hotel
#1 - Villa d'Este
---
In the final days of 2011, Five Star Alliance is counting down the Top 20 Luxury Hotels & Resorts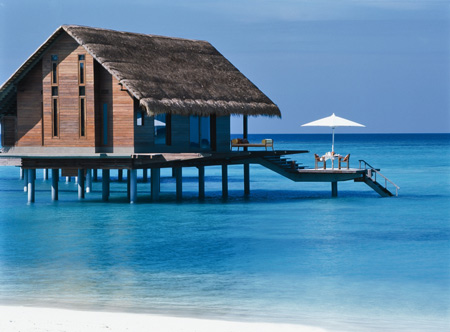 Worldwide, as decided by our guests.
In the #14 spot we have the One and Only Maldives at Reethi Rah, the perfect tropical beach resort.
Quick facts about the One and Only Maldives:
- An all-villa property, the personalized experience offered in the 130 villas rivals any other in the world. Exclusive privacy is at a premium in a world where your blackberry is always on, but the One and Only Maldives transports you to another world where it's just you and the sand between your toes.
- Their KidsOnly program is free for children ages 2-11, offering age-appropriate activities for the younger world traveler. On top of that, babysitting is available for children under two 24 hours a day.
- The One and Only Spa offers ice fountains to vitalize your body by contrasting with the warmth of the tropical waters as well as their crystal steam rooms.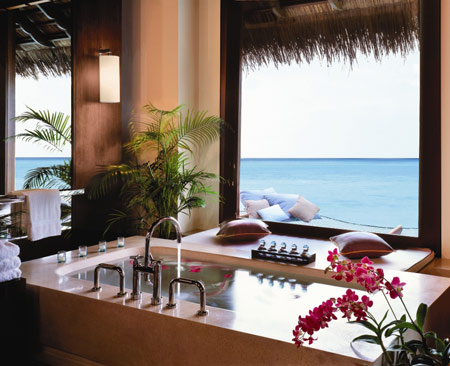 - The resort offers guided snorkeling excursions, deep-sea fishing, parasailing, and Jet Skis. See the sea in an entirely new way.
- All guests arrive on property after a 75 minute journey from Male International Airport aboard a 55-foot luxury yacht.
- Three restaurants and a bar on-site with diverse offerings: Reethi Restaurant, Tapasake, Fanditha, and Rah Bar.
- View the floor plans for the Beach Villas (135 m2 including verandah), Water Villas (149 m2 including verandah), and Grand Beach Villa with 1 bedroom and pool (260 m2 including veranda and pool area).
View photos, learn more about the hotel, and check availability at the One and Only Maldives at Reethi Rah >>
Be sure to keep up with our countdown! In case you missed it, here are our previously featured hotels:
#20 – The St. Regis Resort Aspen
#19 – The Fullerton Hotel, Singapore
#18 – The Peninsula Chicago
#17 - The Tower Club at Lebua
#16 - Auberge du Soleil
#15 - The Mount Nelson Hotel
---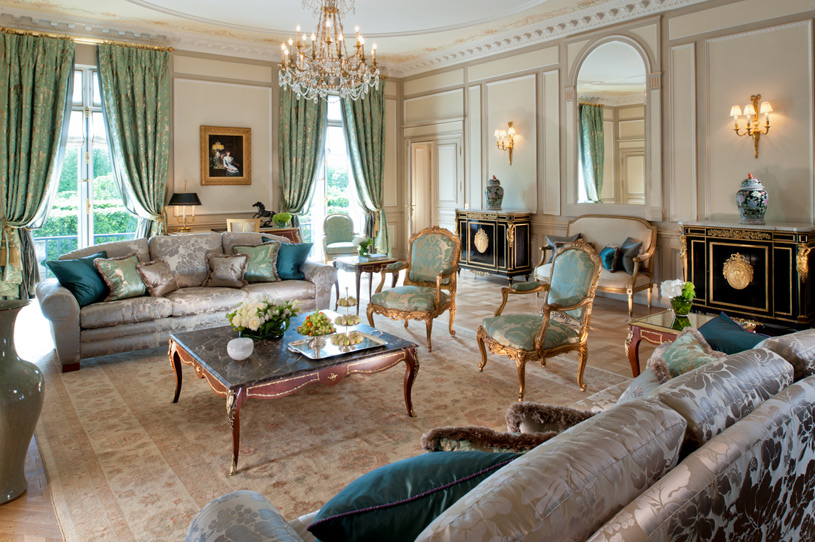 It's cake time! The Hotel Le Meurice in Paris is offering a special cake to bring in 2012 with style. The Galette des Reines, as the cake is called, is a rich and decadent chocolate cake with a special surprise in it. Evoking the spirit of Charlie and the Chocolate Factory, one of the slices hides a Tiffany & Co charm in the shape of a golden key. The charm is further incentive to savor ever bite of your dessert, which comes in it an exclusive 14 euros a slice. Only ten cakes will be made over a 20-day period, so it's worth jumping on this one early, since they could easily run out. In our mind, it's certainly worth it after a meal by three-star Michelin Chef Yannick Alleno.
And staying in the hotel itself, opposite the Teuleries garden, is an experience in itself. With a storied history back to 1835, the hotel has been called home by a number of greats, including Salvador Dali, whom the new restaurant, Le Dali, is named for. If you're looking to stay in Paris this January, the Le Meurice is certainly one to look at, with its signature Queen's Cake and chance at a Tiffany Charm.
Tip via HotelChatter
---
It's not every day that an infographic so awesome comes around. Over at Cheap Sally, an online discount site, their travel experts have aggregated a list of some of the wildest hotel and vacation sites in the US, and it features some of our favorite US properties. For the whole list, check out the infographic below, but I'd like to highlight some of our favorites.
Long at the top of our list of the Best Luxury All-Inclusive Resorts in the world, The Point at Saranac Lake, NY, is so exclusive, you aren't told where exactly on the pristine Adirondack lake it is until you've confirmed your reservation. Complete with a 3-star Michelin chef and only 11 rooms on the property, you are guaranteed to experience a personalized, secluded stay in one of the world's most elite properties.
In terms of crazy spa treatments, it's hard to top the over 250-gallon Evian bath only available in the penthouse suite of the Hotel Victor on Miami Beach. This spa treatment costs only slightly less than the suite itself and features a bath of pure Evian water sprinkled with rose petals.
But if you're like me and you like your baths with a little more kick to them, then the Kenwood Inn and Spa vinotherapy treatment is just what you're looking for: Bathe in wine and grape seed extract to soak your skin in the antioxidant polyphenol which powerfully slows the aging of skin. You'll come out looking and feeling younger than even a couple glasses of the same wine would make you feel.
There's a just a few of the wonderful and crazy hotels and spas located around the US, and you can some more great examples below. Make sure to check out Five Star Alliance to book these great destinations or if you're looking for a deal or digital coupon for any of over 11,000 retailers, Cheap Sally is your girl.
Click for full image.
Infographic courtesy of Cheap Sally
Posted in:
North America
,
Albany, NY
,
Miami, FL
,
Sonoma, CA
,
Articles
,
Food and Wine
,
Luxury Spas
,
Hot Spots
,
Luxury Suites
,
Our Favorite Sites
,
What a Hotel!
,
Deals
,
All-Inclusive Resorts
---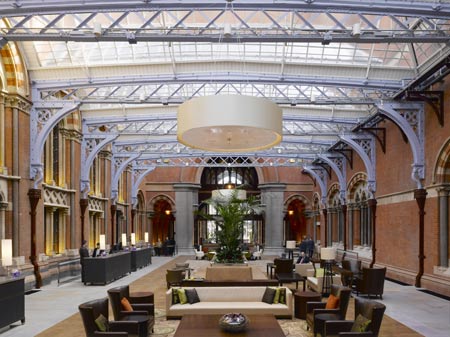 It can be somewhat of a rarity in the hotel world to find a hotel that focuses as much on defining an architectural niche for itself as it does the comfort of its patrons. The St. Pancras Renaissance London Hotel has certainly managed to do both in striking style, its stark, striking gothic exterior evoking the romanticism of early rail travel. Saved from demolition by a series of protests in the 60s by a Poet Laureate, the architectural wonder of the station has transformed from travel to hospitality, abandoning its railway roots in favor of a fresh redesign that takes advantage of its spacious interior. The red-brick exterior seems to be stretching skyward, following the sharp lines of its gothic spires.
Ever at the forefront of affluent equality, the St. Pancras offered the first Ladies Smoking Room in all of Europe and ushering a formerly sequestered activity into the public eye. And if you're a stargazer (and I don't mean those in the sky), it's worth a trip for its staircase alone which has been featured in films and videos as widely known as the Spice Girls debut single, "Wannabe."
So next time you're passing by London, make sure to check out the St. Pancras. Whether you're a railway enthusiast or a movie buff, or just a weary traveler looking for some extra-fluffed pillows to melt into, you're going to love the St. Pancras Renaissance London Hotel.
---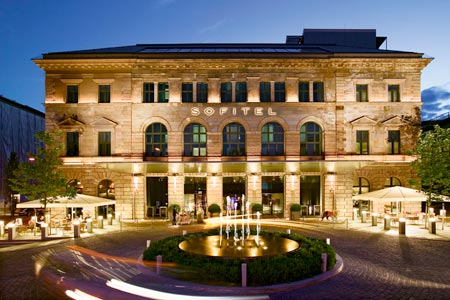 I'm not sure there's a city in the world that gets stereotyped more than Munich. While it's certainly iconic for the fine German beer that flows freely from its taps, Munich is so much more than gardens of alcohol. Long the seat of Bavarian culture, Munich is the center of German tradition. For a lot of us that means fine beer and maidens donning dirndls, the traditional Bavarian dress you've seen in every German tourist brochure since Gutenberg invented the printing press. But as much as Munich has been reduced to stereotype of itself by the outside world, once you get beyond that, there's a real heart to it. The medieval town is remarkably preserved, down to the clockwork performance of the city hall's belltower. The English garden the accompanies is the royal residence is glorious to walk around in and even boasts its own outdoor Biergarten around a Chinese tower built in the center of it.
Of course, as much as I'd like to get beyond the stereotypes of the beer maidens handing out liters like it's nobody's business, I would be remiss if I didn't go into just how the beer culture pervades this uniquely German city. Munich has embraced its stereotype, and beer houses like the iconic Hofbrauhaus offer everything that you could want out of a kitschy but simultaneously authentic drinking experience. The waitresses can carry at least eight liters of alcohol at one time, and you would be hard-pressed to find a vegetable on the menu that's not a potato. In many ways, Munich is the distilled essence of all that is traditional about Germany.
The city itself is not large and almost any hotel will give you great access to all that it has to offer. Most of the big brands have left their mark on the city and some great independent hotels like the Bayerischer Hof join them in offering luxurious beds to sleep off your hangover. Munich is a city that revels in its wholehearted kitschiness, and there's a certain honesty to that that draws you in the ritual of the city.
---
There's a certain stature that comes with age. So when I learned that the oldest hotel in the world is approaching its 1300 birthday, I knew it was worth looking into. Not only is the Hoshi Ryokan in Japan the oldest hotel and spa, it is also the world's longest continuously operating business. Spanning 46 generations of family ownership and 1291 years of operation, this hotel and spa has been since nearly the decline and fall of the Roman Empire.
Anything this historic has to have an origin story, and the Hoshi Ryokan does not disappoint (some details embellished): In the year of 718, when the world was young, a great Buddhist monk, Taicho Daishi, set out on a journey of enlightenment. His travels took him to the top of sacred Mt. Hakusan, an ancient peak that bears the spirit of the god of the mountain. The deity came to him in a dream and offered up his secret: Only a few kilometers away, the village of Awazu houses a subterranean hot spring blessed by The Physician of Souls himself. Yakushi Nyorai, also known as the Nyorai of Emerald Radiance, is the Buddha who offers the gifts of physical and mental wellness to those in need. Daishi returned from the mountainside with his secret and unearthed the wellspring, where the sickened villages of Awazu bathed in its healing waters and were cured. Ever since, his disciple Hoshi's family has run a spa at that very location, where people from around the world come to bathe in the holy waters.
I invite you to step a little bit outside of your comfort zone and experience the traditional lodgings of the world's oldest hotel and spa.
Photo and Source: World's Biggest.
---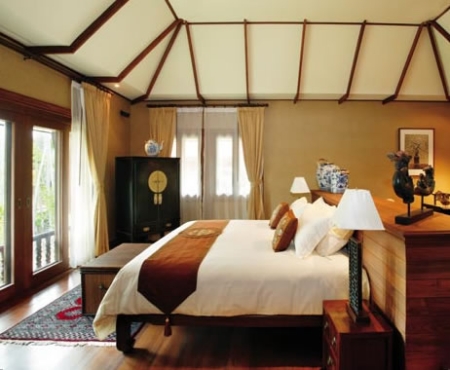 This will be a quick one because I like to let the talking pictures speak for themselves. Mandarin Oriental has relaunched its YouTube channel, and it's gotten a full makeover and is chock full of pretty pictures and promotional interviews, like a piñata filled with the dreams of an overworked marketing executive. Go check out their new content here.
---