LUXURY HOTEL INSIDER
The Luxury Hotel Insider
: Exclusive luxury hotel deals, features and special rates from the luxury hotel experts at Five Star Alliance.
Named one of Tripbase's
Best Luxury Travel Blogs for 2011
, below are Five Star Alliance's newest articles featuring exclusive information on luxury hotels worldwide including special offers and deals at the world's best hotels.
---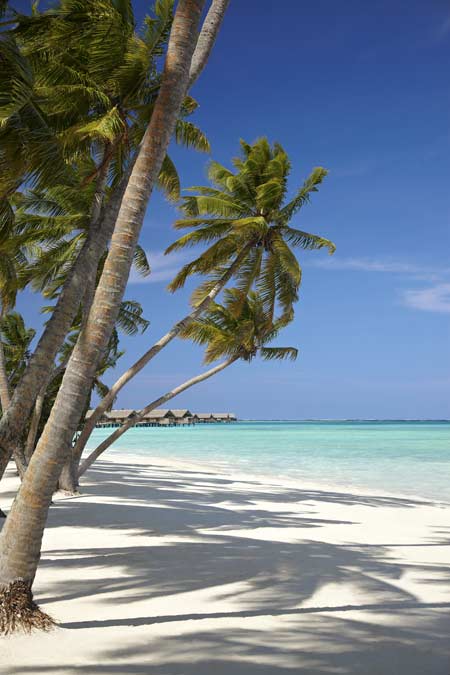 The Maldives are well-known for being one of the few places in the world you can find overwater bungalows, largely because the water is calm and pristine enough to support the fragile construction they require. But in the land of floating villas, the Shangri-La Villingili Resort and Spa Maldives is looking to make a name for itself in another way. Rather than send their villas out into the water, they've taken to the foliage, their tree house villas nestled in the beachfront palm fronds that every child learns to draw at the age of 5 as foreshadowing of their future desire to stay at a place like this.
The resort plays home to all the features that the luxury traveler has come to expect. Khazaanaaga, a divided, on-site restaurants give you options from the South China Sea, Arabian Gulf, and Indian Ocean, and Javvu gives you the more Western choice and cafe-style dining during the day. CHI, the Spa at Shangri-La offers every treatment you could ever want while relaxing on a sandy beachfront and is inspired by traditional Chinese and Himalayan spiritual and physical wellness. A children's adventure zone, two tennis courts, and an Eco centre that allows you to explore the local flora and fauna even after you've come back from any of 25 dive sites, including a British shipwreck. The Shangri-La Villingili Resort and Spa is just about everything I'm looking for in a beachfront property.
---
There's a very interesting split in the travel industry between business and leisure travelers. And if you're one of the business types, you know well that you're on the road constantly and the things that matter to you, travel convenience, efficiency, and connectivity, are almost the opposite of what a leisure traveler might want. If the word 'secluded' ever appeared in a hotel description, you'd cross it off the list immediately. So I'm here to use some adjectives you might appreciate hearing in describing some of the world's best business hotels. Today? Washington, DC.
"Hey, Adam, where would you stay on a business trip to DC?" a hypothetical man might ask. And Adam, being a good sort and lover of wordplay, would most definitely tell him, "The Hay-Adams Hotel, my good sir." Well, clearly this Adam guy knows the hotel scene in DC pretty well because the Hay-Adams is the iconic DC residence for visiting dignitaries. With almost a hundred years of a history studded with the politically influential, the Hay-Adams does it right. Emulating a distinguished private mansion on Lafayette square, you would have to actually be in the White House to get any closer to the president. And I'm pretty sure there's a few german shepherds who might have something to say about that. 8,000 ft of meeting space ensures that you can have your meetings nearby if need be, and the rooftop terrace can accommodate parties of up to 225. The Hay-Adams Hotel gets my recommendation for the DC business traveler. It's central, connected, dignified, and luxurious, and that's everything I want on a business trip.
---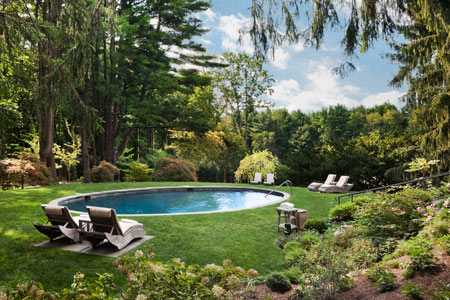 We get a number of inquiries about rates, availability, and amenities, and we thought it would be an excellent idea to quickly run through how our site works so you can gather all of the information you need to make your luxury hotel reservation!
To start, Five Star Alliance is a luxury online travel agency serving over 3,000 of the world's finest hotels. We are not directly associated with, nor owners of any of the hotels on our site, so it's easy to compare various properties at the same time without a biased slant. The information available on our site is exactly what our agents see. You're certainly encouraged and quite able to look up the various details important to you and make your reservation through us on your own! We encourage you to read below to gain familiarity and confidence on using our website to its fullest potential.
If you're just exploring options and not sure where exactly you'd like to go, then we encourage you to click on the 'World's Best Hotels' tab and explore our list of the top ski resorts, top spa resorts, top honeymoon hotels, most romantic hotels, and much more. If you are set on visiting a specific area like the Caribbean or Europe but not quite sure on the specifics, then click on the 'Find a Hotel' tab and enter the region you'll be visiting and click 'Go' to view hotels in various cities in that region. If you are pretty set on visiting a specific island or city, then we suggest simply typing it into the search bar and clicking that city or island link to compare the various hotels in that area. Once you are on the appropriate page, ready to compare your options, simply enter your dates of travel and click 'Go.' You'll easily be able to scan the list of the hotels and view their availability and rates. Once you find a hotel that interests you, click on the hotel name to view its location, highlights and amenities. If everything fits and that is the hotel you choose, simply click 'Go' and explore the various room types available. Select the option that best fits your needs, fill out the booking form with your personal information, and voila! Your reservation will automatically be confirmed and you'll soon be on your way to an incredible luxury hotel!
Photo of Wheatleigh in Lenox, Massachusetts
---
The city of Los Angeles is pretty well known for a couple of things. There's the glitzy, glamorous side, Hollywood in all of its glory, and there's the less charming urban sprawl, full of smog and angry drivers. However, there's a third, hidden side to the City of Angels. Tucked away on the beaches of Santa Monica is Shutters on the Beach, a wonderful hotel that explores all that this third face of Los Angeles has to offer. Windswept beaches and the comfortable elegance of an exclusive resort are the marks of an escape from the bustle and adventure of the city. Shutters on the Beach is everything that Los Angeles isn't; serene, idyllic, and personal.
The Conde Nast Award Winner plays host to all of the pampering activities we've come to love from beachfront resorts. Its spa offers Shiatsu, Deep Tissue massage, and Reflexology, and oceanfront fine dining is just steps away from your room. Twenty six miles of beaches are the perfect setting for a morning run, and you'll find unsurpassed views from the three presidential suites that make up the top floors. Shutters on the Beach is one of my favorite properties, and simply for the reason that it's everything you wouldn't expect, and more.
---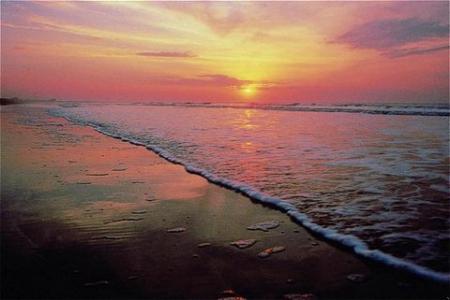 Springtime is on the offensive on the East Coast, and that means one thing: Time to break out the clubs. Golfing weather is looking like it's here to stay in South Carolina, and that means the closely cropped greens and devilish sand traps are calling your ball in equal measure, like the angel and devil of so many cartoons. It's time to break out your woods and irons for the spring season and put your other sets away. Maybe you were playing Settlers of Catan? I don't know. This whole analogy thing is harder than a brick wall. No, no, a diamond. Wait, maybe the Ko'olau Golf Club in Oahu. There we go; now it's topical. Anyway, I can't think of a better place to enjoy the newly found weather than on five championship courses of the Kiawah Island Golf Resort.
Home of the 1991 Ryder Cup and 1997 and 2003 World Cups of Golf, you're getting a top class playing experience in one of the most breathtaking regions on the eastern seaboard. And between games, you can relax along ten miles of romantic beaches or head out in search of the other sorts of eagles, who have nested in the region for centuries. This Conde Nast Award winner even has three pool complexes and a child program available to keep the tiny tots out from underfoot while you're swinging a large metal rod around. The Kiawah Island Golf Resort and accompanying Sanctuary at Kiawah Island are natural, beautiful, and definitely in season, so it might be worth planning a trip this spring.
---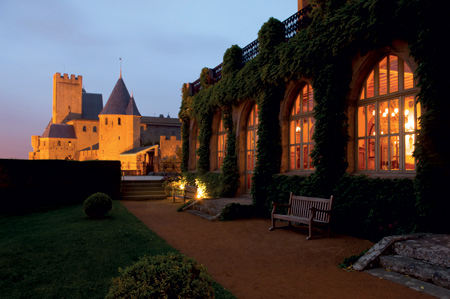 We've been spotlighting a list of Conde Nast's award-winning Gold List Hotels for 2012, and each one is amazing in its own right. In a clear case of never enough of a good thing, Conde Nast has yet an additional level to their awards, the meta-prestigious Platinum Circle Hotels, distinguished for being consistent Gold List winners for the last five years. Perhaps it could have been more aptly named the Conde Nast Award for Continued Excellence in the Having of Conde Nast Awards, but that's probably just my jealousy talking. It takes a certain level of cachet to be able to recognize someone for being recognized by you, and the Conde Nast Awards carry that weight. Regardless, the Platinum Circle hotels are undoubtedly some of the best of the best and have the mark of consistency that other hotels can only aspire to.
The Condé Nast Traveler Gold List 2012 is the eighth of their annual lists, and the hotels chosen by their team of editors and experts are the best for service, food, location, rooms, leisure facilities, ambiance and design.
Though some of us may have visited Carcasonne on our very own dining room tables, there's certainly reason enough to see one of the most storied feudal regions of France. To collect double points, the proprieters completed Hotel de la Cite in 1909 on the site of a former Bishop's palace in a neo-gothic style. Stain-glass windows and mosaic patterning adorn a hotel that echoes the sensibilities of 12th century France, and views of Saint Michel cathedral give it an eerily medieval quality. From within the circular citadel walls, Hotel de la Cite overlooks the surrounding farmland with all the commanding presence of the original fiefdom. Itself a UNESCO world heritage site, the fortified castle represents one of the most idyllic historic locations you could visit. If you're looking to get out of Paris to explore the rich history of a medieval France, there's nowhere better than Hotel de la Cite.
Check rates, availability, photos and more of the Hotel de la Cite here!
---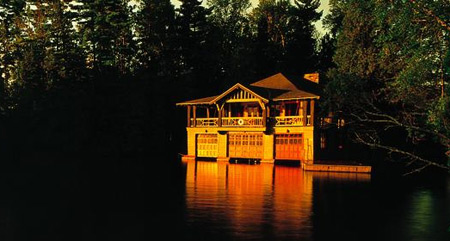 Valentine's Day is coming up, and, as such, it's time to think about where you'd like to spend the day with that special someone. Whether you're enjoying a cozy night in or an adventure on the town, a night in a luxury hotel can be the perfect gift to the both of you, a chance to escape to another world where no expense will be spared in giving you the night of a lifetime. What follows is just one in a series of our favorite romantic hotels, and, we think, a great place to take him or her this February the 14th.
What's The Point, you ask? While us single folks might attribute such a question to the vague sense of ennui that a romantic holiday instills, for the couples out there, you're clearly wanting to know more about the resort on Saranac Lake that just might be the most tranquil and exclusive hotel you could take your significant figure this weekend. I use 'hotel' in only the loosest of sense to describe The Point, since the 11-room lodge is what you would imagine renting a 5-star private cabin might be like. This lakefront lodge in upstate New York has all the serenity of a hushed winter morning where even the birds are afraid to break the silence, and it's personal service is unrivalled anywhere.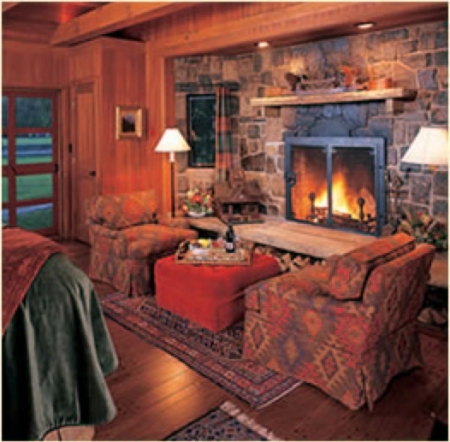 Nightly room rates are all-inclusive, so you can enjoy everything they have to offer. Not only that, dining is supervised by 3-star Michelin chef Albert Roux, which affords you a level of attention that even the top restaurants cannot afford to give their patrons. No children under 18 are allowed on the property and there are no phones and televisons, so you need not worry about anything getting in the way of your perfect evening. The Point offers the kind of intentional seclusion that is so rare in this connected world, and it is the perfect opportunity to lose yourself in romance.
The Point is especially attractive to active couples who would enjoy the hiking, fishing, and animal tracking that the Point will happily recommend. If a few biologists would just take a brief second to get out to The Point, they'd very quickly resolve one of the most hotly contested debates in modern science: nature vs nuture. At The Point on Saranac lake, you can nurture your relationship by going back to nature, and there's no compromise involved. For my part, The Point is where I would take my hypothetical girlfriend this Valentine's Day.
---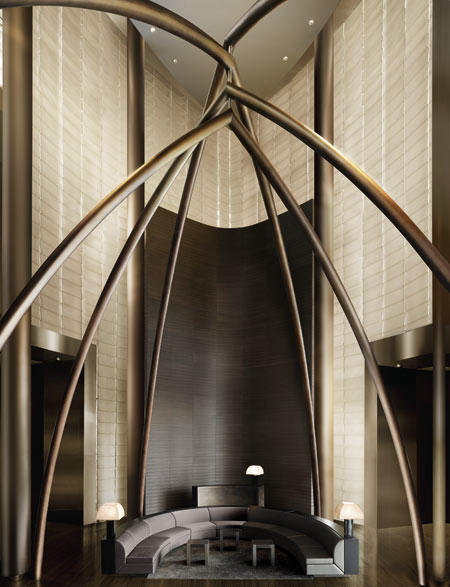 Here at Five Star Alliance, we have a number of superlative hotels, in a very literal sense of the word. The Armani Hotel Dubai's claim to fame is that, as the name suggests, it is the very first hotel designed by the world famous Giorgio Armani. Epitomizing the stylistic elegance of the fine suits the same Armani is well known for, the hotel is sleek, modern, minimal, and luxurious. It's hotel that feels comfortable in its clothes, and it knows it. From the Eramosa stone floors to the zebrawood panelling, you'll find the Armani brings a unique understanding of unorthodox pairings that somehow feel natural together.
While you're there, enjoy any one of eight restaurants and relax in a 12,000 sq ft spa whose thermal suites will melt the tension in your muscles like the chocolate from the Armani/Dolci sweets store will melt in your mouth.
Of special note is the personally designed Armani Dubai Suite with breathtaking views of the Arabian Gulf from your 390 sqm. space 39 floors above the streets below. Two bedrooms, a spacious living room, and a bathroom with separate shower and bathtub are all uniquely laid out to maximize luxury, and that's not even to mention the full-service bar and pantry.
The Armani Hotel Dubai is sleek, stylized, and hip and makes every effort to tailor your stay to the exact fit. In a city made of luxury, the Armani somehow manages to stand out from the crowd, and that's certainly worth a second look.
---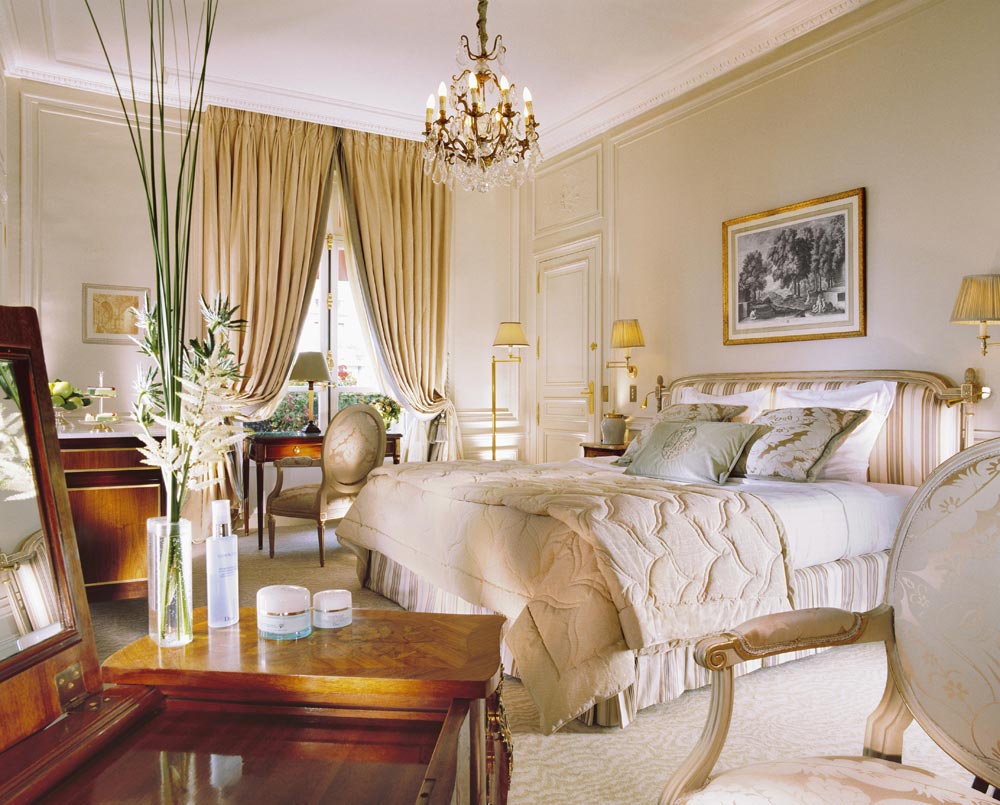 Valentine's Day is coming up, and, as such, it's time to think about where you'd like to spend the day with that special someone. Whether you're enjoying a cozy night in or an adventure on the town, a night in a luxury hotel can be the perfect gift to the both of you, a chance to escape to another world where no expense will be spared in giving you the night of a lifetime. What follows is just one in a series of our favorite romantic hotels, and, we think, a great place to take him or her this February the 14th.
For a city like Paris, its romantic image the stuff of fairy tales, it is almost impossible to pick our favorite romantic hotel. Whether an iconic mainstay of the cityscape or a small boutique hotel tucked away in a charming neighborhood, each jewel in the Parisian crown has its sparkle. So instead of evaluating by some arbitrary metric, like roses/sqm or candles of candlelight, I just thought to myself, "Where would I take my girlfriend if I found myself in Paris just a few weeks from now?" And once I stopped troubling myself with the details, the answer came quickly: The Hotel Plaza Athenee. It's everything you could desire for your romantic evening, a dream of a hotel within a dream of a city. And for the girl of your dreams, how could you ask for anything less?
Whether you're staying in the Eiffel Signature Exclusive Suite with a view onto the tower itself or a cozy room tucked away for perfect privacy, the Hotel Plaza Athenee promises to make a night you'll forget in the moment but remember forever. And with staff members outnumbering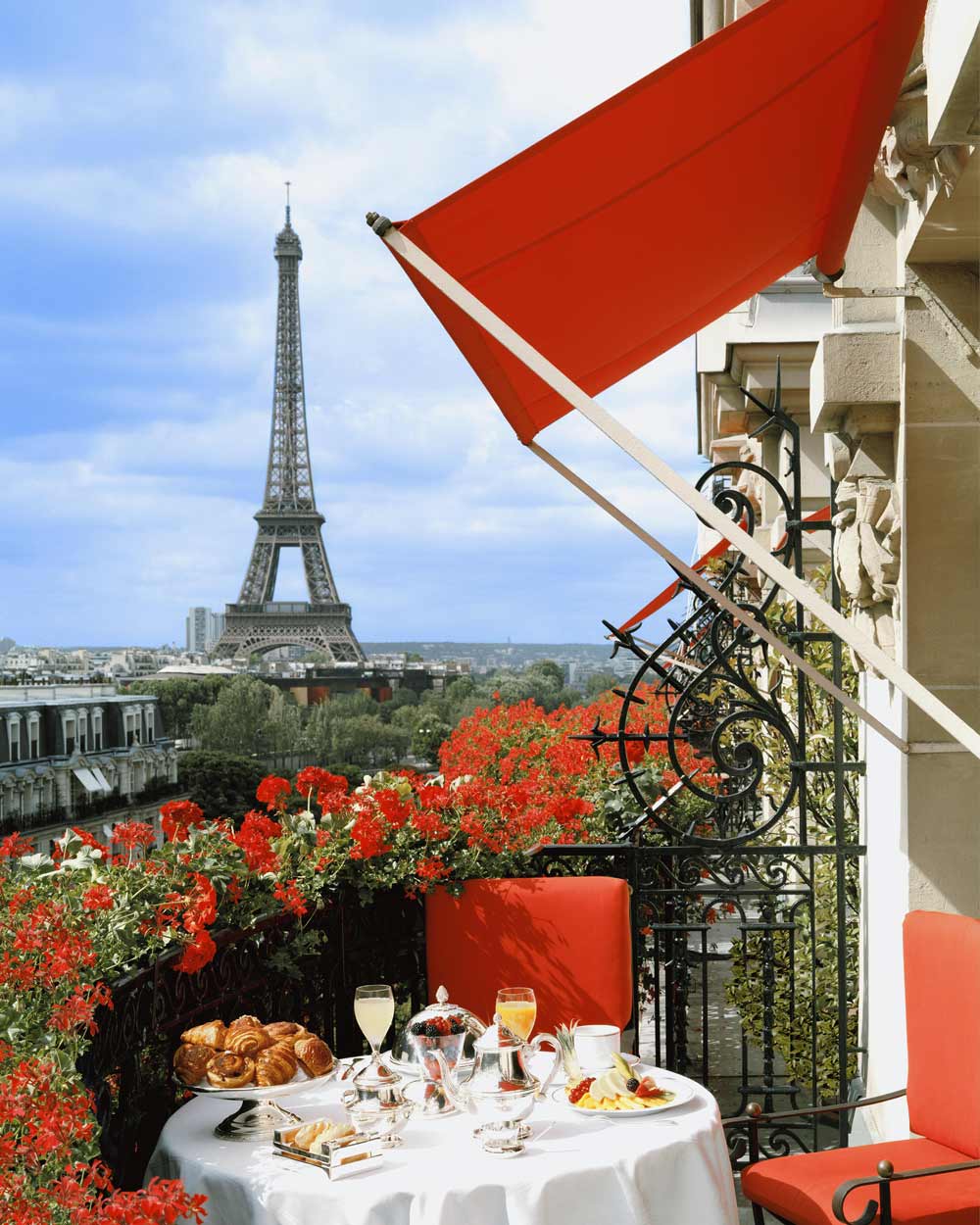 rooms nearly 3 to 1, you'll be sure that every detail is inch-perfect.
To set the evening off right, simply go downstairs to experience the cuisine world-renowned chef Alain Ducasse. The lightest brush of your lips against the bouquet of flavors in each of his dishes will create a never-before experienced synesthesia, a fusion of light and color emanating from your taste buds. Savor each bite as time itself begins to slow to a rest. And when you pair your meal with a bottle of the finest French wine, well, I don't even have to tell you.
It's a rare hotel indeed that I can recommend without reservation, but I guarantee that the Hotel Plaza Athenee will give you the Valentine's day experience you didn't even know you were looking for.
---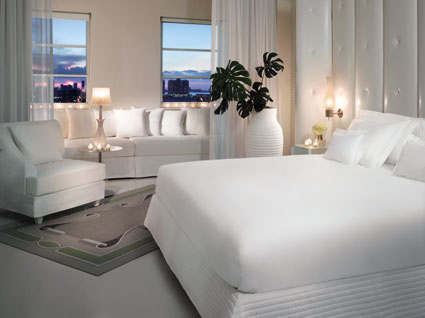 The notoriously blinding Delano Hotel in Miami Beach is opening the doors to its new restaurant, Bianca, this Friday. Continuing the theme of its all-white guest rooms, Bianca promises to add to an already exclusive and delightful property. Embracing the Slow Food movement, Bianca provides a gastronomical experience that supports local farming and organic produce, so you know that not only is what you're getting a top-notch holistic food experience, it also does its part to respect its origins. You'd better come prepared with your Visa Platinum, however. Not only will its silvery sheen go well with the drapes, you'll need it to put back such highlights as All Natural Sirloin Bistecca at $46.
If you can wait for a little while, then come February, the Ume Sushi and Sake Bar will be opening alongside its Italian counterpart for an experience in the best of Eastern cuisine. Definitely worth a trip to the Delano, now for both the unique decor and the food.
---