LUXURY HOTEL INSIDER
The Luxury Hotel Insider
: Exclusive luxury hotel deals, features and special rates from the luxury hotel experts at Five Star Alliance.
Named one of Tripbase's
Best Luxury Travel Blogs for 2011
, below are Five Star Alliance's newest articles featuring exclusive information on luxury hotels worldwide including special offers and deals at the world's best hotels.
---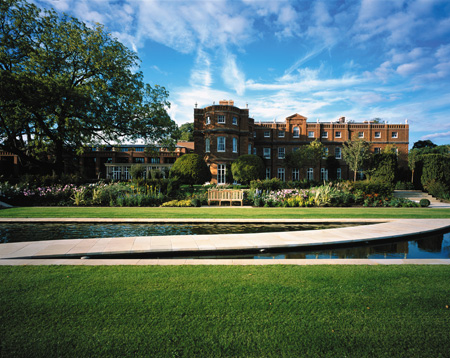 There's always a lot of hullaballoo around hotels in London. It's a major destination, and everyone wants to be in the middle of the action. The Grove, however, takes exactly the opposite tactic, catering to those of us who want to get away from the rush of the hectic city, and instead relax and enjoy the countryside. The 18th century house is such an idyllic backdrop for relaxation that I keep imagining I'll run into someone who claims to be named Ernest and has a ward of eligible age. While I doubt that a vacation to the country should result in an unexpected engagement, you can be sure that you'll come back from your own Bunburying feeling quite refreshed.
If there's one thing that goes hand-in-hand with a rejuvenating retreat, it's top-notch spa facilities. The Grove is a country estate in nearby Hertfordshire, and its spa facilities are second-to-none. 12 specially designed treatments rooms and a VIP double room are more than enough to serve up all of the latest in the various greek and latinate treatments: aromatherapy, thalassotherapy, phytotherapy, and hydrotherapy. If there's a prefix for it, they have a spa treatment of it. There is plenty of fine dining available on site, and you'll never be wanting for activities at the former home of the Earls of Clarendon. Sporty types will find ample tennis courts and an golf course that hosted the 2006 World Cup. So next time you need a break, pack up your hatboxes and sensational diary and head to The Grove in Hertfordshire.
---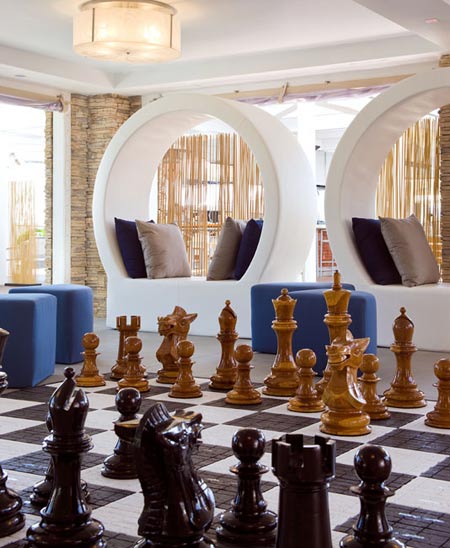 Boutique hotels are well known for being a little more innovative in their design, and many smaller boutiques make the decoration of their public spaces a distinct expression of contemporary style. There's not many of these that have gone so far as to make the design interactive, however. The Forty 1 North plays host to quite the impressive life-size chess set. The plus-size pieces are the perfect pairing with a private party pregnant with prospective players. And if you prefer your play to be packaged in a pint-sized display, Forty 1 North also offers an iPad free with every room. That means for the duration of your stay, a few belligerent fowl are always just a flick of the finger away. Forty 1 North apparently never saw the annotated power point presentation explaining how to make a luxury hotel because they've broken all the rules, and it's working out very well for them. They couldnt even make up their mind whether to spell out the numbers in their name, and it's ended up looking chic and off-beat. If I had half the panache that let's them pull off the things they have, I'd be drinking cocktails out of a goblet and riding a tiger to work. As it stands, the closest I'm going to get to that kind of style is if I book a room there.
---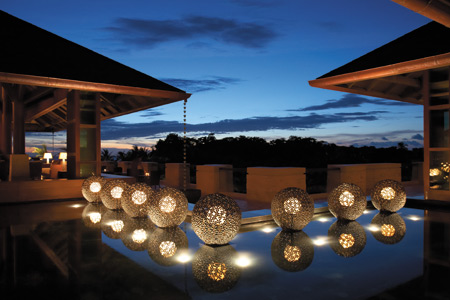 The Shangri-La Boracay Resort and Spa is nice little haven of solitude and serenity in a world where it's hard to get away from the constant activity of the urban lifestyle. Boracay is everything the city is not: quiet, calm, pristine. Its 183 guest rooms and 36 villas are just what the doctor ordered if he demanded that you take a long vacation on sandy beaches with your favorite cocktail in hand. If he did that, we're trading doctors. The Boracay Resort comes with its very own tranquil spa village, a complex of buildings set up to relax your mind and pamper your body. Your taste buds can get in on the action as well at Rima Restaurant or Sirena for gourmet Italian and fresh seafood. Two separate beach coves ensure that there will always be a quiet place on the beach for you, even if the annoying uncle you had to bring along wants to come, too. Just send him to the other side; we won't tell your mother. The Shangri-La Boracay Resort and Spa is everything you dream of when you imagine a world of opalescent beaches and azure waters, only this time, it's real.
---
What follows are impressions of two of our favorite Orient Express properties, the Observatory Hotel in Sydney and the Casa de Sierra Nevada, in many ways very different hotels, and in more than just their geography.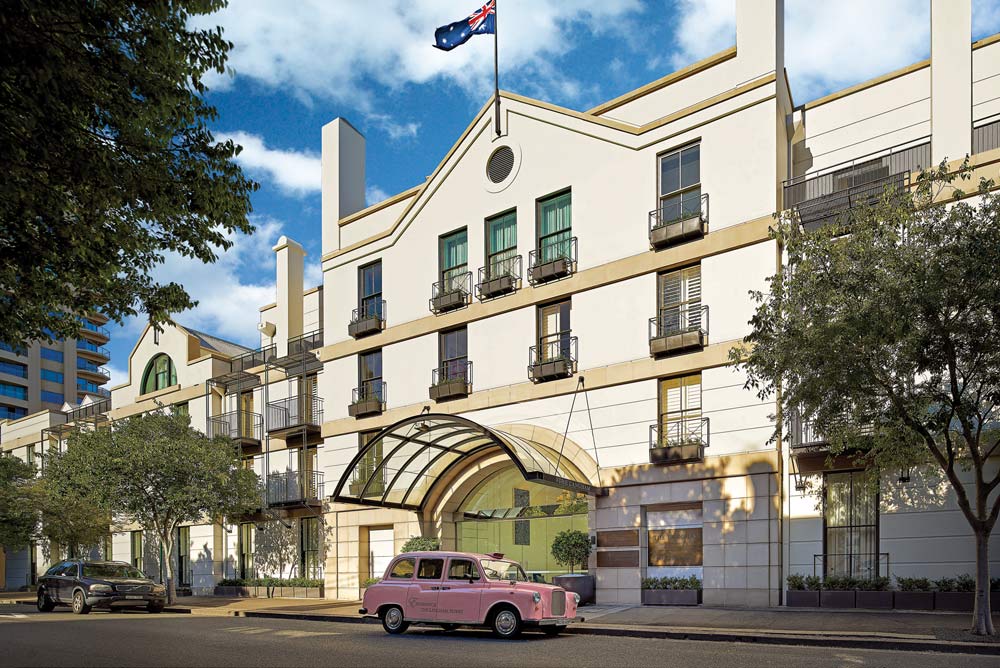 Observatory Hotel, Sydney, Australia
I'll confess a fair bit of ignorance about why the Observatory Hotel is actually called the Observatory. Perhaps it was the site of a revolutionary astronomical discovery or it used to house the local planetarium in a forgotten back room. Maybe it just has a habit of flowering the walls at a party in order to better watch the crowd. It's a mystery as enigmatic as the stars in the sky, and we may never know. Well, it probably has something to do with the adjacent Observatory Park, but why spoil the hyperbole?
What I do know is that the Observatory Hotel is a perfect luxury hotel to use as jumping off point for exploring Sydney, a city that thrums with the heartbeat of a constantly evolving culture. Not far from the Rocks and Circular Quay, not to mention the Sydney Opera House, you're right in the middle of the action. As a break from experiencing all the city has to offer, you can retreat back to the quiet inner sanctum of the Observatory to enjoy an afternoon tea at the Globe Bar & Brasserie. For more substantial fare, head to Galileo in the evening, and you'll experience their amazing interpretation of fine French cuisine (the mystery of the name is quickly unravelling faster than the flat earth theory). If you're looking to stay in the utmost of style, make sure to book their gorgeous presidential suite, a study in aesthetics that makes extensive use of objects d'Art and features a four-poster bed. The Observatory Hotel is an extra-classy place to stay for the discerning traveler who finds themselves in Sydney.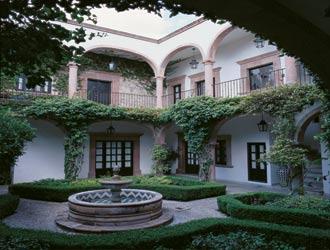 Casa de Sierra Nevada, San Miguel de Allende, Mexico
Across the world from the Observatory Hotel, you'll find the Casa de Sierra Nevada in San Miguel de Allende. Built in 1580, the Sierra Nevada is one of the smallest hotels in our collection. With just 33 rooms, the hotel is a serene escape from the bustle of everyday life. An inner courtyard is the perfect enclosure to keep the busy noise of the outside world at bay while you relax and refresh in one of the most historic towns in Mexico. Importantly, the hotel allows no children under the age of 11, so you won't be disturbed while you crack open the novel you've never gotten to or just soak up the rays of the sun. The National Institute of Anthropology and History was so enamored with the hotel's repurposed homes that they are designated historical landmarks. The surrounding mountainous landscape seems to be a backdrop that could only be dreamed up in a movie studio, but you can experience the unparalleled quietude and incredible service of the Casa de Sierra Nevada in real life. It's just one trip away.
---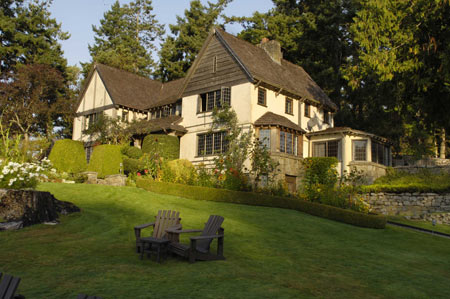 Salt Spring Island is one of the most iconic destinations in all of Canada, a small, exclusive natural island that promises an escape we'd all like to enjoy. Overlooking Ganges Harbor, Hastings House is a small manor house that's a perfectly self-contained destination. The folks there do dining right as well. They are clearly friends with one Peregrin Took because not only is muffin and coffee delivered right to your door, you can follow it up with a leisurely second, English breakfast. Lamb and local seafood are the figureheads of the Verandah's beautiful dinner options, and they are always complimented by fresh herbs and produce from the estate gardens. It couldn't be fresher if you picked it yourself. Top it off with a glass from their incredibly well-stocked and international wine cellar.
The small manor also offers its very own wellness treatments from massages to body wraps right next to the fireplace in your very own suite. It's a vacation experience you won't want to miss out on. The Hastings House even has some adorable pet lambs.
---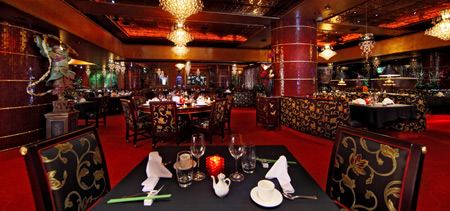 I love Reno, NV. There's something about the southwestern US that makes it give birth to organic growths of neon, and the sequined glamour comes with enough glitz to make lovers of earth tones run for the hills. And that's precisely the draw of it. People don't go to Reno or Las Vegas for an understated evening alone with nature. It's fast-paced, colorful, and exciting. One of the marks of a good Reno hotel is that it wholeheartedly embraces this action, and one of the marks of a great one is that it does it with its own personal style. It's not enough just to buy into the technicolor dream, you have to take it and make it your own, and the Peppermill Resort Spa and Casino's particular touch is to take the gaudy flair of the strip and apply a layer of pure class to it.
That class begins as you walk down the front promenade. The sheer scale of the resort is what strikes you first. With 1,630 rooms, 9 restaurants, and 16 bars and lounges, the Peppermill is a self-contained city, a palatial enclave with everything you'll need for your stay. The rooms are boundlessly luxurious and defined by their old world standards of service. The most recent Tuscan expansion has even expanded on those options, and by the name, you can tell that the hotel is even large enough to split itself into separate themed areas. Tour the world without even stepping outside. The Peppermill Resort Spa and Casino is just what I expect when I stay at a 5-star resort in Reno: All the glitz and glamour of the commercial lifestyle with the high standards of service of an internationally renowned hotel.
---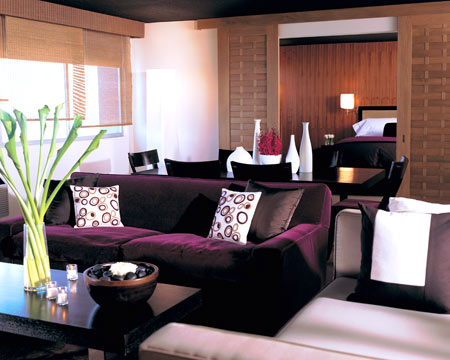 The W New York is going out on a bold limb (that's the one on Lexington Ave). We've heard of breakfast for lunch and breakfast for dinner, but breakfast for cocktail hour is a new one on us. The Whiskey Blue lounge is featuring breakfast-themed cocktails off of their Comfort Food menu. And nothing could be more comfortable than a glass full of alcoholic bacon, a holy union of my two favorite things. Throw in some whipped egg white and a lemon rind, and you've got yourself a complete breakfast. Tony the Tiger would be proud. And maybe you're more of a sweet breakfast kind of guy. In that case, the waffle cocktail is your go-to nighttime breakfast-in-a-glass concoction. Orange juice in a maple syrup coated glass is all the sweet you can handle, and there's more than enough fine liquor in there to keep the stomach settled. Finally, you'll Whiskey Blue is offering a blueberry scone cocktail, and you can probably guess what's in there: flour, baking soda, and a bit of salt. No, wait, I mean blueberry, cinnamon, and vanilla. It's so delicious, it's sinful. Head to the W New York to try out the cocktails that get you out of the bed in the morning.
---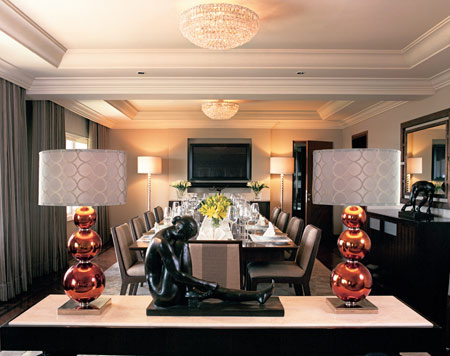 There's a very interesting split in the travel industry between business and leisure travelers. And if you're one of the business types, you know well that you're on the road constantly and the things that matter to you, travel convenience, efficiency, and connectivity, are almost the opposite of what a leisure traveler might want. If the word 'secluded' ever appeared in a hotel description, you'd cross it off the list immediately. So I'm here to use some adjectives you might appreciate hearing in describing some of the world's best business hotels. Today? New Delhi.
There's one hotel in New Delhi that has historic pedigree to play host to the most influential businessmen and foreign dignitaries, and that's the Taj Palace Hotel. On six acres of the Diplomatic Enclave, which is itself just a stone's throw from the business district, you're right in the center of the action, whether it's financial or political. Thirteen meeting rooms across the property can accommodate up to 1,000 people, so you'll never be lacking for space in the hotel itself, and a short 10 minute drive to the airport eliminates any hassle that comes with travel. Go right from your flight to your room with no fuss at all. Stay connected with state-of-the-art electronics and all the business facilities you need. Four restaurants on site provide Mediterranean, Indian, and Chinese cuisine, and there's a nearby private club for a golf or tennis break, as well as a nine hole putting course at the hotel. The Taj Palace Hotel is just what our more entrepreneurial travelers are looking for in New Delhi.
---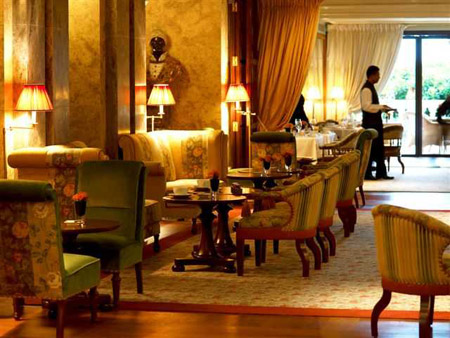 The extremely talented designer Karl Lagerfeld is coming to Hotel Metropole Monte-Carlo to lead the efforts of an extensive external redesign, and it's going to look great. The centerpiece of the design: a fresco-style installation that depicts the stages of Ulysses's journey in 15 etched glass panels. The Hotel Metropole's journey will be significantly shorter than the Odyssey, however. They hope to unveil it this very summer.
Alongside the fresco, Lagerfeld will be designing and opening a third Joel Robuchon restaurant on the premises as well as revamping the pool, terrace, and gardens. The restaurant joins its one- and two-Michelin-star cousins, so you can expect great things from this one as well. We're excited to see the fresh look of the hotel that won "Best Hotel in the World" at the Leading Hotels of the World convention in 2010. To see what the hotel has on offer and be prepared for the unveiling of the gorgeous outdoor areas, check out more on the Hotel Metropole Monte-Carlo here.
---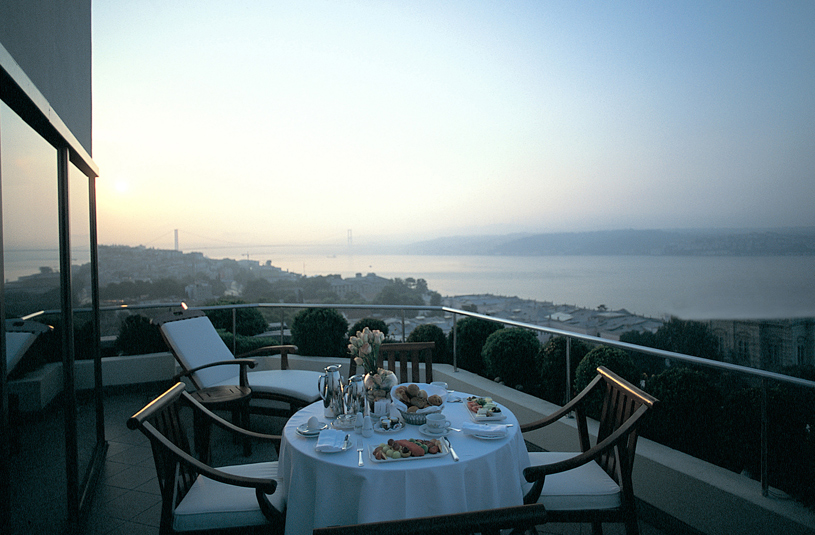 We've been spotlighting a list of Conde Nast's award-winning Gold List Hotels for 2012, and each one is amazing in its own right. In a clear case of never enough of a good thing, Conde Nast has yet an additional level to their awards, the meta-prestigious Platinum Circle Hotels, distinguished for being consistent Gold List winners for the last five years. Perhaps it could have been more aptly named the Conde Nast Award for Continued Excellence in the Having of Conde Nast Awards, but that's probably just my jealousy talking. It takes a certain level of cachet to be able to recognize someone for being recognized by you, and the Conde Nast Awards carry that weight. Regardless, the Platinum Circle hotels are undoubtedly some of the best of the best and have the mark of consistency that other hotels can only aspire to.
The Condé Nast Traveler Gold List 2012 is the eighth of their annual lists, and the hotels chosen by their team of editors and experts are the best for service, food, location, rooms, leisure facilities, ambiance and design.
Today, the hotel on showcase the Swissotel the Bosphorus in Istanbul. Turkey's capital is a place of so much history that you can barely take a step for fear of crunching some historic relic of civilizations past and present. And to explore such a storied city, you need a storied location. The Bosphorus has unparalleled views of the old city and the Bosphorus from its perch on a wooded hilltop. Sixteen restaurants, bars, and lounges provide every possible permutation of fine dining you could hope for, and you can look forward to relaxing in their heated indoor and outdoor pools. Modern amenities meet turkish tradition in a hotel with both a traditional Turkish wellness center and perfect connectivity. Swissotel the Bosphorus is everything you'd want on the Mediterranean coast, packaged up nicely just waiting for your visit.
---