LUXURY HOTEL INSIDER
The Luxury Hotel Insider
: Exclusive luxury hotel deals, features and special rates from the luxury hotel experts at Five Star Alliance.
Named one of Tripbase's
Best Luxury Travel Blogs for 2011
, below are Five Star Alliance's newest articles featuring exclusive information on luxury hotels worldwide including special offers and deals at the world's best hotels.
---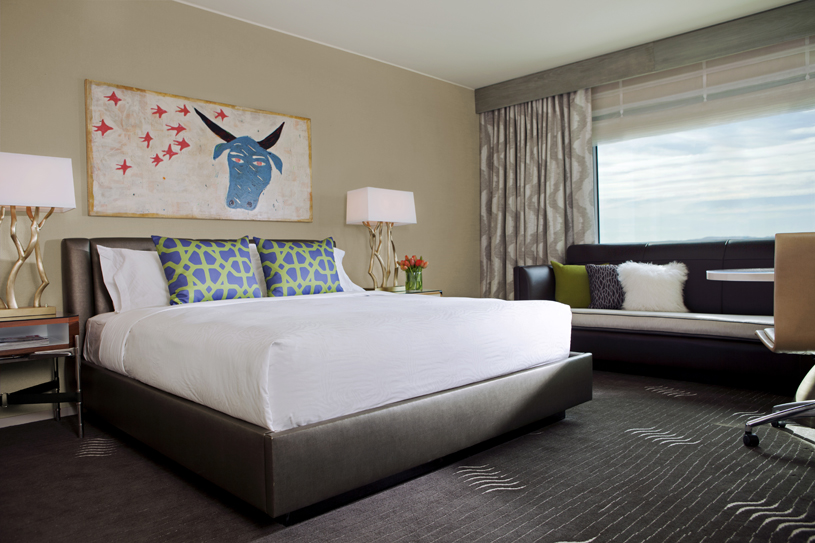 I don't think anywhere in the dictionary of latin roots will you find the "-lomar" suffix as meaning awesome. But if two points make a line, then the Mallomars and the Hotel Palomar are definitely on to something here. With that in mind, every time I hear something about the new Hotel Palomar Phoenix, I can't help but imagine that one marshmallow that inevitably falls off the end of your stick straight into the flames sloughing off its charred exterior and rising again as a pure white, gooey mass, its new skin still tender with sugary goodness. Of course, my overactive imagination could turn even a normal day at the office into the epic of Gilgamesh, so it's probably best if you don't read into it too much.
In any case, the Hotel Palomar is one of the newest editions to our collection, and it builds on the prior iterations of the Palomar, found in DC, Chicago, San Francisco, and many southern cities. In the heart of downtown Phoenix, the Palomar is ideally located to reach all of the hot spots. The city's best shopping, dining, and entertainment are just a few blocks away. The hotel itself is designed to look and feel cosmopolitan. The rooms feature contemporary design that emphasizes the space while still managing to be a little quirky. You're more likely to end up with an abstract painting of a blue cow over your bed than generic landscape #34. And that's a good thing. It's a hard thing to walk the line between eccentricity and taste, and the Palomar manages to do it. The Hotel Palomar Phoenix is definitely a great addition to the Phoenician menagerie.
---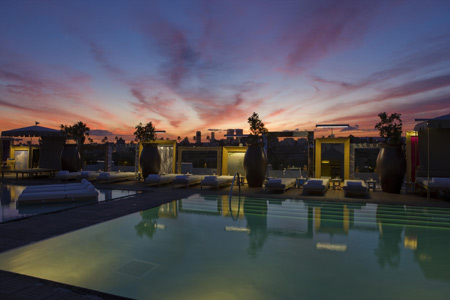 I love José Andrés. If you could have a crush on a food philosophy, I would write Andres's Minibar awkwardly endearing notes to slip into her locker when no one's looking and buy a beat up car just to drive around with her. Fortunately, my anthropomorphizing is a little far-fetched, so I'm not actually in danger of running away to Vegas to marry a sea foam margarita and Erizos de mar con pipirrana. That said, there is a distinct possbility I'll be hopping on a flight shortly just to sample the newest of Jose Andres's establishments all the way down in Miami. Jose Andres is bringing his signature experimental style to the newly opening SLS South Beach, mirroring its Beverly Hills location.
Jose Andres is well known for his style that pushes the boundaries of what we typically consider food. Playing with taste and texture, he radically subverts your expectations while still respecting the traditions of the dishes he's preparing. While he has a distinctive Spanish flair, he experiments consistently with new cultures, and you'll see the menu at the new SLS hotel divided into different regions. Andres tries his hand at foods from both Miami and Singapore alongside the expected Spanish cuisine. If you're picking a hotel based on its food, SLS is definitely going to delight you on your next South Beach stay. If you find yourself on the west coast instead, the SLS Hotel at Beverly Hills will give you the same Jose Andres experience, and you can never forget his Washington, DC, staples, Jaleo and Minibar.
---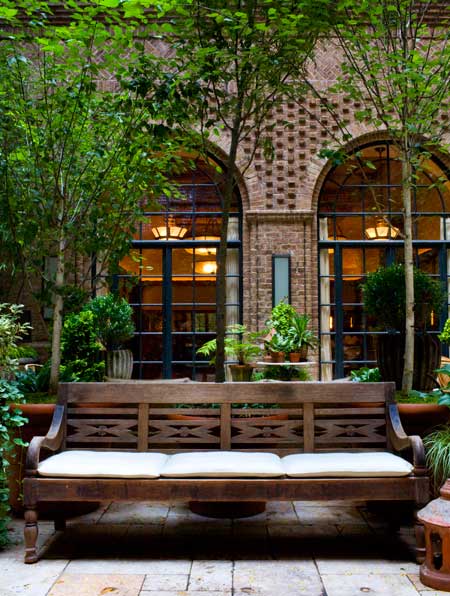 The courtyard at the Greenwich Hotel is now open and exclusively available for use by guests of the hotel. It is quietly tucked away from the chaos of New York City and features stone benches, hanging lanterns, and beautiful brick walls. Come down to enjoy some fresh air while reading the paper and sipping a cup of coffee and take in the relaxing atmosphere. Greenwich Hotel is located at the corner of Greenwich St. and North Moore St. in the Tribeca neighborhood. It is a beautiful luxury hotel that has a traditional, unique feel offering 88 rooms of which no two are alike. Enjoy lunch in the Drawing Room with 12-foot ceilings, bookshelves, and a wood burning fire place, and then enjoy dinner on the courtyard beneath latticed vines. Consider the Greenwich Hotel for your next visit to New York City for a truly exceptional and unique hotel experience unlike any other!
Posted in:
North America
,
United States - Northeast
,
New York, NY
,
Featured Luxury Hotels
,
Romantic Travel
,
Business Travel
,
Food and Wine
,
Luxury Spas
,
Museums
,
Luxury Shopping
---
As summer hits the northern hemisphere like a hot blanket soaked in mosquitos, I find myself longing for something a little more wintery. It's also a hotel that's about as unlikely as the Kool Aid man entering through a doorway. The Hotel de Glace is a hotel made entirely of ice. No, stop checking your glasses. You read that correctly. It is a hotel made of ice. It's only open in the spring season, but it might be worth setting yourself up for next year already. I imagine such a hotel derives most of its appeal from novelty, since bedding down within an ice sculpture may be the coolest thing since Archimedes invented buoyancy, but staying for more than a few nights might leave you with a case of the sniffles.
The hotel is available for nightly stays, tours and even for full wedding parties who are looking for the most exotic possible way to celebrate their union. Next winter, make sure to check out the chilliest of accommodations at the Hotel de Glace. For the summer months, however, you'll be better off sticking to Quebec hotels whose walls don't depart with the spring thaw.
Photo via Hotel de Glace.com
---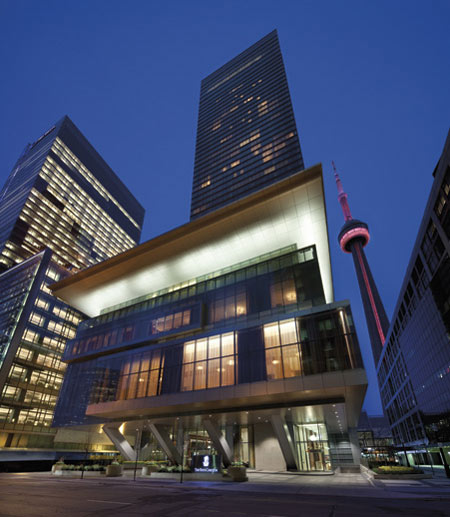 Wine cellars are so last year, and cheese caves are becoming the new and hip necessity for luxury hotels. The Ritz Carlton Toronto has a glass-enclosed cheese cave inside its Toca restaurant, and it features over 200 delectable cheeses for guests to sample! A sampling of three or four cheeses is offered nightly at the dining tables, and the true cheese connoisseurs can take it up a notch by tasting their way through more than 50 varieties made available to guests. Savor a phenomenal goat cheese or a five-year aged cheddar that the chefs at Toca infuse with whiskey and maple syrup.
The Ritz-Carlton Toronto welcomes its guests to the heart of the financial district with a 23,000 square foot spa, exquisite dining options, amazing service, 267 guest rooms and suites, and of course, its cheese cave of wonder. Be sure to make a reservation at this hotel to experience its impeccable service, amenities, and its cheese!
---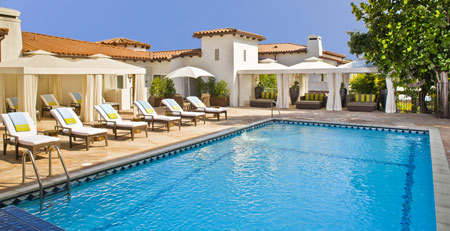 The Sunset Marquis Hotel and Villas is a private, Mediterranean-style, all-suite luxury hotel located in West Hollywood. It provides guests with luxurious accommodations and an opportunity to escape the craziness of LA and enjoy its five acres of lush gardens, ponds, waterfalls, brick paths, and tropical foliage. Accommodations range from 100 junior and 1 bedroom suites to 52 detached, private villas with private patios. Along with its bar, restaurant, spa, 2 pool areas, and private cabanas, the Sunset Marquis Hotel and Villas also goes above and beyond for its young travelers. Upon arrival, kids receive a black or pink backpack with a nametag attached. Inside it there's a 'Kids Rock' pink or black t-shirt, crayons, a Sunset Marquis passport for coloring, a Hollywood themed mad lib, and a scavenger hunt on the property. Whether you're a rock star looking for an escape or a family looking for an adventurous vacation, the Sunset Marquis Hotel and Villas certainly has something to offer you!
Posted in:
North America
,
United States - West
,
Los Angeles, CA
,
Adventure/Ecotourism
,
Travel with Kids
,
Food and Wine
,
Luxury Spas
,
Beach and Island
,
Luxury Suites
,
Events
---
When the James Royal Palm introduces itself at cocktail parties, I imagine it sidles up coolly, shaken martini in hand. "Palm, James Palm," it says, and then promptly films a movie set in its own hotel. The James Royal Palm could very well be the set for the most British of secret agents, though he will have to wait until the fall of this year to park his Aston Martin when the hotel opens to much fanfare. Miami beach is the perfect setting for the kind of adventure in high society that Bond inevitably finds himself in although, despite having Royal in the name, there's no casino at the James Royal Palm. You will find everything else there, from two swimming pools with a poolside bar to a full-service spa and gym. The James Royal Palm reimagines the original Royal Palm Hotel, paying tribute by preserving some of the original architecture, including the lobby compass rose and green glass front desk. Lil' James, who is releasing his debut rap album this year (not really), provides great children's amenities for the younger folks in your party. Reservations are currently available starting in the fall at the James' own website, and keep an eye for them on Five Star Alliance soon.
Photo via WSJ/Rottet Studio
---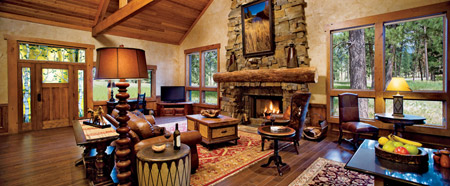 If there was ever a hotel name that invited a pun, it's the Resort at Paws Up, and I'd like to pay proper tribute to that. Maybe your life has gotten a little hectic recently; things are moving a little too quickly, and it feels like everything is getting away from you. What you need is to take a step back and abandon the rat race; take a pause from your normal life. Or maybe you have a bunch of friends, and you're looking for a getaway to the Montana wilderness. Well, the Resort at Paws Up has room for your whole paws-e. Really, the pawsibilities are endless. Whew. That was exhausting. And I've even avoided making any pet jokes...
Now that we've gotten that out of our systems, we can move on to the business of describing exactly what makes the Resort at Paws Up unique besides the name. A lot of resort promise a wilderness experience, but you're really just two miles out of town and their wild forest is a five acre manicured lawn.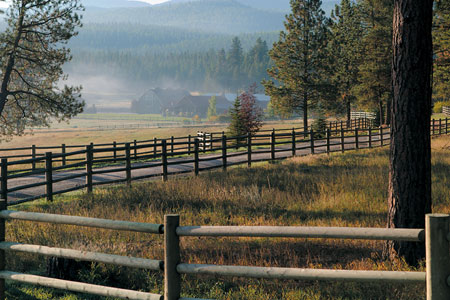 Well, Montana is literally derived from the Spanish word for mountainous country, and the state animal is the grizzly bear. The wilderness in Montana doesn't mess around, and neither does Paws Up. The property has a number of different cabins avaiable from the meadow to the mountainside, and there's even an outdoor tent city if you want to really rough it. All this makes it sound like I'm describing something very different from the classic luxury resort, but don't let me fool you. The Resort at Paws Up constantly has luxury in mind; it just recognizes that even those who enjoy their five star dining and top-notch spa facility have come for the outdoors as much as the high thread count. In fact, I would argue that there's nothing lost on the luxury experience, but the surroundings are more real, highlighting the local freshness of cuisine homemade from local flora and fauna, like their unbelievable huckleberry toast. If you want your luxury to come with wilderness, or your wilderness to come with luxury, look no further than the Resort at Paws Up, where you'll get the best of both worlds.
---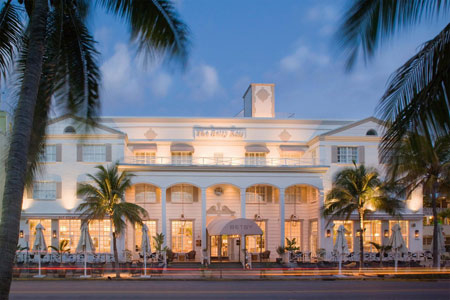 Certain hotels have a story behind them, a culture that seeps through the walls and a personality that emanates from every room. Every city has an appreciated and valued history worth exploring, and certain hotels have become a part of that rich and interesting past. For this reason, we'd like to introduce you to our blog series, Hotels with a History where we'll be featuring unique hotels that have a little more to them than a comfortable bed and superb amenities.
Opened in South Beach in 1942, the Betsy Rose Hotel stood out from the traditional style of architecture with its Florida Georgian façade in an Art Deco dominated neighborhood. This luxury hotel underwent an extensive renovation in 2009 while maintaining its original design and timeless style. This boutique hotel has 63 private, beachside rooms and suites equipped with the latest technology. The Betsy Hotel offers its guests ample opportunities to relax on the white sandy beaches, play a round of golf, partake in water sports, and much more! The Betsy Hotel has also gone green and is committed to making eco-friendly decisions without sacrificing luxury, ensuring that its guests get the most out of their stay while keeping the environment in mind. Be sure to check out this historic and beautiful luxury hotel for your next trip down to South Beach!
Posted in:
North America
,
United States - South
,
Miami, FL
,
Adventure/Ecotourism
,
Romantic Travel
,
Luxury Golf Resorts
,
Luxury Suites
,
Luxury Shopping
,
Green and Eco-Friendly Hotels
,
Historic Hotels
---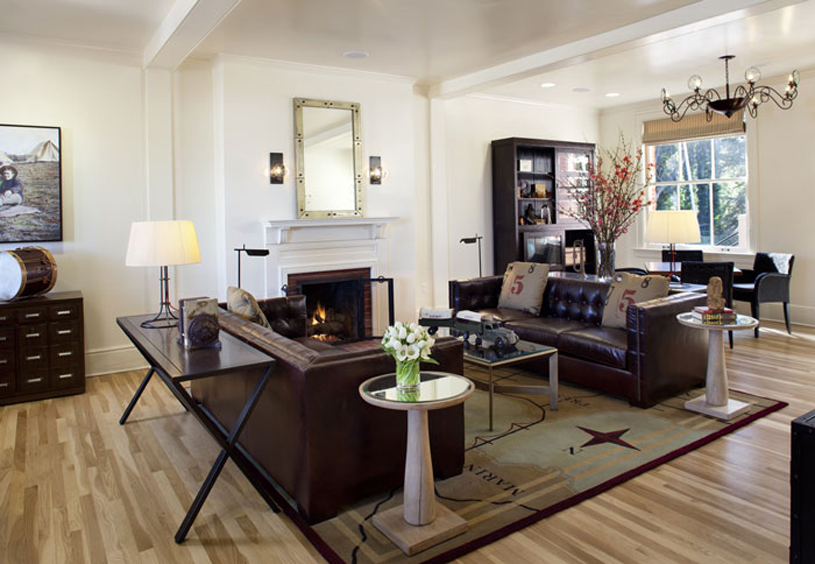 I have a special place in my heart for tiny boutique hotels. It may be a little smaller than some of the other chambers, and there aren't enough spots for everybody, but that just makes the few who do make their way into my good graces all the more special. I can give each and every one the loving care and attention they deserve. And thus began my new segment on boutique hotels that I just adore.
I have been spotlighting a lot of cutting edge designer hotels lately. There is another side of boutique hotel with a perfectly American flavor that is not represented in this group. The small boutique hotel can also be a down-home experience that mimics the classical elegance of the old-school inn and upscale roadhouse. The Inn at the Presidio is just that, a 22-room house that gives the impression that San Francisco was built around it, though that is not to say that it appears in any way dated. In fact, given that description, you would never expect that the Inn at the Presidio is as freshly minted as they come, opening just in April of this year.
The interior spaces are slick and well-crafted, bringing the American Inn into the 21st century. The Inn at the Presidio is what a classic inn would be if it were opened in 2012, rather than a preservation of antique furniture. Most importantly, the privileged position afforded the Inn, right by the waterfront, means that third floor rooms boast a breathtaking view of the Golden Gate Bridge. The one-bedroom suites that make up the bulk of the rooms offer a separate sitting area and gas fireplace alongside the standard bedroom. While the Inn at the Presidio certainly couldn't accommodate gold rush numbers, that only enhances its charm, and you would do well to give it a gander next time you're heading westward.
---