LUXURY HOTEL INSIDER
The Luxury Hotel Insider
: Exclusive luxury hotel deals, features and special rates from the luxury hotel experts at Five Star Alliance.
Named one of Tripbase's
Best Luxury Travel Blogs for 2011
, below are Five Star Alliance's newest articles featuring exclusive information on luxury hotels worldwide including special offers and deals at the world's best hotels.
---
What follows are impressions of two of our favorite Orient Express properties, the Observatory Hotel in Sydney and the Casa de Sierra Nevada, in many ways very different hotels, and in more than just their geography.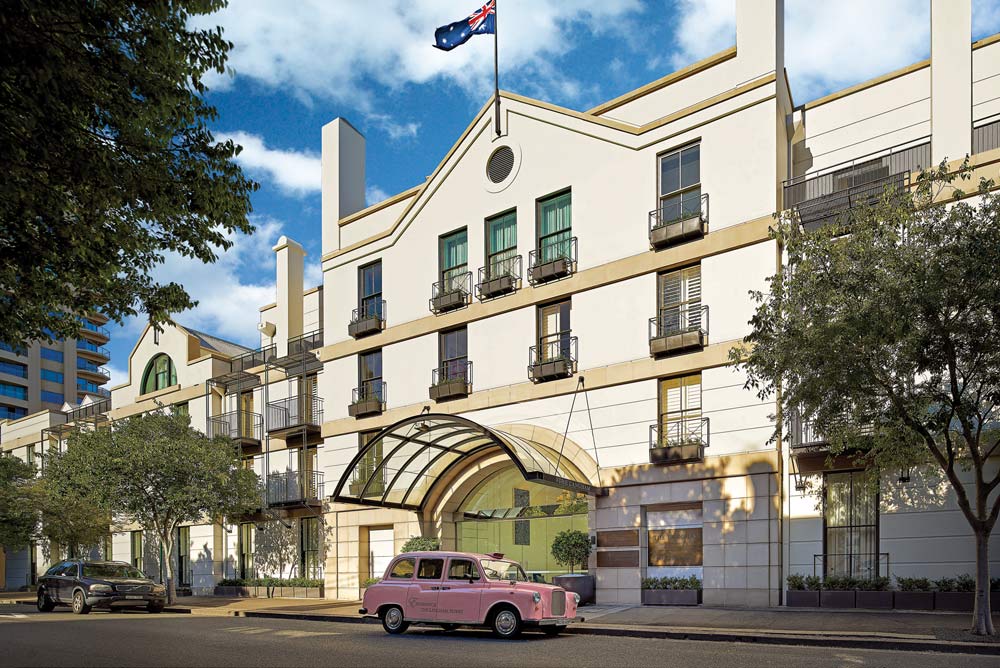 Observatory Hotel, Sydney, Australia
I'll confess a fair bit of ignorance about why the Observatory Hotel is actually called the Observatory. Perhaps it was the site of a revolutionary astronomical discovery or it used to house the local planetarium in a forgotten back room. Maybe it just has a habit of flowering the walls at a party in order to better watch the crowd. It's a mystery as enigmatic as the stars in the sky, and we may never know. Well, it probably has something to do with the adjacent Observatory Park, but why spoil the hyperbole?
What I do know is that the Observatory Hotel is a perfect luxury hotel to use as jumping off point for exploring Sydney, a city that thrums with the heartbeat of a constantly evolving culture. Not far from the Rocks and Circular Quay, not to mention the Sydney Opera House, you're right in the middle of the action. As a break from experiencing all the city has to offer, you can retreat back to the quiet inner sanctum of the Observatory to enjoy an afternoon tea at the Globe Bar & Brasserie. For more substantial fare, head to Galileo in the evening, and you'll experience their amazing interpretation of fine French cuisine (the mystery of the name is quickly unravelling faster than the flat earth theory). If you're looking to stay in the utmost of style, make sure to book their gorgeous presidential suite, a study in aesthetics that makes extensive use of objects d'Art and features a four-poster bed. The Observatory Hotel is an extra-classy place to stay for the discerning traveler who finds themselves in Sydney.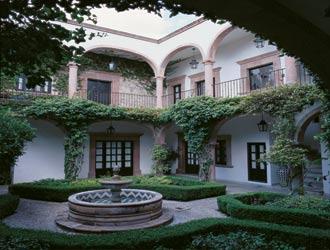 Casa de Sierra Nevada, San Miguel de Allende, Mexico
Across the world from the Observatory Hotel, you'll find the Casa de Sierra Nevada in San Miguel de Allende. Built in 1580, the Sierra Nevada is one of the smallest hotels in our collection. With just 33 rooms, the hotel is a serene escape from the bustle of everyday life. An inner courtyard is the perfect enclosure to keep the busy noise of the outside world at bay while you relax and refresh in one of the most historic towns in Mexico. Importantly, the hotel allows no children under the age of 11, so you won't be disturbed while you crack open the novel you've never gotten to or just soak up the rays of the sun. The National Institute of Anthropology and History was so enamored with the hotel's repurposed homes that they are designated historical landmarks. The surrounding mountainous landscape seems to be a backdrop that could only be dreamed up in a movie studio, but you can experience the unparalleled quietude and incredible service of the Casa de Sierra Nevada in real life. It's just one trip away.
---
The Mandarin Oriental in Atlanta, Buckhead is now open for business, which created a bit of a conundrum for me. See, there are just so many great headlines for Buckhead. Alternate titles included, "Ahead of the Trend," "The Buck Stops Here," and "Mandarin Oriental Opens a New Hotel in Buckhead," which was the generous contribution of the portlier half of my brain. Thanks, left brain, but you're not very good at this. Anyway, after my painstaking research into optimized punnillanimity, I turned my eyes to the actual details of the newest addition to the Buckhead neighborhood. The Mandarin Oriental promises terrace views of the city skyline from some of the rooms on higher floors, and its Premier Terrace Suite offers a more panoramic view from either of its two balconies, from which you can enjoy some fantastic in-room breakfast or dinner. Stay in any of its 127 guest rooms to enjoy its 15,000 sq ft spa and Taipan Cocktail Bar. Also, look for the More in Atlanta package to grab a third night free.
---
In veneration of the Honorable Alex Kozinski (don't click this until the end, or you're cheating), we're going to do a little something special with this post. It's risky business when two ideas face off in a single article. On one level, I'll be talking about the wonderful Inn of the Spanish Garden. On the other, well, see if you can find the clue, or, perhaps, I've left you clueless. In any case, let's get to it.
Opening just eleven years ago in 2001, the Inn of the Spanish Garden brings a distinctly Mediterranean flavor to the West coast. It is a true American beauty, the fusion of European sensibilities with a level of relaxation only California could achieve. Staying in any of the 23 rooms at the Inn is just about as good as it gets. The small size means that the 24-hour staff is available to personalize your experience so you can have it just as you like it. With either a private balcony or patio in every room that may open up to the secret garden within their beautiful courtyard, you don't have to leave the outdoors behind. Their 30-person banquet hall is perfect for parties looking to host a small wedding or party in a small hotel that you can really make your own. The verdict? The Inn of the Spanish Garden is a great escape from the bustle of the world outside.
---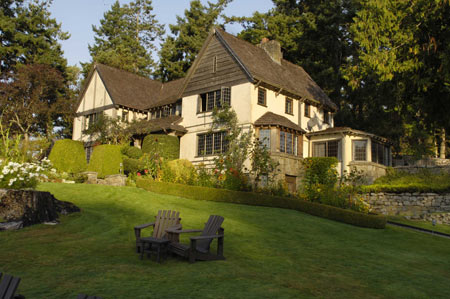 Salt Spring Island is one of the most iconic destinations in all of Canada, a small, exclusive natural island that promises an escape we'd all like to enjoy. Overlooking Ganges Harbor, Hastings House is a small manor house that's a perfectly self-contained destination. The folks there do dining right as well. They are clearly friends with one Peregrin Took because not only is muffin and coffee delivered right to your door, you can follow it up with a leisurely second, English breakfast. Lamb and local seafood are the figureheads of the Verandah's beautiful dinner options, and they are always complimented by fresh herbs and produce from the estate gardens. It couldn't be fresher if you picked it yourself. Top it off with a glass from their incredibly well-stocked and international wine cellar.
The small manor also offers its very own wellness treatments from massages to body wraps right next to the fireplace in your very own suite. It's a vacation experience you won't want to miss out on. The Hastings House even has some adorable pet lambs.
---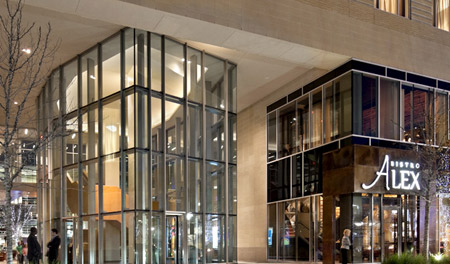 We at Five Star Alliance know that our travelers are in search of luxurious accommodations at the best prices available, so we go above and beyond to find the best promotional packages and specials to ensure you get the most from your hotel experience. We're thrilled to introduce our newest blog series where we'll be featuring luxury hotels that offer you more than just room-only rates. Whether you're traveling on business or pleasure, we certainly have something for you. Be sure to check in with us often to get the inside scoop on the best deals and packages available at luxury hotels all over the world!
Today's feature is the Hotel Sorella CITYCENTRE in Houston, Texas. This 5-star hotel is located in west Houston's prestigious CITYCENTRE development just a few miles from the Energy Corridor and Westchase District, and it's surrounded by sophisticated retailers and fine dining options. The Hotel Sorella is elegantly decorated with a unique European Murano glass chandelier and custom graphite colored ceramic floors. It features 244 guest rooms and suites all beautifully decorated to make you feel right at home. Check out the following deals and packages that'll send you cowboy boot shopping today!
Stay Two or More Nights Package:
Enjoy a discounted nightly rate in a Traditional Room, Deluxe Room, or Junior Suite with breakfast included. The rooms have either 1 king bed or 2 double beds, and the size of the rooms range from 410 to 525 square feet.
Corporate Rates:
Traveling on business? Take advantage of the discounted corporate rates available for Traditional Rooms, Deluxe Rooms, as well as Junior Suites.
Stay and Dine at Bistro Alex Package:
Choose from a Traditional Room, Deluxe Room, or a Junior Suite and get ready for a taste-bud assaulting experience. This package includes luxurious accommodations, 2 pre-dinner cocktails at the Monnalisa Bar, and a $100 gift card to Bistro Alex, where the menu features classical favorites as well as lighter fare all prepared with a progressive twist. Dinner reservations are recommended.
These packages and specials are based on double occupancy, subject to availability, and exclusive of tax.
Be sure to make your travel plans today to take advantage of the incredible packages and deals that await you in Houston!
---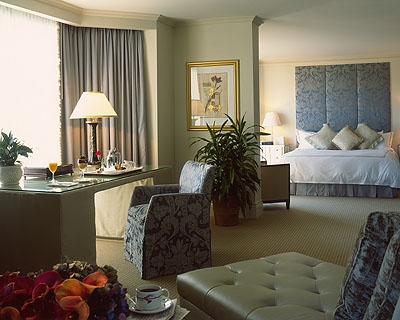 The Four Seasons, while known for its all-weather capability, is taking the spring and early summer to get ready for their grand opening in Toronto. As summer winds down and autumn approaches, the newest addition to the Four Seasons brand will be opening its doors to all comers. Reservations can now be made online beginning on October 1st, 2012 and that date may be pushed up as opening day is finalized, so be sure to keep checking in for earlier days as the opening approaches.
This new Four Seasons property takes the refined style of the internationally renowned brand and adds a little twist of 2012 on top. Four Seasons Toronto will be sleek and modern, and their world class spa and restaurants cannot be ignored. You'll be frequenting the largest spa in the city at the Four Seasons, and the restaurants have been reimagined by international restaurateur Chef Daniel Boulud. His namesake restaurant Boulud and the d | bar are aiming to become fixtures of the Toronto scene, pioneering a trendy hotel bar atmosphere. I, for one, am excited to see the Four Seasons expanding to more wintry climes in time to keep me cozy for next Christmas.
---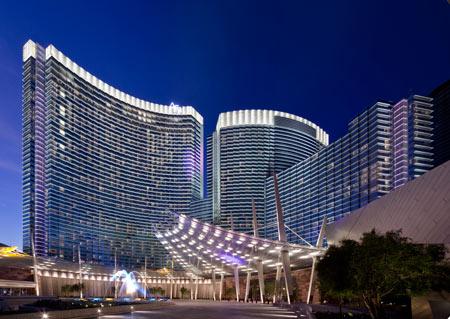 Have you had an unforgettable vacation this year? Or gone to back to an old favorite that you just keep away from? Now's your chance to make sure your favorite hotels, resorts, and vacation destinations are getting the accolades they deserve. Nominate them for the Conde Nast Reader's Choice Awards by heading over here and taking a simple survey. Not only that, if you throw your opinion into the ring, Conde Nast will enter you to win a $10,000 trip to Las Vegas! So you can vote on your previous favorite and perhaps make a new one while you're at it: The Aria Resort and Casino will put up the lucky winner where you can dine at Sage, one of the top new restaurants in the city. This is a chance both to vote on your favorite hotels and to come away with something nice. Get your voice in by April 30 to make sure you're counted. It's a win-win situation, really.
---
The Embassy Suites Chevy Chase Pavilion, a feature of northwest DC, has finished up its eight weeks of renovation and is gearing up for its reopening come May 7th. Located within one of the northwest's great shopping centers, the Embassy Suites is a great DC Hotel, and their renovation is polishing all the corners and reapplying a fresh coat of paint to an already modern hotel. Grab one of their reopening packages for a crazy set of amenities:
- Complimentary Wifi
- Two free all-day metro passes
- Discounted $10 metro parking
- Free tote bag (Oh, yeah!)
- Complimentary cooked-to-order breakfast
- Manager's evening reception
Photo via Embassy Suites
---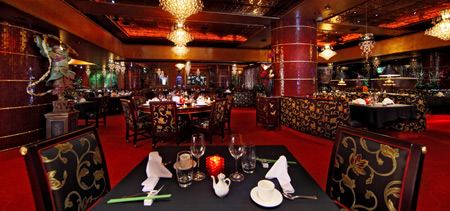 I love Reno, NV. There's something about the southwestern US that makes it give birth to organic growths of neon, and the sequined glamour comes with enough glitz to make lovers of earth tones run for the hills. And that's precisely the draw of it. People don't go to Reno or Las Vegas for an understated evening alone with nature. It's fast-paced, colorful, and exciting. One of the marks of a good Reno hotel is that it wholeheartedly embraces this action, and one of the marks of a great one is that it does it with its own personal style. It's not enough just to buy into the technicolor dream, you have to take it and make it your own, and the Peppermill Resort Spa and Casino's particular touch is to take the gaudy flair of the strip and apply a layer of pure class to it.
That class begins as you walk down the front promenade. The sheer scale of the resort is what strikes you first. With 1,630 rooms, 9 restaurants, and 16 bars and lounges, the Peppermill is a self-contained city, a palatial enclave with everything you'll need for your stay. The rooms are boundlessly luxurious and defined by their old world standards of service. The most recent Tuscan expansion has even expanded on those options, and by the name, you can tell that the hotel is even large enough to split itself into separate themed areas. Tour the world without even stepping outside. The Peppermill Resort Spa and Casino is just what I expect when I stay at a 5-star resort in Reno: All the glitz and glamour of the commercial lifestyle with the high standards of service of an internationally renowned hotel.
---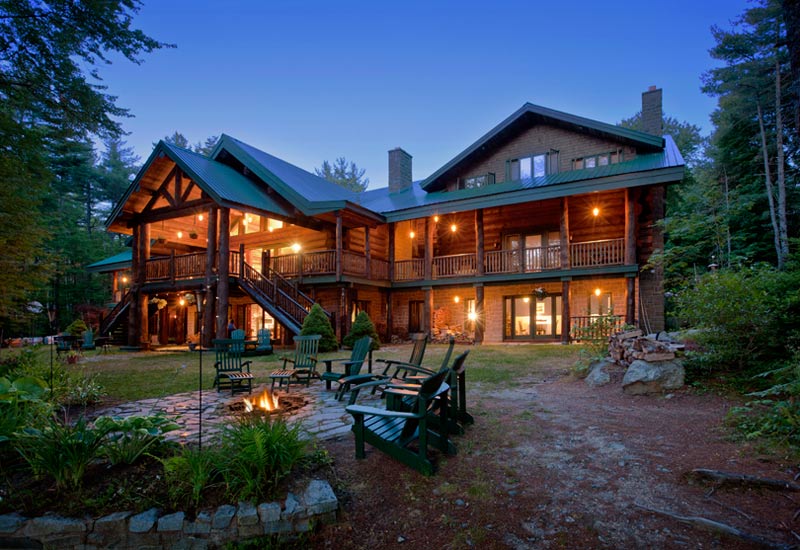 I have a particular soft spot for hotel lodges. Maybe it's my Appalachian heritage or my simple love for all things naturey, but there's a certain charm to a hotel that has but 8 rooms and whose greatest attractions are the wonders that surround it. Traveling there, you feel a natural heartbeat that's stronger and more primal than a city's. For a brief while, you're a part of an ecosystem rather than a society, and that's a wonderful feeling.
The Trout Point Lodge, by virtue of being located in the incredibly diverse region of Nova Scotia, manages to straddle two of these ecosystems, giving you the opportunity to explore both the natural woodland and the nearby sea. Whale watching, sea kayaking, and trails aplenty will greet you upon arrival. In East Kemptville, which is preferable to its far less tidy neighbor, West Scruffytown, you can enjoy the maritime cuisine that the region is famous for. The fresh seafood at Trout Point rivals that found anywhere in the world. Stay in one of their Fireplace Junior Suites to make use of a handcrafted granite fireplace and outdoor porch overlooking the nearby river. The Trout Point Lodge is the wilderness escape we're all dreaming of while stuck at our desks on a lovely spring afternoon.
---