LUXURY HOTEL INSIDER
The Luxury Hotel Insider
: Exclusive luxury hotel deals, features and special rates from the luxury hotel experts at Five Star Alliance.
Named one of Tripbase's
Best Luxury Travel Blogs for 2011
, below are Five Star Alliance's newest articles featuring exclusive information on luxury hotels worldwide including special offers and deals at the world's best hotels.
---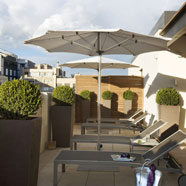 The early bird gets the gusano at Barcelona's Hotel Murmuri. Actually, they get to take advantage of the Early Bird Prepaid special the luxury hotel is offering, which is a lot better than an earthworm. Starting at just EUR 124.91 per night, guests stay in a classic room with queen or twin bed, and wifi access/ipod station. Hotel Murmuri is centrally located on the Eixample, beside the Passeig de Gracia, the commercial and cultural nerve center of the city. Guests can walk to the Ramblas, Diagonal Avenue, Sagrada Familia, and many of the other cultural attractions that Barcelona has to offer. But make sure before you book. This special low-rate requires full payment at time of booking and no changes or refunds are permitted.
---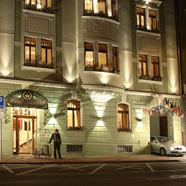 Attention! Prague's Hotel General, the small luxury property with a distinctly military feel, wants you to enjoy the cultural offerings of Prague.
At Hotel General, each of the 20 rooms is inspired by the deeds and lives of famous generals and military leaders throughout world history. The furniture and decoration of each room is designed to offer a unique opportunity to taste the ambiance of the various historical periods of these generals. The hotel's "Two-Night Cultural Package," which starts at EUR 142.50, offers 2 tickets for the State Opera or National Theatre, a double deluxe two twin beds room with Internet, a welcome drinks, a limosine pick-up from the airport or railway station, breakfast buffet or an a la carte dinner. But book now, because availability is limited, and certain terms and restrictions apply.
Special Offer from Five Star Alliance: Five Star Alliance guests at Hotel General receive a welcome drink upon arrival, complimentary parking and room upgrade based upon availability.
---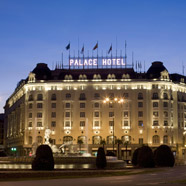 If you are an art lover, you might want to make plans for a stop-over in Madrid this summer. Two major exhibits showcasing two of the world's greatest artists will be opening in the Spanish city. From May 26-September 6, the Prado will feature Joaquín Sorolla (1863-1923), the first major monographic exhibition devoted to the artist since 1963. One of the key figures in the history of Spanish art and the most internationally-known artist of his day, Sorolla worked in a realistic style and captured the magical light of Valencia's Mediterranean coast. Opening June 9 and running through September 20, the Museo Thyssen-Bornemisza will present a major exhibition, Matisse: 1917 – 1941. Designed to showcase a little-studied period in the artist's life and work, the show will present some 80 paintings, sculptures and drawings from two critical dates. Marked by the shadow of World War I and the forebodings of the next world conflict, the period was one of rapid ascent for Matisse, and this exhibition aims to present the artist's central role in the flourishing of modern art during this era.
Where to stay? There's a plethora of choices: Hotel Santo Mauro, Hesperia Madrid, Urban Hotel Madrid, Eurostars Madrid Tower, Mirasierra Suites Hotel, The Westin Palace Madrid, and AC Palacio Del Retiro are just a few of the great luxury properties you can book at Five Star Alliance.
---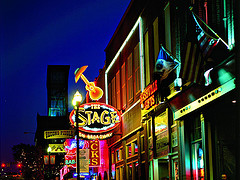 Country music fans, budding songwriters, wannabe music stars: head to Nashville and discover the best that Music City has to offer. You'll get the star treatment and enjoy lively entertainment at Loews Vanderbilt Hotel, the 340-room luxury property that has a fitness center, art gallery, and day spa on-site. The hotel has created a package so that you get the most out of your trip to Nashville. When you book the "Music City" package, you'll get two tickets to the Country Music Hall of Fame along with your accommodations. Dedicated to the history of country music, the Hall of Fame has fun interactive exhibits (sing along with the stars!) and a permanent exhibit, Sing Me Back Home, sprawling over two floors of the museum. Priced from $189 per night, the package also includes overnight valet parking.
---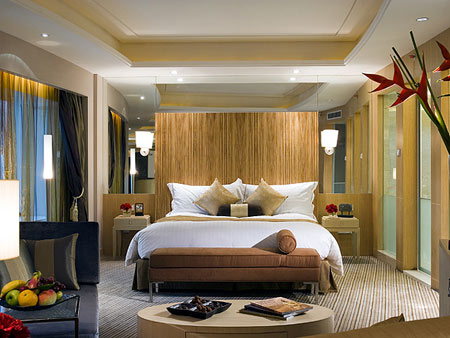 Heading to Xian to see the Terracotta warriors?  One of the oldest cities in Chinese history, situated at the eastern end of the Silk Road, Xian boasts more than 3,100 years of history and a slew of interesting sites. Of all the pagodas, museums, and temples, the most touristed is the world-famous Mausoleum of Qin Shi Huang and his Terracotta Army-- a UNESCO World Heritage Site that's not-to-be missed. The place to stay in Xian is the Sofitel on Renmin Square, easily the most luxurious hotel in town, and close to all the major sites. Recognized as one of the world's top business hotels (as Xian is also an important business capital), the Sofitel has myriad dining options and a spa and indoor pool, along with swanky accommodations.
---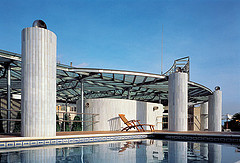 The rooftop swimming pool is reason enough to book a stay at the Hotel Claris, the charming boutique hotel smack dab in the middle of it all in Barcelona, an easy jumping off point to discover the magic of Gaudi's architecture and the most exciting urban beaches in the world. From the hotel's rooftop, you can take in marvelous views of the sun-bleached city, and in the evening, bliss out to live music and creative cocktails. The 124 luxury bedrooms are outfitted with all the latest technology, decorated with original Egyptian, Roman and Hindu art. In fact, the hotel itself is like a museum, boasting an art collection of over 400 works: original Egyptian art from the Egyptian Museum, engravings commissioned by Napoleon Bonaparte, mosaics and Roman sculptures from the 2nd and 3rd centuries.
---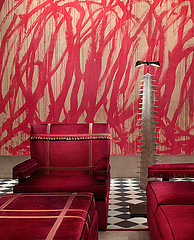 The latest hot trend in hotels across the country? Art installations that are a fundamental element of hotel design, to quote The New York Times, "challenging guests to think more deeply about their experience." Extensive collections of art can be found in hotels from Minneapolis to Miami Beach. Case in point: the Gramercy Park Hotel, "whose total refurbishing by Mr. Schrager debuted in 2006, has so much high-caliber artwork that the Museum of Modern Art once took a tour group there." With design that's a feast for the senses, the Gramercy Park Hotel is an artistic vision (with happening bars and a Private Roof Club and Garden, to boot). Guests can gape at original pieces by Damien Hirst, Andy Warhol and Fernando Botero-- among others.
---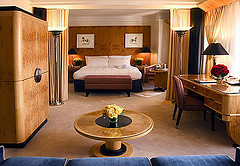 Looking for the best insights on the Big Apple? Gunter Kleemann-- concierge at the opulent New York Palace Hotel-- "holds the key to the city," as reported in a fabulous interview by The New York Times. He is also the President of New York's Association of Hotel Concierges, so he knows a thing or two about Manhattan. Guests at the New York Palace Hotel are in luck; he can score "tables at prime restaurants and seats at sold-out Broadway hits." The full NYT interview is below:
How he knows what he knows: At first you think you can do it with a Zagat's and a computer. There's nothing that beats personal experience. My wife and I are always going out. You'll always find me someplace.

Proudest of: My golden keys, the universal standard of service excellence.

Most-asked question: Where to eat.

How he answers: Are you looking to dine or just to eat? It's a big difference.

Weird requests: One guy asked, "Can you get me six brunettes, six blondes and six black-haireds?" Of course, we don't do that. Some guy asked me, "Can you find me the gross income of this company for a year?" How bizarre is that? I had to tell the guy nicely, that's not the kind of thing we pursue. I get people asking for a stock certificate from 1865, a cork from a 1980 Chianti, a 6-by-9-foot painting with a hunting dog, a shotgun and a pheasant. We try to track it down.

The German accent: I was born in Kottweiler-Schwanden, near a big American Army base. I used to see the tanks come through. I'd find old Lugers in the field. My mother lived through the firebombing of Dresden. I came here with my parents when I was 10 years old.

Résumé: I went to the New School for graduate work in film and got a job with a top fashion photographer as an assistant. After a few years, I worked with a commercial filmmaker. I got cast in acting roles. You ever hear of "I Spit on Your Grave"? It was one of the biggest cult films ever. It's about revenge, in a nutshell. A female writer goes from the city to the country and is accosted. She gets her revenge. It's a piece of dreck, but for some reason I got a fan club."

Fondest New York moment: In '74 I was living in the Village, across from the Caffe Dante, where Bob Dylan used to go. I'd see Joni Mitchell and Ginsberg. They were all hanging out together.

On becoming a concierge: I wanted to work for Gray Line as a tour guide. They weren't hiring, but still they had a couple of desks in hotels. I started at the Roosevelt in '99, manning a Gray Line desk for a few months. At the end of the year they were giving up the desk and I took a job with Continental Guest Services, which rents desks in hotels and operates on commissions. Then I was hired at the Lucerne Hotel on Amsterdam Avenue as a real concierge.

The money thing: There isn't any charge, but I tell people at the end of their stay if they feel I did something special for them, gratuities are allowed.

On taking freebies: Once they know you're a concierge, you get a lot of offers, but a lot of times I pay on my own. I want to go incognito.

Best advice he ever got: If you don't make mistakes, you're not working.
---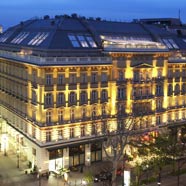 Celebrate the 200th anniversary of one of the most prolific and prominent composers of the classical period as Austria commemorates the death of one if its most celebrated composers: (Franz) Joseph Haydn-- revered as the "Father of the Symphony." The Grand Hotel Wein is offering a package that honors Haydn's work and achievements. Book the Haydn Package at The Grand Hotel , and receive two night's accommodations, extensive buffet breakfast in the restaurant Grand Café, an exclusive 3-course menu in the gourmet-restaurant Le Ciel, and two tickets for the famous Haydn-house. A special farewell gift will be presented by the hotel to help you remember Joseph Haydn and your exciting trip to Vienna!
Package offer is valid until December 28th 2009. Package rates vary according to availability and room category, certain terms and restrictions may apply.
---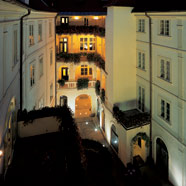 Always wanted to visit Prague? Now's your chance. The Iron Gate Hotel and Suites is offering a delightful "Royal Prague" package, which will show you the town in style without breaking the budget. The luxury hotel, which is housed in a carefully renovated 14th Century building, is situated in the heart of Prague's Old Town, in a picturesque, cobbled side street just steps from the famous Astronomical Clock in the Old Town Square. You'll be transferred to and from the hotel in a Mercedes. Then, spend two nights in one of the luxurious Junior Suites or Royal Suites decorated with frescoes or wooden ceilings from the 14th-18th century. The package includes a 20 minute horse carriage ride through Old Town for 2 persons, a 3-course dinner in Iron Gate Cafe & Restaurant, welcome drink, full buffet breakfast in restaurant or breakfast served to the room, bottle of Bohemian sparkling wine, water and fruits upon arrival, and All taxes & VAT included. Rates start at 495 Euros per night, and the package is valid until December 27, 2009. Certain terms and restrictions apply, and this offer is subject to availability.
---