LUXURY HOTEL INSIDER
The Luxury Hotel Insider
: Exclusive luxury hotel deals, features and special rates from the luxury hotel experts at Five Star Alliance.
Named one of Tripbase's
Best Luxury Travel Blogs for 2011
, below are Five Star Alliance's newest articles featuring exclusive information on luxury hotels worldwide including special offers and deals at the world's best hotels.
---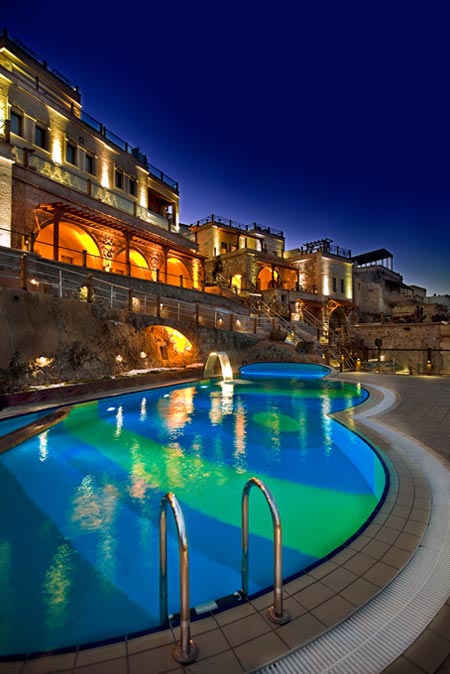 Unless you're a professional spelunker, a cave probably isn't something you see every day, although sometimes I do think my cubicle feels like one. But if you're the kind of guy who's got a nice corner office and a fulltime assistant just to get coffee for you, then yours probably feels a bit more like the Cappadocia Cave Resort and Spa. Nestled into the jagged landscape of the Cappadocia region of Anatolia, known for its extensive system of caves, this resort is the perfect offbeat destination.
Combining the Turkish spa tradition with modern techniques, you'll bathe in the natural healing powers of an area that dates back to 4,000 BC, when people first began to hew their monasteries directly from the rock formations. With only 79 rooms, it's the perfect intimate getaway, an escape from the banal normality to a place exotic and alive, so natural as to be formed from the very earth itself. I love the Cappadocia Cave Resort for its innovative adaptation of one of the most historic regions on Earth to the modern luxuries we all hold so dear. Check out the Cappadocia Cave Resort and Spa. It's a luxury you shouldn't take for granite.
---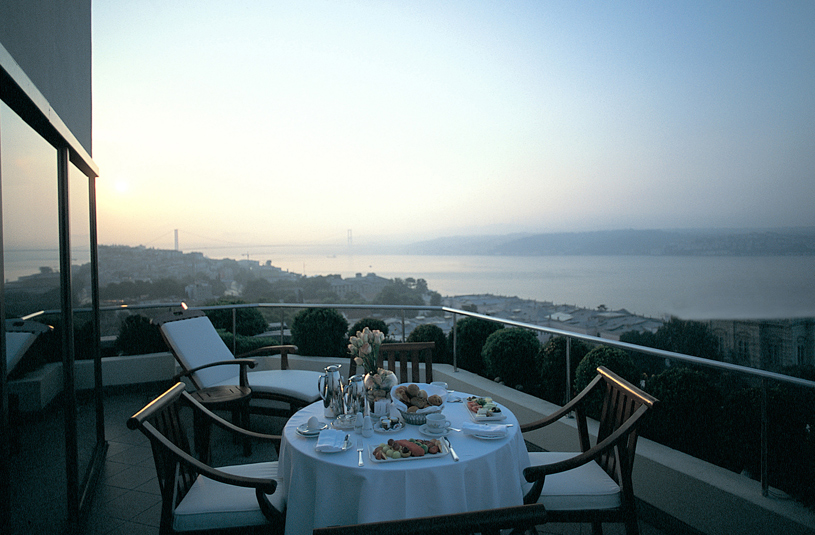 We've been spotlighting a list of Conde Nast's award-winning Gold List Hotels for 2012, and each one is amazing in its own right. In a clear case of never enough of a good thing, Conde Nast has yet an additional level to their awards, the meta-prestigious Platinum Circle Hotels, distinguished for being consistent Gold List winners for the last five years. Perhaps it could have been more aptly named the Conde Nast Award for Continued Excellence in the Having of Conde Nast Awards, but that's probably just my jealousy talking. It takes a certain level of cachet to be able to recognize someone for being recognized by you, and the Conde Nast Awards carry that weight. Regardless, the Platinum Circle hotels are undoubtedly some of the best of the best and have the mark of consistency that other hotels can only aspire to.
The Condé Nast Traveler Gold List 2012 is the eighth of their annual lists, and the hotels chosen by their team of editors and experts are the best for service, food, location, rooms, leisure facilities, ambiance and design.
Today, the hotel on showcase the Swissotel the Bosphorus in Istanbul. Turkey's capital is a place of so much history that you can barely take a step for fear of crunching some historic relic of civilizations past and present. And to explore such a storied city, you need a storied location. The Bosphorus has unparalleled views of the old city and the Bosphorus from its perch on a wooded hilltop. Sixteen restaurants, bars, and lounges provide every possible permutation of fine dining you could hope for, and you can look forward to relaxing in their heated indoor and outdoor pools. Modern amenities meet turkish tradition in a hotel with both a traditional Turkish wellness center and perfect connectivity. Swissotel the Bosphorus is everything you'd want on the Mediterranean coast, packaged up nicely just waiting for your visit.
---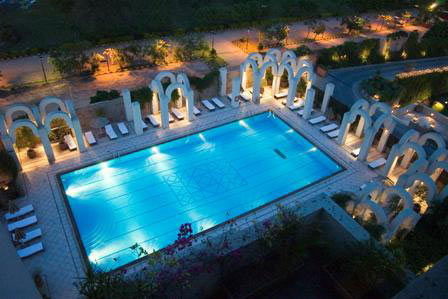 The last place one might expect to find a luxury hotel is on the wartorn streets of Kabul, where the porter's duty is as much to wipe off the accumulated dust of the ruined cityscape as it is to carry your luggage. But one hotel brand is not just opening there, it's making it its mission to use the luxury hotel business to spur development in struggling countries, predominantly in the Middle East. As Foreign Policy reports, Serena hotels are a mainstay of areas of internal conflict, its flagship property protected by armed guards in the heart of Islamabad. And they're looking to expand their efforts in Afghanistan as a part of the unique mission of their benefactor, Aga Khan.
Aga Khan, whose personal wealth measures in the billions, began the hotel chain in the 1970s, and it is supported by Norfund, a Norwegian development fund, and International Finance Corp. of the World Bank. As he is himself a spiritual leader of a sect of some 15 million Shiite Muslims, the vested interest in bringing the luxury hotel industry to Muslim countries is clear. Part of the international development process is giving visiting businessmen and dignitaries a place where they can feel safe and taken care of while they come to work the deals that might, in theory, help lift places like Kabul out of the perpetual poverty of a war-stricken country.
While the investment is not without its perils, the Serena in Kabul has been attacked three times since its opening in 2005, Serena has also been able to maintain occupancy rates of 60% in the very same hotel. The visitors to Kabul are, of course, aware of the perils of the situation they are choosing to step into, and are often intimately tied into the conflict itself. The clear hope is that once stability is gained, the hotels can serve as an existing infrastructure to develop a tourism industry around, and Serena's safer hotels in more established regions do a good business. Regardless of your thoughts on this kind of luxury development work in countries where even food and water can be hard to come by for much of the population, Serena serves as a fascinating test case for developing industries in countries without the infrastructure to support them and shows the potential the hotel industry has to do more than provide a nice vacation. You can read the full piece from Foreign Policy here and find out more about Serena properties at Five Star Alliance.
Kabul Serena Photo via Foreign Policy
---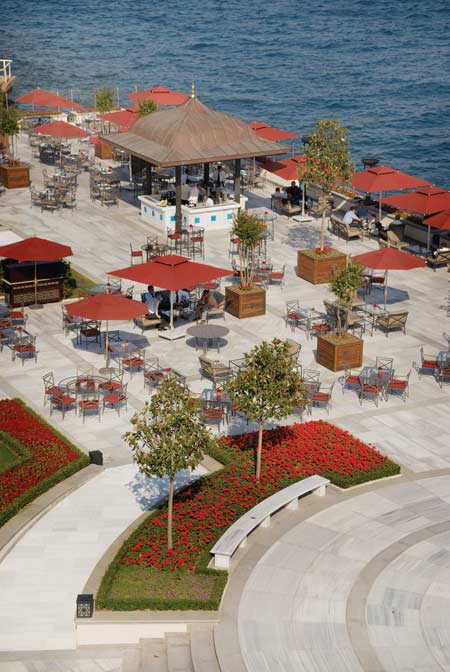 We understand that an incredible view is of utmost importance to luxury travelers. After a day of exploring a new city, there's nothing more enjoyable then returning to your luxurious accommodations and taking in the miraculous view before calling it a day. For others, there simply is no time to enjoy everything a city has to offer, and the only exploration one has time for is to take in the view from the hotel. We'd like to introduce you to our blog series, which will be featuring incredible hotels with incredible views! Whatever your travel reasons or however much time you have to enjoy your trip, we hope you leave thinking wow what a view!
Our third feature is the Four Seasons Hotel Istanbul at the Bosphorus. It's located on the European bank of the Bosphorus, which flows through Istanbul's phenomenal history. This luxury hotel is a converted Ottoman Palace surrounded by indigo water and mountaintops. Its 145 guest rooms and 25 suites blend Ottoman design with contemporary furnishings and nearly a quarter of the rooms offer incredible views across the legendary Strait to the hills of Asia. Rooms located on the first and second floor offer straight views of the water and the Maiden's Tower in Old Town. The hotel's pool overlooks the Bosphorus, and the outdoor terrace of the hotel's restaurant Aqua allows you to dine right on the water's edge.
Be sure to keep up with our blog series to discover various luxury hotels all over the world with the best views!
Posted in:
Middle East
,
Turkey
,
Istanbul
,
Romantic Travel
,
Business Travel
,
Food and Wine
,
Luxury Spas
,
'Best Of' Lists
,
Luxury Suites
,
What a Hotel!
,
Historic Hotels
---
In today's competitive world, everyone needs a way to stand out from the crowd. Luxury hotels certainly are not any different and are always looking for ways to outshine their competitors and attract more visitors. We understand that our travelers look for the best of the best, and we would like to introduce you to our blog series, Hotels with an Edge. We'll be highlighting and featuring a few hotels we feel truly stand out and offer their guests more than is expected. Be sure to check in with us to explore various hotels that deserve recognition for their supreme levels of luxury.
Our second featured hotel is the soon-to-be tallest hotel in the world, the JW Marriott Marquis Dubai. The Ritz-Carlton Hong Kong is to relinquish its tallest hotel crown and take the seat behind this new property in Dubai. The JW Marriott Marquis Dubai has announced that its two towers will stand 1,164 feet tall, and it will offer 1,608 rooms. Unlike other exceptionally tall hotels, this property will be dedicated to hotel operations only. It will offer 9 restaurants, 5 lounges, a 16,000 square foot spa, 24 meeting rooms, private event space, and more. This hotel is scheduled to open in two phases starting in October, and it will have 804 rooms ready for guests. If you can't wait until then, check out the other luxurious properties we have in Dubai!
Missed our first feature, the current tallest hotel in the world? Check it out here! Be sure to keep up with our blog series for a little inspiration on where to stay next!
A look into the presidential suite; photo courtesy of HotelChatter
---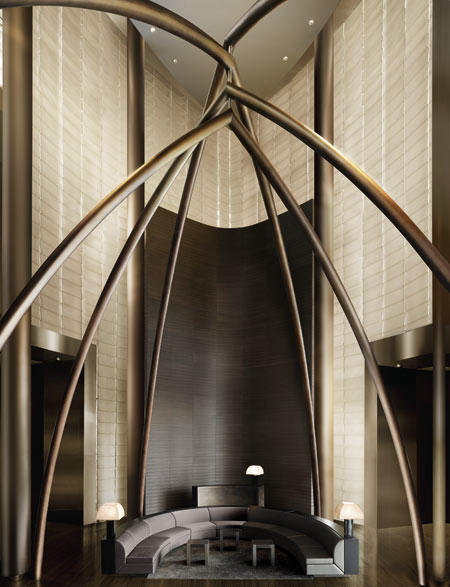 Here at Five Star Alliance, we have a number of superlative hotels, in a very literal sense of the word. The Armani Hotel Dubai's claim to fame is that, as the name suggests, it is the very first hotel designed by the world famous Giorgio Armani. Epitomizing the stylistic elegance of the fine suits the same Armani is well known for, the hotel is sleek, modern, minimal, and luxurious. It's hotel that feels comfortable in its clothes, and it knows it. From the Eramosa stone floors to the zebrawood panelling, you'll find the Armani brings a unique understanding of unorthodox pairings that somehow feel natural together.
While you're there, enjoy any one of eight restaurants and relax in a 12,000 sq ft spa whose thermal suites will melt the tension in your muscles like the chocolate from the Armani/Dolci sweets store will melt in your mouth.
Of special note is the personally designed Armani Dubai Suite with breathtaking views of the Arabian Gulf from your 390 sqm. space 39 floors above the streets below. Two bedrooms, a spacious living room, and a bathroom with separate shower and bathtub are all uniquely laid out to maximize luxury, and that's not even to mention the full-service bar and pantry.
The Armani Hotel Dubai is sleek, stylized, and hip and makes every effort to tailor your stay to the exact fit. In a city made of luxury, the Armani somehow manages to stand out from the crowd, and that's certainly worth a second look.
---
In the final days of 2011, Five Star Alliance is counting down the Top 20 Luxury Hotels & Resorts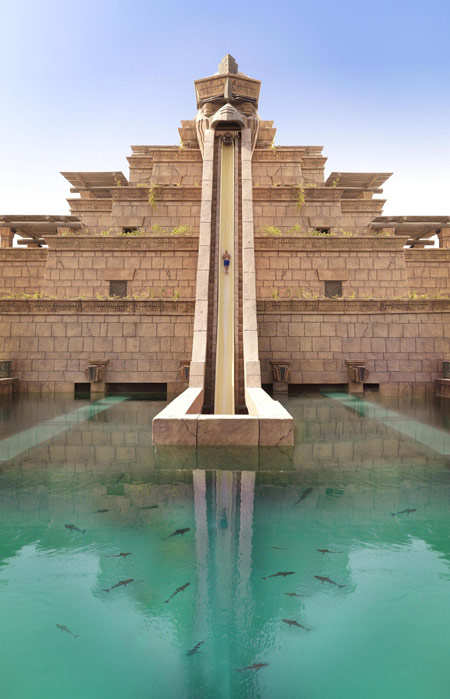 Worldwide, as decided by our guests.
In the #8 spot, we have the Atlantis the Palm Dubai, an aquatic Dubai resort.
Quick facts about the Atlantis the Palm Dubai:
- The entire Atlantis is built around an oceanic tribute to a mythological age where sharks and dolphins roam the seas and Poseidon invites guests to enter his realm of aquatic beauty.
- On the coastline of the largest man-made island in the world, Atlantis the Palm is surrounded by the sea of the Arabian Gulf at the very tip of the palm island crescent.
- With over 1,500 rooms and suites available and 16 restaurants, the sprawling Atlantis never lacks for entertainment, fueled by 15 million gallons of salt and freshwater attractions.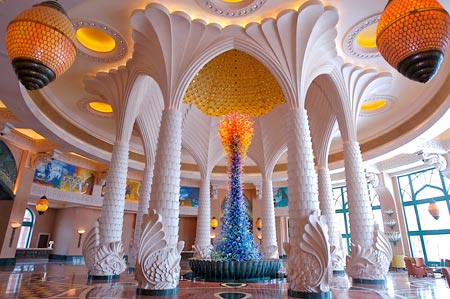 - Aquaventure, the waterpark, includes a 30-meter ziggurat that sends swimmers down waterslides that pass through shark-infested waters (with glass safely in between, don't worry).
- Its pool/aquatic experience came up #2 on our list of the Ten Best Hotel Pools in the World, and here's what we had to say about it:
'Atlantis the Palm Dubai may just be the best thing ever. If you got all the things together in one place, and made me pick, I'd say, "I want that thing. It looks like the best thing." So what is this thing I'm so excited about? Well, it just might be a standard luxurious hotel pool, only it's attached to a full water park! I don't bandy about with exclamation points lightly, but this seems to be worth one. If you, like me, have ever thought, "wow, this vacation is really relaxing, but what I'd really like is to go launching out of a ziggurat at high speeds into a pool of water," then this is the destination for you. And even more than that, much of the hotel is themed around this aquatic experience. There are underwater mazes, a four-and-a-half hectare dolphin habitat, and something they just call Aquaventure.'
- Atlantis the Palm even includes a specialized kids program through the Atlantis Kids Club and Club Rush, where your children can go to enjoy the aquatics either with their parents or supervised by specialized Atlantis staff, so you can enjoy some more adult vacation time.
View photos, learn more about the hotel, and check availability at the Atlantis the Palm Dubai >>
Be sure to keep up with our countdown as we spotlight a new hotel every day until the New Year!
---
Now that's a lot of Christmas stollen. The chefs at the Kempinski Hotel Mall of the Emirates have been hard at work preparing for the 6th Annual Stollen Charity Cake Sale which will take place on Friday, December 9th at the Mall of the Emirates' Galleria. They've been churning out loaf after loaf of the German yuletide cake- just check out the photo! The fundraiser will benefit the children of the Dubai Center for Special Needs. Buy a morsel of stollen for AED 5, or an entire loaf for AED 100, and revel in the charitable spirit of the festive season. There will be all kinds of fun and games for kids, to boot. Try face painting, music, and a special appearance by Santa Claus. Shop til you drop in the Mall of the Emirates, one of Dubai's landmark retail destinations, or hit the slopes- in the middle of the desert! The Kempinski is the only hotel with direct views onto Ski Dubai-- a unique indoor ski destination with five different runs and a 3,000 square-meter Snow Park featuring a snow cavern. When you tire of the snow, hit the hotel's infinity pool to bronze in the sunshine.
---
For his first eponymous hotel, Giorgio Armani didn't exactly go about it quietly. He chose the tallest building in the world-- the towering Burj Khalifa-- as the setting for the sleek Armani Hotel Dubai, which embodies the fashion mogul's sophisticated style even in the tiniest of details. Now Armani has done it again-- this time with a brand new "palazzo" hotel in his home town of Milan. Situated on via Manzoni in the city's designer shopping district, the Armani Hotel Milan recently held a star-studded opening gala where celebs like Jessica Alba donned their finest Armani apparel.
Conde Nast Traveller says: "Giorgio Armani has created a home from home, or casa della casa, for suitably stylish guests in Milan. Interiors are perfectly in keeping with Armani/Casa's sleek style and his clothing line; a continuation of his ocean-inspired Spring/Summer 2012 ready-to-wear collection - think silver and sophisticated gold." Luxury Travel Advisor is smitten with the suites that come with private gyms and personal kitchens. "Each guest is assigned his or her personal "lifestyle manager," (think 24/7 butler). There is a rooftop spa with Japanese onsen-style Jacuzzi and gym overlooking the Duomo and La Scala (posh indeed!)."
Related Articles:
Where to Stay for the Annual Dubai Shopping Festival
---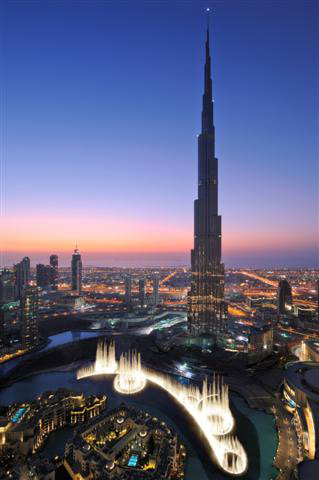 Calling all shopping addicts. Come winter, the Dubai Shopping Festival is where it's at. Get a tan (and soak up the balmy temps) while you're sprinting between boutiques. Indulge in some retail therapy with serious discounts on luxury brands, and you'll also be privy to the region's biggest "entertainment extravaganza"-- ie. huge fireworks displays, daily car raffles, and more. The best part of all? Shopping in Dubai is entirely tax-free. The annual month-long fest takes place from January 20- February 20, 2012 and attracts some three million visitors. Looking for a place to stay? Five Star Alliance has the skinny on a number of glamorous Dubai hotels- from the "seven-star" Burj Al Arab to Armani's very own pad (pictured). Take a gander at the full list here.
---