LUXURY HOTEL INSIDER
The Luxury Hotel Insider
: Exclusive luxury hotel deals, features and special rates from the luxury hotel experts at Five Star Alliance.
Named one of Tripbase's
Best Luxury Travel Blogs for 2011
, below are Five Star Alliance's newest articles featuring exclusive information on luxury hotels worldwide including special offers and deals at the world's best hotels.
---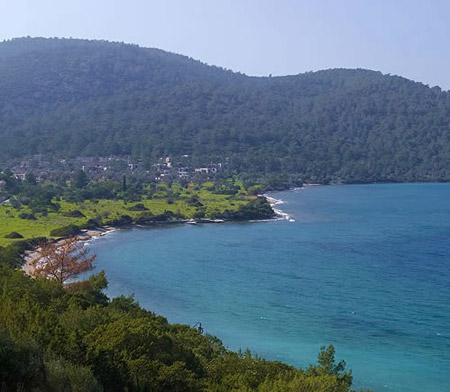 Conde Nast Traveler, purveyor of fine hotel reviews and travel advice, has just released its 2012 edition of the Hot List, a list of hotels that are setting the hotel world aflame with fresh designs and new concepts, or maybe just a solid new look at classic luxury. 41 reporters embedded themselves anonymously in hotels across the globe to review their targets. What results is a list of 121 hotels around the world that are so on fire they should be put on your watch list, just in case they end up burning down.
Aman Resorts are world-renowned for their ability to capture a special kind of serenity and bring it to all different parts of the world. Amanruya, on the Bodrum peninsula, is no exception, and its 36 seaside cottages are precisely the kind of escape that guests coming to Turkey hope for. Not only do the waters of the Mediterranean stretch out in front of the hotel, the resort is just a short drive from nearby Göltürkbükü, a hopping town for adventurous types to explore an active nightlife. While you're there, be sure to visit the excavation of Ephesus, where you can find one of the seven wonders of the world, the Temple of Artemis. The flat-roofed cottages of Amanruya are the perfect place to stay for a weekend in one of the world's most historic regions.
---
Sebastian certainly sang it best, and we're taking it from him that 'under the sea, darling it's better down where it's wetter.' It has been announced that an underwater hotel is to be built off the coast of Dubai. This extremely unique hotel concept has not yet been confirmed, but we're crossing our fingers that it'll get built. Designed by Deep Ocean Technology, the 'Water Discus Hotel' would have 2 discs comprising the main part of the hotel, and it would be connected by 3 vertical shafts and another shaft that would hold the elevator and stairs. One disc would rise above the water while the other would be fully submerged. The disc above water would have the lobby, restaurant, spa, and pools, and the disc below water would have 21 luxurious rooms and a bar. We'll certainly keep you updated on any development on this new hotel concept, but in the meantime, be sure to check out the various 5 star properties located in Dubai!
Photo courtesy of HotelChatter
---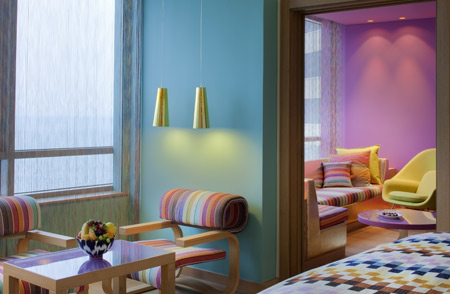 Conde Nast Traveler, purveyor of fine hotel reviews and travel advice, has just released its 2012 edition of the Hot List, a list of hotels that are setting the hotel world aflame with fresh designs and new concepts, or maybe just a solid new look at classic luxury. 41 reporters embedded themselves anonymously in hotels across the globe to review their targets. What results is a list of 121 hotels around the world that are so on fire they should be put on your watch list, just in case they end up burning down.
My experience with a hotel like the Hotel Missoni in Kuwait could only be characterized as Christopher and the Amazing Technicolor Dream Room. Upon entering, one might be tempted to channel the spirit of a certain 90s popsicle commercial: "the colors, Duke, the colors!" I wonder how many rainbows were harmed in the making of that upholstery. In any case, the Hotel Missoni has definitely embraced the boutique spirit. They've taken an offbeat design concept and embraced it wholeheartedly, carving a niche market out of a space that didn't used to exist. A room that appears as if it was diffracted through a raindrop might not be your style, but if it is, you certainly won't find it anywhere else in the world in quite the same way as the Missoni Kuwait.
Of course, the hotel has its more traditional luxury aspects as well. The hotel features 169 uniquely designed rooms on the Kuwaiti coast with both the water and vast sandscapes nearby. Elegant Italian dining and a chocolate and coffee cafe anchor the hotel's restaurant experience, and its Six Senses Spa and outdoor pool are perfect for relaxing. If you're looking for a completely different aesthetic meshed with the five-star luxury you know and love, the Hotel Missoni Kuwait might be just what you're looking for.
---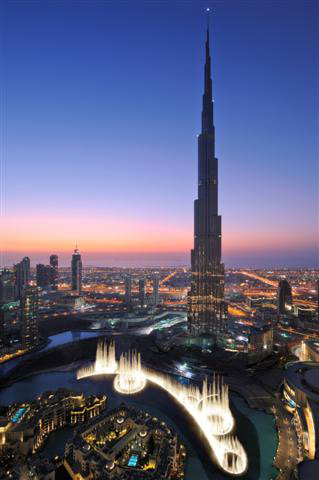 We understand that no one aims to come in second place; there is no recognition for mediocrity. We at Five Star Alliance understand better than anyone the importance of offering the most luxurious resorts in the world, so we notice what's going on in the industry, and it matters to us, because it matters to you. We work hard to offer you the best in the industry, and we'd like to welcome you to our second blog series where we feature the best and most luxurious resorts in the world. But don't take our word for it. These resorts have been recognized as the best in the business and have made the prestigious Condé Nast Traveler Gold List 2012.
The Condé Nast Traveler Gold List 2012 is the eighth of their annual lists, and the hotels chosen by their team of editors and experts are the best for service, food, location, rooms, leisure facilities, ambiance and design.
The Armani Hotel Dubai is featured on the Gold List 2012: Best for rooms. This luxury hotel soars high above downtown Dubai in the beautiful Burj Khalifa, the world's tallest tower. This is the first hotel designed and developed by Giorgio Armani, and it reflects the pure elegance, simplicity, and comfort that define Armani's signature style. Every detail in the hotel's 160 luxurious rooms bears the Armani signature, from the Italian-style hospitality to stone floors to the zebrawood panels. Every guest is appointed a Lifestyle Manager to guide him/her around the hotel's impressive facilities including a nightclub, 7 restaurants, a spa, and several boutiques.
Check rates, availability, photos and more at the Armani Hotel Dubai here!
---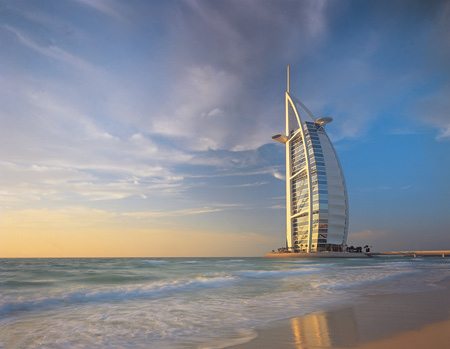 The luxury hotel market is going to get a makeover in Dubai, with a brand new W, Westin, and St. Regis coming in 2017. All three of these luxury hotels will be built in the same complex, a one million square foot property, with 1,675 rooms in total! Each of the hotels will share the same name, 'Sheikh Zayed Road,' and they will all have distinguished characteristics that represent their individual brand. The complex will also have an 'entertainment theatre' and a tranquil and beautiful 500,000 square foot landscaped garden. We will certainly be following the progress and further developments of these luxurious properties, but if you can't wait until 2017, then be sure to check out the other phenomenal properties available in Dubai!
Photo of the Burj Al Arab in Dubai
---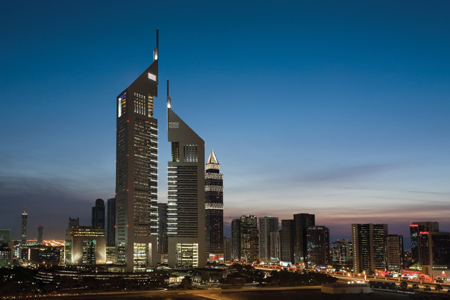 There's a very interesting split in the travel industry between business and leisure travelers. And if you're one of the business types, you know well that you're on the road constantly and the things that matter to you, travel convenience, efficiency, and connectivity, are almost the opposite of what a leisure traveler might want. If the word 'secluded' ever appeared in a hotel description, you'd cross it off the list immediately. So I'm here to use some adjectives you might appreciate hearing in describing some of the world's best business hotels. Today? Dubai.
In a city filled with tower hotels, stretching upward as if to be the first to reach the heavens, one stands out from the rest as a place for the businessman who finds himself in the world's aspiring international mecca of finance. The Jumeirah Emirates Towers spear the sky in the center of the city's bustling business district and serves an architectural marker for the city's great success. Two towers, side-by-side, serve as a dual home for offices and residences, everything the traveling businessman needs, connected by a central shopping podium.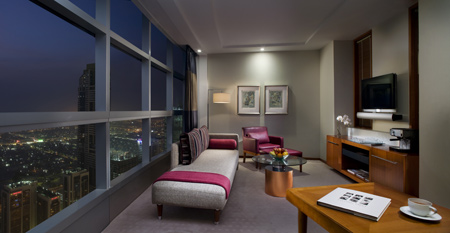 The rooms and services of the hotel are also tailored specifically with the international businessman in mind. Even the standard rooms of the Jumeirah Emirates come with an IT workstation, including 24-hour tech support. An entire floor is reserved specially for female travelers who are looking for a more private, comfortable atmosphere, and rooms there come standard with a cosmetics fridge, in-room yoga mat, and a line of Chopard products. Fine dining is available on-site, and due to the great variety of options in its 15 restaurants, lounges, and bars, you'll never have to travel far for an exquisite meal. Next time you're heading to Dubai to close a business deal, look to The Jumeirah Emirates Towers as the premiere place to stay.
---
The wonderful new Four Seasons property in Baku is a little bit off the beaten path, but we're certainly looking forward to its opening. Coming up on June 15, 2012, Four Seasons is bringing its signature style to the Caucasus region. The Beaux-Arts hotel is the perfect stop for the business traveler or tourist looking to experience the vibrant social scene. The Penthouse Spa is the ultimate destination for relaxation. Take a load off after a rough day of business by loosening your muscles through proven Turkish and Persian treatments. A two-story atrium with heated swimming pool is your spot for a relaxing float. Book now for the summertime at the Four Seasons Baku.
Photo via Four Seasons Baku.
---
We at Five Star Alliance are all about the best and most luxurious hotels. We certainly keep up with the happenings in the luxury travel world and take pride in bringing our clients the latest luxury travel news. Keep up with our newest blog series where we'll be featuring luxury hotels opening in 2012 to stay on top of the trends and make your reservations at the newest hotspots.
The Four Seasons Hotel Baku is opening mid-2012, and they are currently accepting reservations for arrivals from June 15th, 2012! Located in Azerbaijan's capital on the Caspian Sea, the Four Seasons presents a beautiful luxury hotel on the waterfront promenade, just steps from the Old City. Its 142 classic yet modern guest rooms and 29 luxurious suites almost all open to a balcony with stunning views of the city or of the Caspian Sea. Explore the city of Baku, swim in the glass-roofed atrium, or relax in the penthouse spa. Be sure to visit this up-and-coming area and be one of the first to experience everything the Four Seasons Hotel Baku has to offer!
---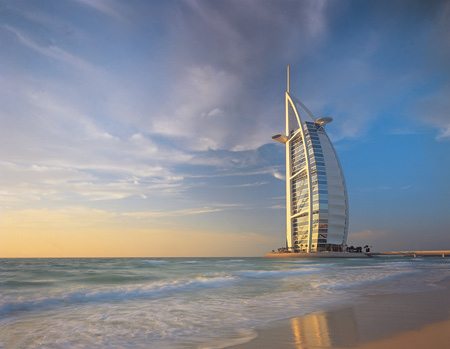 In today's competitive world, everyone needs a way to stand out from the crowd. Luxury hotels certainly are no different and are always looking for ways to outshine their competitors and attract more visitors. We understand that our travelers look for the best of the best, and we would like to introduce you to our blog series, Hotels with an Edge. We'll be highlighting and featuring a few hotels we feel truly stand out and offer their guests more than is expected. Be sure to check in with us to explore various hotels that deserve recognition for their supreme levels of luxury.
Today's featured hotel is the Burj Al Arab located in Dubai. This luxury hotel has received a significant amount of recognition and has quickly become one of the most famous luxury hotels and one of the most photographed structures in the world. Its unique architectural design has caught the eyes of travelers, making it easily distinguished from all other hotel properties. It is designed to resemble a wafting sail; this all-suite luxury hotel soars 321 meters and dominates the Dubai skyline. It is illuminated at night by choreographed lighting representing water and fire, and it has a private beachfront, opportunities to embark on a desert safari, and some rooms offering phenomenal views of the Arabian Sea.
Explore this luxury hotel and make your reservations here! Be sure to keep up with our blog series for a little inspiration on where to stay next!
Posted in:
Middle East
,
United Arab Emirates
,
Dubai
,
Romantic Travel
,
Travel with Kids
,
Business Travel
,
Beach and Island
,
'Best Of' Lists
,
Luxury Suites
,
What a Hotel!
,
Luxury Shopping
---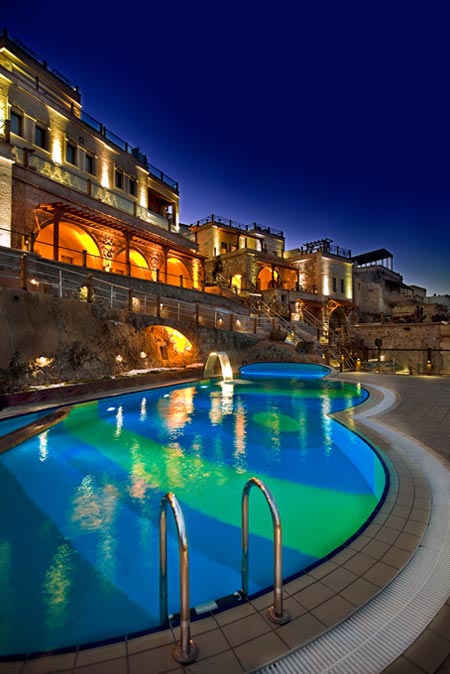 Unless you're a professional spelunker, a cave probably isn't something you see every day, although sometimes I do think my cubicle feels like one. But if you're the kind of guy who's got a nice corner office and a fulltime assistant just to get coffee for you, then yours probably feels a bit more like the Cappadocia Cave Resort and Spa. Nestled into the jagged landscape of the Cappadocia region of Anatolia, known for its extensive system of caves, this resort is the perfect offbeat destination.
Combining the Turkish spa tradition with modern techniques, you'll bathe in the natural healing powers of an area that dates back to 4,000 BC, when people first began to hew their monasteries directly from the rock formations. With only 79 rooms, it's the perfect intimate getaway, an escape from the banal normality to a place exotic and alive, so natural as to be formed from the very earth itself. I love the Cappadocia Cave Resort for its innovative adaptation of one of the most historic regions on Earth to the modern luxuries we all hold so dear. Check out the Cappadocia Cave Resort and Spa. It's a luxury you shouldn't take for granite.
---