LUXURY HOTEL INSIDER
The Luxury Hotel Insider
: Exclusive luxury hotel deals, features and special rates from the luxury hotel experts at Five Star Alliance.
Named one of Tripbase's
Best Luxury Travel Blogs for 2011
, below are Five Star Alliance's newest articles featuring exclusive information on luxury hotels worldwide including special offers and deals at the world's best hotels.
---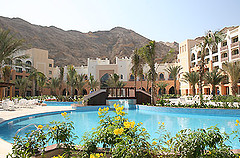 Truly the first of its kind, Shangri-La's newest venture in the Middle East is three-hotels-in-one, and it single-handedly ups Oman's luxury hotel rooms by 60 percent. Set within 124 acres of landscaped gardens, overlooking the mountains and gorgeous waters of the Gulf of Oman, the Barr Al Jissah Resort and Spa is just 20 minutes from downtown Muscat. The destination resort is comprised of three hotels (Al Waha, Al Bandar, and Al Husn), 19 restaurants and bars, three private beaches, 6,000 sq meters of swimming pools, and a CHI spa. And don't fret; this oasis hideaway isn't without its own nightclub. With the third hotel (Al Husn) now opened, the resort counts 680 sea-facing rooms with private balconies, terraces or patios. The separate Chi Spa Village will be fully operational in May, consisting of private villas for rejuvenating treatments, three freshwater swimming pools, 19 (count 'em!) food and beverage outlets, meeting rooms and an open-air amphitheater. Did I mention the Oman Dive Center, Kids Club, Dolphin and Whale-watching trips, and marina? O- Man!
Related Articles:
ITPBusiness, "Shangri-La's Barr Al Jissah resort now fully open in Oman"
---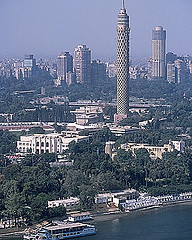 Listed on the Travel and Leisure 500, the Nile-facing luxury hotel has earned top recognition as the best in the Middle East, surpassing even Dubai's modern masterpieces. It boasts a wondrous city resort setting, with all the first-class amenities expected in a Four Seasons hotel, including superb business facilities, and largest Spa in Cairo. After a day spent exploring the dynamic city or the ancient Pyramids, head to the Health Club for a work-out with stunning views through floor-to-ceiling windows. Followed by the sauna, steam room, whirlpool or cold plunge pool at the Spa, or a drink by the secluded rooftop pool. On this meticulously landscaped outdoor terrace, 17 private cabanas are situated next to the three heated pools. From your chic and spacious guest room, take in the panoramic view from the deep soaking tub in the all-marble bathroom.
Four Seasons Cairo at Nile Plaza, Official Site
Four Seasons Cairo at Nile Plaza, Five Star Alliance
---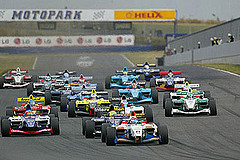 Dubai's got it all. But the mouth-dropping reflex still hasn't been tempered with each new juicy detail I learn about Dubai's growth. (With the progression of developments from the initial underwater restaurant, the globe's unique seven-star hotel, the private manmade islands of The World, and indoor skiing facility at the SnowDome.) Instead, I marvel at the UAE's new craze for speed: the Ferrari theme park slated for Abu Dhabi and the MotorCity Autodrome and Business Park in Dubai. MotorCity is a fully-integrated auto/motor sports facility with racing track, humongous grandstand, surrounding office park with conference facilities, entertainment, dining and retail complex, and-- get this!-- a "destination development" for upscale villas in a residential community called UPTOWN MotorCity. How rad.
---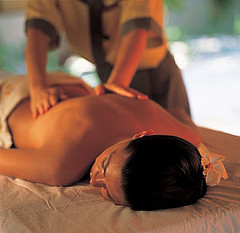 Brought to us by award-winning luxury hoteliers Banyan Tree, Angsana Spas are renowned for their rejuvenating therapeutic treatments that emphasize natural ingredients such as native flowers, plants, herbs, and spices. Fusing techniques from East and West, Angsana Spas are located worldwide as both resort properties and day spas. This Mother's Day, pamper your mother (and yourself) with packages designed for women at Angsana Spas around the world.
At the Angsana Spa Kuala Lumpur, Malaysia, indulge in the Mother's Glow session (RM250)-- a two-hour treat comprised of a massage and body polish of your choice, as well as a special gift from Angsana Gallery. The Angsana Spa Double Bay and Jamison, Sydney is offering a Sweet Mum package: a two-hour beautifying and pampering session comprised of a massage and facial of Mum's choice. Priced at A$148, available from 1 May to 30 June 2006. Likewise, the Angsana Spa El Gouna, Egypt is showcasing the Mother's Spirit package ($110); its three hours of indulgence include a body polish, massage and facial (choose your favorite treatment from each category.) At the Angsana Spa Vineyard Hotel, Cape Town, South Africa, the Mother's Essential package includes an hour massage and an hour-long facial. Get a discount when you join your mother for the same treatment: top up the R704 single package treatment to a R1320 package for two. Valid from 1 May to 30 June 2006. The Angsana Spa Guam is offering the ultimate Mother Dearest package for $160, including a Jasmine Green Tea Revival treatment and hour-long facial. Lastly, the Angsana Spa and Health Club Dubai Marina will feature the Pampering Mum treatment for Dhs520. Includes a reviving massage, facial and hand balm, as well as a special Mother's Day card or sweet bouquet of flowers included in the treatment room.
---
Will the Dubai building boom go bust? As hyped in the press, W Hotels has recently announced its plans to bring its signature, stylish brand to the Middle East. W will open its 350-room luxury hotel in 2008 as part of the Festival City Project: a massive "City within a City" with "Riviera-style scenery and lush green landscapes… and iconic towers and luxury hotels." And it's touted as "the Middle East's largest, privately funded mixed-use real estate development." The W seems its centerpiece, to be designed by a renowned architect and packed full of the W brand signatures like loft suites, open "Living Room," and Bliss spa. Can the booming hotel and resort landscape of Dubai become as packed as the Vegas Strip? Related Articles: The Lobby, "W Comes to Dubai" Luxist, "W Hotels Heads to Dubai" CNN Money, "W Hotels Arrives on Shores of Dubai, the Global Brand's First Location in the Middle East" TravelPost Insider, "W Hotels Plan 2008 Dubai Opening"
---
From Carole Muller, Sungate Port Royal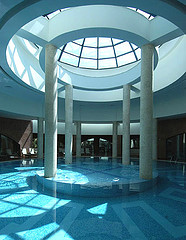 There are a lot of hotel and resort spas out there claiming to have the "Best Male Spa" or the "Best Spa for Men", but we think you might find Sungate Port Royal to be a better fit. The resort, which covers a large expanse of 250.000 square meters in the heaven-like town of Beldibi in Antalya, Turkey, must know their audience - they offer a 'beer bath' for men. Sungate claims to be the largest holiday and entertainment complex in Turkey and the Mediterranean and the second largest hotel spa center. With those kinds of claims, Sungate is the new star of the Mediterranean.
Examples of the new spa care methods (for men and women) after the jump.
NEW CARE METHODS UNIQUE TO PORT ROYAL
Ying & Young Body Massage With Reiki Initiation:
This massage is applied to the whole of the body by a specialist with the purpose of removing stress with harmonic and rhythmic movements. At the end of the massage, the aim is to make the person to re-discover his own skin and to love himself.
Chinese Toe Massage:
How would you like to have friendly Chinese specialists apply a relaxing massage from your chakra points to your face and head and then exhibit a magical dance with a ballerina's fingertips in a specially-prepared Chinese atmosphere?
Kohala Marmor Therapy Massage:
Are you ready to meet with specially-heated stones of 7 separate colors and aromatic oils to embrace your whole body in your 7 chakras?
Hualalai Oil Therapy:
In this massage constituting the most exotic application of the Pacific islands, the particular aromatic oil selected on the basis of the person's current mood is heated beside the person and then causes the muscles to relax in an unprecedented manner in the knowledgeable and soft hands of our therapist.
Astrological Face Care:
The individual's zodiac element is established and a mask constituting of fresh fruits and vegetables in harmony with the said element is used to make the skin gain all active ingredients and vitamins.
Thai Herbal Pack - Thai Hot Steam Pack :
In this massage constituting Thailand 's most traditional heat therapy, small pouches made of cotton cloth including a mixture of therapeutic herbs are heated with steam and applied for one minute each on the required parts of the body.
Floating Bali Massage:
Dream of yourself lying on the floor of a floating raft while sipping real Chinese jasmine tea. Dream of yourself laying on your back while your therapist recreates the magic of your relaxed body accompanied by the aromas of the Far East and high quality music under stark while curtains fluttering in the cooling evening wind ...
Mauna Kea :
Thanks to the rich content of cacao particles, mineral salts, vitamins and anti-oxidants, our specialists aim to moisturize your skin and make it as smooth as velvet.
Honey Moon For Two :
Rediscover your honeymoon in a romantic atmosphere in special double suits accompanied by candle light and a soft music. After spreading the honey mask over the couple's bodies, the therapist then silently leaves the room to let them rest for half an hour. Afterwards, the couple is allowed in the Jacuzzi containing fresh flower leaves with the accompaniment of a glass of champagne.
A must for men :
Sweet Stimulus For Men:
The body is stimulated, is revived and refreshed with honey, coarsely-ground coffee and energetic massage movements. The enlivening light and aromatic odors are in the service of men wishing to stay young.
Oriental Body Peel :
A mast comprising of honey and sesame particles is applied by rubbing on those wishing to stay young and to have a moist and velvety skin. The dead laLocation of the skin is removed without irritating and thus the skin is allowed to nourish deeply.
Swedish Herbal Steam Bath:
The unequalled magic of the scent of linden leaves in a special Swedish steam bed penetrates the soul through respiration and the skin through its pores.
Tmc Paradise For Body:
The peeling with fresh seaweed extract serves to remove the dead laLocation of cells on the body. Then the skin is prepared by spreading the concentrate with intensive active ingredients all over. Fat-dissolving and cellulite-reducing ampules are applied by the therapist along with aromatic creams and special massage movements. The body feels like in heaven.
Fresh Laminaria Treatment
The breasts are enlivened thanks to the active ingredients of algodermia seaweeds serving to increase collection and elasticity. During this treatment, the stimulating and refreshing effects of the massage come together with the cell-rejuvenating properties of oceanic seaweeds.
Maneger Bath:
This bath is exclusively reserved for businessman who desreve a deep relax momont.Remineralization with Green Marine Bath salts, vitamins and stimulation with fresh seaweed extracts, relaxing with melissa and Lemon essansial oils and finally sensual with yılang yılang.
Beer Bath:
This is an experience unique to Port Royal Sungate Spa. A 20-minute bath in a very special, massif wood bathtub imported from China and filled with beer..
Watermass - Vakuum Massage :
A risk-free slimming massage thanks to the Palper-rouler vacuum massage technique as well as the slipperiness of water and aromatic oils.
Panthermal:
In order to ensure that the oxygen therapy is risk-free and enjoyable, steam within capsules and heated water droplets are provided at your favorite temperature.
Sungate Port Royal, Official Site
Sungate Port Royal, Five Star Alliance
---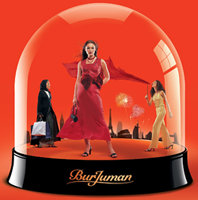 In a city of superlatives, it's not hard to be deemed "the world's most luxurious shopping destination." Dubai's BurJuman Centre-- located in the very heart of the city-- is the residence of high fashion. Louis Vuitton, Dior, Hermes, Valentino, Emanel Ungaro, Loewe, Etro, Cartier, Van Cleef and Arpels, Christian Lacroix, Salvatore Ferragamo... Its 800,000 square feet of retail space (300 leading stores) is centered around an enormous atrium courtyard, filled with sunlight.
---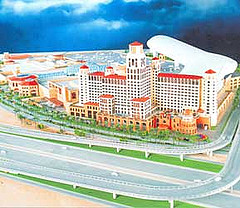 Opening in April of this year, Kempinski's first hotel in Dubai has an extraordinary location: overlooking the much-hyped Ski Dubai Alpine themed indoor snow resort, and attached to the biggest shopping mall outside of North America. The luxurious and spacious guestrooms (some of the country's largest) include 15 Ski Chalets with superb views of the indoor ski resort. All are equipped with cutting-edge technology: large flat plasma screen TVs with 40 international satellite channels, in addition to DVD and multi media player. The hotel also features a health club, Ayurveda wellness center, swimming pool and tennis court. The ultimate Alpine experience in the heart of Dubai, Kempinski's five-star hotel is set to become a central landmark in the hottest destination on the planet.
---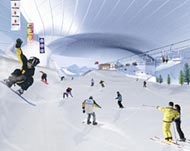 Since its opening in December, Ski Dubai has captured our imaginations (and wagging tongues). Contributor Alex Rose has the scoop.
You can now go snow skiing in one of the hottest places on earth. Dubai, the city-state in the United Arab Emirates, opened the first of two state-of-the-art indoor snow parks this past December; the second, Dubai Sunny Mountain Ski Dome, is scheduled for 2006. It's the world's third largest indoor ski resort and the only one in the Middle East. The 25-storey structure covers an area of about three football fields and can hold up to 1,500 people at a time. The indoor park maintains temperatures between 18F and 28F with real snow including falling snow flakes. It's connected to the billion dollar Mall of the Emirates and resembles a Swiss mountain resort complete with the St Moritz Cafe to warm yourself with a hot drink. The indoor snow park has chairlifts with skiing, snowboarding, bobsledding, and a ski school. It includes five color-coded slopes with varying degrees of difficulty for both enthusiasts and beginners, and the world's first indoor black diamond run. The longest ski run is over 1200 feet. There's even a rumor that Dubai might field a team for the 2010 Winter Olympics. Admission to Ski Dubai is $35 and winter clothing and ski gear are rented as part of the admission fee.
---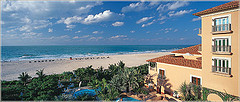 The coach of the country's Number One tennis player is now heading up the program at the Ritz Carlton Dubai. Zeeshan Ali has oodles of awards and titles under his belt—experience that he's now bringing to all tennis enthusiasts at the hotel in both private instruction and group lessons. Not really into tennis? The Ritz Carlton Dubai has got it all—from fitness classes, squash, golf, shopping, stunning pools, beach, and idyllic Balinese Spa. Situated on prime beachfront along the snazzy, exclusive Jumeirah Beach area of Dubai, the Ritz Carlton basks in the year-round sunshine of Dubai's perfect climate. Luxurious rooms have private balconies overlooking the tropical gardens and the Arabian Gulf. Plus, the Kids Club has loads of fun daily activities to keep the 'liluns happy and smiling.
The Ritz Carlton Dubai, Official Site
The Ritz Carlton Dubai, Five Star Alliance
---