LUXURY HOTEL INSIDER
The Luxury Hotel Insider
: Exclusive luxury hotel deals, features and special rates from the luxury hotel experts at Five Star Alliance.
Named one of Tripbase's
Best Luxury Travel Blogs for 2011
, below are Five Star Alliance's newest articles featuring exclusive information on luxury hotels worldwide including special offers and deals at the world's best hotels.
---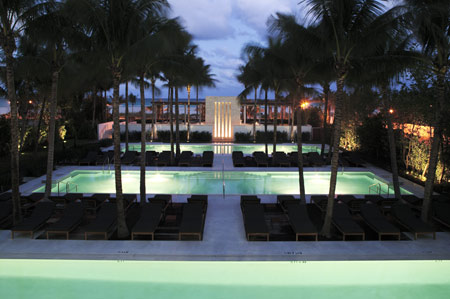 Swimming, fishing, hiking, sun bathing, and kayaking are just a few of the various activities to partake in during the incoming summer months. We've combine luxury hotels with exciting activities to give you the ultimate summer luxury travel guide perfect for folks looking for an adventure, a weekend away, or just an opportunity to take advantage of the beautiful weather! Check in with us often for a few ideas on where the summer should take you!
Memorial Day Weekend starts tomorrow, and with that comes the opening and beginning of pool season! Certain luxury hotels have absolutely stunning pools perfect for catching some rays and relaxation, and a few of our favorites include the Setai in Miami Beach, the Bellagio in Las Vegas, and the Marina Bay Sands Singapore. The Setai is an intimate oceanfront resort in the heart of South Beach, Florida, and it has not 1, not 2, but 3 beautiful pools each set at a different temperature to accommodate the wide range of guests' needs. The Bellagio in Las Vegas has 5 beautiful pools with massages available along the poolside, a pool bar, and beautiful statues and flowers surrounding the area. The Marina Bay Sands Singapore infinity pool is located in the Sands SkyPark, and it offers simply stunning views of the city that's absolutely unparalleled. Be sure to check out these incredible pool options for a phenomenal and relaxing holiday!
Need more? Check out our top luxury hotel pool album on Facebook and board on Pinterest for even more ideas on where to make a splash next!
Image of the Setai
Posted in:
North America
,
Miami, FL
,
Articles
,
Romantic Travel
,
Travel with Kids
,
Luxury Spas
,
Beach and Island
,
'Best Of' Lists
,
Luxury Suites
,
Events
,
Casino Hotels and Resorts
---
In the spirit of the holiday, the Tempo Miami has rechristened itself as the Casa Moderna Miami. The new hotel is celebrating the name change in style, and there's not been a better time to stay in one of its 56 rooms and suites on gorgeous Biscayne Bay. Enjoy the view from its 14th-floor sky pool deck or lounge in its 8,000 sq ft spa. The boutique resort is perfect for someone who wants to get out to the beaches of Miami without the bustle of the larger hotels.
Casa Moderna is making a concerted effort to upgrade its dining experience as well. For the month of April, you can even text 'fresh' to 84700 in order to receive a coupon for a free Tea Forte cocktail at their delicious restaurant, Amuse. They are celebrating the addition of the new Executive Chef, Kenneth Williams, to their team, and I'm looking forward to the great things he'll be up to. He was wonderful at the Fisher Island Club and Gotham Steak. It will be great to see if the rebranding efforts will run deeper than the new website and new name to the essence of the hotel. At the very least, the new leadership for Amuse should provide an interesting change of pace. Learn more about the Casa Moderna here.
---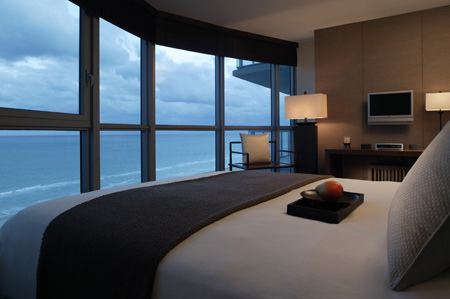 It's not often that the hotel industry gets good drama. In a move that I imagine happening a little something like this, the Setai was invaded by armed enforcers, who physically removed managing hotel group, General Hotel Management, from the premises. The enforcers were controlled by the Setai owners, affiliates of Lehman Brothers Holdings, who were clearly unsatisfied with the way their property was being managed. GHM President Hans R. Jenni claimed they were completely blind-sided by this maneuver, even noting that they had posted the second highest profits of any year immediately prior to their displacement. This in answer to the allegations that the management group was overspending. The staff is reported to be filing an injunction against Lehman Brothers, but in the past such moves have been met with little success.
Executives from all sides are claiming that this should have no effect on your stay at the hotel, but we can bet that at the very least, you'll be hearing some good gossip from the staff. It's not every day that an armed posse of off-duty cops and private security storms into your place of work to eject your boss from the building. My favorite part of this story is that the folks doing the accusations of money mismanagement are most well-known for their 2008 Chapter 11 bankruptcy that catalyzed a national recession. So at least we know they're in good hands. Head on over to the Setai in Miami Beach to see for yourself.
Read more about the two sides at HotelChatter.
---
March and April mark the months during which colleges across the U.S. have their spring breaks, but who says you can't have an incredible spring break now that you're an adult in the working world? We certainly think that everyone deserves an incredible vacation, and we've put together a list of our top 3 luxury hotels perfect for a spring break escape.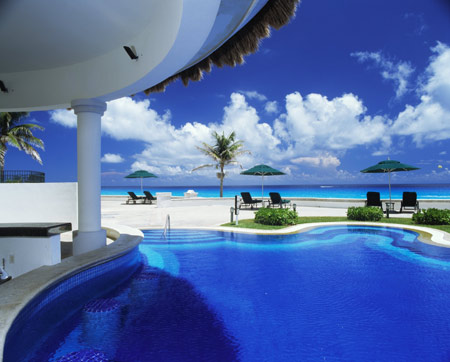 JW Marriot Cancun Resort
This luxury hotel is located on the eastern most tip of the Yucatan in Cancun, Mexico. It is one of the most beautiful hotel options in the area, offering 448 exquisitely decorated guest rooms featuring private balconies with stunning views of the clear blue water and sandy beach. The JW Marriot Cancun Resort has an incredible 35,000 square foot, Mayan inspired spa which is rated one of the top spas in Mexico. Take advantage of the snorkeling, shopping, fine dining, and adventure that await you at this incredible resort.
For those hoping to stay on the mainland of the United States, the Hilton Bentley is the perfect option. Located in Miami Beach, Florida, this luxury hotel is an all-suite, world famous beachfront paradise. It's ideally located a few steps from fine dining options, high end shopping, and the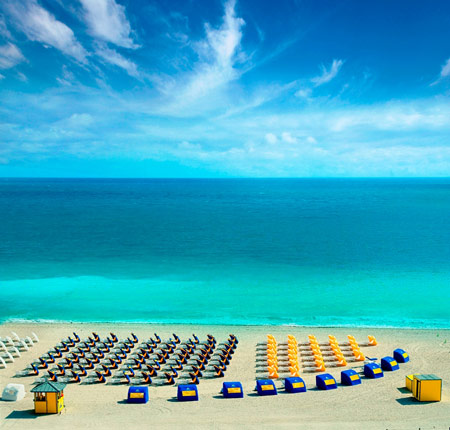 area's renowned nightlife scene. Its studio, 1 bedroom, 2 bedroom, and penthouse suites all have been beautifully designed and feature Italian marble floors, stainless steel kitchens and kitchenettes, and incredible views of the Atlantic Ocean and Miami Beach.
Trump International Hotel and Tower Waikiki Beach Walk
For those searching for a luau and lei-filled spring break, we encourage you to check out the Trump International Hotel and Tower Waikiki Beach Walk Resort in Honolulu, Hawaii. It is located just steps from the white sand beaches, lively entertainment, exclusive boutiques, and phenomenal restaurants. It soars 38 stories high and features 462 incredible guest rooms and suites offering breathtaking views of the Pacific.
Posted in:
Cancun
,
Miami, FL
,
Articles
,
Food and Wine
,
Luxury Spas
,
Beach and Island
,
Hot Spots
,
'Best Of' Lists
,
Luxury Suites
,
Luxury Shopping
,
Events
---
The big boss and his bold hair are coming to Doral Miami. The deal on the Marriott Doral Golf Resort and Spa has been signed, sealed, and delivered, and that means that Mr. Trump will be overseeing an extensive summertime renovation to herald the change in management. The property's facelift will ensure that it equals and then surpasses the luxury of the currently 4-star resort, and we can't wait to see what he'll do with the place. Large-scale investment is just what a property like the Doral Golf Resort needs, and that means we'll be following closely as the restoration begins in June. The hotel will remain open during its low season, but the updated property should be fully ready as things start to pick up in the fall.
With the renovation and refurbishment, the property should see rates rising as high as the increased expectations. Expect to seem increase to be commensurate with rates you'll see at other Trump properties. Be sure to keep on the lookout for updated rates and availability for the Doral Golf Resort and Spa.
---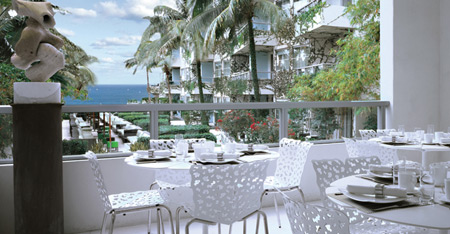 In celebration of Miami being crowned the country's Vainest City, the Sagamore is offering a special We're Sexy and We Know It package, so you to can join in on some well-deserved self-aggrandizement. The Living Social poll, which used highly rigorous scientific methods and also math, reports that Miami citizens consider themselves to be the most attractive people. Now it could be that in strange confluence of events, all the hot people in the US have decided to get together and hang out and have incredibly good-looking parties and super sexy bake sales, but it's more likely, and Living Social agrees, that Miami is just a land of high opinions.
Since we could all use a little self-esteem boost now and then, the Sagamore's offer is the perfect way to get in on the action. Why else would we go to one of the best 5-star beachfront properties if not to feel like we're a star? And with this kind of deal, you can't go wrong. With this package, you'll get
- Hair-styling and a scalp massage for two at the Muse Beauty Suite
- Two "Sexy on the Beach" cocktails
- 10% discount on your accommodations
- 1:00pm late checkout for an extra chance to relax
Book at the Sagamore today to show the world just how sexy you are.
---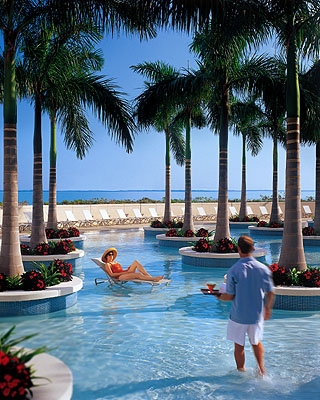 The Four Seasons Miami underwent a bit of a makeover this past fall, and its updated room designs, new restaurant, and pool terrace have proven to be quite a hit with the Miami visitors. The new rooms feature one of two new color schemes; red and slate, and gray and blue, and aside from vibrant colors, the hotel boasts new furnishings and fabrics, giving this hotel a phenomenal upgrade.
The new restaurant, Edge Steak & Bar replaces a more traditional steakhouse and embraces the concept of lighter, healthier fare. Menu options include 'steak lite,' a variety of seafood, sandwiches, and salads. This restaurant also offers a unique dessert concept, 'Dessert Tapas,' which are smaller portions for $4 that satisfy your craving and keep you from regret. Edge Steak & Bar will also be serving an incredible Sunday brunch from 11:30am – 3:00pm, and it will feature various serving stations as well as hand-spun cotton candy!
Still need a little convincing? Consider this: The Four Seasons Miami has 3 beautiful outdoor pools with plush daybeds and a poolside butler, so start packing your bags and get ready for the ultimate relaxation in Miami!
---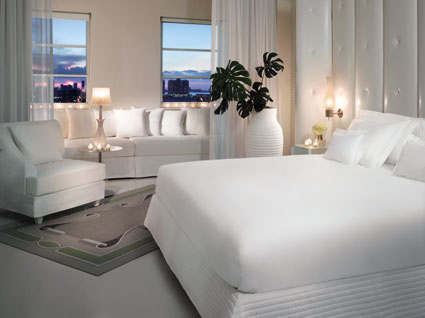 The notoriously blinding Delano Hotel in Miami Beach is opening the doors to its new restaurant, Bianca, this Friday. Continuing the theme of its all-white guest rooms, Bianca promises to add to an already exclusive and delightful property. Embracing the Slow Food movement, Bianca provides a gastronomical experience that supports local farming and organic produce, so you know that not only is what you're getting a top-notch holistic food experience, it also does its part to respect its origins. You'd better come prepared with your Visa Platinum, however. Not only will its silvery sheen go well with the drapes, you'll need it to put back such highlights as All Natural Sirloin Bistecca at $46.
If you can wait for a little while, then come February, the Ume Sushi and Sake Bar will be opening alongside its Italian counterpart for an experience in the best of Eastern cuisine. Definitely worth a trip to the Delano, now for both the unique decor and the food.
---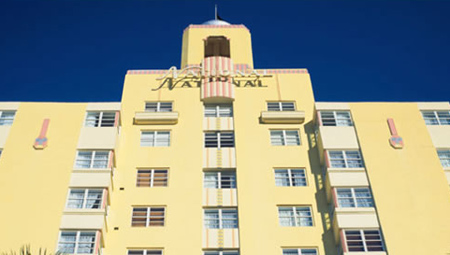 The National Hotel South Beach is playing a game of Keep-Up-with-the-Joneses with its neighboring hotels, and this can only turn out well for everyone. After getting approval in November, the National is beginning the redesign work that will change the interior and exterior of the hotel. As HotelChatter reports, the renovations include a new entrance canopy, a one-story building by the pool deck and most crucially a whole new addition to their backyard.
That addition? A definitely-not-a-food-truck (illegal by Florida law) that will be serving some kind of deliciousness. Bets on it? I'm thinking maybe some delicacies travelling northward from the caribbean, but it could also be the American classics. In any case, it's a welcome addition to one of South Beach's older and more charming boutique hotels. We're glad to see that the National Hotel is making an effort to revitalize the property to build on its already lustrous and historic past.
---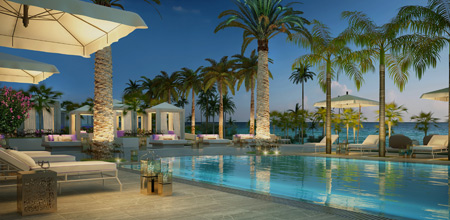 The St. Regis Bal Harbour Resort in Florida is set to open on January 19th, 2012. This exclusive resort is directly across from the Bal Harbour shops and only a few minutes from the excitement and energy of South Beach and Miami. This resort features 243 elegant rooms and suites, including 36 condominium hotel suites in 3 all-glass towers. Stroll along the beach, enjoy a cocktail poolside, and utilize the services of the St. Regis butler to plan your perfect adventure.
Make your plans today to experience the newest luxury hotel on the Miami block and experience all of the luxuries it has to offer!
---