LUXURY HOTEL INSIDER
The Luxury Hotel Insider
: Exclusive luxury hotel deals, features and special rates from the luxury hotel experts at Five Star Alliance.
Named one of Tripbase's
Best Luxury Travel Blogs for 2011
, below are Five Star Alliance's newest articles featuring exclusive information on luxury hotels worldwide including special offers and deals at the world's best hotels.
---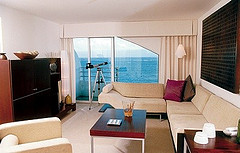 Take a jaunt to Puerto Rico for a few days of girls' pampering and beachfront luxury. Who can resist an offer like this? Especially with Jet Blue's easy and affordable flights to San Juan. The Water Club is San Juan's only luxury boutique hotel on the beach, oozing Latin sophistication and chic elegance. Home to San Juan's hottest bar, Liquid, and the exotic open-air rooftop lounge, Wet, boasting the island's best sushi bar. The two-night package includes luxury accommodations in an ocean front room, dinner for two (champagne and sushi, of course!) at Wet and VIP list privileges at a local night club, in-room manicures and pedicures, massages at Wet, and a private dinner for two on your second night (Chef Nelson Rosado will cook tableside and then you'll receive 2 rum guns to get things going.) $999, based on double occupancy. Package valid for travel Sunday-Thursday only March 1-April 16, and 7 days a week April 17- September 30, 2006; blackout dates may apply; reserve by March 31, 2006.
The Water Club, Official Site
The Water Club, Five Star Alliance
---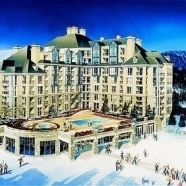 Now is the time for an end-of-season hurrah. The biggest ski resort in North America may also be the most fabulous. Whistler boasts the biggest vertical rise in North America (a whopping 5,280 feet) and the most terrain (we're talking 8,171 acres). Additionally, there's a meager 100,000 acres of Heli and SnowCat backcountry skiing on the surrounding Coast Mountain range. Where to stay? The Pan Pac is where it's at, consistently rated the best, most luxurious spot in Whistler. Here's why: the suites offer full kitchens, balconies, and floor-to-ceiling windows overlooking the mountains. Resort amenities are world-class: outdoor heated swimming pool, outdoor hot tubs with spectacular mountain views, fitness center, spa and steam room.
Pan Pacific Whistler Mountainside, Official Site
Pan Pacific Whistler Mountainside, Five Star Alliance
---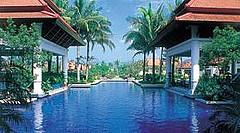 Arguably the world's best spa resort, the Banyan Tree Phuket is an exotic spa paradise facing Thailand's turquoise Andaman Sea. These exquisite tropical surroundings have recently become the sought-after setting for Banyan Tree's Destination Spa program: a series of fitness, wellness and cultural activities available in three, five and seven-night packages. The program includes accommodation for two in award-winning villas at Banyan Tree Phuket, daily breakfast, afternoon tea and dinner, two 90-minute massage sessions, an Intimate Moments experience, complimentary participation in daily fitness and wellness program and a special gift from Banyan Tree Gallery. In addition, guests are provided their own personal resort host to assist and recommend the best spa treatments. Rates begin at US$1,980 for a three-night package in a Deluxe Villa.
Banyan Tree Phuket, Official Site
Banyan Tree Phuket, Five Star Alliance
---
By Courtney W. May Cal Simmons recently brought to my attention Mr. Mohammed Bendraoua. Recently profiled in "Under Pressure" from Daily Candy, Mr. Bendraoua is famous for his luxury service and travel schedule. What does he do? His card states that he is a global 'relaxiologue' nomad. Traveling between New York, Paris, Milan and London-- he brings to you his bed, candles, iPod, and famous hands. The Oct 8, 2005 New York Times article "France's Trendy 'Relaxiologue'" states:
Mohammed Bendraoua spends several months of the year following the fashion circuit and handling the undressed bodies of the personnel responsible for telling the rest of the world what to wear. Mr. Bendraoua's card calls him a "relaxiologue," which translated liberally means masseur, although one who uses a variety of techniques to restore equilibrium. The method that has made him one of the better-kept secrets of the fashion circuit is an unorthodox melange of Eastern and Western therapeutic techniques, married to an instinct for restoring bodies contorted by permanent jet lag and a willingness to work weird hours. A massage from Mr. Bendraoua typically lasts three times as long as a psychotherapy session, but with faster results.
But now you have the chance to get in on the deal: Mr. Mohammed Bendraoua can be reached by email at mohparisfr@yahoo.fr or +00 33 6 13 21 39 79.
---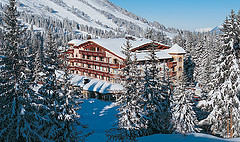 March is upon us, and for serious skiers (but those who prefer not to jet to the Southern Hemisphere during the other half of the year), this means the last days of the season on the slopes. And for some of the finest skiing in Europe-- away from Turin's still dissipating crowds-- the French Alps beckon. And the elegance and exceptional location of Hotel de Charme Les Airelles prove temptingly attractive. A grand chalet of the past, this place still embodies the prestigious old-world days of opulence and grandeur. During the 1992 Winter Olympics, Les Airelles served as home to the International Olympic Committee. Basking in its beautiful setting, with ski runs at the door, the hotel boasts an indoor pool, Jacuzzi, sauna, steam and Turkish bath.
Related Article:
NYT, "In the Alps, Wide-Open Slopes and Crowded Bars"
Hotel de Charme Les Airelles, Official Site
Hotel de Charme Les Airelles, Five Star Alliance
---
Did they neglect to read National Geographic's damning assessment of the Costa del Sol? In Traveler's yearly Destination Scorecord-- ranking the integrity of places by creating an index of Destination Stewardship-- Spain's coast has gone to the dogs. The pressures of development, pollution, globalization, and mass tourism have held sway:
...[in] Spain's Costa del Sol—the overbuilt "Costa del Concrete," which caters to package tours from northern Europe... you can hear more English or German than Spanish. As with many uncontrolled seashores, a nonstop line of characterless hotels blocks off the coastline.
The Ritz-Carlton Hotel Company has assumed management
of one of these hotels: the 112-room luxurious Villa Padierna. Though the place has got a golf course, spa, Beach Club, and rooms full of antiques, I'm still skeptical. Good luck, Ritz-Carlton. Let's see if they can turn the tide and bring back the glamor.
---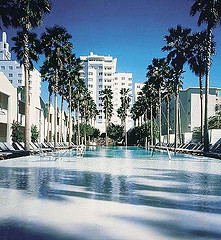 I know, I know, I'm a sucker for the white beds in the bar at the Delano. The fact is—I'm a sucker for everything Delano. The chic white bedrooms, the private beach, the magnificent pool, the elegant Indoor/Outdoor Lobby. This is the very best kind of luxurious urban resort, smack dab in the middle of South Beach. With fabulous dining (and did I mention the bars?), this is the place to see and be seen. Paradise could be the cool poolside bungalows, with custom Starck-designed furnishings, luxurious marble bathrooms, and billowing white curtains.
The Delano, Official Site
The Delano, Five Star Alliance
---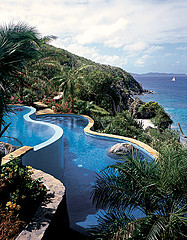 In possibly the most heavenly setting on earth, the Spa at Little Dix Bay is situated high above the Caribbean, caressed by sea breezes with stunning vistas of sea, sky and sand. The Spa's philosophy is of ecological balance with the environment; thus the individualized treatment cottages are designed to blend harmoniously into the oceanside cliffs, incorporating local design elements. Likewise, the treatments feature the ancient healing arts of the island's early indigenous populations, using organic herbs and oils. The Cliff Spa Suite is the ultimate hideaway, with luxurious private facilities for both indoor and open-air wet and dry treatments, couple's massage, and a whirlpool overlooking the Caribbean. The Spa menu is as divine as the exclusive resort of Little Dix Bay. Examples include the Salt Island Scrub, Spice and Coconut Body Bliss (using a blend of freshly shredded young coconut and local Caribbean spices), or the Lemongrass Spice Wrap (using hand-picked lemongrass from the resort's gardens.)
Little Dix Bay, Official Site
Little Dix Bay, Five Star Alliance
---
From Carole Muller, Sungate Port Royal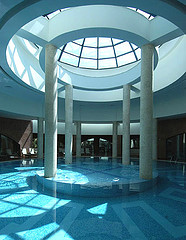 There are a lot of hotel and resort spas out there claiming to have the "Best Male Spa" or the "Best Spa for Men", but we think you might find Sungate Port Royal to be a better fit. The resort, which covers a large expanse of 250.000 square meters in the heaven-like town of Beldibi in Antalya, Turkey, must know their audience - they offer a 'beer bath' for men. Sungate claims to be the largest holiday and entertainment complex in Turkey and the Mediterranean and the second largest hotel spa center. With those kinds of claims, Sungate is the new star of the Mediterranean.
Examples of the new spa care methods (for men and women) after the jump.
NEW CARE METHODS UNIQUE TO PORT ROYAL
Ying & Young Body Massage With Reiki Initiation:
This massage is applied to the whole of the body by a specialist with the purpose of removing stress with harmonic and rhythmic movements. At the end of the massage, the aim is to make the person to re-discover his own skin and to love himself.
Chinese Toe Massage:
How would you like to have friendly Chinese specialists apply a relaxing massage from your chakra points to your face and head and then exhibit a magical dance with a ballerina's fingertips in a specially-prepared Chinese atmosphere?
Kohala Marmor Therapy Massage:
Are you ready to meet with specially-heated stones of 7 separate colors and aromatic oils to embrace your whole body in your 7 chakras?
Hualalai Oil Therapy:
In this massage constituting the most exotic application of the Pacific islands, the particular aromatic oil selected on the basis of the person's current mood is heated beside the person and then causes the muscles to relax in an unprecedented manner in the knowledgeable and soft hands of our therapist.
Astrological Face Care:
The individual's zodiac element is established and a mask constituting of fresh fruits and vegetables in harmony with the said element is used to make the skin gain all active ingredients and vitamins.
Thai Herbal Pack - Thai Hot Steam Pack :
In this massage constituting Thailand 's most traditional heat therapy, small pouches made of cotton cloth including a mixture of therapeutic herbs are heated with steam and applied for one minute each on the required parts of the body.
Floating Bali Massage:
Dream of yourself lying on the floor of a floating raft while sipping real Chinese jasmine tea. Dream of yourself laying on your back while your therapist recreates the magic of your relaxed body accompanied by the aromas of the Far East and high quality music under stark while curtains fluttering in the cooling evening wind ...
Mauna Kea :
Thanks to the rich content of cacao particles, mineral salts, vitamins and anti-oxidants, our specialists aim to moisturize your skin and make it as smooth as velvet.
Honey Moon For Two :
Rediscover your honeymoon in a romantic atmosphere in special double suits accompanied by candle light and a soft music. After spreading the honey mask over the couple's bodies, the therapist then silently leaves the room to let them rest for half an hour. Afterwards, the couple is allowed in the Jacuzzi containing fresh flower leaves with the accompaniment of a glass of champagne.
A must for men :
Sweet Stimulus For Men:
The body is stimulated, is revived and refreshed with honey, coarsely-ground coffee and energetic massage movements. The enlivening light and aromatic odors are in the service of men wishing to stay young.
Oriental Body Peel :
A mast comprising of honey and sesame particles is applied by rubbing on those wishing to stay young and to have a moist and velvety skin. The dead laLocation of the skin is removed without irritating and thus the skin is allowed to nourish deeply.
Swedish Herbal Steam Bath:
The unequalled magic of the scent of linden leaves in a special Swedish steam bed penetrates the soul through respiration and the skin through its pores.
Tmc Paradise For Body:
The peeling with fresh seaweed extract serves to remove the dead laLocation of cells on the body. Then the skin is prepared by spreading the concentrate with intensive active ingredients all over. Fat-dissolving and cellulite-reducing ampules are applied by the therapist along with aromatic creams and special massage movements. The body feels like in heaven.
Fresh Laminaria Treatment
The breasts are enlivened thanks to the active ingredients of algodermia seaweeds serving to increase collection and elasticity. During this treatment, the stimulating and refreshing effects of the massage come together with the cell-rejuvenating properties of oceanic seaweeds.
Maneger Bath:
This bath is exclusively reserved for businessman who desreve a deep relax momont.Remineralization with Green Marine Bath salts, vitamins and stimulation with fresh seaweed extracts, relaxing with melissa and Lemon essansial oils and finally sensual with yılang yılang.
Beer Bath:
This is an experience unique to Port Royal Sungate Spa. A 20-minute bath in a very special, massif wood bathtub imported from China and filled with beer..
Watermass - Vakuum Massage :
A risk-free slimming massage thanks to the Palper-rouler vacuum massage technique as well as the slipperiness of water and aromatic oils.
Panthermal:
In order to ensure that the oxygen therapy is risk-free and enjoyable, steam within capsules and heated water droplets are provided at your favorite temperature.
Sungate Port Royal, Official Site
Sungate Port Royal, Five Star Alliance
---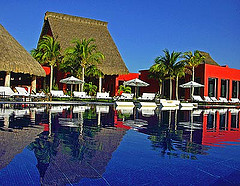 On the pristine white sand lapped by the sparkling turquoise sea of Mexico's Yucatan, here is an offer you just can't refuse. After Hurricane Wilma's widespread destruction, the five-diamond Paraiso de la Bonita will reopen in all its glory—with lavish improvements that make the resort better than ever. Starting March 31, the brand-new Paraiso will feature a new oceanside terrace bar, design upgrades to each of the suites, vastly improved beachside grill, and new "made-for-two" treatment room in its Thallaso Center. In celebration, the resort is offering one free night with a minimum five-night stay. The special offer includes luxury oceanview accommodations, a sunset cruise on the resort's catamaran, complimentary airport transfers, complimentary continental breakfast and afternoon tea, complimentary use of the tennis courts and Thallaso facilities, including steam room, Jacuzzi, and fitness center. Valid March 31- April 30.
Via Washington Post Travel "What's the Deal"
Paraiso de la Bonita, Official Site
Paraiso de la Bonita, Five Star Alliance
---