LUXURY HOTEL INSIDER
The Luxury Hotel Insider
: Exclusive luxury hotel deals, features and special rates from the luxury hotel experts at Five Star Alliance.
Named one of Tripbase's
Best Luxury Travel Blogs for 2011
, below are Five Star Alliance's newest articles featuring exclusive information on luxury hotels worldwide including special offers and deals at the world's best hotels.
---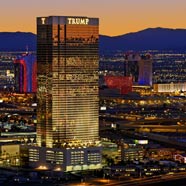 The best part about the Trump International Hotel and Tower in Las Vegas is that there isn't a casino downstairs. Eschewing Vegas tradition, the gold-mirrored windows of the Trump Tower opts to let their guests gamble elsewhere, and instead of focusing on which new slot machine to install, they created a haven of luxury.
When I stayed there last year, I still gambled (and plenty), but I did so at any of the nearby resorts that had bustling, smoke-filled casinos. When I returned to the Trump, I found something that is so often missing from Las Vegas strip hotels: peace and quiet. In fact, time after time, I'd exhaust myself elsewhere just to be refreshed at the Trump International. The stunning spa, decadent pool, or my well-appointed suite became a home away from home rather than just a place that was ushering me back downstairs to spend a few extra bucks.
Las Vegas will always have its mega-hotel and casino complexes, and I will always seek them out on my thrice annual pilgrimage to Sin City. But nowadays, I enjoy the peaceful luxury of the Trump International Hotel and Tower to sleep off those slot-induced hangovers.
---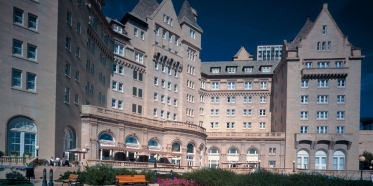 Most people want romance on Valentine's Day, but sometimes when thing just aren't going our way, that's the exact opposite of what we seek. So I figured I'd save you some time and find the most un-romantic place on Earth. First a couple ground rules: I ruled out anywhere that is currently in the midst of major turmoil, and I fully acknowledge that ANYWHERE can be romantic if you're with someone you love. So take all this with a grain of salt. Now without further ado, the most un-romantic place on Earth is Edmonton, Alberta, in Canada.
And before they get their lawyers ready to sue me, let me state for the record that the lack of romance doesn't mean a lack of luxury. Nor does it mean a lack of adventure, in fact quite the opposite, Edmonton is filled with adventure. The skiing is top class, in fact all the winter sports are unrivaled in this part of Alberta, with the Canadian Rockies within sight from any vantage. Winter sports, of course, dominate this part of the world, especially with a day time temperature of 18 degrees as I write this. Fahrenheit, mind you, and if you don't think being frozen is so bad, Edmonton just might be right for you.
Again, though, this is for the adventurous, and Edmonton has adventure in a more temperate setting: The West Edmonton Mall. Before you scoff, let me point out that this is not just any mall. In fact, it's the largest in North America and boasts not just a full-sized amusement park, not just a waterpark, not just a miniature golf course designed to look like Pebble Beach, not just an indoor aquatic habitat for sea lions that includes a replica of Christopher Columbus' Santa Maria, but also a bowling alley, arcade, movie theater, pool hall, and performance arena that some of the world's hottest acts have graced. That goes along with more than 800 stores and restaurants. I'm almost out of breath as I type this!
And while the West Edmonton Mall is incredible, and worth the visit, it's hardly romantic. But it sure is fun!
There are two hotels worth your time in Edmonton, and I can't recommend them highly enough. The first, alphabetically of course, is the Fairmont Hotel Macdonald, a luxurious property that will fulfill all of your un-romantic notions (and gosh darnit, if you must, a few romantic ones too). Built in 1915 and resembling a French castle, this Chateau on the River will charm you from the word go.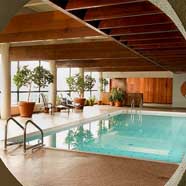 Also in Edmonton is The Sutton Place Hotel. Modern and warm, this sultry property will indulge your every whim. For the highest rollers in the audience, ask for the Royal Suite, a two-story indoor palace.
Finally, if you're dead set on romance, you can always take a short drive to Banff, where the Post Hotel in Lake Louise will knock your socks off! I suggest keeping them on, though, as it gets a wee bit chilly in the Great White North.
As they say in Canada, "Have a nice trip!"
Editor's Note: Disagree with our writer about Edmonton? Let him know in the comments section below why you think Edmonton is romantic, or where you think the least romantic destination might be...
---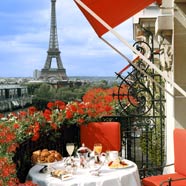 There are two things I value above all else: Luxury and Romance. Finding each individually is hard enough, but finding them together is nearly impossible. So I did what most people do when they are looking for something. I googled it. I entered simply, "Romantic Luxury Getaways", and let the computer do the work for me. And I implore you to do the same. Go ahead, I'll wait right here until you return. Don't worry, it won't spoil the ending…
Back yet? Okay, what did we both find? First, it was some of the great hotels of the world. And amongst them, of course, the city that appeared again and again: Paris, France. Not Paris, Texas, nor Paris, Arkansas, both of which I've visited and can say are truly unromantic. Paris, France, on the other hand, is, cliché or not, simply the most romantic city in the world. Luckily for us, it also offers some of the most luxurious hotels in the world.
Before I get into that, and therefore before I list which of Paris' finest are my favorites, I want to tell you why Paris is romantic. You may now be grumbling about your last visit, or maybe your last 5 visits, and how you know very well what is and is not true about la belle ville. I've been several times myself in the last few years, and in fact lived two years in Paris on the Left Bank in my marauding early-20s. And yes, while I have the advantage of ordering a Domaine Romanée-Conti in heavily accented French, I've learned that in Paris anyone can find romance.
Where? I found it on the terrace of a café in an alley at a hole-in-the-wall Moroccan restaurant that no longer exists. The place was run down, the couscous overcooked, and yet when I raised a glass of Burgundy and toasted with the sweet, brown-eyed girl underneath a canopy of stars illuminating the French summer night, I didn't want to be anywhere else in the world. Months later, a ring tucked deep in my pocket, I strolled down to the banks of the Seine, heard the muted stir of the river below, and found myself on one knee asking her to be with me forever. We returned for our honeymoon, and several trips thereafter, and Paris never let us down. The gray hair on my temples has never kept the romance at bay, and I still raise a toast with the brown-eyed girl on the other side of the table.
Now, though, when I go to the world's most romantic city, I stay at the world's most luxurious hotels. And why not? Luxury and romance go hand in hand, just as my hand goes with hers each and every morning when I wake up, and just as our lips come together each evening to say goodnight.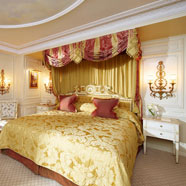 So make romance yours at L'Hotel de Crillon. This hotel is not for the overnight traveler. In fact, the pre-revolutionary construction is in classic Louis XV style, and will tantalize patrons with a stunning location only steps from Les Champs-Elysees, and make a stay of any length too short.
If you're looking for a taste of the Belle Époque, seek out the Ritz Paris. Erected in 1898, the Ritz underwent a stunning renovation in 2010, and is known for its famous guests, more recently (Elton John) and a few years ago (Marcel Proust).
Finally, if you prefer views of the Eiffel tower from your flower-filled balcony, charm your loved one with a stay at the Hotel Plaza Athenee. Luxury is a given, romance an absolute, and with four restaurants on site overseen by the eminent Alain Ducasse, you'll have the best of Parisian dining just steps away.
One final note: If you're thinking of buying her that ring, or perhaps telling him that you love him all the more after all these years, don't wait! Seize the moment! Paris may endure and always be waiting, but perhaps he or she won't. Bon voyage!
Posted in:
Articles
,
Featured Luxury Hotels
,
Romantic Travel
,
Food and Wine
,
Luxury Spas
,
Europe
,
'Best Of' Lists
,
Museums
,
Luxury Suites
,
Luxury Shopping
,
Weddings and Honeymoons
---