LUXURY HOTEL INSIDER
The Luxury Hotel Insider
: Exclusive luxury hotel deals, features and special rates from the luxury hotel experts at Five Star Alliance.
Named one of Tripbase's
Best Luxury Travel Blogs for 2011
, below are Five Star Alliance's newest articles featuring exclusive information on luxury hotels worldwide including special offers and deals at the world's best hotels.
---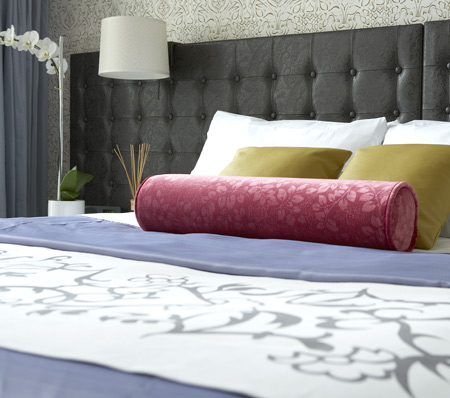 There seems to be unanimous agreement that Hotel Sax Chicago is a stylish place to stay. Here's how Conde Nast Traveler described the Sax in naming it to the Hot List 2008: "More is more at Chicago's new music industry hot spot (formerly the House of Blues hotel), extroverted both stylistically and socially. ...Sax banishes the minimalism that has given design hotels a cold name, substituting a rococo sense of style in its 353 rooms: snakeskin wingback chairs, paisley-embossed leather headboards, and painted silhouettes of phantom chandeliers." The 353-room hotel serves as hub to the happening Marina City playground, which includes the House of Blues Restaurant and Concert venue, Smith & Wollensky Steak House, 10Pin Bowling Lounge, Bin 36 Restaurant and Wine Cellar and Crimson Lounge.
It's not just would-be rock stars who fall for this fun hotel. Tech nerds appreciate the Entertainment Technology Studios packed with all the latest in gaming and music technology (like Zune mp3 players, Bose headphones, and Xbox games). And with amenity-loaded guest rooms, a fitness center, and a Technology Lounge, Sax has got its bases covered.
Hot Deals: Book the "State Street Shopping Package" starting at $179 per night in a Deluxe guest room, and get all kinds of freebies:
$50 Macy's gift card
Macy's Visitors Savings Pass including 10% discount on all merchandise.
$10 off salon services at The Kiva Salon. Restaurant offers & discounts at 7 on State, InFields & Marketplace.
Complimentary Audio Tour of the Historic Marshall Field's building.
50% off Valet Parking.
2 complimentary Drinks in Crimson Lounge.
Late Check-out of 2pm.
---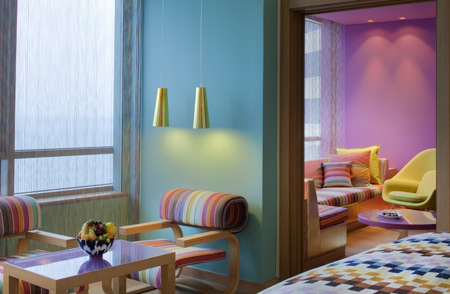 Hallelujah! The day has finally arrived. The second Missoni hotel-- a partnership between the Rezidor Hotel Group and the Milan-based fashion house-- has debuted in Kuwait City with glamorous interiors by Creative Director Rosita Missoni. Over 85 shades of color were used in decorating the hotel, featuring the brand's colorful signature prints combined with gold, turquoise, and beige accents inspired by the beaches and bright blue Arabian Sea just outside the front door. Artisans crafted Missoni stripes throughout the hotel and on the swimming pool's tiled floor using 10 million individual mosaic tiles. In fact, the swimming pool could be the stand-out amenity here. Billed as one of the most glamorous pools in the world, the Missoni-tiled pool has dramatic sea views from its terrace. Though the Six Senses Spa-- slated to open later this spring-- could be a close second. We're also excited about the authentic Italian cuisine serviced at Cucina. Did we mention Hotel Missoni Kuwait's all-inclusive perks like free wifi, fully stocked mini bar, and in-room movies?
Related Article:
Buzzworthy: New Hotel Missoni Kuwait Introduces "Dry Sommelier" Concept
Posted in:
Articles
,
Featured Luxury Hotels
,
Business Travel
,
Food and Wine
,
Luxury Spas
,
Beach and Island
,
Middle East
,
Travel Industry News
,
Hot Spots
,
The Practical Traveler
,
Luxury Shopping
,
Fashion
,
Events
---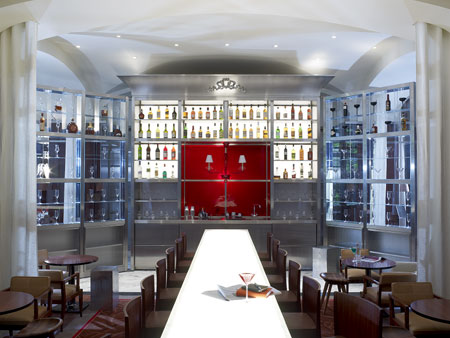 Art lovers traveling to Paris won't want to miss a stay at Le Royal Monceau, the legendary palace hotel that recently got a top-to-bottom makeover by design guru Philippe Starck. The hotel itself resembles a contemporary art gallery with fantastic pieces on display in the garden and public areas, and custom-designed decor and artwork in the guest rooms. There's also an in-house cinema and a contemporary art bookstore, soon featuring screens broadcasting live feeds of international art auctions. But Le Royal Monceau goes one step further for art aficionados. The hotel also offers an Art Concierge to arrange personalized art-themed itineraries to Paris museums and galleries. And the hotel itself morphs into a gallery to showcase cutting-edge artists. Check out the hotel's Art for Breakfast blog for the skinny on the latest happenings around town, plus interviews with leading artists.
---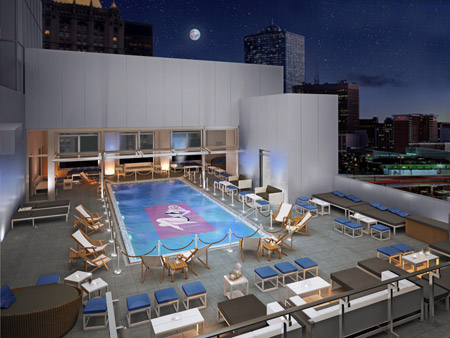 August 2010 witnessed a soft opening for Gansevoort Park Avenue, the sexy urban resort with a happening rooftop pool scene. And now we're getting word that the Gansevoort Hotel Group's newest luxury property is 100% open and all facilities are fully operational. There's a lot to love at the corner of 29th Street and Park Avenue South in Manhattan: 249 sleek rooms averaging 462 square feet; a three-story lobby; a tri-level rooftop complex with a beautiful indoor/outdoor pool (and destination nightlife venues); and the recently opened Ristorante Asellina, a 10,000 square-foot Italian trattoria, operated by The ONE Group and featuring a James Beard Award-winning chef. Notably, the hotel has partnered with leading brands in the restaurant, beauty, and fashion industries to provide guests with top-notch amenities. So you can get a lift in a Porsche Panamera, pick up Gansevoort goodies at the Lacoste boutique (all staff sport uniforms by Lacoste), get fit with a Core Fusion® yoga class at the Exhale spa, and get styled at the Cutler Salon. You'll dig the Cutler products in your guest room, too.
---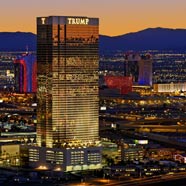 The best part about the Trump International Hotel and Tower in Las Vegas is that there isn't a casino downstairs. Eschewing Vegas tradition, the gold-mirrored windows of the Trump Tower opts to let their guests gamble elsewhere, and instead of focusing on which new slot machine to install, they created a haven of luxury.
When I stayed there last year, I still gambled (and plenty), but I did so at any of the nearby resorts that had bustling, smoke-filled casinos. When I returned to the Trump, I found something that is so often missing from Las Vegas strip hotels: peace and quiet. In fact, time after time, I'd exhaust myself elsewhere just to be refreshed at the Trump International. The stunning spa, decadent pool, or my well-appointed suite became a home away from home rather than just a place that was ushering me back downstairs to spend a few extra bucks.
Las Vegas will always have its mega-hotel and casino complexes, and I will always seek them out on my thrice annual pilgrimage to Sin City. But nowadays, I enjoy the peaceful luxury of the Trump International Hotel and Tower to sleep off those slot-induced hangovers.
---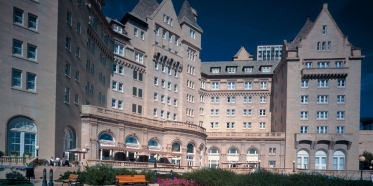 Most people want romance on Valentine's Day, but sometimes when thing just aren't going our way, that's the exact opposite of what we seek. So I figured I'd save you some time and find the most un-romantic place on Earth. First a couple ground rules: I ruled out anywhere that is currently in the midst of major turmoil, and I fully acknowledge that ANYWHERE can be romantic if you're with someone you love. So take all this with a grain of salt. Now without further ado, the most un-romantic place on Earth is Edmonton, Alberta, in Canada.
And before they get their lawyers ready to sue me, let me state for the record that the lack of romance doesn't mean a lack of luxury. Nor does it mean a lack of adventure, in fact quite the opposite, Edmonton is filled with adventure. The skiing is top class, in fact all the winter sports are unrivaled in this part of Alberta, with the Canadian Rockies within sight from any vantage. Winter sports, of course, dominate this part of the world, especially with a day time temperature of 18 degrees as I write this. Fahrenheit, mind you, and if you don't think being frozen is so bad, Edmonton just might be right for you.
Again, though, this is for the adventurous, and Edmonton has adventure in a more temperate setting: The West Edmonton Mall. Before you scoff, let me point out that this is not just any mall. In fact, it's the largest in North America and boasts not just a full-sized amusement park, not just a waterpark, not just a miniature golf course designed to look like Pebble Beach, not just an indoor aquatic habitat for sea lions that includes a replica of Christopher Columbus' Santa Maria, but also a bowling alley, arcade, movie theater, pool hall, and performance arena that some of the world's hottest acts have graced. That goes along with more than 800 stores and restaurants. I'm almost out of breath as I type this!
And while the West Edmonton Mall is incredible, and worth the visit, it's hardly romantic. But it sure is fun!
There are two hotels worth your time in Edmonton, and I can't recommend them highly enough. The first, alphabetically of course, is the Fairmont Hotel Macdonald, a luxurious property that will fulfill all of your un-romantic notions (and gosh darnit, if you must, a few romantic ones too). Built in 1915 and resembling a French castle, this Chateau on the River will charm you from the word go.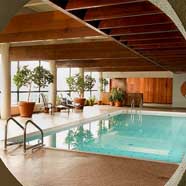 Also in Edmonton is The Sutton Place Hotel. Modern and warm, this sultry property will indulge your every whim. For the highest rollers in the audience, ask for the Royal Suite, a two-story indoor palace.
Finally, if you're dead set on romance, you can always take a short drive to Banff, where the Post Hotel in Lake Louise will knock your socks off! I suggest keeping them on, though, as it gets a wee bit chilly in the Great White North.
As they say in Canada, "Have a nice trip!"
Editor's Note: Disagree with our writer about Edmonton? Let him know in the comments section below why you think Edmonton is romantic, or where you think the least romantic destination might be...
---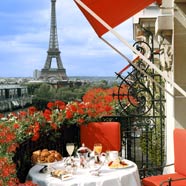 There are two things I value above all else: Luxury and Romance. Finding each individually is hard enough, but finding them together is nearly impossible. So I did what most people do when they are looking for something. I googled it. I entered simply, "Romantic Luxury Getaways", and let the computer do the work for me. And I implore you to do the same. Go ahead, I'll wait right here until you return. Don't worry, it won't spoil the ending…
Back yet? Okay, what did we both find? First, it was some of the great hotels of the world. And amongst them, of course, the city that appeared again and again: Paris, France. Not Paris, Texas, nor Paris, Arkansas, both of which I've visited and can say are truly unromantic. Paris, France, on the other hand, is, cliché or not, simply the most romantic city in the world. Luckily for us, it also offers some of the most luxurious hotels in the world.
Before I get into that, and therefore before I list which of Paris' finest are my favorites, I want to tell you why Paris is romantic. You may now be grumbling about your last visit, or maybe your last 5 visits, and how you know very well what is and is not true about la belle ville. I've been several times myself in the last few years, and in fact lived two years in Paris on the Left Bank in my marauding early-20s. And yes, while I have the advantage of ordering a Domaine Romanée-Conti in heavily accented French, I've learned that in Paris anyone can find romance.
Where? I found it on the terrace of a café in an alley at a hole-in-the-wall Moroccan restaurant that no longer exists. The place was run down, the couscous overcooked, and yet when I raised a glass of Burgundy and toasted with the sweet, brown-eyed girl underneath a canopy of stars illuminating the French summer night, I didn't want to be anywhere else in the world. Months later, a ring tucked deep in my pocket, I strolled down to the banks of the Seine, heard the muted stir of the river below, and found myself on one knee asking her to be with me forever. We returned for our honeymoon, and several trips thereafter, and Paris never let us down. The gray hair on my temples has never kept the romance at bay, and I still raise a toast with the brown-eyed girl on the other side of the table.
Now, though, when I go to the world's most romantic city, I stay at the world's most luxurious hotels. And why not? Luxury and romance go hand in hand, just as my hand goes with hers each and every morning when I wake up, and just as our lips come together each evening to say goodnight.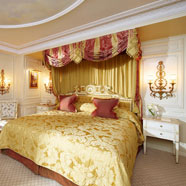 So make romance yours at L'Hotel de Crillon. This hotel is not for the overnight traveler. In fact, the pre-revolutionary construction is in classic Louis XV style, and will tantalize patrons with a stunning location only steps from Les Champs-Elysees, and make a stay of any length too short.
If you're looking for a taste of the Belle Époque, seek out the Ritz Paris. Erected in 1898, the Ritz underwent a stunning renovation in 2010, and is known for its famous guests, more recently (Elton John) and a few years ago (Marcel Proust).
Finally, if you prefer views of the Eiffel tower from your flower-filled balcony, charm your loved one with a stay at the Hotel Plaza Athenee. Luxury is a given, romance an absolute, and with four restaurants on site overseen by the eminent Alain Ducasse, you'll have the best of Parisian dining just steps away.
One final note: If you're thinking of buying her that ring, or perhaps telling him that you love him all the more after all these years, don't wait! Seize the moment! Paris may endure and always be waiting, but perhaps he or she won't. Bon voyage!
Posted in:
Articles
,
Featured Luxury Hotels
,
Romantic Travel
,
Food and Wine
,
Luxury Spas
,
Europe
,
'Best Of' Lists
,
Museums
,
Luxury Suites
,
Luxury Shopping
,
Weddings and Honeymoons
---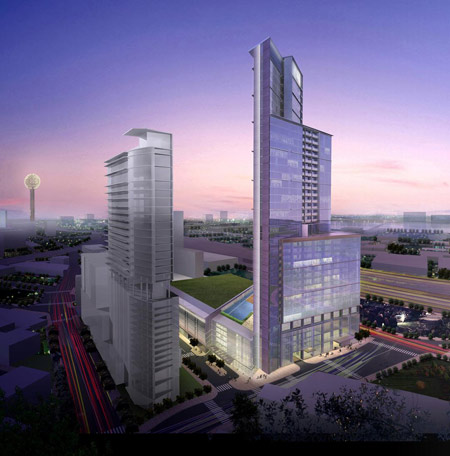 Since opening at the end of 2009, the Mandarin Oriental Las Vegas has gotten rave reviews for its spa which sprawls across the entire seventh and eighth floors of the hotel. In fact, this urban retreat was recently named a Forbes Five-Star Award-winner. The glam hotel is one of the few in Sin City without a casino, and this zen-like environment is a welcome respite from all the excess of the Strip. The Los Angeles Times is plugging a February deal at the AAA Five-Diamond hotel which includes a third night free, with rates starting at $305 per night, and a "bling-worthy gift certificate': good for $250 worth of merchandise at nearby Mikimoto jewelers:
I wrote about a similar deal at the Mandarin Oriental last year, though it didn't include the gift certificate. I mention this hotel again because room rates are usually expensive, and the deal is a good one for those who crave a bit of non-casino luxury on the Strip.
The "Lucky in Love in Zen City" package can be booked through February 28, 2011, and is subject to availability.
Posted in:
Articles
,
Featured Luxury Hotels
,
Romantic Travel
,
Business Travel
,
Food and Wine
,
Luxury Spas
,
North America
,
Special Luxury Travel Offers
,
Hot Spots
,
Luxury Shopping
,
Deals
---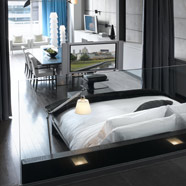 A few months ago near my home in Washington, DC, I was sitting at the bar of the luxuriant W Hotel downtown. I started a conversation with another patron, both of us enjoying finely crafted cocktails which have become a signature of the worldwide chain. I eventually noted to my new companion that I was reviewing the hotel and would like his feedback. After a stream of consciousness endorsement that ran on for nearly 5 minutes, he paused, looked up at me and asked, "What exactly does The W stand for anyway? I was thinking Washington at first, since we're in DC, but then all of them are called that." I looked back, thought for a moment, and replied, "The W stands for luxury and excellence." Truly there is no better answer, for wherever one finds the Starwood brand hotel, the accompaniment to each stay is just that, luxury and excellence.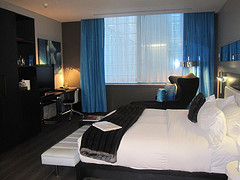 The trouble with having such high expectations is living up to them. In the hotel world, I've often been disappointed by an inferior extension of the brand. Yet for the W hotels, this has NEVER occurred. Case in point: The W Hotel, in Montreal. Just as I found in Washington, DC and New Orleans, and Santiago, Chile, and everywhere else, The W Hotel in Montreal was magnificent. My check list is long, but I can sum up for you here. Luxury rooms, check. Great dining, check. Excellent spa, check. Amazing service, you betcha. In fact, after a visit to the spa, I was led to the bar for a string of stellar cocktails, something I always take the time to do at The W Hotel. I don't know how they find such excellent mixologists, but they always do. When I'd had one too many, I slept peacefully in my quiet, well-appointed suite. It all proved to me that The W Hotel in Montreal, just like all the rest, once again stands for luxury and excellence.
---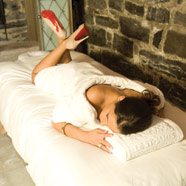 When I saw the penthouse suite encompassing the top floor of L'Hotel Le St James in Montreal, I quietly asked the manager who could possibly afford to stay here. He looked at me with knowing eyes and whispered into my ear. He said, in French, "Only the wealthiest and most famous, to be fair. Several big names that you would know for sure, and one very famous rock star recently." I wanted to know who and probed further, but he politely informed that he could not divulge the name. His clients, from the wealthiest (rock star) to the least affluent (me), come here to relax and enjoy a stay in Montreal's finest hotel. They didn't want to be troubled by paparazzi, and certainly didn't want to be followed around on previous or forthcoming visits.
So I did some research of my own, on the internet, on the phone, and in some of the clubs and restaurants around L'Hotel, which, being the finest in the city, would surely have been visited by the certain persona non grata. And indeed, wow! When playing Montreal if REDACTED chooses the St. James, then I had come to the right place. REDACTED is known for choosing elegance, and the sultry sounds of REDACTED would be at home only in the finest of hotels. Color me impressed!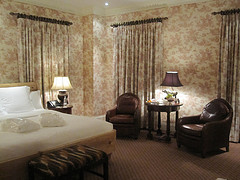 But L'Hotel Le St James was equally amazing for a meager guest like me. I merely had a normal room, if you can call it that, as it had the largest tub I'd ever had the pleasure to soak in, and the most comfortable bed my ailing back had ever rested on. Not to mention the views of the Old City, just outside the frost covered window. In fact, gazing out through the light snow, I could gaze out over the spires of the Notre Dame Basilica as well as the ice-strewn Saint Lawrence River, coursing through the old port. Beautiful!
One final note: Since my visit fell over the holidays, I was excited to celebrate in style. I inquired with the concierge about getting reservations for Christmas brunch at the downstairs eatery, XO Le Restaurant, recently awarded 4 stars, and was pleased to find a spot available. The decadent food was only matched by the marvelous service and décor. The staff presented me with a glass of excellent champagne flown in from France, and I raised a glass, "Joyeux Noel!" Merry Christmas, indeed.
Editor's Note: A picture of the author enjoying his stay:

---