LUXURY HOTEL INSIDER
The Luxury Hotel Insider
: Exclusive luxury hotel deals, features and special rates from the luxury hotel experts at Five Star Alliance.
Named one of Tripbase's
Best Luxury Travel Blogs for 2011
, below are Five Star Alliance's newest articles featuring exclusive information on luxury hotels worldwide including special offers and deals at the world's best hotels.
---
SMINTAIR offers every passenger refuge from daily stress and restriction, an island of tranquillity, a World of it's own in the skies... Although innovative, SMINTAIR will treat it's passengers like the guest of an international Grand Hotel. It is an obligation to SMINTAIR to bring back the exclusivity in flying encountered in the 1960s and dearly missed by so many. The classic ambience pared [sic] with today's technology will make flying SMINTAIR a unique experience.
So states
Smintair
on its website. A German entrepreneur has announced plans for a luxury airline that allows its passengers to smoke. Smintair (no, the name doesn't come from the little box of post-cigarette mints; it's an acronym for Smoker's International Airways) is slated to launch in March with flights from Dusseldorf to Tokyo's Narita International on two Boeing 747 aircraft. The flights will offer 30 first class and 108 business class seats, with abundant leg room.
Allowing our guests to smoke is one of the freedoms we are happily prepared to grant. Non-smokers will find the cabin air more refreshing than on any other flight with any other airline, as SMINTAIR adds fresh outside air to the conditioning system! This is more expensive, as it burns more fuel, but it is seen as an additional service to our guests... As the World's first smoker's airline, SMINTAIR is entering many uncovered niches in aviation, designed to give the traveller maximum pleasure out of their flight experience. SMINTAIR spends more than three times the amount usually invested on passenger's nourishment. Signature recipes created by internationally renowned chefs will make each meal a feast. Charming and beautiful flight attendants in uniforms designed by famous couturiers are there to take the very best care of you. Every two years, a new designer will be elected to keep the uniform design a la mode.
Marketwatch
is skeptical; Smintair needs to raise at least 40 million euros for an operating license from the German federal aviation authority. Time will tell if this baby will actually get off the ground. Related Articles:
BBC News, German Plans Airline for Smokers
Gridskipper, "Smokes on a Plane"
---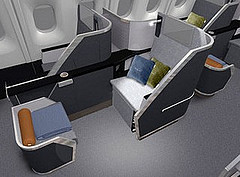 Our adoration for Eos is hardly a secret. A recent Business Week article, "Eos Airlines, Your Airborne Concierge" applauds the airline for its "business class services with a five-star hotel twist for passengers flying from New York's JFK airport to London's Stansted." The interior is luxurious and spacious, with 48 seats in a jet originally designed for 220 people. The individual passenger seating area is like a suite, with flatbed, worktables, personal entertainment units, and business travel conveniences. And it's a staggering 21 square feet per person. Not too shabby. The airline even offers "turndown service," with high-thread-count seats, cashmere blankets and Bose noise cancellation headphones. To quote Business Week:
While mainstream carriers such as US Airways are making headlines by eliminating packets of peanuts on board, Eos takes the opposite track by promising "restaurant quality, gourmet meals" with aesthetic presentation, along with a high-end wine and beverage selection. Passengers set their own eating pace by selecting either a five-course meal to be eaten at leisure or an "express" meal served at once.
Price? $6,500 for an unrestricted fare.
---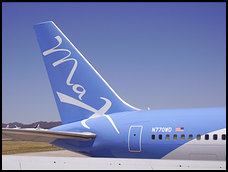 With airfares to Europe skyrocketing, this promotion is almost too good to be true. Maxjet Airways-- all business class and low airfares too-- flies luxurious transatlantic service between London Stansted and New York and Washington. The service is sensational: gorgeous pre-departure lounges, signature gourmet meals, on-demand entertainment, and deep-recline, all-leather seats onboard. From now until June 2, you can fly the luxury airline with discounted fares of just $1,000 roundtrip. Now that's a steal.
---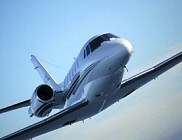 A recent article in the Times UK focused our attention on Jeffersons Private Jet Holidays:
And since the demise of Concorde, private jet travel has grown apace, and prices have tumbled. The tour operator Jeffersons specialises in holidays by private jet, and four people sharing a plane can have, for example, two nights at the Four Seasons in Milan starting at a little over GBP 2,000pp.

I sampled a Jeffersons trip to Italy last month, and what made it special was not so much the caviar and champagne on board the jet, or the wonderful hotel, Villa Feltrinelli, where we stayed on Lake Garda, but the sheer lack of stress. Stuck in roadworks on the M1? The plane will wait for you. Fancy bringing back two cases of Italian wine? They'll load it on to the jet, and then drive you home with it in a limo.
Sign me up! In its fleet, Jeffersons features the Premier 1, Cessna Citation Excel, and Hawker 125-800, and all jets are outfitted with ample space, luxurious furnishings, chilled champagne, soft drinks, and meals. And with Jeffersons, you'll fly to Europe's most luxurious and exclusive hotels.
---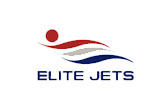 Dubai is hopping this week with the Arabian Travel Market (ATM), the enormous travel and tourism exhibition held at the Dubai World Trade Centre. With the tourism industry booming in the Arabian Gulf these days, the ATM is an important event for the hospitality industry, with oodles of exhibitors announcing new projects, hotels, and airlines. Dubai-based Elite Jets debuts today at the ATM, showcasing its luxury jet travel for VIP clients expecting the ultimate in convenience, luxury, and privacy. Established at the Dubai Airport Free Zone, Elite Jets has been around since November 2004, providing charter services for corporate and leisure travelers in the Middle East. (Its founding partners are National Airways Corporation and JML Investment Group.) The fleet consists of Raytheon Hawker 1000 aircraft, which have spacious, well-equipped cabins that can accommodate 9 passengers. In July, the portfolio will be expanded with the brand new Raytheon Hawker 850XP, which boast the largest cabins for midsize jets. It seems Elite Jets fills an important niche by providing the luxury travel option for reaching the world's fastest growing luxury destination.
---

Rather than charter an aircraft or invest in fractional jet ownership, why not fly on Perfect Jet's luxurious jets (like the Gulfstream III and IV, Embraer Legacy and the Challenger 604)? Perfect Jet allows sophisticated travelers to purchase seats on large-class, regularly scheduled business jets and fly to resort destinations from eight major US cities. All while avoiding the hassles of security and connection delays associated with commercial airline travel-- because Perfect Jet operates from private terminals at convenient local airports. What exactly is "by the seat" luxury business jet travel? You pay only for the seats you need, so you don't have to lease the entire aircraft for the flight, and can save up to 80 percent over the cost of chartering. Fly in luxury on regularly scheduled flights to Aspen, Palm Beach, and other resort destinations from Austin, Dallas, Houston, Burbank, Chicago, Las Vegas, Palm Beach and White Plains. The best part of all? Perfect Jet is known to be pet-friendly. (Please note that Perfect Jet is currently revamping their flight schedule.)
---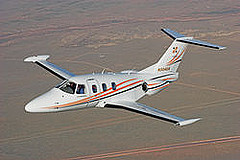 Get this. By the end of 2006, the friendly skies will be transformed by a new type of aircraft: the Very Light Jet. The VLJ (God bless Wikipedia) is "smaller and lighter than conventional business jets and defined by some aviators as jet aircraft with a minimum take-off weight less than 10,000 lbs and approved for single-pilot operation." The media is abuzz: these babies will be cheaper to operate than conventional jets and are highly maneuverable-- shorter runways are no sweat, providing access to airfields that the conventional business jet often can't reach. Talk about making inroads in aviation technology. Eclipse Aviation has launched its Eclipse 500, one of the first of the VLJs to undergo flight testing:
The Eclipse 500 very light jet (VLJ)-- the category of jet we created-- is loaded with capability and functionality, yet is priced less than any other competitive jet and has the lowest operating cost per mile of any jet.

The Eclipse 500 has a maximum cruise speed of 375 knots, it can carry up to six occupants, and has a generous range of 1,280 nautical miles. A 41,000-foot ceiling avoids most severe weather, and this extraordinary jet gives you access to more than 10,000 airports in the U.S. So the question is never, "Where can't you go?" but rather, "Where do you want to go?"
Talk about luxury for less. With the new VLJ, Jane and Joe can fly privately at competitive, economic prices.
---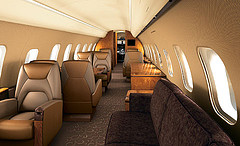 Imagine large private rooms with queen beds and luxe bathrooms with showers. No, this isn't your honeymoon nuptial suite we're talking about, but the private luxury airline that will jet your private party to your destination wedding. Instead of flying commercially, think VIP plane. Private Jet Services Group offers full-sized carriers redesigned and reconfigured for your wedding party, ranging in size from two to 109 people. These are first-class only aircraft, packed with luxurious services and amenities. And rest assured-- Private Jet Services Group oversees all the trip details (transportation to the airport, luggage transfers, special gourmet catering requests), with its exclusive Concierge Service, so you can sit back, relax, and enjoy the party.
---

By Courtney W. May
When I first saw the Flexjet advertisement with Lance Armstrong, I was mostly confused because I had no idea what a Bombardier was or what fractional jet ownership would be. (I was also confused because I thought the images of Lance didn't do him justice-- see right-- and wasn't sure what advertiser would want to do such a thing.)

I did a little bit of research to figure out what Fractional Ownership was and why someone would want to do it. I got most of my information from the F.A.Q. section on the Flexjet website. So is Fractional Jet Ownership like a timeshare? Yes, although a little different since you get access and availability 24 hours a day, every day. And yes, your pet is welcome to travel with you as a member of your family: "A pet safety belt will be provided for pets weighing over 25 pounds. Pets smaller than 25 pounds may ride in a pet carrier or on your lap."
The part I really wanted to know about was price (not that I could afford it). For Flexjet, there are 4 variables as well as financing options which I won't get into here but you can find on the F.A.Q page I mentioned. And of course they aren't going to tell you outright what it's going to cost you-- they want you to contact their 'experienced sales team.' So instead I found an example within a press release from 2004:
"'Jet Rich Quick' The monthly payment ranges from approximately $4,600 for a 1/16th share of a Learjet 45 over a four-year term, to $12,000 for a 1/16th share of a Challenger 604 over a two-year term."
So is it worth it? I'm not sure, but I would be willing to try a couple complimentary flights to find out...
---