LUXURY HOTEL INSIDER
The Luxury Hotel Insider
: Exclusive luxury hotel deals, features and special rates from the luxury hotel experts at Five Star Alliance.
Named one of Tripbase's
Best Luxury Travel Blogs for 2011
, below are Five Star Alliance's newest articles featuring exclusive information on luxury hotels worldwide including special offers and deals at the world's best hotels.
---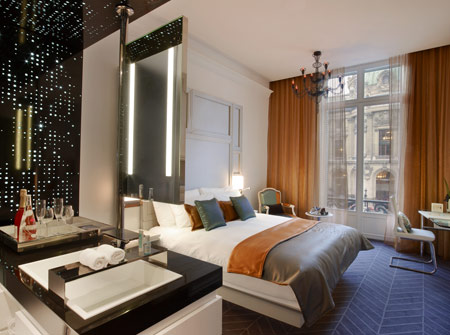 This swanky hotel opened up just two months ago, and it is certainly a beautiful luxury hotel in Paris worth checking out! Located in the heart of the City of Lights, the W Hotel Paris Opera is just steps from the Granier Opera House, the Rue de la Paix, and the Rue du Faubourg Saint-Honore. While its beautiful rooms and phenomenal location make this hotel worth visiting, the unique and exclusive art installation displayed in only one of the hotel's suites gives the W Hotel Paris Opera pizazz. In suite 112, the work of French artist Zevs is proudly displayed but invisible to the naked eye. The artist's dripping Louis Vuitton logos and tears streaming down portraits can only be seen with a black light, making these displays that much more fascinating. Be sure to visit this one-of-a kind hotel to experience a new kind of art display and see the best of Paris!
Check out the tweet below to view the art installation for yourself!
The infamous French artist creates an invisible installation of his dripping logos at the newest W Hotel j.mp/J5eAKB

— Hume Internationale (@humeint) April 13, 2012
---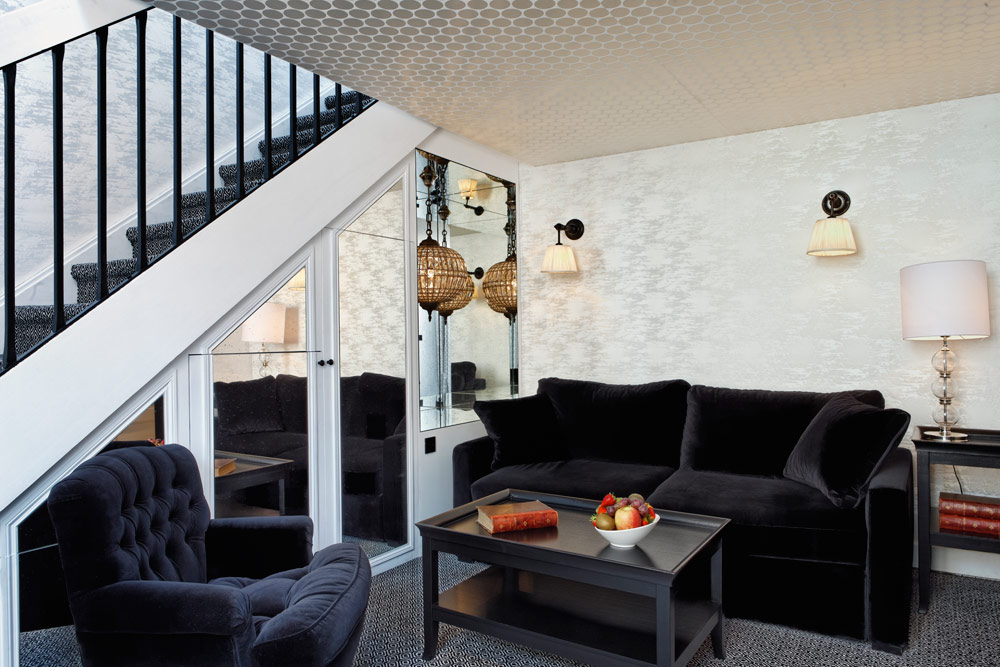 I have a special place in my heart for tiny boutique hotels. It may be a little smaller than some of the other chambers, and there aren't enough spots for everybody, but that just makes the few who do make their way into my good graces all the more special. I can give each and every one the loving care and attention they deserve. And thus began my new segment on boutique hotels that I just adore.
Today we turn our attention to the Relais Christine, a beautiful manor home in the heart of Paris. Within easy walking distance of both the Louvre and Notre Dame, the hotel is located in the intellectual and cultural heart of Paris. The perfect destination from which to begin your exploration of the city, Relais Christine is welcoming and distinctly Parisian. And you can bring your favorite smaller member of the family along since canines and felines are allowed, and it's decidedly kid-friendly as well. Explore the underground caves of Champagne Pommery's for a lovely winery tour or take a dinner cruise on the seine for one of the most romantic experiences of your life. Relais Christine is a lovely place to sit back, relax, and take in the site's of possibly Europe's most storied city and from the comfort of a boutique hotel that keeps you secluded from the reams of tourists packing in to other, larger places to have a less unique experience. Learn more about the Relais Christine here.
---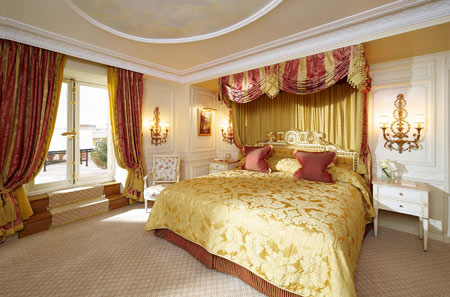 New hotels are coming into Paris, and the older ones are closing down for extensive renovations periods. We just caught word from our friends at HotelChatter that the Hotel de Crillon is expected to close on November 1st, 2012 for two years. The Hotel de Crillon will be updating and modernizing their rooms as well as adding a brand new spa. The Hotel de Crillon is a very elegant and royal 18th century style luxury hotel. While we certainly love the new and trendy hotels popping up in Paris, there is something very special and charming about a classic luxury hotel. It is located in the famous Place de la Concorde, a few steps from the Champs-Elysees and the Fabourg Saint Honore. It has 147 rooms and suites including Presidential apartments that will get a makeover during the renovation period. Make your reservations before November to experience the elegance of this hotel before it closes in November!
---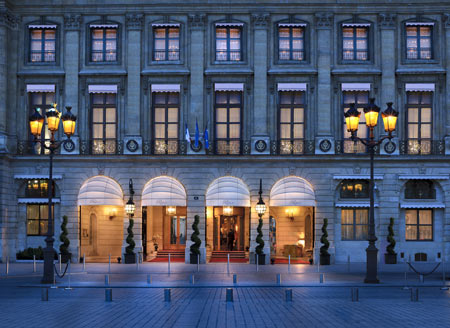 Last week, we reported that the Ritz Paris suffered the incredible misfortune of a nearby garage catching fire, and we now know a little bit more of the story. As HotelChatter reports, despite the quite imposing pictures, the hotel itself was fortunately largely unaffected. The fire was contained mostly to a single level of the parking garage, gutting some 30 vehicles parked there, but only one person was harmed, and only from smoke inhalation, and nearby buildings were only exposed to the billowing smoke clouds. There may be a little bit of exterior discoloration from the blackened soot, but the fire itself stayed away, and there are no reports of any smoke getting inside to damage rooms at the Ritz or any nearby establishments. We are happy to hear that the effects of this tragedy were relatively minor, given the possible damage.
All that's to say that the fire is no reason to shy away from one of Paris's iconic properties before their August closing.
It still looks like this, we promise.
---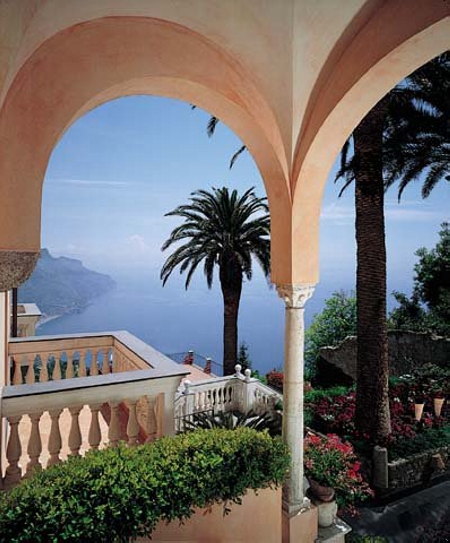 Bucket lists. We've probably all got one, and I can't get over my slightly morbid fascination of the idea of making the list of the things you'd like to live framed around dying. Maybe it's that the finitude of life creates a sweet sense of urgency that makes experience all the more poignant. But I'm not here to philosophize; I leave that to the well-bearded among us. I'm here to tell you about the second edition of 1,000 Places To See Before You Die with the much more uplifting subtitle: A Traveler's Life List.
A coffeetable book if there ever was one, 1,000 Places lays out some of the most unique and gorgeous places the world has to offer. And one of the things about the luxury hotel industry is that we've done a pretty good job of making sure that most of these places have the accommodations for you to experience them. Heading to the Amalfi Coast? Why not stay at the Palazzo Sasso, which has a breathtaking view of the ocean stretching out from its feet, 350 meters below. Or perhaps you're interested in Paris. The Plaza Athenee or Hotel de Crillon have you covered. It's really quite incredible when you step back to think how easy it is to experience the unique gems this blue-green sphere has to offer. So pick up your copy of 1,000 Places To See Before You Die and pick out your next vacation destination. We have certainly have some suggestions for you.
---
If any of the iconic hotels in Paris were going to suffer the collateral damage of a nearby underground garage going up in flames, it's probably just as well that it was the Ritz Paris. While unfortunate for anyone in the hotel industry, the Ritz is fortuitously scheduled to undergo an extensive two-year renovation coming up in August, so if anything was damaged by the smoke billowing out from the garage, you can be rest assured that the hotel was looking to replace it. No news yet on whether the interior of the hotel was affected in any way, and no one appears to have been injured in the fire, so as flaming conflagrations go, this might not be so bad. In any case, our hearts go out to the hotel, the nearby Place du Vendome, and to anyone whose things were caught in the blaze. Hopefully, we'll hear more soon. As of now, the hotel is still slated to be open up through its August closing, and unless we hear otherwise, with no reports of damage yet, future guests need not fear for the quality of their stay.
Photo via Le Parisien.
---
Paris, a thriving, bustling city with over 70 luxury hotels located throughout its districts can be a bit overwhelming for folks deciding on where to stay to get the most out of their experience. We understand that travelers visiting Paris for the first time have different interests and desires than frequent visitors, so we've put together a short, sweet and to the point guide for you to ensure that you choose the perfect hotel for your trip!
Hotel du Louvre
Hotel du Louvre is the perfect luxury hotel for first time visitors to Paris looking to be in the heart of the attractions. The beautiful décor of the hotel was inspired by the Napoleon III style, and all of the guest rooms have modern comforts while retaining a traditional feel. The draw of this hotel is certainly its location, perfectly situated in the heart of old Paris with easy access to the fashion and business districts, steps from the Brasserie du Louvre, and immediately opposite the Comedie Francaise. Just steps from the Louvre Museum, certain rooms and suites at the Hotel du Louvre offer views of the exhibits! The Opera Granier is set to one side of the hotel, and the Palais Royal is on the other side. The area is busy with authentic cafes and is a short walk from the bustling shopping street of Rue St. Honore. It also offers interconnecting rooms, perfect for a family vacation.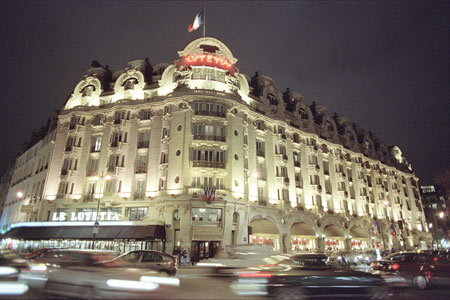 Hotel Lutetia
Hotel Lutetia is a phenomenal hotel option for travelers who have been to Paris before, who have explored the famous areas in Paris, and who are looking for a much more detailed look into the city. It's a very modern hotel with a contemporary style and artistic surprises. The bustling lobby has an edginess with displays of art by renowned contemporary artists including Arman, Cesar, Perrin, and Thierry Bisch. The Hotel Lutetia has an artistic and elegant culture that is clearly visible in the Art Deco architecture, period furniture, crystal chandeliers, and live jazz music flowing through the Lutetia Bar. It's located on the left bank in Saint-Germain des Pres, in the heart of the fashion, art, and literature district. What sets this hotel apart is that if you make a reservation for a suite, you are guaranteed an Eiffel Tower view! (We do ask, however, that you request an Eiffel Tower view ahead of time)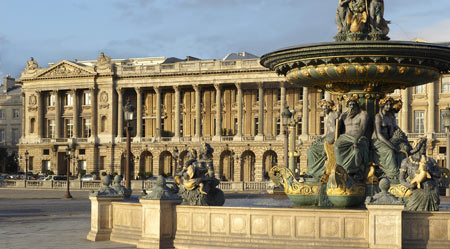 Hotel de Crillon
Hotel de Crillon is a very royal, elegant 18th century style luxury hotel situated in the famous Place De la Concorde in the heart of Paris. This hotel is for new travelers as well as frequent visitor to Paris, perfect for those who are looking for the absolute best and most royal hotel in the City of Love. It is only a few steps from the Champs-Elysees and the Fabourg Saint Honore. It is decorated in a Louis XV style, and its guest rooms and suites are decorated to represent the rich history and culture of Paris. Similar to the Hotel du Louvre, the Hotel de Crillon has connecting room options as well, making it another perfect hotel for a family or group vacation.
Posted in:
Europe
,
France
,
Paris
,
Romantic Travel
,
Travel with Kids
,
Business Travel
,
Food and Wine
,
'Best Of' Lists
,
Museums
,
Luxury Suites
,
Fashion
,
Historic Hotels
---
Le Burgundy Paris is a 5-star boutique hotel located where the rue Duphot meets the rue Saint-Honore, in the Golden Triangle of Champs Elysees-Madeline-Opera. This historic property was built in 1800, remodeled in 2010, and has 59 luxurious rooms including 8 suites. Aside from inspirational architecture, a phenomenal restaurant offering delectable cuisine, and a relaxing spa, Le Burgundy Paris is also currently offering a special Five Star Alliance package, providing the perfect reason to make your travel plans today!
The Five Star Alliance Package provides the perfect way to pamper yourself for 1 hour and 30 minutes with a facial or body care option for ultimate relaxation. This package is available for 1 person and is not valid with groups or conventions. Take advantage of this incredible package and treat yourself to a much needed and deserving escape from it all!
---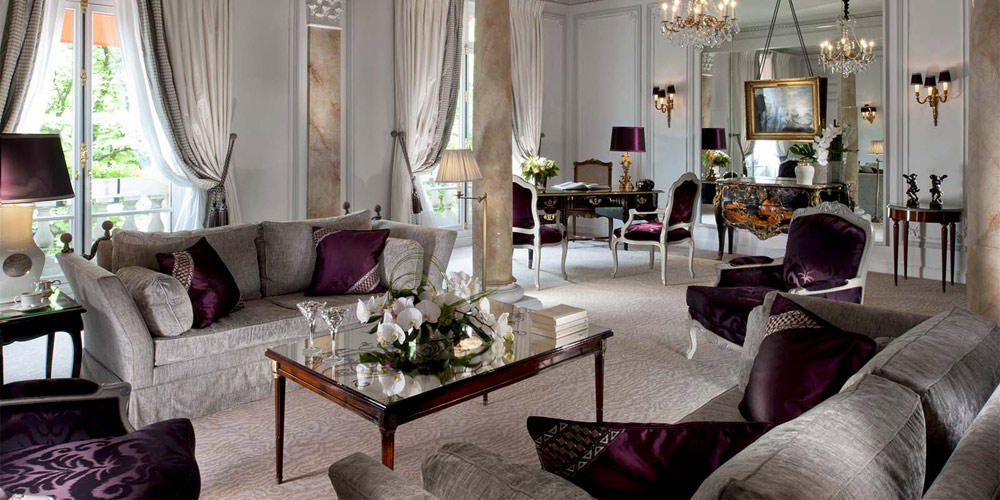 The Hotel Plaza Athenee is an incredibly romantic and beautiful hotel ideally located between the Avenue des Champs and Elysees and the Eiffel Tower. This luxury hotel features 188 luxurious guest rooms including 43 suites and offers views of the elegant Avenue Montaigne, the west side of the Eiffel Tower, or the courtyard. The Hotel Plaza Athenee takes service to a new level with hotel staff outnumbering guests 3 to 1, giving guests an extremely personal and unforgettable experience. If the location, phenomenal décor, and service aren't enough to add this to your list of hotels worth visiting, then consider this. The Hotel Plaza Athenee has recently installed a NightCove Sleep Solution in the Art Deco Suites. According to HotelChatter, "the sleep clinic at Hotel-Dieu Hospital developed this device, and it is a unique bedside lamp that helps improve the quality of sleep by bathing guests in selected light wavelengths and sound frequencies that are specially adapted for the physiological needs of sleep. Click on 'Sleep/Anti-jetlag/Nap' to stimulate melatonin with a red glow and the hush of waves, then greet the day with a 'Wakening' of soft music and blue light similar to early daylight.'
Wow! We're certainly impressed by this technology and would love to ease the pains of jet lag as quickly as possible. Make your reservations at this, let's face it, perfect Parisian hotel and stay bright eyed and bushy tailed for the entirety of your stay!
---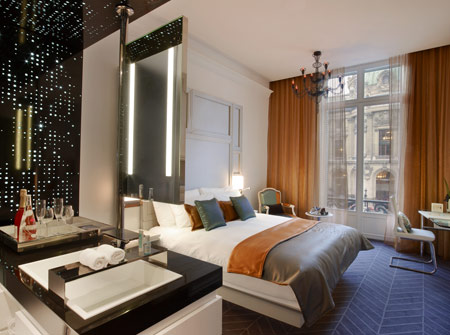 The clever W Paris Opera is set to open its doors on the most romantic day of the year, Valentine's Day. The City of Love will have a new luxury hotel in its collection starting February 14th, 2012, adding a bit more excitement to this already lively city. Make your reservations for Valentine's Day and be among the first to experience everything the W Paris Opera hotel has to offer.
The W Paris Opera is perfectly located in the heart of all the action in Paris. Take a stroll with your loved one down the Rue de la Paix and indulge yourselves in sparkling jewelry shops, and explore the Granier Opera House, a Parisian landmark. With 91 guest rooms and suites equipped with plush pillows, 350 thread count sheet, and Bliss bath products, you may never want to leave your room! This luxury hotel will steer away from the traditional hotels in Paris and have a backlit digital wall projecting abstract patterns through space, utilizing various colors to create different moods. The public areas of the hotel will have mosaic floors, marble staircases, and stained glass windows while the guest rooms will feature local art and original light fixtures designed specifically for the W Paris Opera.
Explore everything this hotel has up its sleeve and make your reservations today!
---