LUXURY HOTEL INSIDER
The Luxury Hotel Insider
: Exclusive luxury hotel deals, features and special rates from the luxury hotel experts at Five Star Alliance.
Named one of Tripbase's
Best Luxury Travel Blogs for 2011
, below are Five Star Alliance's newest articles featuring exclusive information on luxury hotels worldwide including special offers and deals at the world's best hotels.
---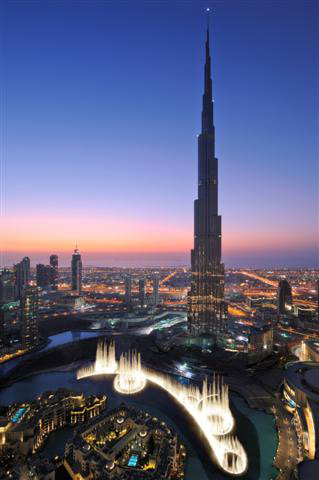 Calling all shopping addicts. Come winter, the Dubai Shopping Festival is where it's at. Get a tan (and soak up the balmy temps) while you're sprinting between boutiques. Indulge in some retail therapy with serious discounts on luxury brands, and you'll also be privy to the region's biggest "entertainment extravaganza"-- ie. huge fireworks displays, daily car raffles, and more. The best part of all? Shopping in Dubai is entirely tax-free. The annual month-long fest takes place from January 20- February 20, 2012 and attracts some three million visitors. Looking for a place to stay? Five Star Alliance has the skinny on a number of glamorous Dubai hotels- from the "seven-star" Burj Al Arab to Armani's very own pad (pictured). Take a gander at the full list here.
---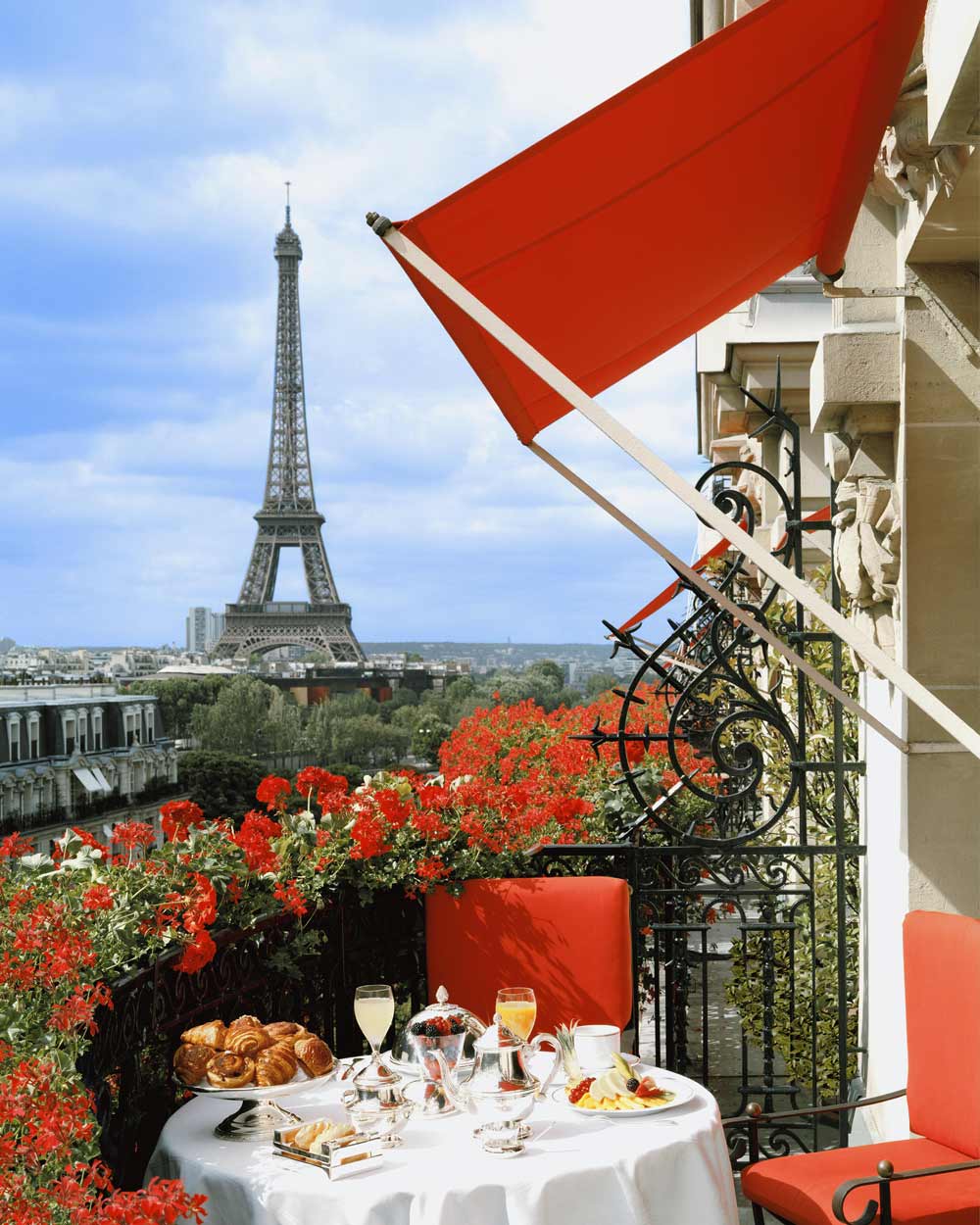 We've been waiting with bated breath to find out which talented designer would nab the prestigious Dorchester Collection Fashion Prize. The luxury hotel group-- celebrated for iconic hotels in urban centers in Europe and the U.S.-- launched the Fashion Prize to honor the work of young designers- and it's gotten some serious buzz in the press. Just this past weekend, the prize was bestowed in The Rodeo Ballroom at The Beverly Hills Hotel after a runway presentation featuring models from cycle 18 of America's Next Top Model. (The event was filmed for an upcoming episode to be aired in spring 2012.) After much deliberation, the judges chose the collection by Anndra Neen as best representing "the spirit of individuality, luxury, style and craftsmanship" of The Dorchester Collection's hotels. Anndra Neen received $40,000 and will have the opportunity to display their work at the fabulous Hôtel Plaza Athénée (pictured) during Paris Fashion Week in 2012.
---
If I had three wishes, I'd use up the first two on world peace and a grilled cheese sandwich. But the third one would be tough if I got them by acquiring the new Dream Folly from Neiman Marcus. Because I'd already be spending the night in my third wish. An 18-foot-diameter yurt, a traditional tent going back to the Mongols, who clearly sacked Rome in style, is the centerpiece of a full package built to evoke an extravagant genie's bottle. So it's time to stop dreaming of Jeannie, and instead make your dream a reality, for this fantasy hideaway comes with a set of literally one-of-a-kind pillows by famed designer Rebecca Vizard, who creates her works of art by meticulously preserving 18th and 19th century prints on her lush, modern pillows. Not only that, the room is adorned with a handcrafted crystal chandelier and linen wall coverings. And while you're living your fantasy, you can help the dreams of others come true, because with the purchase of Dream Folly, $5,000 of the proceeds will go The Breast Cancer Research Foundation.
The Dream Folly package, which will see this fully customizable Yurt installed on your estate grounds, is a part of Neiman Marcus's fantasy collection in the new Christmas book. Every item is perfectly designed to help you live your very own fantasy. Check out the full collection here.
Photo Via Neiman Marcus.
---
With the winter holidays just around the corner, it's time to start thinking about gifts for your family members and friends. This year, however, we bet you want something different, something special, something extravagant, something over the top. Did we just read your mind? For the luxury seekers, the best gift givers, and the folks who always go above and beyond what is expected, the Neiman Marcus Holiday Catalogue may be just for you.
One of my personal favorite gifts offered is the Dancing Fountains from WET. WET, the company responsible for creating some of the most extravagent fountains in the world, including the Fountains of Bellagio and the Dubai Fountain is now bringing these charming creations to your home. With this fantasy gift, WET will install two underwater robotic nozzles that dance as a couple. This fountain will swirl, twirl, dip, and spin for you with the beauty of two graceful dancers. With this purchase, Neiman Marcus will donate $10,000 of the proceeds to Water.org, a nonprofit organization committed to providing safe drinking water to people in developing countries. Curious what else the Neiman Marcus catalogue has to offer? Check out the Assouline Custom-Built Library, the Dream Folly, and the rest of the Holiday Catalogue.
(Photo via Neiman Marcus)
---
With the winter holidays just around the corner, it's time to start thinking about gifts for your family members and friends. This year, however, we bet you want something different, something special, something extravagant, something over the top. Did we just read your mind? For the luxury seekers, the best gift givers, and the folks who always go above and beyond what is expected, the Neiman Marcus Holiday Catalogue may be just for you.
For an intellectual and mind-opening gift, consider the custom library, with its shelves filled with 250 books for $125,000. This atypical gift comes from the publishing house Assouline, and the library can be added anywhere you'd like. From a house to a boat to an airplane, the sky is the limit. This gift includes a full redesign of the space of your choice by adding custom carpets, art objects, and exquisitely framed prints. After the space redesign, 250 contemporary and vintage volumes are added to the beautiful shelves in the genre of your choice. Line the bookshelves with masterpieces from renowned writers, artists, photographers, architects, designers, and culinary and fashion virtuosos. This is a gift that keeps on giving because aside from an incredible library, Neiman Marcus will also donate $2,500 to First Book, a non-profit organization that provides children in need access to new books. For details, call 1-877-9NM-GIFT, or visit neimanmarcus.com
The Neiman Marcus Holiday Catalogue is for the thoughtful gift-givers, and while it offers truly lavish gifts, about half are under $250, so whatever your price range, the Neiman Marcus Holiday Catalogue has something to offer you. Looking for something a little different? Consider booking a trip for your family and friends and spending the holidays somewhere exotic, snowy, sunny, or simply somewhere relaxing.
(Photo via Neiman Marcus)
---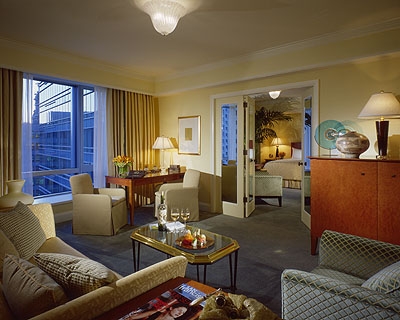 The holidays are right around the corner, and the Four Seasons Hotel San Francisco is getting in the mood with a holiday shopping spree and some festive cocktails. To the delight of guests, the luxury hotel in downtown San Francisco has partnered with Bloomingdale's to create a luxe holiday shopping package. Guests can indulge in some retail therapy with discounts, personal shopping services, and an après-shopping spa treatment. Bloomingdale's flagship West Coast store is just two blocks from Four Seasons Hotel San Francisco, a five-level shopping mecca of 300,000 square feet. Shop 'til you drop, then unwind with a complimentary Spiked Hot Chocolate at Seasons Bar and Lounge and a post-shopping massage at The Spa at the Sports Club/LA, located within the Hotel. (The enormous Sports Club/LA is a great place to burn off those pre-holiday calories.)
The Bloomingdale's Luxe Holiday Package is available from November 1, 2011 through January 31, 2012 and includes:
* Luxurious accommodations
* $100 Bloomingdale's gift card
* 15 percent all-day savings certificate (see in-store certificate for details)
* Signature Bloomingdale's gift upon arrival at Visitor Center
* Hotel delivery service for purchases
* One-on-one makeup consultation and deluxe sample with Dior
* Beauty Imaging System skin analysis and Facial Treatment Mask with SK-II
* Appointment with a Bloomingdale's "At Your Service" personal shopper
* Two specialty cocktails at Seasons Bar and Lounge
* A 25-minute head, neck and shoulder massage at the Spa at Sports Club/LA

---
Pop the cork, fashion season is upon us! To fete the occasion in Europe, The Dorchester Collection has unveiled some lovely libations- inspired by the five designers who have been shortlisted for the 2011 Dorchester Collection Fashion Prize. These sexy drinks are available exclusively from September 15- October 5, 2011 at The Dorchester Collection's hotels in the leading fashion capitals: 45 Park Lane and The Dorchester in London, Hotel Principe di Savoia in Milan, and Le Meurice and Hôtel Plaza Athénée in Paris. We're keen to try the "Anndra Neen Ruby," created by Hôtel Plaza Athénée's bar manager Thierry Hernandez: a red mescal-based drink inspired by the Mexican heritage of Phoebe and Annette Stephens, the sisterly duo behind Anndra Neen.
---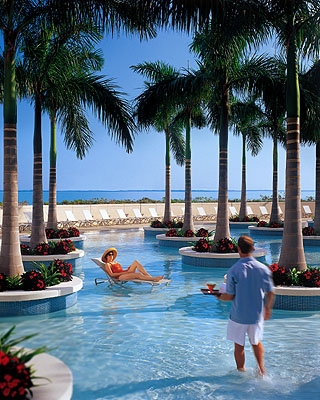 The place to be in Miami this weekend? The Four Seasons Hotel for a happening pool party-- the last one of the summer season! What's so special about this bash? For one thing: the Leblon caipirinha cart, a very grown up version of the ice-cream cart, which will dispense made-to-order drinks chaise-side for just $7. But this isn't one last hurrah. This party marks the start of "Miami Season"- i.e. mucho revelry and merrymaking non-stop from October through March. The pool part will take place on Saturday, September 10, 2011 from 11:00 am to sundown. A special party menu will feature ceviche and light snacks priced from $10- $20. Expect high energy music and lots of signature amenities (think Evian spritzes, cool towels and butler-passed frozen treats).
Entrance is available with a $25 pool pass and members of The Sports Club/LA enter free. Cabana packages are available and include use of a cabana by four people, mineral water, fruit platter and one cocktail per person for $150. Reservations are recommended as space is limited.
---
The Langham London is legendary as the birthplace of Afternoon Tea, that quintessentially British institution. The luxury hotel opened in 1865 and began serving this "afternoon snack" favored by Anna Russell, 7th Duchess of Bedford, as a way to ward off hunger pangs between lunch and dinner. The Langham continues to serve up this indulgent ritual in Palm Court, garnering multiple accolades in the process. Recently The Langham announced an exclusive new tea, created in collaboration with the renowned jewelry designer, Stephen Webster. Inspired by Webster's latest collection (called "Murder She Wrote"), Executive Pastry Chef Cherish Finden has designed some glittering pastries that are almost too beautiful to eat: the Crystal Clear Diamond, a Guinness macaroon with blackcurrant jelly; the Poison Apple, a red peppercorn and dark chocolate shortbread; and a roasted green pistachio Chantilly with airy meringue sponge inspired by Stephen Webster's Armadillo ring. The Stephen Webster Bijoux Afternoon Tea is priced at £49 per person (approx. US $79), inclusive of VAT, and is available from September 1, 2011 - March 31, 2012 in the Palm Court.
---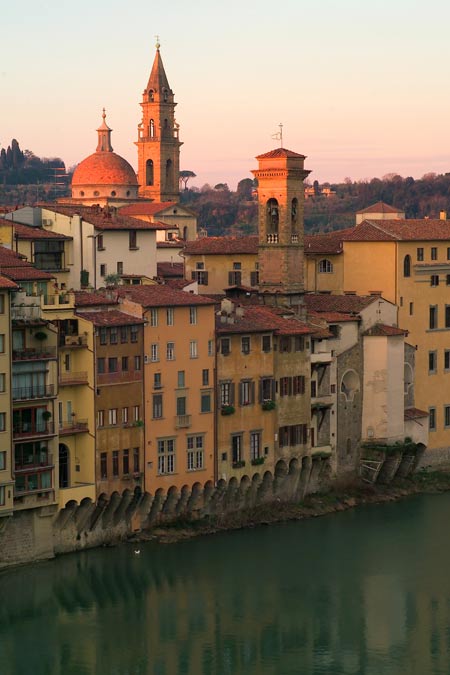 Yogis traveling to Florence will want to check into a Lungarno Collection hotel. Owned by the Ferragamo family, this group of boutique hotels-- all stylish and divinely luxurious-- has debuted a new service for guests: Tuesday and Thursday morning yoga classes on the roof of the Continentale, ideally situated in the center of Florence, next to the Ponte Vecchio, with rooms overlooking the River Arno. To quote The Globe and Mail: "Sessions in the highly meditative, energy releasing Kundalini yoga are led by Amanda May, a graduate of L.A.'s Golden Bridge centre where lithe Hollywood celebs such as Madonna, Ellen Pompeo and Cindy Crawford have practised their poses." The hotel also has a dreamy sky lounge for cocktails under the stars.
Other Lungarno Hotels include Lungarno Suites Florence and the Hotel Lungarno.
---