LUXURY HOTEL INSIDER
The Luxury Hotel Insider
: Exclusive luxury hotel deals, features and special rates from the luxury hotel experts at Five Star Alliance.
Named one of Tripbase's
Best Luxury Travel Blogs for 2011
, below are Five Star Alliance's newest articles featuring exclusive information on luxury hotels worldwide including special offers and deals at the world's best hotels.
---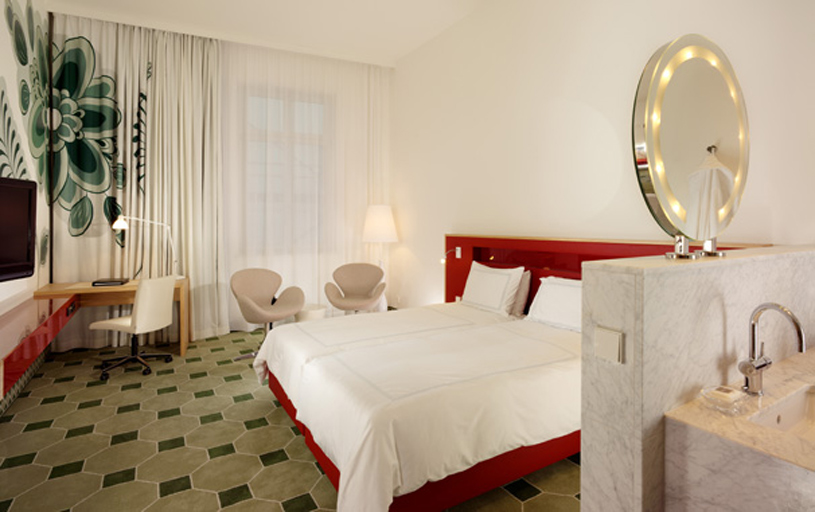 We at Five Star Alliance are all about the best and most luxurious hotels. We certainly keep up with the happenings in the luxury travel world and take pride in bringing our clients the latest luxury travel news. Keep up with our newest blog series where we'll be featuring luxury hotels opening in 2012 to stay on top of the trends and make your reservations at the newest hotspots.
The Swissotel Dresden opened in the center of the historic old town of Dresden, Germany in April 2012. Its central location, phenomenal shopping, entertainment, and nearby historic sites such as the Residenzschloss, the Turkish Chamber, the Semper Opera, Zwinger Palace and the Frauenkirche all make this luxury hotel the perfect destination for a trip full of culture and excitement. Its 235 elegant rooms and suites incorporate historic elements with modern interior designs and the latest technology. Make your reservations at this new luxury hotel and get ready to experience the excitement Germany has to offer!
---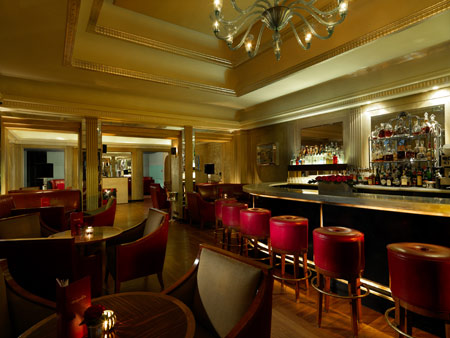 There's a very interesting split in the travel industry between business and leisure travelers. And if you're one of the business types, you know well that you're on the road constantly and the things that matter to you, travel convenience, efficiency, and connectivity, are almost the opposite of what a leisure traveler might want. If the word 'secluded' ever appeared in a hotel description, you'd cross it off the list immediately. So I'm here to use some adjectives you might appreciate hearing in describing some of the world's best business hotels. Today? London.
London is a very unique city when it comes to business travel. It has such an established infrastructure compared to some of the eastern centers of business and finance that hotels are in no short supply. Whereas somewhere like Hong Kong or Singapore has a much younger financial sector that was all fabricated at the same time, London is more distributed. It makes selecting great business hotels a little more depedent upon the needs of the individual than in other cities. For general purposes, Claridges is certainly one of the top business hotels in London. Rooms and suites are properly jacked into the information age, and an impressive ballroom can play host to large conferences and receptions, up to 400 people. A full-service business center will also make sure you have everything you need to put the finishing touches on your project. Meet with clients in the renowned Gordon Ramsay and unwind at the spa facilities within the Olympus Suite. If you need to be anywhere near Mayfair for your next business trip to London, check out Claridges.
---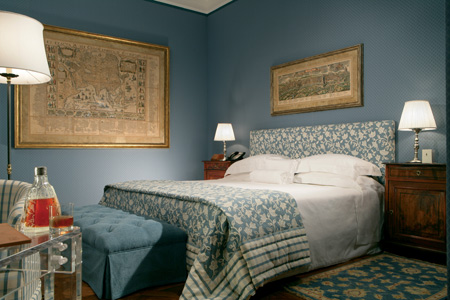 When the national title association was handing out the allotment of letters to the Villa Spalletti Trivelli, there must've been a 2-for-1 deal on ls. Either that or it is secretly run by a pack of llamas. In any case, the Villa Spalletti could certainly be described as lilliputian. The tiny hotel rests in the heart of Rome and has but 12 rooms and suites to its name. Many hotels champion their large inventories as a great strength, singing the praises of the customizability that the options deliver. I find that such an experience doesn't necessarily guarantee my perfect satisfaction though. By the same token, size can lead to a kind of standardization, where while you can pick between a number of five-star restaurants all the on the property, you still succumb to a feeling of sameness. You lose a sense of the specific charm of the city you've come to see.
In this regard, the Villa Spalletti Trivelli's small stature is precisely its strength. The hotel simply feels like Rome. You're nestled downtown, just moments from the Fontana di Trevi,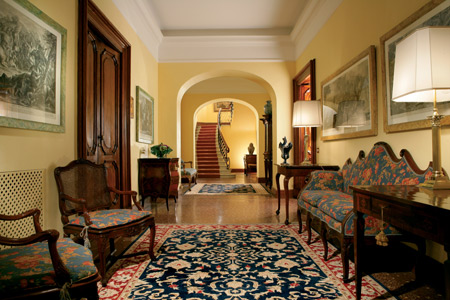 Quirinale, and the Spanish Steps, and the rooms and public spaces are filled with genuine antiques. Private gardens allow for you to experience a genuine moment of quietude away from the bustle of the city; and, with only a few other guests, that silence won't be interrupted. The on-site Health Center is a source of rejuvenating and relaxing wellness therapies. Elegant dining is available at the Papier Peint Dining Room, and it is just that, an intimate experience closer to a private meal than a night out, only with the freshest traditional Italian ingredients that you could only get at the finest restaurants. The next time you're headed to Rome, think about foregoing some of the bigger brand names for the authentic experience at the Villa Spalletti Trivelli.
---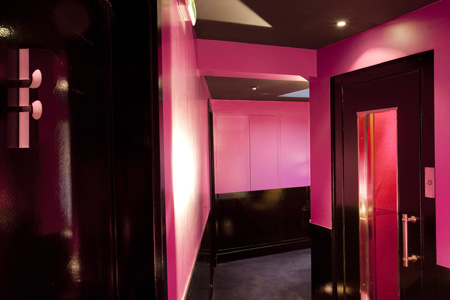 We at Five Star Alliance know that our travelers are in search of luxurious accommodations at the best prices available, so we go above and beyond to find the best promotional packages and specials to ensure you get the most from your hotel experience. We're thrilled to introduce our newest blog series where we'll be featuring luxury hotels that offer you more than just room-only rates. Whether you're traveling on business or pleasure, we certainly have something for you. Be sure to check in with us often to get the inside scoop on the best deals and packages available at luxury hotels all over the world!
I have a long-held fascination for the Mon Hotel Paris, so when I heard they were offering a special rate, I jumped all over the opportunity. Those who know me know that I have a special soft spot for smaller hotels. With a smaller inventory and often indepedent ownership, these hotels have the freedom to experiment in ways that larger brands cannot. Standardization is certainly valuable in the world where luxury is defined by certain expectations of service and amenities, but it is at smaller hotels like the Mon Hotel Paris where innovation can really shine. Its 37 rooms are distributed over six floors, each personalized in its own unique color and designed by Aurelia Santoni, and its contemporary take on Parisian luxury extends from its sleek, modern room design to the innovative French cuisine served at Mon Resto.
Book the special Five Star Alliance Rate at the Mon Hotel Paris and you'll receive, for the same price as the standard rate, a glass of champagne, a special welcome card, and free upgrade based on availability. It's the perfect chance to get something a little more special than you can find anywhere else, and that's exactly what Five Star Alliance and the Mon Hotel Paris are all about.
---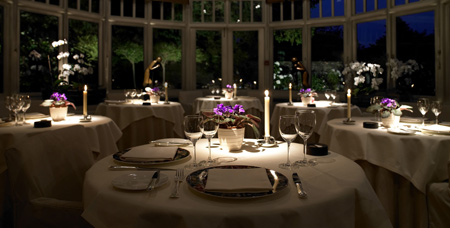 We understand that no one aims to come in second place; there is no recognition for mediocrity. We at Five Star Alliance understand better than anyone the importance of offering the most luxurious resorts in the world, so we notice what's going on in the industry, and it matters to us, because it matters to you. We work hard to offer you the best in the industry, and we'd like to welcome you to our second blog series where we feature the best and most luxurious resorts in the world. But don't take our word for it. These resorts have been recognized as the best in the business and have made the prestigious Condé Nast Traveler Gold List 2012.
The Condé Nast Traveler Gold List 2012 is the eighth of their annual lists, and the hotels chosen by their team of editors and experts are the best for service, food, location, rooms, leisure facilities, ambiance and design.
Le Manoir Aux Quat Saisons is featured on the Gold List 2012: Best for food. This luxury hotel is nestled in the beautiful Oxfordshire village of Great Milton in Oxford, United Kingdom, which is renowned as one of Britain's best gastronomic experiences. This luxury hotel is recognized for its two Michelin Star modern French restaurant for 27 years. The manor only has 32 rooms creating an extremely personal and intimate setting for guests. Le Manoir Aux Quat Saisons has a 2 acre vegetable and herb garden which adds organic produce to the kitchen and allows the chefs to create phenomenal, epicurean experiences!
Make your reservations at Le Manoir Aux Quat Saisons for a culinary and luxurious journey unlike any other!
---
What happens when you combine the location of perhaps the world's most famous film festival with an amazing beachfront? I could give you a bunch of illustrative analogies, but don't let me spoil the surprise. Why don't you head to the Hotel Martinez and find out for yourself? Zplage, which is both the hotel's private beach and the technical term for when your shirt gets stuck in your zipper, is one of the premiere beaches in the world. With over 400 sun lounges and a vast pontoon, you're free to enjoy the sights of the ocean and tan on the French Riviera, all without having to even dip your toes in the water unless you'd like. Dine right on the beach at the Zplage Beach Restaurant, or head indoors for a two-star Michelin experience at the Le Relais Martinez. The piano bar, heated outdoor pool, and 2500 sq ft of conference space mean that the Martinez can host whatever event you and your operating budget can dream up. It's a tragic oversight that so many people who think of France don't look past Paris because France has far more to offer. If you take a trip a little bit off the beaten path, the Hotel Martinez will make you quickly forget the way back, and you'll be so enraptured, you may even forget to return home.
---
Swissotel has just announced the official opening of the new Swissotel Dresden Am Schloss. The classic Swiss brand is bringing its crisp, smooth design to old town Dresden, a city that could certainly use a few more hotels to choose from. With an emphasis on the business traveler, the hotel is looking to cater to the large numbers of businessmen who find themselves with occasion to travel to the industrious city. A conference and convention space that spans almost 1500 square feet means the Swissotel has the freedom to host a party of almost any size. VIP events, meetings, social gatherings, and even weddings, can all be amply accommodated in the flexible and stylish space. The rooftop terrace is a great secondary space for smaller cocktail parties and receptions, and it boasts a stunning view of the nearby Hofkirche and surrounding city.
In the heart of the old town, the new hotel is perfectly placed for the tourists among us to get out and see the sights of dresden. The historic buildings, from the Frauenkirche to the Semper Opera, are anchor points for any visit to the city, and once you're done exploring the city, you can return to the Swissotel for a great meal at the Wohnstube, the Sitting Room, for modern Swiss cuisine. We're happy to see a new addition to the hotel catalogue in Dresden, and we're sure the Swissotel Dresden Am Schloss won't disappoint.
Photo via Swissotel Dresden
---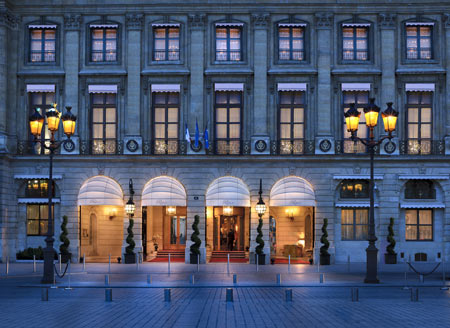 The Ritz Paris has a new oxygen treatment option available at its Ritz Health Club, and we certainly encourage you to check it out before this luxury hotel's doors close on July 31st, 2012 for an extensive 2 year renovation. Oxygen is an essential element for maintaining the vitality of the skin and is necessary for cell renewal and skin regeneration. With a partnership with the Ritz Health Club, Beauty by Clinica Ivo Pitanguy achieves anti-aging results through the unique method of using oxygen to carry ingredients to the heart of the skin cells without needles. After an hour, skin is firmer, deep wrinkles are filled, and the complexion is radiant. Make your reservation at the Ritz Paris and take advantage of this phenomenal skin treatment to come back looking years younger!
---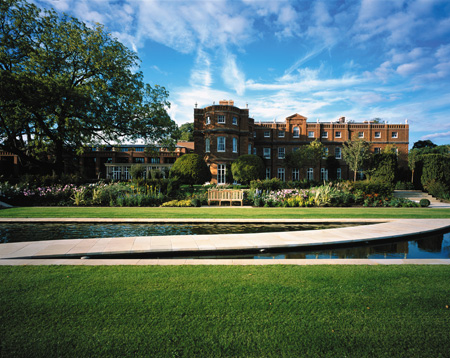 There's always a lot of hullaballoo around hotels in London. It's a major destination, and everyone wants to be in the middle of the action. The Grove, however, takes exactly the opposite tactic, catering to those of us who want to get away from the rush of the hectic city, and instead relax and enjoy the countryside. The 18th century house is such an idyllic backdrop for relaxation that I keep imagining I'll run into someone who claims to be named Ernest and has a ward of eligible age. While I doubt that a vacation to the country should result in an unexpected engagement, you can be sure that you'll come back from your own Bunburying feeling quite refreshed.
If there's one thing that goes hand-in-hand with a rejuvenating retreat, it's top-notch spa facilities. The Grove is a country estate in nearby Hertfordshire, and its spa facilities are second-to-none. 12 specially designed treatments rooms and a VIP double room are more than enough to serve up all of the latest in the various greek and latinate treatments: aromatherapy, thalassotherapy, phytotherapy, and hydrotherapy. If there's a prefix for it, they have a spa treatment of it. There is plenty of fine dining available on site, and you'll never be wanting for activities at the former home of the Earls of Clarendon. Sporty types will find ample tennis courts and an golf course that hosted the 2006 World Cup. So next time you need a break, pack up your hatboxes and sensational diary and head to The Grove in Hertfordshire.
---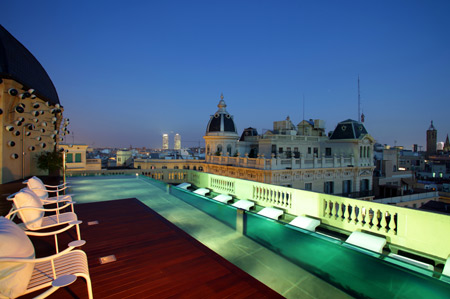 Conde Nast Traveler, purveyor of fine hotel reviews and travel advice, has just released its 2012 edition of the Hot List, a list of hotels that are setting the hotel world aflame with fresh designs and new concepts, or maybe just a solid new look at classic luxury. 41 reporters embedded themselves anonymously in hotels across the globe to review their targets. What results is a list of 121 hotels around the world that are so on fire they should be put on your watch list, just in case they end up burning down.
Ohla, la. The Ohla Hotel in Barcelona is looking good enough to make a slightly inappropriate reference to consuming it. Wow, I could just eat it up. Near the Plaza de Catalunya, the small 74-room boutique was built just last year, and while it's still just stretching its legs, it came out of the womb a freakishly mature adult, ready to hit the ground running. Customizability is the name of the game at the Ohla Hotel. Its 24-hour room service offers an a la carte menu for just about everything in the room. Sheets, pillows, aromas for your linens, even films and music. Yeah, you saw that right. You can select what your sheets smell like. I often make the same choice every night at home, but that's more an indication that I should stop eating take-out in bed. Take-out certainly won't be necessary at the Ohla. Just head to the Sauc restaurant which has gotten its very own gold (Michelin) star. If you want to see downtown Barcelona from a room you've made your very own, you can't do better than the Ohla Hotel.
---