LUXURY HOTEL INSIDER
The Luxury Hotel Insider
: Exclusive luxury hotel deals, features and special rates from the luxury hotel experts at Five Star Alliance.
Named one of Tripbase's
Best Luxury Travel Blogs for 2011
, below are Five Star Alliance's newest articles featuring exclusive information on luxury hotels worldwide including special offers and deals at the world's best hotels.
---
From Gary Stram, Director of Sales and Marketing, The Regency, A Loews Hotel
You have three choices when dining at The Regency, A Loews Hotel in New York City. Whether it is a power breakfast, light lunch, afternoon wine and hors d'oeuvres, pre-theater dinner, or late night candy - you can indulge in it all without leaving The Regency.
First. Feinstein's at The Regency - Yes, it's that Feinstein. The world-famous, Grammy-nominated, pop vocalist, songwriter, and music archivist, Michael Feinstein. He is the owner of the restaurant which brinds fine dining together with cabaret. Second. The Library. It's a place packed with literary legends - well, in spirit, at least. Shelves of books and comfy banquettes grace The Library where menus and wine lists make for some of the best reading around. Lastly, 540 Park which has long been regarded as the home of the power breakfast. 540 Park is also a serious contender when it comes to memorable dinners. The entrees, environment, and service are always exquisite. In fact, all that's missing is the pretention.
Mr. Stram at the hotel was nice enough to share with us three recipes that are just screaming to be recreated. See the first of the three after the jump ...
Penne with Vodka Sauce

Equipment Needed

1 - 10 quart stock pot

2 - 8 quart sauce pot

1 colander

1 - 10" saute pan

1 - cutting board

1 - 10" chef knife

1 wooden spoon

Ingredients Needed

2 lbs of Penne Pasta (Either Penne Spinach Rigate or Penne Rigate)

1 - 32oz can of whole peeled tomatoes with basil

1 - 32oz can of crushed tomatoes

1 head of garlic, thinly sliced

1 Spanish Onion

1 bunch of fresh basil, julienne

1 bunch of fresh thyme, chopped fine

1 bunch of fresh, oregano, chopped fine

Extra Virgin Olive Oil

Unsalted Butter

Kosher Salt

White Pepper

6 oz of a Premium Brand of Vodka (Grey Goose or Absolute)

4 oz of Burgundy Wine

1 quart of heavy cream

Preparing the Sauce and the Pasta

1. Boil 1 gallon of water in the Stock pot and add 3 oz of kosher salt, and 3 oz of olive oil.

2. While the water comes to a boil, preheat the sauce pot and oil and butter.

3. Add the diced onion, and sweat, than add the sliced garlic.

3. Add the herbs and add the Burgundy Wine and reduce by half.

4. Add the canned tomato product and allow to simmer for 45 minutes

5. Allow to rest.

6. Add the 2lbs of pasta and stir constantly

7. Allow to cook about 8 minutes which is a little under al dente.

8. Pour into the colander

9. Toss with a little Extra Virgin Olive Oil

10. In the other sauce pot put on a low heat, take the pot off the heat, add the 4oz vodka.

11. Add the Heavy Cream and reduce by half and add the tomato sauce.

12. Combine the Pasta with the Vodka Sauce and portion into your favorite dish.

Enjoy.
The Regency, A Loews Hotel, Official Site
The Regency, A Loews Hotel, Five Star Alliance
---
From James McBride, General Manager, The Carlyle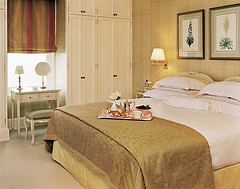 In case you missed it, the Carlyle Hotel in New York City just announced the reopening of the Royal Suite after a redesign by Alexandra Champalimaud from Champalimaud & Associates (ACA) in Manhattan. The suite (seen at right) is inspired by the legendary and long list of celebrity and regal guests who have stayed at the hotel. The suite has been completely refurbished, but still retains the feel of the private residence it emulates. As the Carlyle says, they attract "the highest echelon of clientele and the Royal Suite exceeds their every expectation as a space truly at the pinnacle of luxury." Want to reserve it for a day or a month? You can't do it online so contact the Carlyle reservations to make it your own.
More information and pictures below
NEW YORK - The Carlyle, A Rosewood Hotel is thrilled to announce the opening of the Royal Suite. These luxurious quarters, in name inspired by the long list of rock n' roll and regal guests who have stayed at the legendary property, has been completely refurbished; freshness and modernity have been added to the decor yet it still conjures the intimate feel of a private residence.

A space of grand proportions and fabulous history, the Royal Suite is an example of urbane luxury combined with intimacy of design. Set on the 22nd floor of the legendary Carlyle, the duplex suite boasts extensive spaces - two full bedrooms, two full baths, a sizable dining room and kitchen and an expansive traditional living room with lofty ceilings and two-story views of the Manhattan skyline.

An impressive fireplace with faux quartz logs towers the living room, adding to the drama and the modernization of the suite, while resonating with the hotel's renowned Thierry Despont-designed lobby. Royal Suite guests can admire the antique books, sunburst clocks and Lars Bolanger orange lacquered boxes or read from beautiful glossy paged books on Harley Davidson, Tom Ford and other cultural icons.

The living room includes a sage velvet seating group at the fireplace, an elegant English secretary for jotting notes, comfortable armchairs by the windows, an expansive desk and finally - for the occasional musician in residence - a Steinway piano. Wall-mounted plasma -screen televisions and state-of-the-art acoustics are also present. To be noted are the draperies by Dedar, the Nina Campbell trims on the draperies and furniture and the Stark carpeting.

The Royal Suite has always been, and will continue to be considered, a legendary New York suite. The renovations have maintained the integrity of a historical New York space while elevating sophisticated design to an experience of unique refinement and style. The Carlyle attracts the highest echelon of clientele and the Royal Suite exceeds their every expectation as a space truly at the pinnacle of luxury.

The redesigning of the suite was handled by Alexandra Champalimaud from Champalimaud & Associates (ACA). ACA is a full service interior design and interior architecture firm that specializes in high-end hospitality design. The company has built its reputation through its work with a discerning international clientele including Four Seasons, The Maybourne Group and The Savoy Group amongst others. ACA maintains a staff of approximately twenty-five, with central offices in Manhattan and supporting offices in Montreal and Los Angeles.

Standing at the corner of 76th Street and Madison Avenue, The Carlyle has been an enduring landmark for East Side social life since 1930. The internationally-acclaimed hotel has always been ranked amongst the best in the world and was recently named one of the top 20 U.S City Hotels by Harper's Hideaway's 2005 Reader Survey. The Carlyle is a 35-story, 179-room hotel that has long understood the aesthetic sensibilities of its clientele and is surrounded by galleries, designer boutiques, and the city's most popular art museums. Embracing a passion for the arts, pianos grace 23 of the suites, and most rooms have views of Central Park.
The Carlyle, Official Site
The Carlyle, Five Star Alliance
---
From Pascale Adoner, Director of Sales and Marketing, Hotel de Crillon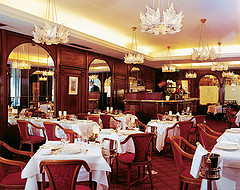 Whether you live in Paris or are just visiting, there are two great reasons to visit the Hotel de Crillon's restaurant Les Ambassadeurs.
First? Lunchtime.
The restaurant Les Ambassadeurs proposes a menu particularly adapted to those who seek an elegant place to organize their business lunches. Based on a choice of two entries, two dishes and two desserts, the tasting is accompanied by mineral water, matching wines chosen by the sommelier and coffee. The menu is all inclusive: 100 euros. Lunch served from Tuesday to Friday, from noon to 2pm.
Wanna set it up? Your privileged contact: Patrice Willems, phone: +33 1 44 71 16 16 or through e-mail at ambassadeurs@crillon.com.
The second reason to visit Les Ambassadeurs even if you are living in Paris or staying somewhere else (which we don't recommend), is because this restaurant is winning all of the awards.
Soon after the Michelin Guide and the Pudlo Guide Paris 2006, the Bottin Gourmand awards the Ambassadeurs. In February 2005, the gastronomic restaurant the Ambassadeurs obtains a second star with the Michelin Guide. This new 2005 edition of the Guide awards the hard work of Jean Francois Piege and his team just one year after his arrival in the kitchens of the Hotel de Crillon. Les Ambassadeurs is one of the three Parisian restaurant to have been awarded with a second star and one of the 15 Parisian establishments to be 2-starred.

In October 2005, the Pudlo Guide Paris 2006 also awards the Ambassadeurs and more specifically Jean Francois Piege as it distinguishes him as Chef of the Year. The launch of the Pudlo Guide Paris 2006 was a real event on October 24th in the Ambassadeurs and the Jardin d'Hiver.

And on November 15th, the famous gastronomic guide the Bottin Gourmand awards the Ambassadeurs with the best note possible being 4 stars.
Almost seems worth a trip to Paris just for one lunch at the Hotel de Crillon ...
Hotel de Crillon, Official Site
Hotel de Crillon, Five Star Alliance
---
From Michael Winfield, President & CEO, Cambridge BeachesHere is the inside scoop about this classic bermuda resort from the CEO ...
20 cottages were totally refurbished in 2005 and this winter Allspice, Sunset, Sunrise, Turtle Cove South and Turtle Cove Suite will all receive new bathrooms, new flooring, new furniture and new decor. 15 other unites will receive all new devor as well. We are planning to replace existing televisions with new flat screens. High Speed Internet access is now available in all cottages. We are waiting to hear from contractors, but I can tell you that we are very excited about creating a brand new experience at Cambridge Beaches. A multi-level pool with waterfalls and terraced seating areas overlooking Mangrove Bay is proposed. This will create an incredible atmosphere around the Main House, not only for recreation but also for another incredible dining experience. We hope construction will begin soon and plan to have this open by March. As I said, this is not confirmed quite yet, but stay tuned!
In addition to the message we received above from Mr. Winfield, we want to make sure that you know that this winter, after the success of the infinity pool at "North Rock", Cambridge Beaches will be renovating "Sunset" and "Bay Grapes" to become pool suites as well!
Cambridge Beaches
, Official Site
Cambridge Beaches
, Five Star Alliance
---
From Kim Severini, Vice President of Sales & Strategic Marketing North America, Red Carnation HotelsIt's about time someone published a thorough tips list for women travelers. Red Carnation Hotels did just that, in counseling solo women travelers on all matters safety. (Though we are a bit perturbed by #34. Bathroom floor prowlers? As if.)
SAFETY FOR FEMALE TRAVELLERS The Red Carnation Hotel Collection is pleased to provide 50 proven safety tips for women.

As with all such advice, some of it may seem overly cautious, alarmist even. But the cliche holds: it's better to be safe than sorry, especially when you're in unfamiliar surroundings. By observing these commonsense rules, you can enjoy trouble-free and secure travel just about anywhere in the world.

Choosing your hotel
1. Think intimate: small is smart. The staff should be able to distinguish between guests and strangers, and the hotel management will have taken a closer interest in its staff. Just as importantly, the smaller the lobby, the more unfamiliar faces stand out.
2. As a rule of thumb, affluent residential areas have more efficient transportation and streets that are less threatening for newcomers. Ask a female hotel employee whether she feels safe in the area at night.
3. A reception and concierge desk near the entrance is a useful deterrent to intruders.
4. The hotel should ensure privacy for guests checking in: no one should be able to overhear your name, room number, or other personal information.
5. Your room number should be written on the key envelope, not mentioned aloud or inscribed on the key so that anyone finding your key cannot access to your room.
6. Find out if there's valet parking, and it will be available when you need it.
7. Finally, ask about all the above when you book, not when you check in: you'll be tired and distracted, and too ready to compromise. And how the hotel responds to your questions will reveal how woman-friendly it is. If they seem put out or irritated by your requests, book elsewhere.
Your room
9. Request a room near the elevators, and have your key ready to use when you leave the elevator to avoid advertising your location.
11. You also want to be away from emergency exits, which might give unwanted access to the hotel, and on an upper floor away from terraces.
12. The door should have double locks - one of which is a dead bolt - and a peephole. Carry a rubber doorstop for extra security, or ask the hotel to provide one.
13. The 'Please make up this room' sign tells everyone you're not in. Not a good idea. Call housekeeping instead.
14. Conversely, the 'Do not disturb' sign will make the room seem occupied even when you're out.
15. Put expensive clothing on hangers under other garments. Thieves tend to grab what they can see.
16. Always lock your valuables in the in-room safe or the front-desk safe.
17. If your bag is stolen in the hotel, immediately recruit management to search for it. Most likely the thief will take easily stored items and dump the rest.
18. When on the elevator, stand near the elevator buttons with your back to the wall; if threatened, push all the buttons at once.
Out and about
19. Use a street map to familiarise yourself with the basic layout of your location before leaving the hotel. Getting to know what streets lead into others will help you feel more secure about your surroundings. Your hotel concierge or a female employee can mark any dangerous areas within the city on your map.
20. Once on the street, use a pocketsize guidebook to avoid looking like a tourist.
21. Don't dress in a way that makes you stand out. Avoid jewellery - even a fake gold chain may be ripped off your neck.
22. Secure a money belt with your belt loops. That way it won't fall from your waist if it's cut. If you are wearing a small backpack then wear it on the front with the flaps against your body.
23. Be especially wary when getting on or off a bus, train, or escalator; these are among pickpockets' favourite opportunities.
24. Carry just one credit card, and photocopies of important documents. Divide money into small and large denominations so you're not constantly bringing out a wad of notes. Always spend time familiarising yourself with foreign notes and coins before you need to use them.
25. Have the appropriate coins or notes ready as tips for porters and doormen.
26. Use prepaid phone cards instead of carrying your card number.
27. Ask the concierge to make your restaurant reservations. The restaurant will want more business from the hotel: use this to your advantage, have him or her say "Please take care of our guest, she's coming alone and will need a taxi home".
28. If you think a car is following you, turn and walk the other way. But don't panic: make sure you know where you're going.
29. If you are forced to ask for directions, approach families or women with children. To be extra safe mention that you're meeting your partner at your destination.
30. On the pavement, keep your handbag and other valuables away from the street side. On escalators, hold your possessions away from the opposite ramp.
31. If attacked, yell as loudly as possible.
Getting there
32. Use covered luggage tags. And write your office, not your home address.
33. Always keep all your cases locked.
34. Try to use the corner cubicle in public lavatories. That way there's only one way in for floor thieves.
35. On overnight flights, keep your valuables on your person. When you go to the lavatory, take your purse with you.
36. If it's your first time to a city, ask female flight attendants and passengers about the safety of your destination.
37. In busy areas, if you are depositing possessions on the passenger seat or in the trunk/car boot then re-lock the car doors before walking around to the driver's side.
38. Don't get out of a taxi until you're sure you've reached your destination and have paid the driver and checked that you have received the correct change after you have paid.
39. Stay close to your valuables when passing through airport security.
40. If you put a carry-on bag on the floor when sitting in a restaurant or other public area, put your foot through the strap.
41. Tear your name and address off magazines before leaving them on the plane. No need to tell the world that you're not at home.
42. Always carry a mobile phone: rent one if necessary. Put your hotel's number, and the police, on speed dial.
43. On first arrival, the layout of airports can be very confusing. If you're hiring a car, it may also be worth paying a – marked, official - taxi to lead your rental car to the main road.
44. On the road, if someone tries to get your attention or your car is bumped, don't stop until you arrive at a well-lit and busy area. Alternatively, stay in the car and sound the horn until someone comes to your aid.
45. If you're at all suspicious when help does apparently arrive, don't open the window. Hold your license up against the glass.
46. In the car, don't advertise potential vulnerability by displaying maps and guidebooks. Keep possessions out of sight: remember when hiring that hatchbacks may leave your luggage in plain view.
47. Always try to park facing out in case you need to make a speedy departure.
Sound practice
48. Don't just check the weather at your destination. Make a note of when the sun rises and sets, as well.
49. Prior to your departure, research the safety of your destination on the Internet.
50. If you're the victim of a crime, contact the police and keep the report. Insurance companies require this documentation.
Red Carnation Hotels
, Official Site
---
From Michael Winfield, President & CEO, Cambridge BeachesOur friend Mr. Winfield recently sent us an update on the goings-on at his property in Bermuda. Here are a few of the more interesting 'Did You Know' facts:
- Bermuda's first and only private luxury pool suite opened at Cambridge Beaches in May. Guests love 'North Rock' with panoramic waterfront views and the new infinity pool. - Based on 'North Rock's success, two more pool suites are planned. - The previous five-night minimum from June-August changed to four nights. - Jacket and tie are no longer required in the restaurants. - There were the highest number of weddings, honeymoons, anniversaries, couples and family visits in 2005 then ever before. - For the first time, family programs were in place not only at Christmas and Easter, but between May-August as well (this will continue throughout 2006). - Couples loved the private beach dinners for 2 and the romantic island interlude. These were SOLD OUT throughout the summer. The proposal/romance concierge (yes, there is one) was kept busy! - 98.2% of guests responding to comment cards said they plan to come back.
Cambridge Beaches
, Official Site
Cambridge Beaches
, Five Star Alliance
---
From Hans Bruland, General Manager, The Hay-Adams HotelA note from our friend at this historical hotel in Washington, DC:
Our four-month restoration in 2002 involved an expenditure totaling over $20 million, adding guestroom comforts, luxuries and advances in technology for a superb new presentation. Modern amenities such as high speed Internet access and component audio systems now complement the hotel's traditional luxury.
As we continue in our quest to update the Hotel whilst maintaining the timeless elegance, the Hay-Adams has recently undergone a $1 million upgrade including a modern luxurious business center that meets the needs of the global traveler.
And in case you missed the
Commander-in-Chief
with Geena Davis last fall:
The Hay-Adams was mentioned twice in the second episode "First Choice" of the ABC drama about a female President in the Office.
It pays to be the only hotel which overlooks The White House.
The Hay-Adams
, Official Site
The Hay-Adams
, Five Star Alliance
---