LUXURY HOTEL INSIDER
The Luxury Hotel Insider
: Exclusive luxury hotel deals, features and special rates from the luxury hotel experts at Five Star Alliance.
Named one of Tripbase's
Best Luxury Travel Blogs for 2011
, below are Five Star Alliance's newest articles featuring exclusive information on luxury hotels worldwide including special offers and deals at the world's best hotels.
---
Originally published in the Bangkok Post, Wednesday 21 December 2005 By George Romanyk Even as I write this, the guttural growl of a Harley Davidson (not to mention a roaring chorus of other Harleys, BMWs and Japanese superbikes) is still echoing in my ears. You see, I've just returned from a five-day road trip to the Golden Triangle, along with an assortment of biker friends who also happen to be company presidents, CEOs and entrepreneurs. Now, before you start wondering what this has to do with a column on branding (or start snickering "born to be mild''), I'd like to share some insights I garnered during the course of this challenging and exhilarating journey. While our group was on the road during the days, we certainly weren't averse to roughing it. We got our motors running, we headed out on the highway, and when the highway occasionally deteriorated into a rutted, muddy track, we were well up for it. Ah, but at the end of each day, the discomforts of the road were eased by the unique boutique resorts on the Mekong our assistants had booked us into, as well as some first class meals, and the imported wines and cheeses and some truly tasty Cuban cigars we had smuggled along in our saddlebags. My point (besides making you green with envy) is that our little jaunt was a good example of a major change sweeping the world right now in how luxury is perceived and experienced. For many of the "baby boomers'' and the swelling ranks of "Generation X'' (people born between 1964 and 1976 or thereabouts), the era of ostentatious luxury is over, and instead they are demanding authenticity and adventure. We still want our luxuries, but we want them contemporary, with a hip twist; luxury that "keeps it real'', as it were. Particularly in the luxury hotel and travel sector are these demands being felt. At the recent International Luxury Travel Market in Cannes, the age of ostentatious travel was proclaimed to be over, with new research unveiled showing today's wealthy travellers needed "authenticity, exclusivity and attention to detail'' to keep them happy. "Personalised'' and "private'' were also big buzzwords. In a survey of 248 travel suppliers from around the world who service the needs of the affluent, 84% agreed their clients sought a more subtle form of luxury than in the past. The survey, by the Future Foundation, concluded: "No longer content to visit the classic haunts of the rich and famous, today's luxury traveller would prefer to be a trailblazer, albeit in great comfort, and visit new and less discovered destinations.'' According to ILTM's founder, Serge Dive: "The tastes of the rich don't stay still. Our research shows that the luxury traveller of today doesn't just want to be pampered-- they want a total escape from their highly pressured lives and they want to come back from their holiday having experienced something new.'' Another trend is that as more people get rich younger, they take less formal but shorter trips, with technology allowing them to blur the line between business and leisure travel. Also, little things often count for much: 65% of those surveyed said the toiletries on offer in a hotel were important, with recognised luxury brands meriting maximum brownie points. After our trip, I can heartily agree with that last point: eight windblown hours in the saddle of your steel steed, and you really appreciate little treats like a scented hot towel, some luxurious shampoo and shower gel, and a unique hotel experience. These findings also echo research our own firm has conducted during the course of a major re-branding project with one of our major hotel clients. Our research results concur that well-heeled travellers prefer service that gives them space to be themselves and to feel totally relaxed (while still meeting their every need of course) rather than the more intrusive and obsequious style of service offered by many five-star hotels in the past. A recent article in Newsweek notes: "Travel used to be divided into two basic categories: luxury and no-frills. The former consisted of flying first class, dining at three star restaurants and staying in decadent comfort; the latter involved backpacking and camping out in some of the world's most beautifully remote spots. Now, tourists can have their wine and see the wildlife too; communing with nature and living the good life are no longer mutually exclusive.'' Newsweek defines this as "rustic luxury'': a group of wealthy "new nomads'' toting Mount Everest-ready backpacks by luxury luggage-makers like Tumi, who want to visit the most rugged deserts, jungles, mountains and forests, and go rock-climbing and wreck-diving, but want their designer coffee and Egyptian cotton sheets when the day's adventuring is done. There is also the element of one-upmanship among this growing demographic. As one new nomad tells Newsweek: "It's a status game. Staying at the Four Seasons seems kind of bourgeois, since any doctor from the Midwest will know about it.'' To me, getting wild without losing the luxury is like a marriage made in heaven. There's nothing like zipping through rugged jungle tracks on your hog, getting down and dirty, when you know that some prime rib, a nice glass of Bordeaux and a fat stogie have your name on them. George Romanyk is chief executive officer of Creative Inhouse, a local branding consultancy and ad agency.
---
The NYT Travel section once again rocks my world, with superb pieces on St. Barts, the popularity of UNESCO World Heritage Sites (and the unchecked development that can plague towns that are named to the list), Aspen's Winter X Games, comparing online Vacation Packages, and the unrivaled, glamorous destination of South Beach.
---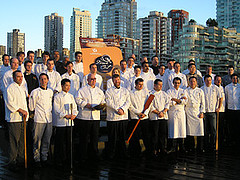 It's back. The very popular, very scrumptious, very affordable Dine Out Vancouver. Where-- for a limited time-- lucky foodies can enjoy three-course dinners at 144 of Vancouver's hottest restaurants for $15, $25 and $35 per person. But hurry! Tables fill up fast, and time is running out (from January 20 to February 2). Vancouver.com's compiled a full list of all participating restaurants according to the price-tiered menus.
---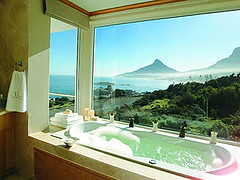 Situated in perhaps the most stunning city on earth, perched above the Atlantic with dramatic views of the Twelve Apostles mountain range, the hotel and spa is often deemed the best in Africa (sure Leading Hotels may be a teensy bit biased in their choices, but mags like CNT also rave that the Twelve Apostles is pretty darn hot...) Swim in the rock pool overlooking the ocean, enjoy prime diving spots nearby or head out on whale and dolphin watching excursions. In the afternoon, relax in the exceptional Sanctuary Spa (the treatments are beyond lavish), or imbibe a few drinks on the terrace. Though tearing yourself away from the luxury of your room may prove difficult. Further enticements include some sweet special packages, i.e. Stay Four Nights For the Price of Three! Along with the complimentary 4th night, you'll score some fun amenities: welcome drink on arrival, full South African breakfast daily, luxury shuttle transfers within a 13 km radius, and daily wine tastings.
Twelve Apostles Hotel and Spa, Official Site
Twelve Apostles Hotel and Spa, Five Star Alliance
---
A big thanks to the Mobissimo blog. (Flights from SF are $435, from NYC $389, and LaLaland $325.)
---
IHT's got the skinny on a newly released study on the health dangers for those traveling to developing countries. Fun stuff like mosquito-born dengue fever (aka bone-crushing disease) and parasite infections. Two thirds of travelers to the developing world get sick, and the study-- which contains the most comprehensive records of those travelers treated at travel clinics-- provides a real blueprint for doctors. For more gory deets (parasites, bugs, worms, mosquitos...), check out the related CNN.com article.
---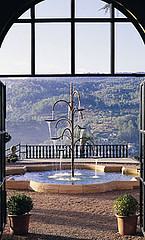 Discover the ultimate in luxury and seclusion at this elegant 17th century hacienda on the mesmerizing Mediterranean isle of Mallorca. Dating from 1672, the Gran Hotel Son Net features an exquisite patio, terraces, the original interior beams, beautiful views of the surrounding countryside, and walls graced by an awesome collection of modern art. And with only 25 rooms and suites, guests are ensured the utmost in privacy and the most attentive of service. The perfect Valentine's retreat includes two nights accommodations, two Son Net breakfasts, a bottle of cava and fresh fruit arrangement in-room, and a romantic candle-lit dinner at L'Orangerie restaurant. Prices starting at EUR 225 per person, valid Feb 10-28.
Gran Hotel Son Net, Official Site
Gran Hotel Son Net, Five Star Alliance
---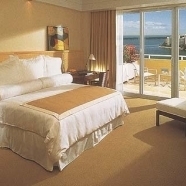 Happy 5th to the Mandarin Oriental Miami! What's in store for this year's big birthday bash? Why, lucky guests can pamper themselves with a free night at this most luxurious and swanky of Miami's oceanfront properties. With the "Fifth Anniversary, Fifth Free Night" package, reserve five nights and get the last one free. Even better, if you too are celebrating a fifth anniversary, book the "Five Year Celebration" package and receive all kinds of goodies. Accommodations for two nights, a five-year anniversary gift made of wood, five-piece gift box from Norman Love Chocolates, and a $50 resort credit to use in the restaurants, bars, beach club, and spa, starting at $915.
Mandarin Oriental Miami, Official Site
Mandarin Oriental Miami, Five Star Alliance
---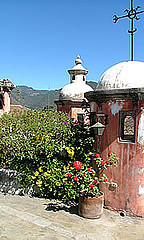 Ringed by volcanoes, brimming with colonial charm, Antigua has become a hotspot for savvy travelers, who are enchanted by the pastel facades of churches and large Spanish houses, cobblestone streets lit by antique street lamps and Mayan markets. This town is the essence of romance. But finding a decent restaurant may prove difficult. Clinton may have dined at La Fonda de la Calle Real, but forget it— this place has gone to the dogs. Avoid Frida's at all costs, where overpriced Mexican fare is bland and mediocre. Near the Parque Central, Monoloco serves ghastly American-style bar food to a crowd of eager Norteamericano youth and Guatemaltecans from the capital who trek to scope Antigua's bar scene on the weekends. So what's a hungry gal to do? Head to the exquisite, romantic Panza Verde, set in a graceful colonial building with candle-lit walkways, garden courtyards with fountains, and a menu that includes such delightful dishes as tenderloin slathered in mushrooms and escargot.
---
The sights, the eats, the Turin Olympic transformation... CNN.com Travel's got it covered. (But the best time for experiencing the city's marvelous renaissance may be after the Feb 10-26 Olympic Games, when visitors can enjoy a year full of festivals sponsored by UNESCO, sin the crowds.)
---