LUXURY HOTEL INSIDER
The Luxury Hotel Insider
: Exclusive luxury hotel deals, features and special rates from the luxury hotel experts at Five Star Alliance.
Named one of Tripbase's
Best Luxury Travel Blogs for 2011
, below are Five Star Alliance's newest articles featuring exclusive information on luxury hotels worldwide including special offers and deals at the world's best hotels.
---
We can't think of a better place to celebrate our country's Independence Day than our nation's capital! Take advantage of the mid-week holiday by taking an extra-long weekend to explore and take in everything DC has to offer. With 37 luxury hotels located in various parts of the city, Washington DC certainly has the perfect hotel for your individual stay. Take advantage of the free Smithsonian Folk Life Festival which celebrates unique cultures with music, food, demonstrations, and more on the National Mall as well as the patriotic programs put on at the National Archives, the National Cathedral, and the Smithsonian Museums. For more information about the happenings in Washington DC, check out washington.org. Explore the various hotel options and make your reservations in Washington DC to ensure you're in on all the action this Fourth of July!
Posted in:
North America
,
United States - South
,
Washington, DC
,
Travel with Kids
,
Business Travel
,
Food and Wine
,
Luxury Suites
,
Luxury Shopping
,
Festivals and Concerts
,
Historic Hotels
---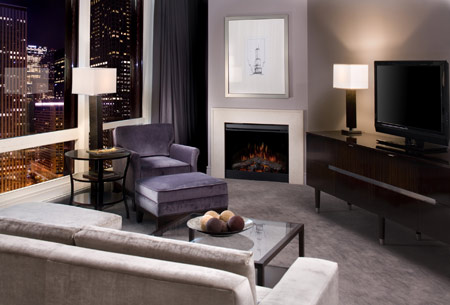 We at Five Star Alliance know that our travelers are in search of luxurious accommodations at the best prices available, so we go above and beyond to find the best promotional packages and specials to ensure you get the most from your hotel experience. We're thrilled to introduce our newest blog series where we'll be featuring luxury hotels that offer you more than just room-only rates. Whether you're traveling on business or pleasure, we certainly have something for you. Be sure to check in with us often to get the inside scoop on the best deals and packages available at luxury hotels all over the world!
Good news for the lovers of the gustiest of cities, where the wind cuts the summer heat. You can take advantage of the summer special at the Trump International Hotel and Tower Chicago to save on one of the most luxurious stays in the city. For a limited time, grab 15% off a two-night stay and 30% off a three-night stay. At that rate, the third night is practically free.
The Trump Tower, umm, towers above the skyline, giving an unprecedented view of Chicago's gorgeous city scape from any of the rooms on the higher floors. Stay in any of its 121 suites for floor-to-ceiling windows, a sitting area with sofa bed, and full urban-style kitchens. Whether you're coming for business or pleasure, with a discount like this, there's never been a better time to stay at the Trump International Hotel and Tower Chicago.
---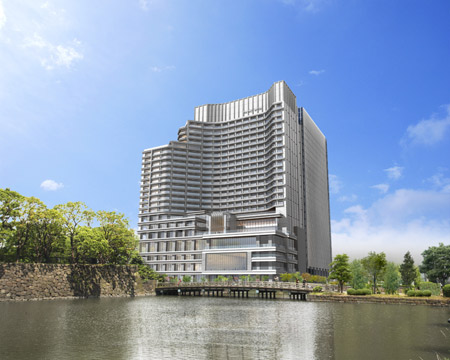 Five Star Alliance's sister publication, Luxury Travel Advisor recently had the pleasure of touring the brand new Palace Hotel Tokyo. Travel Guru Joe Pike (you can read more from Joe here: http://www.thejoepikeblog.com/) offers the following details about his recent stay:

Demolishing an iconic hotel isn't always a smart decision for a tourism-entrenched city to make, but when you replace it with a new, luxurious, $1.2 billion, modern chic hotel bearing the same name, it quickly turns into one of the best business decisions a destination can make.
Luxury Travel Advisor toured Wednesday the new Palace Hotel Tokyo, which officially reopened on May 17. It replaced the previous Palace Hotel Tokyo, which opened in 1961, was located at the same site and knocked down in 2009.
Here's what you need to know to pitch one of Japan's hottest new hotels.
The Rooms
All of the rooms face one direction, meaning every VIP, no matter what category they are staying in, gets view of the city.
Luxury Travel Advisor stayed in room no. 2207, a Club Deluxe Room W/ Balcony. Note: not all of these rooms have balconies, so be sure to request a balcony. Without a balcony, the room simply lacks one of our favorite features. There is nothing like seeing the city lit up at night, while enjoying a beverage on the terrace.
The best room here is the Palace Suite, which is the hotel's version of a Presidential Suite. The room is roughly 2,200 square feet. It comes with one bedroom with double beds, but can also connect. There are a lot of powerful colors in this room, including a lot of black and gold throughout the bedroom. Note: This room is a traditional Japanese style room and it's typical for Japanese couples to sleep in separate beds. There is also a very large balcony, 60-inch televisions in both the bedroom and the living and a separate kitchen and dining area. Tip: The dining area can be used for private dinners, including wine and sake pairings.
Restaurants and Bars
All of the restaurants are open to locals, which is why it is very important for advisors to book reservations for VIPs at least two weeks in advance since there is a huge local contingent of businessmen who frequent the hotel's restaurants.
The Grand Kitchen is located on the first level and where breakfast, lunch and dinner are served. Nice Touch: There is a small garden area outside that seats roughly 25 guests while another outdoor terrace area can seat up to 40 guests. Tip: Both outdoor areas can be rented out for small groups. The Grand Kitchen serves a number of cuisines from pasta to pizza to paelle. We ordered the "Hirata Farm" Pork Loin with mash potatoes, mushrooms and sage.
The Palace Lounge is a great place to have a cocktail. It has a very living room type feel and feels very homey. The lounge also has a piano with live performances nighty. Afternoon tea is served here from 2 - 4p.m. with more than 45 different teas offered.
The Royal Bar, located on the first floor is a very sophisticated bar with an impressive piece of abstract art occupying an entire wall. Fun Fact: The piece of an abstract dragon is meant to be an ode to the year the hotel reopened.
Wadakura is the hotel's signature restaurant, serving such Japanese favorites as sushi and tempora. It seats up to 118 people but is so scattered that it doesn't feel so large. In fact, there is a separate Tempora bar, called Tatsumi, located within Wadakura. Nice Touch: The restaurant offers nine private rooms, serving anywhere from four to 10 people. Note: We were told these are usually the first rooms to be reserved so be sure to book this at least two weeks in advance as well. Also, located within Wasakura is a separately managed sushi bar as well as Go, an area dedicated to teppanyaki.
The Crown restaurant is the hotel's French dining option. This restaurant has a strong art deco feel with floor-to-ceiling windows, offering an incredible view of the city.
Prive is another impressive lounge. It's very similar to the Palace Lounge except its a bit sexier, a bit more modern chic. Like the Palace Lounge, it also offers tea, but with a more French inspiration. The ambience of this lounge is designed to give VIPs a forest-like feel. Its basically a really chill, relaxed environment. Nice Touch: There is also a small outdoor lounge area with black leather seats and couches.
Amber Palace is the hotel's Chinese restaurant. There are a lot of amber hues throughout the restaurants, hence the name.
The Spa
The hotel is home to the Evian Spa, which takes the name of the famous brand of bottled of water. In fact, Evian water is handed to VIPs along with a fresh towel as they workout in the fitness center, which is open 24 hours a day and offers city views from all of its treadmills. The spa is made up of just five treatment rooms and one spa suite. VIPs who pay for a treatment can use all of the spa's facilities. There is a modest fee to use the pool, however, if VIPs don't have a spa treatment. The fitness center is free for everyone. Note: Club Members, those staying on floors 18-23 and also in some select rooms on the 16th and 17th floors, have free access to the pool regardless of whether they have a spa treatment or not.
Weddings
The hotel is home to a Western-style chapel, which can have up to 12 weddings a day. There is also a Japanese shrine for more traditional weddings, but we were told roughly 80-90 percent of the guests use the Western-style chapel.
Who to Book For
Roughy 60 percent of the VIPs here are business travelers while the remaining 40 percent are leisure travelers. There are roughly 15-20 percent Americans here. We would suggest the hotel for business travelers or couples and families looking for a hotel just 20 minutes away from the famous Ginza shopping district.
---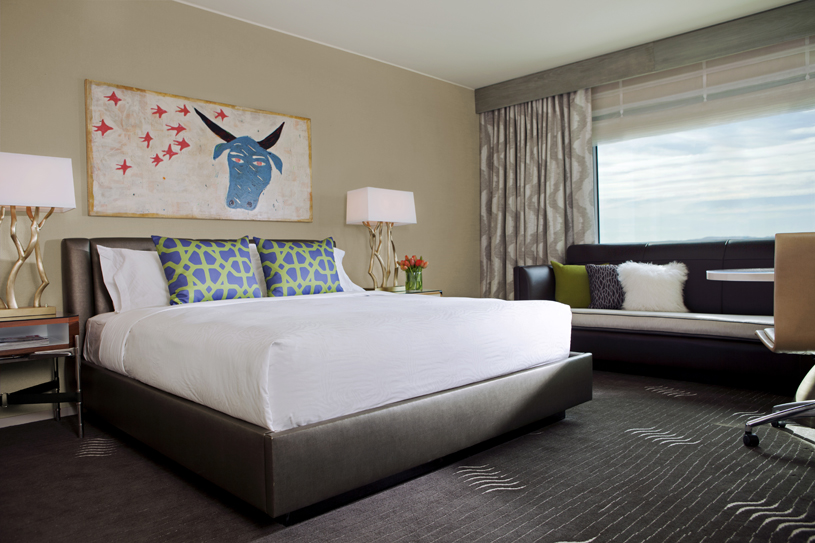 I don't think anywhere in the dictionary of latin roots will you find the "-lomar" suffix as meaning awesome. But if two points make a line, then the Mallomars and the Hotel Palomar are definitely on to something here. With that in mind, every time I hear something about the new Hotel Palomar Phoenix, I can't help but imagine that one marshmallow that inevitably falls off the end of your stick straight into the flames sloughing off its charred exterior and rising again as a pure white, gooey mass, its new skin still tender with sugary goodness. Of course, my overactive imagination could turn even a normal day at the office into the epic of Gilgamesh, so it's probably best if you don't read into it too much.
In any case, the Hotel Palomar is one of the newest editions to our collection, and it builds on the prior iterations of the Palomar, found in DC, Chicago, San Francisco, and many southern cities. In the heart of downtown Phoenix, the Palomar is ideally located to reach all of the hot spots. The city's best shopping, dining, and entertainment are just a few blocks away. The hotel itself is designed to look and feel cosmopolitan. The rooms feature contemporary design that emphasizes the space while still managing to be a little quirky. You're more likely to end up with an abstract painting of a blue cow over your bed than generic landscape #34. And that's a good thing. It's a hard thing to walk the line between eccentricity and taste, and the Palomar manages to do it. The Hotel Palomar Phoenix is definitely a great addition to the Phoenician menagerie.
---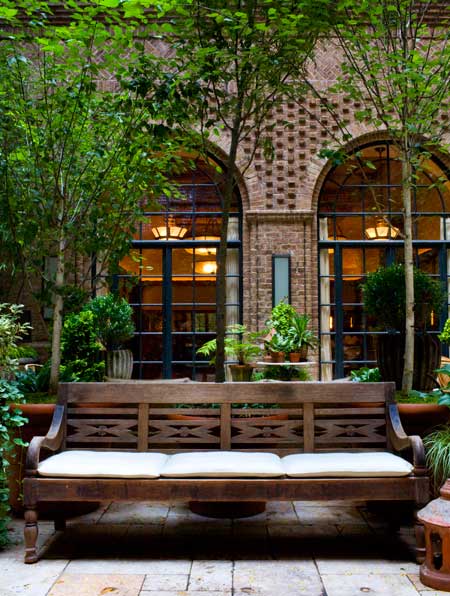 The courtyard at the Greenwich Hotel is now open and exclusively available for use by guests of the hotel. It is quietly tucked away from the chaos of New York City and features stone benches, hanging lanterns, and beautiful brick walls. Come down to enjoy some fresh air while reading the paper and sipping a cup of coffee and take in the relaxing atmosphere. Greenwich Hotel is located at the corner of Greenwich St. and North Moore St. in the Tribeca neighborhood. It is a beautiful luxury hotel that has a traditional, unique feel offering 88 rooms of which no two are alike. Enjoy lunch in the Drawing Room with 12-foot ceilings, bookshelves, and a wood burning fire place, and then enjoy dinner on the courtyard beneath latticed vines. Consider the Greenwich Hotel for your next visit to New York City for a truly exceptional and unique hotel experience unlike any other!
Posted in:
North America
,
United States - Northeast
,
New York, NY
,
Featured Luxury Hotels
,
Romantic Travel
,
Business Travel
,
Food and Wine
,
Luxury Spas
,
Museums
,
Luxury Shopping
---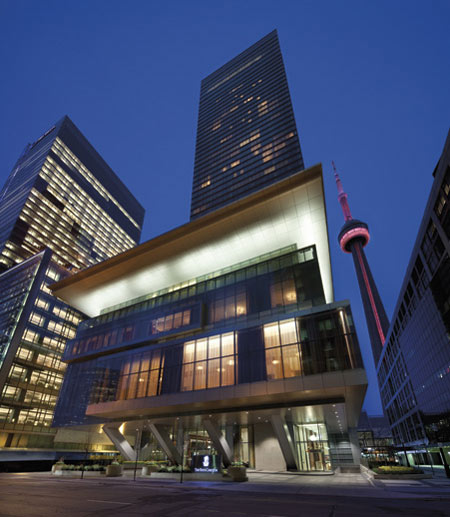 Wine cellars are so last year, and cheese caves are becoming the new and hip necessity for luxury hotels. The Ritz Carlton Toronto has a glass-enclosed cheese cave inside its Toca restaurant, and it features over 200 delectable cheeses for guests to sample! A sampling of three or four cheeses is offered nightly at the dining tables, and the true cheese connoisseurs can take it up a notch by tasting their way through more than 50 varieties made available to guests. Savor a phenomenal goat cheese or a five-year aged cheddar that the chefs at Toca infuse with whiskey and maple syrup.
The Ritz-Carlton Toronto welcomes its guests to the heart of the financial district with a 23,000 square foot spa, exquisite dining options, amazing service, 267 guest rooms and suites, and of course, its cheese cave of wonder. Be sure to make a reservation at this hotel to experience its impeccable service, amenities, and its cheese!
---
The Shangri-La Hotel Singapore is set in the lush tropical gardens near the renowned Orchard Road business and shopping district of Singapore, and its newly renovated garden wing is perfect for leisure and business travelers looking for a peaceful retreat. Each room features a large balcony and an interior design inspired by nature. Take advantage of the 15 acres of gardens at this consistently top ranked luxury hotel while staying in luxurious accommodations located in one of three distinctive wings. A few of the superb amenities available to guests at the Shangri-La Hotel Singapore include 2 ballrooms, 23 smaller function rooms perfect for meetings, 3 fine dining restaurants on site, an exotic free-form pool, a children's pool, and a luxurious spa offering post-flight therapy and other treatments. Whatever your travel purpose, consider staying at this idyllic luxury hotel for a truly relaxing and unforgettable experience.
---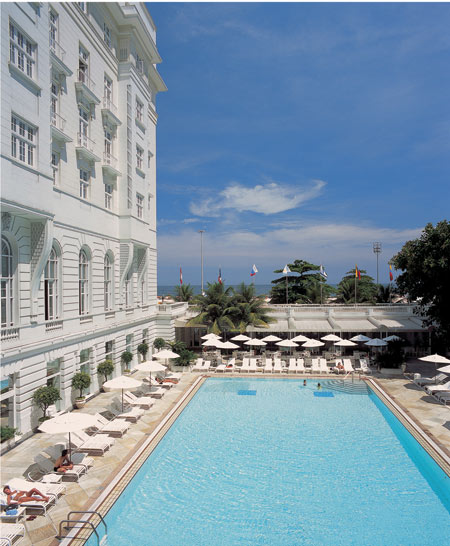 The Copacabana Palace opened in 1923 in front of the world famous Copacabana beach in Rio de Janeiro, Brazil. This traditional hotel was designed by the French architect Joseph Gire, and it is considered to be one of the most luxurious hotels in Rio. Its long established reputation for exceptional service has attracted celebrities, politicians, royalty, business travelers, and vacationers. A few of the hotel's highlights that keep visitors occupied and entertained include 14 meeting rooms, 2 restaurants, 1 bar, a semi-Olympic sized pool for all guests, a private pool for guests on the 5th and 6th floors, a 3 floor spa, and a rooftop tennis court. The 5th floor is more geared towards business travelers while the 6th floor penthouses are more for folks looking to indulge in lavish comforts. Be sure to check out this incredible hotel option for your next trip down to Brazil!
---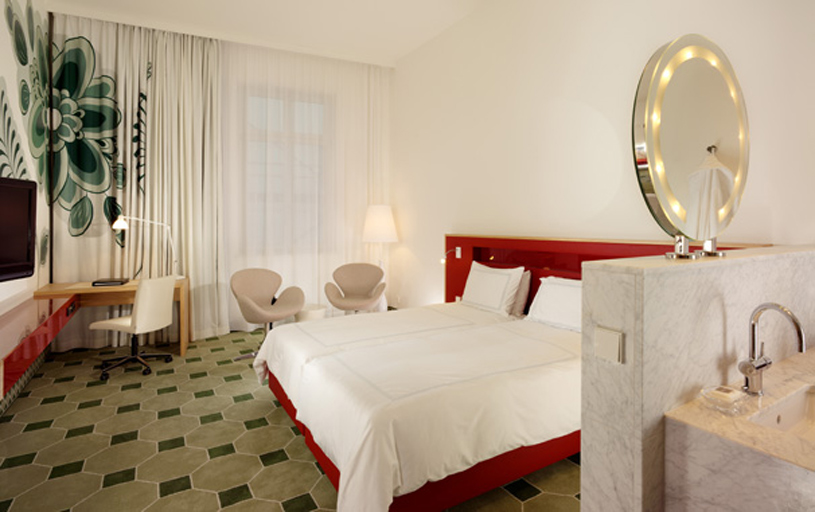 We at Five Star Alliance are all about the best and most luxurious hotels. We certainly keep up with the happenings in the luxury travel world and take pride in bringing our clients the latest luxury travel news. Keep up with our newest blog series where we'll be featuring luxury hotels opening in 2012 to stay on top of the trends and make your reservations at the newest hotspots.
The Swissotel Dresden opened in the center of the historic old town of Dresden, Germany in April 2012. Its central location, phenomenal shopping, entertainment, and nearby historic sites such as the Residenzschloss, the Turkish Chamber, the Semper Opera, Zwinger Palace and the Frauenkirche all make this luxury hotel the perfect destination for a trip full of culture and excitement. Its 235 elegant rooms and suites incorporate historic elements with modern interior designs and the latest technology. Make your reservations at this new luxury hotel and get ready to experience the excitement Germany has to offer!
---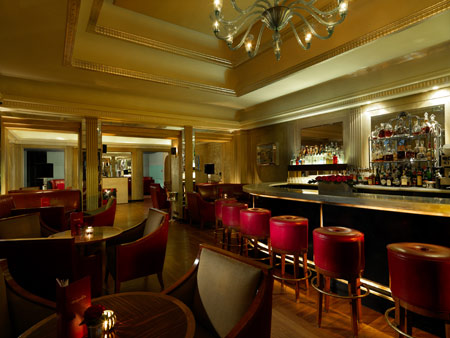 There's a very interesting split in the travel industry between business and leisure travelers. And if you're one of the business types, you know well that you're on the road constantly and the things that matter to you, travel convenience, efficiency, and connectivity, are almost the opposite of what a leisure traveler might want. If the word 'secluded' ever appeared in a hotel description, you'd cross it off the list immediately. So I'm here to use some adjectives you might appreciate hearing in describing some of the world's best business hotels. Today? London.
London is a very unique city when it comes to business travel. It has such an established infrastructure compared to some of the eastern centers of business and finance that hotels are in no short supply. Whereas somewhere like Hong Kong or Singapore has a much younger financial sector that was all fabricated at the same time, London is more distributed. It makes selecting great business hotels a little more depedent upon the needs of the individual than in other cities. For general purposes, Claridges is certainly one of the top business hotels in London. Rooms and suites are properly jacked into the information age, and an impressive ballroom can play host to large conferences and receptions, up to 400 people. A full-service business center will also make sure you have everything you need to put the finishing touches on your project. Meet with clients in the renowned Gordon Ramsay and unwind at the spa facilities within the Olympus Suite. If you need to be anywhere near Mayfair for your next business trip to London, check out Claridges.
---