LUXURY HOTEL INSIDER
The Luxury Hotel Insider
: Exclusive luxury hotel deals, features and special rates from the luxury hotel experts at Five Star Alliance.
Named one of Tripbase's
Best Luxury Travel Blogs for 2011
, below are Five Star Alliance's newest articles featuring exclusive information on luxury hotels worldwide including special offers and deals at the world's best hotels.
---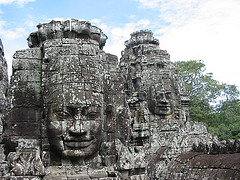 Monkeys giggle above in the trees. The sun is scorching hot overhead. From the road, the jungle overgrowth suddenly parts to reveal the majestic domes of ancient Angkor Wat. Fragrant orange blossoms hang from the trees, matching the brilliant robes of the Buddhist monks who are seated around the temples. Welcome to the most important archaeological site in Southeast Asia. Spread out over 400 square kilometers, Angkor's Archaeological Park includes hundreds of temples of the Khmer Empire, dating from the 9th to the 15th century. Watch the sun set (or rise) over the magnificent Angkor Wat (the largest and most celebrated of the temples), gaze at the huge stone heads at Bayon, and walk through the mysterious calm of Ta Prohm, where trees' gnarled root systems are slowly overtaking the temples. (And after all, this was where Angelina Jolie's Laura Croft toted those big-- um-- guns on the set for Tomb Raider!!! Sweet.) Where to stay? Raffles Grand Hotel D'Angkor, of course. With 60,000 sq meters of tranquil gardens, Cambodian art and architecture, and superb restaurants and spa.
Raffles Grand Hotel D'Angkor, Official Site
Raffles Grand Hotel D'Angkor, Five Star Alliance
---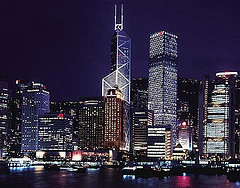 Check out these truly superb Top 10 lists-- best restaurants, walking tours, highlights, hotels-- from The Financial Times and Eyewitness Travel Guides. Their teaser: "Prepare to experience one of the most dramatic urban environments ever conceived."
---
The luxury traveler in Tokyo who has it all can now drop Fido at the airport before jetting off to Phuket. The Pet Inn Royal opens this Thursday with 170 "rooms" and a full-time staff.
"Enjoy your travel overseas knowing that your pet is in good hands," Pet Inn Royal says in a statement on Narita's Web site, noting that it can also accommodate rabbits, hamsters and ferrets.
Who'd blink twice before dropping 40,000 to 200,000 Yen a night to keep Kitty happy?
---
Starwood just announced that it acquired the Le Meridien brand of 130 hotels and resorts for $225 million. For the 24 million Starwood Preferred Guest (SPG) customers, this means more choice in markets like Paris, Nice, Dubai and London. Additionally, Starwood will gain properties where it doesn't have them currently, in spots like Monte Carlo, Barcelona, Budapest, the Seychelles and Mauritius.
Posted in:
Articles
,
Romantic Travel
,
Travel with Kids
,
Business Travel
,
Luxury Spas
,
Beach and Island
,
Europe
,
Africa
,
North America
,
Bermuda & The Caribbean
,
Central, South America
,
Asia
,
Middle East
,
Australia, South Pacific
,
Travel Industry News
---

A permanent address that's an everchanging address… now that's a cool idea. Slated to launch in fall 2007, the ship will include 100 luxury apartments, with all the indulgent amenities for which Four Seasons is famous (spa, steam room, pool and cabanas, jogging track and fitness center, even… golf?) Grab a stake before they sell out. From $400,000 for a one-month timeshare for 50 years.
Via Travel and Leisure (flipping through the November issue)
Posted in:
Articles
,
Luxury Spas
,
Beach and Island
,
Europe
,
Africa
,
North America
,
Bermuda & The Caribbean
,
Central, South America
,
Asia
,
Middle East
,
Australia, South Pacific
,
Travel Industry News
---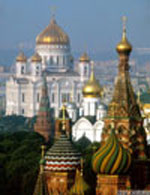 Thrilling news: the Sunday Herald reports that the Trans-Siberian railroad is about to go lux. The adventure across eight time zones of Europe and Asia used to be about stamina and endurance, rather than Orient-Express style opulence. (Seven days and 5,772 miles across the vast, empty landscape of the world's largest country.) Manchester-based GW travel is spending $23 million on 12 new carriages, each new compartment to be equipped with en-suite shower, double or twin beds, a sound and video system, individual air conditioning and a safe. And of course there's the bar car, enhanced by live musical entertainment each evening. Starting in 2007, a two-week journey in the Gold Class compartments will cost $11,000-- while accommodations in the silver class will set you back $9,000.
---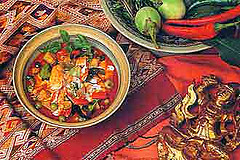 I did not know how to wield a knife. Did this phase the chef? Not at all, as he smiled graciously, then relaxed into a huge grin, cracked some jokes, and coaxed me into cooking for (almost) the first time in my life. And it was pretty damn good, if I do say so myself. The cooking schools in Chiang Mai are world-renowned for teaching delicious menus, hilarious Super-Chefs, and beautiful environments for day-long classes in an outdoor paradise. My pick? The Chiang Mai Thai Cookery School, with its terraced garden kitchen, wildly entertaining staff and colorful book of recipes you get to take home with you. A sample menu includes: Thai Hot And Sour Prawn Soup, Green Curry With Chicken, Thai Style Fish Cakes, Phad Thai, Minced Pork Northern Style, Water Chestnuts With Sugar Syrup And Coconut Milk. Did I mention you get to eat all the delicious dishes you prepare?!
Where to stay? This city in northern Thailand has become increasingly upscale in recent years, now offering luxury resorts and spas. (The Four Seasons and Mandarin Oriental have both staked their claim here.) Head to the Chedi Chiang Mai, situated on the banks of the Ping River. A GHM hotel, the Chedi Chiang Mai is a modern, minimalist masterpiece. 84 rooms are spacious and have riverview balconies. Set in a split-level colonial house, the restaurant features meals that tastefully blend East and West.
---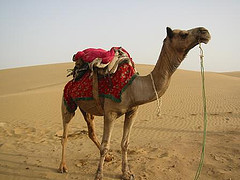 Last Stop: Hope You've Enjoyed Today's Ride
The city of Jaisalmer is like a fairy-tale castle out of "Arabian Nights." Dating from 1156, its amber-colored walls blend with the surrounding elements and seem to emerge from the desert sand. Located at the edge of the Thar Desert, near the border of Pakistan, Jaisalmer was founded on the historic crossroads of lucrative trade routes. The "Golden City" was an important gateway for the camel caravans from Central Asia and grew prosperous from this trade. Thus within the scorching heat of the desert, this remote frontier settlement developed a beautiful and isolated cultural tradition. For years the city was unscathed by outside influences, its rulers the last to succumb to British rule.
The 800-year old Jaisalmer Fort looms 30 meters over the city. Enclosed within its ramparts is an entire living city, the narrow lanes lined with shops and beautiful Jain temples dating from the 12 century. The citadel preserves a medieval way of life, its resident craftsmen weaving traditional rugs and designing silver jewelry. Stroll through the cobblestone streets of the old city and see the havelis, the mansions of the rich and powerful Jain merchants. These businessmen hired stonemasons to design their sandstone mansions, the facades delicately carved like intricate sculptures. Patwon ki Haveli is the most elaborate and magnificent of all the Jaisalmer havelis.
Where to Stay?
From Jaisalmer, visitors can venture on overnight camel expeditions into the Thar Desert. The ride? Blankets are piled high across the camel's hump, the reins in hand elaborately decorated with leather tassles. The vistas? An endless sea of sand stretching in all directions, the dunes shifting and changing in the wind. But a word of warning: camels can be full of personality, and lots of gas. I mean, so flatulent—LAWD!-- they stink to high heaven.
---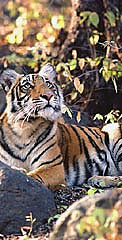 Third Stop: Tracking the Tigers
This former hunting ground of the Maharaja of Jaipur was declared a national park in 1980. Set between the Aravalli and Vindhya ranges, the park occupies 1,334 sq km of rugged, hilly terrain and deciduous forests. Ranthambore is most famous for its tigers, as the park began a conservation program in 1972 and has now stabilized the tiger population. The park offers opportunities for sighting these elusive predators on expeditions. At the lakes and water holes, visitors can also spot antelopes, sloth bears, wild boars, jackals, leopards and marsh crocodiles.
Where to stay?
Amanresorts has newly opened a wilderness retreat, Aman-i-khas, on the edge of Ranthambore. The 10 luxury tents are set in a quiet rural area, and are decorated in a rich, Mughal style, with king beds and spacious bathrooms (and soaking tubs!) The camp operates from October until the end of April-- the best period for wildlife spotting.
(Aman has a second resort in Rajasthan, called Amanbagh. Opened in February 2005, the resort's 24 havelis and 16 pool pavilions are set within a walled oasis, within the Aravalli Hills near Alwar. Not far from Jaipur, the resort echoes the region's Moghul architecture. Swimming pools, gardens, a decadent spa, and a Roof Terrace for dining beneath the stars.)
Aman-i-khas, Official Site
Aman-i-khas, Five Star Alliance
---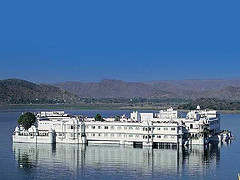 Second stop: The City of Lakes
Founded in 1567 by Maharana Udai Singh on the advice of a sage, Udaipur was the last of the Mewar capitals. Its romance and intrigue are almost mythical, the enduring source of inspiration for poets and artists. (And, um, this was the setting for that James Bond flick, Octopussy.) Surrounded by mountainous terrain, situated next to three lakes-- Pichola, Fateh Sagar and Udai Sagar—the city is like an oasis in the desert. The maze of narrow streets are lined by colorful markets, temples and gardens exploding with color. Set on a hill along the shores of Lake Pichola, the white City Palace seems to soar above the city. Enter through the Elephant Gate, wander the courts with carved arches, through pavilions and terraces with hanging gardens, and notice the blue tiles, inlaid mirrors, and miniature paintings depicting heroic historical scenes. Head to the markets for excellent shopping: pick up a few of the engraved miniature paintings depicting historic battles and epics, and leather books made with handmade paper (pressed with dried flowers).
Udaipur's Lake Palace is one of the most romantic spots in the world. It appears like a brightly lit castle floating on water. Though when we visited last year, Rajasthan was suffering a serious drought, so the lake had dried up to nothing. We walked along the treeless plain of the lake-bed and noticed the water buffalo navigating the emptiness. In the distance, women's saris appeared like billowing sails of color. The white marble palace seemed to be its own solitary island. And to think-- this 250-year old palace has been transformed into a magical luxury hotel. The Taj Lake Palace was originally built as a summer residence, designed with marble pillars, elaborate glasswork, colorful murals, and all the sumptuous details of a royal residence. Rooms offer stunning views of the Lake and Aravali mountain range. The Grand Royal Suites offer Jacuzzi tubs, marble bathrooms with rainforest showers, beautifully detailed artwork and crystal chandeliers.
The Taj Lake Palace, Official Site
The Taj Lake Palace, Five Star Alliance
---