LUXURY HOTEL INSIDER
The Luxury Hotel Insider
: Exclusive luxury hotel deals, features and special rates from the luxury hotel experts at Five Star Alliance.
Named one of Tripbase's
Best Luxury Travel Blogs for 2011
, below are Five Star Alliance's newest articles featuring exclusive information on luxury hotels worldwide including special offers and deals at the world's best hotels.
---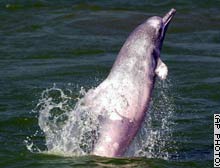 You've got to be kidding me. But as CNN reports, HK is no longer just about glitzy skyscrapers, designer shopping and gourmet eats. Throw ecotourism in the mix; the city is one of the best spots to see Indo Pacific humpback dolphins, which just happen to be totally, completely bubblegum-pink. Sign up with tour operator Hong Kong Dolphinwatch, who normally spots these uncanny creatures 97 percent of the time on tours in the South China Sea.
---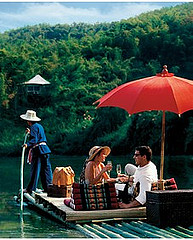 Four Seasons has set up camp (literally) in Thailand's mysterious Golden Triangle (didn't this used to be scary, opium-producing backcountry?) It seems the hotelier is jumping on the "rustic luxury" bandwagon, catering to a crowd that yearns for adventure, yet can't do without the spa touch of Four Seasons. Thus you can mount an elephant, raft down the Mekong, and meet the local hill tribes-- and return at night to one of 15 Four Seasons tents, with hand-hammered copper bathtubs (imagine hauling that into the wilderness on the back of some beast-of-burden), down pillows and supersized robes, and wifi access. Yep, you heard that right. A riverbank tent with wifi and multi-line phones. Other swank services include five-course dining, spa, and free-form pool.
---
Originally published in the Bangkok Post, Wednesday 21 December 2005 By George Romanyk Even as I write this, the guttural growl of a Harley Davidson (not to mention a roaring chorus of other Harleys, BMWs and Japanese superbikes) is still echoing in my ears. You see, I've just returned from a five-day road trip to the Golden Triangle, along with an assortment of biker friends who also happen to be company presidents, CEOs and entrepreneurs. Now, before you start wondering what this has to do with a column on branding (or start snickering "born to be mild''), I'd like to share some insights I garnered during the course of this challenging and exhilarating journey. While our group was on the road during the days, we certainly weren't averse to roughing it. We got our motors running, we headed out on the highway, and when the highway occasionally deteriorated into a rutted, muddy track, we were well up for it. Ah, but at the end of each day, the discomforts of the road were eased by the unique boutique resorts on the Mekong our assistants had booked us into, as well as some first class meals, and the imported wines and cheeses and some truly tasty Cuban cigars we had smuggled along in our saddlebags. My point (besides making you green with envy) is that our little jaunt was a good example of a major change sweeping the world right now in how luxury is perceived and experienced. For many of the "baby boomers'' and the swelling ranks of "Generation X'' (people born between 1964 and 1976 or thereabouts), the era of ostentatious luxury is over, and instead they are demanding authenticity and adventure. We still want our luxuries, but we want them contemporary, with a hip twist; luxury that "keeps it real'', as it were. Particularly in the luxury hotel and travel sector are these demands being felt. At the recent International Luxury Travel Market in Cannes, the age of ostentatious travel was proclaimed to be over, with new research unveiled showing today's wealthy travellers needed "authenticity, exclusivity and attention to detail'' to keep them happy. "Personalised'' and "private'' were also big buzzwords. In a survey of 248 travel suppliers from around the world who service the needs of the affluent, 84% agreed their clients sought a more subtle form of luxury than in the past. The survey, by the Future Foundation, concluded: "No longer content to visit the classic haunts of the rich and famous, today's luxury traveller would prefer to be a trailblazer, albeit in great comfort, and visit new and less discovered destinations.'' According to ILTM's founder, Serge Dive: "The tastes of the rich don't stay still. Our research shows that the luxury traveller of today doesn't just want to be pampered-- they want a total escape from their highly pressured lives and they want to come back from their holiday having experienced something new.'' Another trend is that as more people get rich younger, they take less formal but shorter trips, with technology allowing them to blur the line between business and leisure travel. Also, little things often count for much: 65% of those surveyed said the toiletries on offer in a hotel were important, with recognised luxury brands meriting maximum brownie points. After our trip, I can heartily agree with that last point: eight windblown hours in the saddle of your steel steed, and you really appreciate little treats like a scented hot towel, some luxurious shampoo and shower gel, and a unique hotel experience. These findings also echo research our own firm has conducted during the course of a major re-branding project with one of our major hotel clients. Our research results concur that well-heeled travellers prefer service that gives them space to be themselves and to feel totally relaxed (while still meeting their every need of course) rather than the more intrusive and obsequious style of service offered by many five-star hotels in the past. A recent article in Newsweek notes: "Travel used to be divided into two basic categories: luxury and no-frills. The former consisted of flying first class, dining at three star restaurants and staying in decadent comfort; the latter involved backpacking and camping out in some of the world's most beautifully remote spots. Now, tourists can have their wine and see the wildlife too; communing with nature and living the good life are no longer mutually exclusive.'' Newsweek defines this as "rustic luxury'': a group of wealthy "new nomads'' toting Mount Everest-ready backpacks by luxury luggage-makers like Tumi, who want to visit the most rugged deserts, jungles, mountains and forests, and go rock-climbing and wreck-diving, but want their designer coffee and Egyptian cotton sheets when the day's adventuring is done. There is also the element of one-upmanship among this growing demographic. As one new nomad tells Newsweek: "It's a status game. Staying at the Four Seasons seems kind of bourgeois, since any doctor from the Midwest will know about it.'' To me, getting wild without losing the luxury is like a marriage made in heaven. There's nothing like zipping through rugged jungle tracks on your hog, getting down and dirty, when you know that some prime rib, a nice glass of Bordeaux and a fat stogie have your name on them. George Romanyk is chief executive officer of Creative Inhouse, a local branding consultancy and ad agency.
---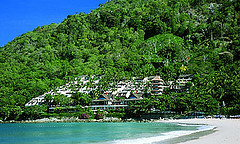 Enjoy a winter respite on the stunning beaches of Thailand, and help the economy rebound from the tsunami devastation. Take advantage of special rates at the Le Royal Meridien Phuket Yacht Club, a steal at $175 a night. Soak up the sun on your room's private terrace overlooking the Andaman Sea, or enjoy a wide range of watersports activities. In the privacy of the luxurious Royal Spa—boasting spectacular treatment rooms with a large veranda, waterfall wall, and sweeping ocean views—indulge in the signature Spa Treatment. Le Royal Massage combines Thai and Swedish massage with aromatherapy and Shiatsu.
Le Royal Meridien Phuket Yacht Club, Official Site
Le Royal Meridien Phuket Yacht Club, Five Star Alliance
---

Now open. The Mandarin Oriental scores a perfect location in downtown Tokyo, in the historical district of Nihonbashi, within walking distance of the Ginza entertainment and shopping district and the Imperial Palace. Why does this hotel rock? Let me count the ways. A 38th floor Sky Lobby with vistas of the city behind a sheer wall of glass. Guestrooms that are some of the largest in Japan. A kick-ass spa: 9,500 sq ft devoted to luxurious relaxation through Heat and Water Experiences. 9 treatment rooms, 5 luxurious private Spa suites, steam and sauna, vitality pool and bubble pool, and the Ice Fountain arctic refresher. Superb gourmet dining in several establishments. And highly sophisticated technology: widescreen TVs with surround sound, connected to multi-standard DVD players (you can output your laptop onto the LCD TVs), and 100 Mbps broadband data network that delivers high speed Internet access and high-definition digital video.
---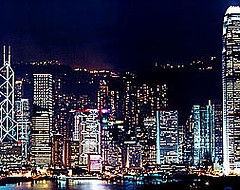 By Julie Lausch
What a way to celebrate a birthday. We headed to Hutong, a chic Chinese restaurant with many delicious items to choose from. Among the stand-outs we ordered were crispy lamb ribs and mixed vegetable spring rolls. We had a table for 14 overlooking the breathtaking nighttime lights of Hong Kong harbor-- almost all of the tables have fabulous views. Hutong is the shining star of the Aqua restaurant group. After dinner, head two flights up to the awesome bar/club upstairs.
---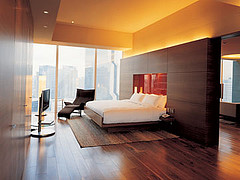 Hot Tokyo architectural firm Super Potato has created a 24-story glass masterpiece of design in the heart of South Korea's capital. The Park Hyatt Seoul's got the largest guestrooms in the city, their entrances flanked by marvelous Korean antiques. These contemporary and stylish spaces offer floor-to-ceiling windows, custom-designed feather beds, 32-inch LCD screen television and internet access, and spa-inspired bathrooms with soaking tubs and rainwater showers. After a work-out or luxurious spa treatment, head to the top-floor infinity pool for panoramic views over the city.
---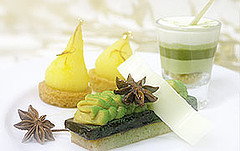 Atop the Pudong Shangri-La's new glass tower, Jade stakes its claim to the best view in Shanghai, overlooking the dazzling Bund skyline, the Oriental Pearl TV Tower, and the Huangpu River. Indulge in chef Paul Pairet's Euro-Chinese cuisine (note: I avoided the oh-so-passé descriptor Asian fusion) in utterly chic surroundings.
---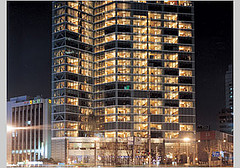 Get this. According to Forbes.com, the hotel-building biz in the US was lower than low this year, with only four new hotel openings in the luxury market. But hotel construction around the world is booming; thus seven of Forbes.com's top ten list are international. And without further ado, they are: The Intercontinental Financial Street (Beijing, China), Sofitel of Renmin Square (Xian, China), Hotel Fox (Denmark), The Four Seasons, Hong Kong, Shangri-La Hotel (New Delhi, India), Mandarin Oriental Tokyo, Park Hyatt Seoul, The Setai (Miami), The Shoreham (NYC), and the St. Regis Hotel San Francisco.
---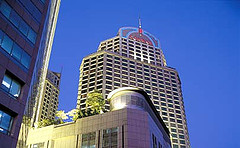 Better jump on this: absolutely fabulous weekend packages at the Conrad Bangkok. This towering haven of contemporary luxury has got a fabulous fitness center featuring rooftop jogging track, outdoor swimming pool and floodlit tennis courts. And pretty awesome meeting rooms, with all the latest technology. $139 per room per night gets you a lotta goodies, like: buffet breakfast, 30-minute Season Spa massage, late check-out (5 pm is generous!), one-day BTS Skytrain pass with complimentary shuttle bus to BTS station, Guide to Bangkok map, and a Chinatown walking tour map. Valid on Friday, Saturday and Sunday nights until January 30.
---