LUXURY HOTEL INSIDER
The Luxury Hotel Insider
: Exclusive luxury hotel deals, features and special rates from the luxury hotel experts at Five Star Alliance.
Named one of Tripbase's
Best Luxury Travel Blogs for 2011
, below are Five Star Alliance's newest articles featuring exclusive information on luxury hotels worldwide including special offers and deals at the world's best hotels.
---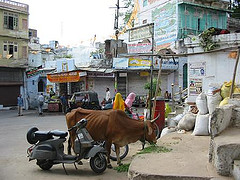 Opening Scene: Backdrop and History
The Rajasthan landscape flies by outside the car window. A wash of sandy beige interrupted by dazzling color: the bright-orange turban tightly coiled on the head of a passing motorcyclist, women clad in magenta or turquoise saris with water jugs balanced on their heads, carts of lemons piled high. And the ubiquitous water buffalo and Brahmin cows with their cute, dropping ears.
Even on a short trip to India, it's easy to become intoxicated by the country's chaotic energy, noise, and cultural history. Rajasthan's temples, palaces and forts are architecturally magnificent. The bazaars are brimming with handicrafts and clothes you'll see in trendy Soho boutiques (marked up umpteen hundred times.) But more than that, traveling through Rajasthan is an experience of the senses: tiny clay pots of sugary chai tea, the smells of spices and sweet fragrances, the kaleidoscope of color in the markets, delectable tastes dancing on the tongue. It's a constant sensory explosion.
Rajasthan's history is shrouded in myth. For over 1,000 years, the northwestern desert state was fiercely guarded by the Rajput clans. These legendary warriors defended their turf with a serious code of chivalry and honor. Thus Rajasthan remained independent from all the encroaching great empires throughout history. Indeed, Rajasthan's city of Jaisalmer was the last kingdom to succumb to British colonization.
No longer just a budget backpacker's paradise, India has become an inspiration for the international jet-set as well. Rajasthan's beautiful Palace hotels can make anyone feel like a modern-day maharajah. The winter is the perfect time to make the trip; the monsoon rains are kept at bay for at least half a year. Hire a driver, bring out the map, and dream up your perfect itinerary.
---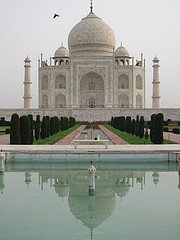 Today is devoted to travel in Rajasthan. I've outlined a circular itinerary through the mythical land of the Maharajahs that I hope will entice you to click and scroll away. But what have I missed? Where would you go, what would you see, on a winter's trip through India's cultural oasis? Would you endorse a camel-trek into the dunes of the Thar desert, fully-aware of the sore ass that results, and the nasty stink that the camels emit with each clomp through the sand?
(Photo credits: yours truly and my dear friend Maggie)
---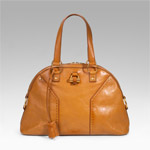 Check this out. A recent article in the International Herald Tribune highlighted a fantastic new trend: shopping wars escalating across Asia. With every big city in Asia competing to draw tourists, shopping festivals have become the focus of retail-themed vacations. July's Great Singapore Sale generated incredible retail sales and record visitor arrivals. For the eight-week shopping fest, 1.9 million tourists indulged in tourism-shopping sprees. And these folks know how to shop. Apparently, more than half tourist expenditure went to shopping. Likewise, Kuala Lumpur has consolidated three discount shopping periods into the six-week Mega Sale Carnival, running from the end of July to the beginning of September. Not to be outdone, Hong Kong has created its own HK Shopping Festival, which transformed the usual slow end-of-summer-season into another peak travel season. Bangkok's Amazing Thailand Grand Sale also runs during June and July.
What does this mean for consumers? Aggressive marketing campaigns and hefty competition means consumers score big with competitive pricing, give-aways and promotional gimmicks, like free foot massages in Malaysia and Lucky Draw prizes in HK (including diamonds and luxury watches.)
PS. In case you missed the summer's shopping extravaganzas, never fear. The Dubai Shopping Festival takes place from January 4 to February 5, and includes raffle prize give-aways worth $2.7 million, 100 kilograms of gold and 10 cars.
---
Devastating news about Al Qaeda's suicide bombers attacking Jordan Hotels (the four- and five-star Radisson SAS, Days Inn and Grand Hyatt) yesterday. After these sickening acts of terrorism, the U.S. embassy in Beijing has issued warnings of attacks at four- and five-star hotels across China.
---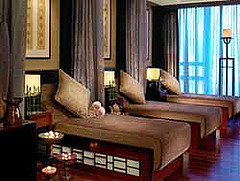 The most outstanding new city hotel across all of Asia? The award goes to the Langham Place Hotel, Mongkok, Hong Kong-- bestowed at the 16th Annual Travel Awards 2005, presented by TTG Asia. The hotel is a business traveler's dream. With Omnipresent WIFI, IP Telephony and 42 inch Plasma TVs, the hotel is the most technologically advanced in Asia. The hotel's Chuan Spa—perched on the top three floors of the hotel—is arguably the best in Hong Kong. And with a location directly above the MTR subway station, the hotel provides easy access to all of Hong Kong. (And let's not forget the 600,000 square feet of shopping at Langham Place Mall, connected to the hotel by walkbridge.)
Langham Place Hotel, Mongkok, Hong Kong, Official Site
Langham Place Hotel, Mongkok, Hong Kong, Five Star Alliance
---
This week's International Herald Tribune applauded the new restaurant revolution in New Delhi. In a city where the restaurants traditionally failed to do justice to the national cuisine, restaurant culture has been revived. Say hello to Veda, the uber-glamorous nouvelle cuisine curry house, where the sophisticated Indian food is only matched by the fashionable ambience. (After all, the place was created by one of India's top designers—Rohit Bal.)
---
It's about time. Bangkok is scheduled to open the new Suvarnabhumi Airport in 2006, which will feature a high-speed rail link and five alternative routes to the city center to avoid that nasty Bangkok gridlock!
---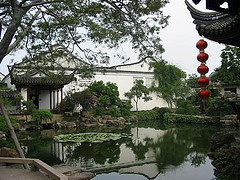 Check out Frommer's list of special travel offers to China, during the quieter (and immensely better) low season. Though I'm usually a fan of independent travel, some of these packages look too good to pass up. For example: $1,899 for 13 days of sight-seeing (Beijing, Shanghai, Xian and Guilin) and roundtrip airfare from Los Angeles or San Francisco.
---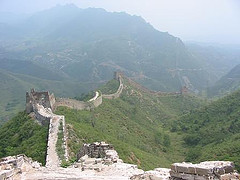 Numbers don't lie. According to the World Tourism Organization, China recently replaced Italy as the 4th most visited nation. Is this due to more tourism among the country's ginormous population? If anything, an increase in tourism among the Chinese themselves is a fabulous indicator of previously-rigid walls coming down…. (Last year I remember watching the sun set behind snow-capped peaks near China's Myanmar border, with Chinese tourists who had previously never left Shanghai and Beijing.) And Westerners are discovering that China offers a lot more than the Great Wall and Forbidden City. The southwest province of Yunnan, for example, is a wonderland of geographic marvels, history and cultural tradition. Luxury resorts have already staked an interest in Yunnan; Banyan Tree just opened a resort there, in "Shangri-La country," complete with heavenly spa.
Banyan Tree Ringha, Official Site
Banyan Tree Ringha, Five Star Alliance
---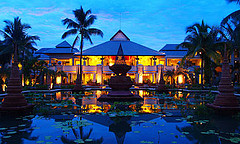 Found out some good news from Gadling today. The Le Meridien Khao Lak has reopened its doors after last year's devastating tsunami. The celebratory rates? A steal at $75 per night (plus tax). From now until Dec 22, enjoy that famous Thai hospitality in style at Khao Lak. P.S. The spa rocks.
Le Meridien Khao Lak, Official Site
Le Meridien Khao Lak, Five Star Alliance
---