LUXURY HOTEL INSIDER
The Luxury Hotel Insider
: Exclusive luxury hotel deals, features and special rates from the luxury hotel experts at Five Star Alliance.
Named one of Tripbase's
Best Luxury Travel Blogs for 2011
, below are Five Star Alliance's newest articles featuring exclusive information on luxury hotels worldwide including special offers and deals at the world's best hotels.
---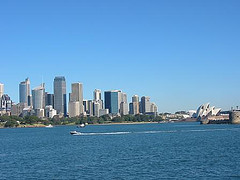 In the November issue, Outside Magazine just featured the top ten trips in Australia, including treks in Queensland, sea-kayaking in Tasmania and diving the Great Barrier Reef. My favorite experience down under? Ferrying across Sydney's Harbor to Manly beach, gaping at the Opera House on the way, then gobbling down those scrumptious little meat pies (washed down with local brew) after sunbathing and surfing in this perfect Sydney suburb. Next stop: the Outback. (Is it worth the blood, sweat and tears to get there?)
---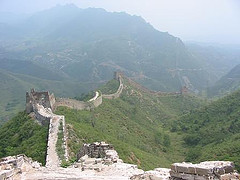 Numbers don't lie. According to the World Tourism Organization, China recently replaced Italy as the 4th most visited nation. Is this due to more tourism among the country's ginormous population? If anything, an increase in tourism among the Chinese themselves is a fabulous indicator of previously-rigid walls coming down…. (Last year I remember watching the sun set behind snow-capped peaks near China's Myanmar border, with Chinese tourists who had previously never left Shanghai and Beijing.) And Westerners are discovering that China offers a lot more than the Great Wall and Forbidden City. The southwest province of Yunnan, for example, is a wonderland of geographic marvels, history and cultural tradition. Luxury resorts have already staked an interest in Yunnan; Banyan Tree just opened a resort there, in "Shangri-La country," complete with heavenly spa.
Banyan Tree Ringha, Official Site
Banyan Tree Ringha, Five Star Alliance
---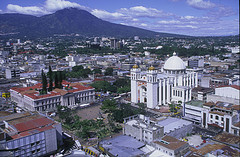 Let's say you're stuck on business in San Salvador—one of those alarmingly large, sprawling, polluted Central American capitals. Whatever to do?! And where on earth to eat? (Besides the prolific Burger King and stinking Pollo Campero?) First stop, the English language bookstore, Bookmarks, to wile away those hours with a quality paperback. (Centro Comercial Basilea, Col San Benito) Next door, in the trendy Zona Rosa neighborhood, is fantastic al fresco dining, the white tablecloths overlooking fountains and plenty of pretty people. Zona Rosa is hopping on weekends, with lots of bars and trendy clubs. If your stomach turns at street food (though the local pupusas—cornmeal patties stuffed with rice and beans—are excellent), you can also try La Ventana (Calle San Antonio Abad at Av San Jose, near Boulevard de los Heroes), which serves German and European fare along with Salvadoran tipica, in a convivial atmosphere. To sleep? The Real Intercontinental will suffice (It'll have to—it's the best in town.) Is there anything redeeming about this city? Anyone, anyone?
---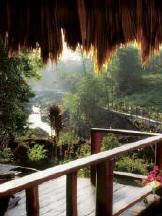 …with luxury pampering deep in the jungle. The director's eco-resort is graced by the lagoons and tempting waterholes of the Privassion river, which flows through the property. Blancaneaux Lodge is surrounded by miles of lush, flowering trails for hiking and biking. True to its mission of sustainability, the resort features an organic garden, providing 80% of the produce for Blancaneaux and the Turtle Inn. Looking for a perfect honeymoon spot? The Deluxe Honeymoon Package includes horseback riding to the falls, canoeing Barton Creek Cave, an exclusive spa treatment, and candlelit dinner on the deck of your private cabana. The Honeymoon Cabanas are perched over waterfalls, with huge private decks and your own garden paradise. Or choose accommodations in the Francis Ford Coppola Villa, where the director's personal art and antiques are furnished throughout. Check out the Mountain and Beach Package: three nights at Blancaneaux Lodge overlooking the falls before taking a ride down to the coast for four romantic nights on the Caribbean beach at Coppola's divine Turtle Inn.
Blancaneaux Lodge, Official Site
---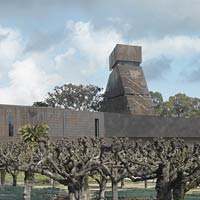 After five years renovation, San Francisco's de Young Museum reopened on October 15. The transformation is dramatic; the Pritzer Prize winning architects Herzog & de Meuron (along with SF-based Fong & Chan Architects) have created a state-of-the-art facility out of this landmark cultural institution. (The nifty facade is comprised of dozens of unique copper panels!) The de Young has occupied the same beautiful space of Golden Gate Park since 1895. Collections include American art from the 17th through the 20th centuries, and art of the native Americas, Africa and the Pacific.
---
So you're given the altogether grueling, Herculean task of evaluating the world's best hotels. Fragile orchids float through lobbies, delicacies tease the tongue at Michelin-anointed restaurants, infinity pools evaporate into the blue horizon, spas dazzle both body and spirit. Webster defines luxury as "something adding to pleasure or comfort but not absolutely necessary." How to possibly measure the immeasurable? Ultimately, luxury is an experience of the senses. Hotel guests are immersed in the radiant colors of furnishings, the perfect aesthetics of architectural design, the softness of fabrics, the sensations of comfort and warmth, the fragrances that infuse the air. But beyond this, the true luxury hotels are distinguished by their service, and their uncanny eye for detail. There are many places that boast sumptuous surroundings, but true luxury hotels cater to your every (perhaps childish) whim and desire: particular desires and even some you haven't even thought of yet. And they fulfill those requests with savvy and graceful style. But beyond this, how can one assess this luxury experience? Five Star Alliance travel agency has established a concrete framework by which they examine new hotel properties to add to their comprehensive, handpicked directory. Hotels are assessed by the following tangible criteria: 1. The industry awards (a.k.a. let the other guys work for you). Conde Nast Traveler's Gold List, Travel and Leisure's Top 500, Mobil 5 star, AAA 5 diamonds. 2. Hotels that are part of renowned brands, like Ritz-Carlton, Rocco Forte, Four Seasons, Shangri-La, Fairmont, Mandarin-Oriental, Oberoi, Peninsula, Relais and Chateau. 3. Other categories or brands: Small Luxury Hotels, Luxury Collection, Leading Hotels of the World, American Express Guide, Robb Report, Andrew Harper's Hideaway Report. 4. Significant references: in the press, word-of-mouth, and personal experience. 5. Facts and figures. Sometimes the rates say it all. If a hotel charges less than $150 per night, one can safely assume that it is not of a certain caliber. These criteria provide the matrix, but not the automatic or guaranteed endorsement. For example, Leading Hotels of the World boasts a collection of many superior properties, but a hotel's affiliation with LHW does not signify obligatory inclusion on the Five Star site. So, readers, help us define, like Webster, the meaning of "luxury"; let us know about luxury properties you recommend. Even the sharp eyes of Five Star Alliance editors may have missed something! In the future, Five Star Alliance hopes to provide a feedback tool directly on the website, where travelers can share their own perceptions about a luxury property. For luxury, like beauty, must ultimately be in the eye of the beholder.
---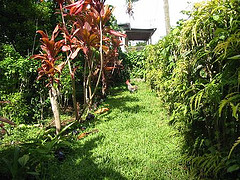 I just worked myself up into a real scare reading the latest National Geographic article on Avian flu. Like seriously freaking out. This could be the next world pandemic! Spanish flu to mammoth proportions! The virus jumping from birds to pigs to vulnerable humans! (Can you spy the seemingly innocuous rooster in the pic to the right? The lush tropical garden is just an illusion of tranquility when such a beast lurks in its midst.) Forget this blog-- I'm headed to Kayak.com to look for flights to the Pacific Islands, the only place left unscathed by Spanish flu. Or better yet-- I'm holing myself up in one of those desert caves in Afghanistan!
Not so fast, the ever-rational World Tourism Organization soothes my fears. All the media talk about Avian flu is dangerous hype that could hurt world tourism, especially in Asia and the developing world.
---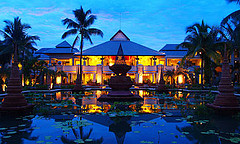 Found out some good news from Gadling today. The Le Meridien Khao Lak has reopened its doors after last year's devastating tsunami. The celebratory rates? A steal at $75 per night (plus tax). From now until Dec 22, enjoy that famous Thai hospitality in style at Khao Lak. P.S. The spa rocks.
Le Meridien Khao Lak, Official Site
Le Meridien Khao Lak, Five Star Alliance
---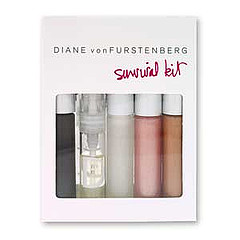 Everyone's talking about women's travel these days. This month, Travel and Leisure reports on female-friendly hotels: the Sanctuary South Beach offers discounts for women traveling solo, the St. Regis Shanghai offers a Ladies Floor staffed by female butlers, the Mandarin Oriental, New York has created the whimsical Girl's Guide to Glamour in Gotham (a Chanel makeover, a manicure at Bergdorf's and a shopping tour by limo), and London's Berkeley offers the Girls Night In weekend, a pampering extravaganza complete with in-room manicures, Cosmopolitans, Bliss products and late-night snacks.
My pick for solo women travelers? Vancouver's Le Soleil Hotel, with its Elle Suites specifically designed for the female business traveler. Amenities available include office supplies, soaker tubs with bath bombs and essential oils, Aveda body products, make up mirror, small wooden body massager, a selection of women magazines, low fat and low carbohydrate snacks in the mini bar and a selection of nylons and feminine hygiene products. Hotel Le Soleil's concierge will also provide an up to date list of around town events that may be of particular interest to women.
Also, be sure to check out Tango Diva—an online magazine devoted to women travelers.
And for women on the go... A fashion crisis on the road? Check out Diane Von Furstenberg's emergency kit (pictured) sold at W Hotels online store.
---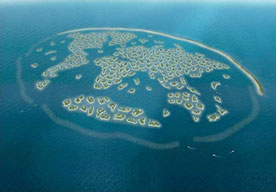 In the luxury resort market of Dubai, nothing surprises me. Home of the only 7 star hotel in the world (Burj Al Arab), the latest SKI? resort (as Gridskipper reports today about Ski Dubai), and the development of The World-- in miniature man-made islands shaped like the continents of the world. The US$1.8 billion project, expected to be complete by the end of 2005, consists of 250 to 300 private artificial islands divided into four categories—private homes, estate homes, dream resorts, and community islands. Hell, you could even buy a continent! The World is located four kilometers offshore from Jumeirah, close to The Palm Jumeirah and Burj Al Arab.
---