LUXURY HOTEL INSIDER
The Luxury Hotel Insider
: Exclusive luxury hotel deals, features and special rates from the luxury hotel experts at Five Star Alliance.
Named one of Tripbase's
Best Luxury Travel Blogs for 2011
, below are Five Star Alliance's newest articles featuring exclusive information on luxury hotels worldwide including special offers and deals at the world's best hotels.
---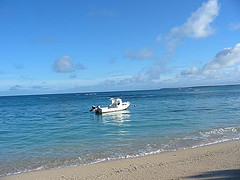 Where on earth is Tonga? Sure, I used to sip those elaborate tropical concoctions at the Fairmont Hotel's Tonga Room in SF, soaking in the kitschy atmosphere, complete with faux-Polynesian glasses and timed thundershowers, that would rain from the ceiling in synch with the cheesy tunes played by the live band (stranded on the—um-- floating "island" that moved across the artifical lake.) But before last year's adventure, I could barely find Tonga on a map, let alone trust the captains of my Air New Zealand flight to spy the air strip among the hundreds of islands in the middle of the Pacific. I was only about to discover this tiny island kingdom in the South Pacific: the first place in the world—positioned just to the west of the International Dateline—to see the dawn of a new day.
Unequivocally, Tonga is paradise: Long stretches of white sandy beaches. Not a soul in sight. A coastline marvel of magnificent blowholes, the surf erupting like geysers out of holes in the reef. Unique and lush vegetation on islands mostly uninhabited, though the main island—Tongatapu—is largely cultivated with fields of taro, sweet potatoes, breadfruit and mango trees. For the adventurous: caves to be explored (bring a torch, and candles to stick in fissures between stalagmites, so that you can swim in the cool freshwater pool in the pitch black of 'Anahulu Cave), snorkeling and diving, yachting in the sailing capital of Vava'u Island, whale-watching tours where you can actually swim with the humpback whales. I laughed in disbelief when the Peace Corps workers in Tonga advised me to track down a local boat operator to ferry me to an outlying island to camp for a day or two. Roughing it "Survivor"-style-- surviving on fish, more fish, and fruit).
The group of islands that comprise Tonga are undeveloped, untouristed, and largely rural. Pigs and dogs root around in the foliage, and lounge roadside, in traditional villages. Above and beyond the very real paradise landscape, Tonga is a place utterly distinguished by its culture, and very serious sense of hospitality. A word of warning: Be prepared to eat. Eating a lot in Tonga gives great joy and pride to your hosts, who will no doubt serve portions bigger than anything you've ever seen. (Guidebooks love to point out how Tongans embrace fatness. After all, the king was in the Guiness Book of World Records for his weight. And I'm yet to find another place in the world where the national airline requires each passenger to step on a scale before departure.)
Christianity pervades all aspects of Tongan culture. It seems (that terrible flick) Mel Gibson's The Passion of Christ generated more excitement in Tonga than anywhere else in the world. On Good Friday, I chatted with a girl in the airport who was on her way home to the neighboring island group of Ha'apai, who complained that it had been impossible to rent it from the video store in town. She was desperate. I watched pirated versions make their rounds around town. Discreetly changing hands in brown paper bags.
On the one hand, Tongans are very proud to say that they have never been colonized—that all the other Pacific Islands are under the jurisdiction of some foreign power-- but on the other hand, Tonga is very much colonized by religion. Indeed, it seems there are more churches in Tonga than there are villages (there are often multiple churches of different denominations in one village.) And all businesses—even Royal Tongan Airlines—are closed on Sunday. This same Good Friday, I saw a man walking down the road, burdened by the weight of a large white cross, with a trail of people behind him. We were in a Catholic village, and a series of shrines had been erected all along the road. These towering crosses—draped with woven pandanus mats and artificial flowers and images of Jesus—seem to be the ultimate fusion of cultures.
Ready to lounge and eat, lounge and eat, like the locals? For the ultimate Tongan vacation, head to the awesome, German-run Sandy Beach Resort, in the Ha'apai island group. Bungalows are set right on the beach, with the outlying coral atolls perfect for snorkeling. Meals are lavish and delicious. Royal Tongan Airlines flies daily from the capital, Nuku'alofa, (a 45 minute flight) though the airline is notorious about delays.
Want to know more? The Tonga Visitors' Bureau has posted extensive information on their website.
---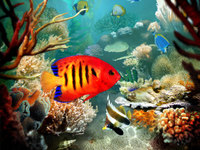 The Independent UK recently reported about the world's first sea-floor luxury resort: the Poseidon in the Bahamas. Underwater suites will boast panoramic views of unique varieties of fish on private artificial reefs, lit up by underwater lights controllable from an inside switch. And guests can enjoy use of an external fish feeder—just push a button and feed the fish outside! Additionally, each suite has a large Jacuzzi tub with spectacular views of the surrounding coral reef. Luxury underwater suites will set you back $1,500 a night. The Dude behind this development? The President of U.S. Submarines, L. Bruce Jones. Gotta figure that a submarine guy would be the one to pull off this stunt. They're shelling out US$53 million in this novel concept, so it'll (better be) good. Scheduled opening? The end of 2006.
---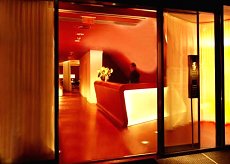 Berlin's Hotel Q! is the epitome of cool. (You'll swoon at the website alone.) A hop from the trendy boutique- and bar-lined Kurfürstendamm, the hotel takes its name from this same chic avenue. The architects (Graft) are well-deserving of Travel and Leisure's 2005 Design Award, having created a mod masterpiece in each nook and cranny. 77 cocoon-like rooms have hardwood floors, flat screen TVs and blissful beds with down duvets and Egyptian cotton sheets. CN Traveler's Hot List 2005 marvels at how guests can roll into bed after soaking in the bath (attached to the side of the bed). The basement spa features a man-made beach with heated sand, Finnish sauna, and vapor bath. Imbibe your cocktails in the very stylish, very red bar (members/hotel guests only).
---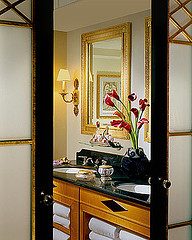 This year, the Four Seasons Washington D.C. is the only new hotel to join the prestigious list of 32 Mobil five-star hotels in the United States and Canada. The three new five-star restaurants include New York's per se, the White Barn Inn Restaurant in Kennebunkport, Maine and West Hollywood's Bastide.
Four Seasons Washington D.C., Official Site
Four Seasons Washington D.C., Five Star Alliance
---
I'm diggin' the TravelPost.com blog. Especially their description of Westin's new Renewal Suite at the Westin New York, Times Square. (This is the same hotel where Martha Stewart's Apprentice candidates struggled to create their ultimate themed hotel suite.) The Renewal Suite is complete(ly absurd) with DVD spinning classes, bamboo flooring to relieve stress, and Hepa air purifiers. As for Westin's new mini-bars? TravelPost.com says it all.
---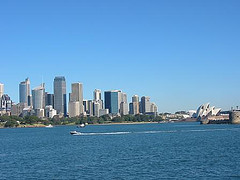 In the November issue, Outside Magazine just featured the top ten trips in Australia, including treks in Queensland, sea-kayaking in Tasmania and diving the Great Barrier Reef. My favorite experience down under? Ferrying across Sydney's Harbor to Manly beach, gaping at the Opera House on the way, then gobbling down those scrumptious little meat pies (washed down with local brew) after sunbathing and surfing in this perfect Sydney suburb. Next stop: the Outback. (Is it worth the blood, sweat and tears to get there?)
---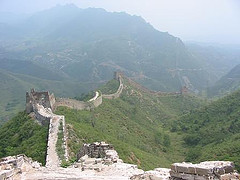 Numbers don't lie. According to the World Tourism Organization, China recently replaced Italy as the 4th most visited nation. Is this due to more tourism among the country's ginormous population? If anything, an increase in tourism among the Chinese themselves is a fabulous indicator of previously-rigid walls coming down…. (Last year I remember watching the sun set behind snow-capped peaks near China's Myanmar border, with Chinese tourists who had previously never left Shanghai and Beijing.) And Westerners are discovering that China offers a lot more than the Great Wall and Forbidden City. The southwest province of Yunnan, for example, is a wonderland of geographic marvels, history and cultural tradition. Luxury resorts have already staked an interest in Yunnan; Banyan Tree just opened a resort there, in "Shangri-La country," complete with heavenly spa.
Banyan Tree Ringha, Official Site
Banyan Tree Ringha, Five Star Alliance
---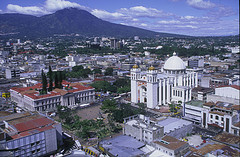 Let's say you're stuck on business in San Salvador—one of those alarmingly large, sprawling, polluted Central American capitals. Whatever to do?! And where on earth to eat? (Besides the prolific Burger King and stinking Pollo Campero?) First stop, the English language bookstore, Bookmarks, to wile away those hours with a quality paperback. (Centro Comercial Basilea, Col San Benito) Next door, in the trendy Zona Rosa neighborhood, is fantastic al fresco dining, the white tablecloths overlooking fountains and plenty of pretty people. Zona Rosa is hopping on weekends, with lots of bars and trendy clubs. If your stomach turns at street food (though the local pupusas—cornmeal patties stuffed with rice and beans—are excellent), you can also try La Ventana (Calle San Antonio Abad at Av San Jose, near Boulevard de los Heroes), which serves German and European fare along with Salvadoran tipica, in a convivial atmosphere. To sleep? The Real Intercontinental will suffice (It'll have to—it's the best in town.) Is there anything redeeming about this city? Anyone, anyone?
---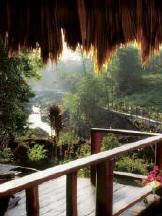 …with luxury pampering deep in the jungle. The director's eco-resort is graced by the lagoons and tempting waterholes of the Privassion river, which flows through the property. Blancaneaux Lodge is surrounded by miles of lush, flowering trails for hiking and biking. True to its mission of sustainability, the resort features an organic garden, providing 80% of the produce for Blancaneaux and the Turtle Inn. Looking for a perfect honeymoon spot? The Deluxe Honeymoon Package includes horseback riding to the falls, canoeing Barton Creek Cave, an exclusive spa treatment, and candlelit dinner on the deck of your private cabana. The Honeymoon Cabanas are perched over waterfalls, with huge private decks and your own garden paradise. Or choose accommodations in the Francis Ford Coppola Villa, where the director's personal art and antiques are furnished throughout. Check out the Mountain and Beach Package: three nights at Blancaneaux Lodge overlooking the falls before taking a ride down to the coast for four romantic nights on the Caribbean beach at Coppola's divine Turtle Inn.
Blancaneaux Lodge, Official Site
---