LUXURY HOTEL INSIDER
The Luxury Hotel Insider
: Exclusive luxury hotel deals, features and special rates from the luxury hotel experts at Five Star Alliance.
Named one of Tripbase's
Best Luxury Travel Blogs for 2011
, below are Five Star Alliance's newest articles featuring exclusive information on luxury hotels worldwide including special offers and deals at the world's best hotels.
---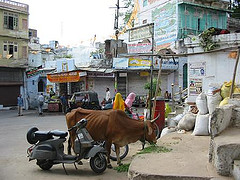 Opening Scene: Backdrop and History
The Rajasthan landscape flies by outside the car window. A wash of sandy beige interrupted by dazzling color: the bright-orange turban tightly coiled on the head of a passing motorcyclist, women clad in magenta or turquoise saris with water jugs balanced on their heads, carts of lemons piled high. And the ubiquitous water buffalo and Brahmin cows with their cute, dropping ears.
Even on a short trip to India, it's easy to become intoxicated by the country's chaotic energy, noise, and cultural history. Rajasthan's temples, palaces and forts are architecturally magnificent. The bazaars are brimming with handicrafts and clothes you'll see in trendy Soho boutiques (marked up umpteen hundred times.) But more than that, traveling through Rajasthan is an experience of the senses: tiny clay pots of sugary chai tea, the smells of spices and sweet fragrances, the kaleidoscope of color in the markets, delectable tastes dancing on the tongue. It's a constant sensory explosion.
Rajasthan's history is shrouded in myth. For over 1,000 years, the northwestern desert state was fiercely guarded by the Rajput clans. These legendary warriors defended their turf with a serious code of chivalry and honor. Thus Rajasthan remained independent from all the encroaching great empires throughout history. Indeed, Rajasthan's city of Jaisalmer was the last kingdom to succumb to British colonization.
No longer just a budget backpacker's paradise, India has become an inspiration for the international jet-set as well. Rajasthan's beautiful Palace hotels can make anyone feel like a modern-day maharajah. The winter is the perfect time to make the trip; the monsoon rains are kept at bay for at least half a year. Hire a driver, bring out the map, and dream up your perfect itinerary.
---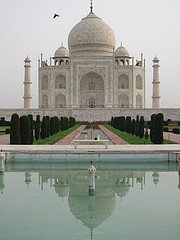 Today is devoted to travel in Rajasthan. I've outlined a circular itinerary through the mythical land of the Maharajahs that I hope will entice you to click and scroll away. But what have I missed? Where would you go, what would you see, on a winter's trip through India's cultural oasis? Would you endorse a camel-trek into the dunes of the Thar desert, fully-aware of the sore ass that results, and the nasty stink that the camels emit with each clomp through the sand?
(Photo credits: yours truly and my dear friend Maggie)
---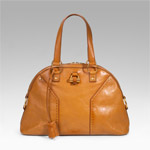 Check this out. A recent article in the International Herald Tribune highlighted a fantastic new trend: shopping wars escalating across Asia. With every big city in Asia competing to draw tourists, shopping festivals have become the focus of retail-themed vacations. July's Great Singapore Sale generated incredible retail sales and record visitor arrivals. For the eight-week shopping fest, 1.9 million tourists indulged in tourism-shopping sprees. And these folks know how to shop. Apparently, more than half tourist expenditure went to shopping. Likewise, Kuala Lumpur has consolidated three discount shopping periods into the six-week Mega Sale Carnival, running from the end of July to the beginning of September. Not to be outdone, Hong Kong has created its own HK Shopping Festival, which transformed the usual slow end-of-summer-season into another peak travel season. Bangkok's Amazing Thailand Grand Sale also runs during June and July.
What does this mean for consumers? Aggressive marketing campaigns and hefty competition means consumers score big with competitive pricing, give-aways and promotional gimmicks, like free foot massages in Malaysia and Lucky Draw prizes in HK (including diamonds and luxury watches.)
PS. In case you missed the summer's shopping extravaganzas, never fear. The Dubai Shopping Festival takes place from January 4 to February 5, and includes raffle prize give-aways worth $2.7 million, 100 kilograms of gold and 10 cars.
---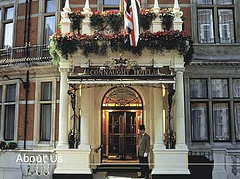 Situated in the heart of Mayfair, surrounded by charming antique stores, boutiques, and public gardens, the Connaught is a hop and a skip from London's Bond Street stores and all of the best theaters, museums and parks. The 67 rooms and 24 suites boast sitting rooms with open fires and exquisite antiques. But what I'm really lovin' is 24 hour concierge service and butler service on every floor. (And the Penthouse balcony overlooking the Mayfair rooftops, accessed through French windows from the sitting room.) The restaurant MENU, the mahogany-panelled interior designed by Nina Campbell, offers award-winning cuisine by Angela Hartnett. From now until December 31st, check out this special offer. The Inspirational Interiors Weekend is a brand new weekend promotion for those with a taste for Interior Design. Guests are greeted with a bottle of champagne in their room, along with a Connaught handbook of the chicest places to shop. In addition, guests have the option of a chauffeured car service for two hours (additional fee). The Inspirational Interiors weekend is available any Friday/Saturday/Sunday.
The Connaught, Official Site
The Connaught, Five Star Alliance
---
Courtesy-- again-- of Island Magazine. Any that didn't make the list? What's your tropical dream?
---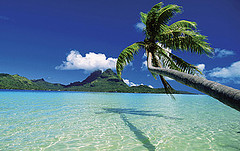 Islands Magazine has put together a pretty snazzy events calendar for this November. Their picks? Hawaii, for the incredible star-gazing of the Taurid meteor showers. (You've never seen falling stars like this!) Moorea, on November 3-6, for Tattoonesia, the island's first International Tattoo Convention. (Ooops, the revival has already come and gone.) St. Barts on November 16, to taste the first Beaujolais Nouveau wine of the year (six hours ahead of France, confined to the traditional midnight uncorking). And Australia, on November 4-13, for the Whitsunday Fantasea Reef Festival, celebrating the marvels of the Great Barrier Reef.
---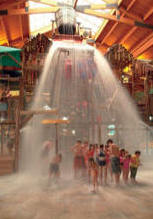 Live in the Northeast? Don't worry about flying to Florida this winter when you can take your swimsuit to a water park!, a recent AP article counseled. Hmmm, a lodge in the Poconos vs. Miami Beach. Somehow-- I muse-- it's not quite the same thing… But read on, loyal reader, the concept is pretty sweet. The park in question just opened in Pennsylvania's Pocono Mountains (very convenient to the whole Megalopolis of the East Coast), and another one is opening soon in New York's Adirondacks. Great Wolf Lodge is a 78,000 sq ft indoor water park, with 401 suites (log cabin style), an arcade, spa, restaurants and fitness center. This is a full-service family resort, and the kids go gaga over the water park's 11 slides, wave pool, winding river, and whirlpools. The price ranges from $189 in the off season to $569 for a luxury suite during the holiday peak.
---
Though perhaps a bit trite after my last news alert, I can't resist passing on the news about New York's Chocolate Show. I missed the fashion show opening on the 10th, but Gridskipper and Luxist provided nice descriptive reviews, and reading about it is half the fun! Hurry over to the Metropolitan Pavilion, to get your chocolate fix, before it closes on the 13th.
---
Devastating news about Al Qaeda's suicide bombers attacking Jordan Hotels (the four- and five-star Radisson SAS, Days Inn and Grand Hyatt) yesterday. After these sickening acts of terrorism, the U.S. embassy in Beijing has issued warnings of attacks at four- and five-star hotels across China.
---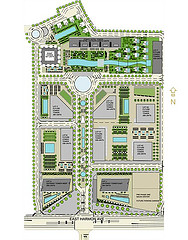 This is no Vegas heist. George Clooney has graduated from robbing Vegas casinos on film, to actually developing them. Clooney, along with night-club extraordinaire Rande Gerber, Related Las Vegas and Centra Properties, have partnered to create Las Ramblas—a $3 billion luxury hotel-condo-casino complex. Its namesake, the legendary boulevard in Barcelona, inspired the urban plan of an outdoor pedestrian promenade lined with European cafes and boutiques. (So guests can feel like they're actually walking through a city! How novel.) The 25-acre development is situated along Harmon Avenue, just west of the Hard Rock. Along with 4,400 hotel and condo units, Las Ramblas will have a 30,000 sq-ft spa, swimming pools, upscale shopping and a 40,000 sq-ft casino. Not to mention the best and chic-est nightlife. After all, these are the guys whose After Midnight Company (evolved from The Whiskey Bar brand) has helped revolutionize and innovate nightlife across the country. Scheduled to open in 2008. Strict dress code, folks.
---