LUXURY HOTEL INSIDER
The Luxury Hotel Insider
: Exclusive luxury hotel deals, features and special rates from the luxury hotel experts at Five Star Alliance.
Named one of Tripbase's
Best Luxury Travel Blogs for 2011
, below are Five Star Alliance's newest articles featuring exclusive information on luxury hotels worldwide including special offers and deals at the world's best hotels.
---
I overheard a conversation in the airport the other day, in the waiting lounge for a South African Airways flight. The subject at hand? The best hotel in Africa. Naturally my ears perked up, and I listened with glee to the descriptions of heavenly suites and excessive pampering at The Palace in Ethiopia. But it's a mystery! My research has turned up… nada! Have you heard of this mysterious, sumptuous hotel in Addis Ababa? Can anyone point me in the right direction (since—alas—Google has failed me)?
---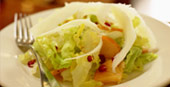 The cat's been out of the bag for sometime about this perfect Mission trattoria, but I still start salivating when someone mentions the menu. Even just a nibble of antipasti will suffice. Especially when it's prosciutto San Danielle with fuyu persimmons and Parmigiano. And believe it or not, the all-organic menu's not even the best part. Despite its chic clientele and happening atmosphere, this place remains true to its Mission environs—the staff friendly, tattooed, and down-to-earth.
---
Rick Steves is the guru of European travel. With superb guidebooks and a website to match, the man knows his Continent. Now, you can also download podcasts of his new public radio show, "Travel with Rick Steves." Ranked in iTunes "Top 100 Podcasts," this dude's a hit. Check it out.
---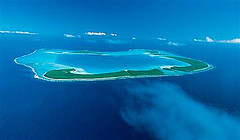 After yesterday's verbiage—sheesh! I'm wiped out!—I'll try to keep it short and sweet. There are rumors milling that Tetiaroa-- Marlon Brando's private atoll in Tahiti—will be an exclusive eco-resort in 2008. The Brando (as it's been dubbed) will require a $40 million investment, as there's no electricity or running water on the island. I wonder if there's a line already queuing for the 30 bungalows?
---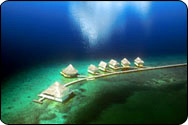 Beautiful white sand beaches framed by tropical forest. A small-town Caribbean vibe. Marine parks with abundant coral reefs attracting marvelous fish and animal life. A snorkeling and scuba-diving paradise. Welcome to Bocas del Toro, Panama. To reach these islands off the country's Caribbean coast (close to the Costa Rica border), one could opt for a short flight. Or one could be more adventurous and choose the water taxi, an experience in and of itself. The boat ride travels through old canals formerly used by the banana plantations. Peer down into the clear Caribbean-blue water, and you can see fish swimming beneath the gnarled roots of the mangroves. Where to stay? The (still-quaint) town has undergone development in recent years so that there are luxurious accommodations aplenty, in addition to cheaper hospedajes. Check out the environmentally-friendly Punta Caracol Aqua Lodge, which topped Luxury Travel Magazine's 2005 A-List. Each bungalow is built on stilts over the crystal clear sea, your own private terrace providing vistas of jumping dolphins at sunset.
---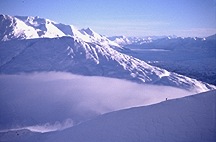 I admit it; I've never done it. But after a few beers the other night with a couple who lead springtime Heli-skiing tours in Alaska, I was well on my way out the door. Who needs the tropics when I could ski snow-capped peaks and glacier-carved mountains all by my lonesome?! (And I'm no ski junkie.) Up in Alaska, the winter season runs from late February until May. Heli-skiing operations like Points North Heli-Adventures (utilizing over 1,000 sq miles of skiable terrain in the Chugach mountains) provide an average of 20-25,000 feet of vertical per day. (Excursions average 6-10 heli runs and $850-900 a day.) I checked out a feature in Outside Traveler's Winter issue, which was equally as convincing about heli-ski tours in the central Alps. Apparently heli-skiing trips in Switzerland used to be rather boring—a daytrip appended to a traditional lift-skiing vaca at the big resorts. But this season, adrenaline hounds can experience SwisSkiSafari's Ultimate Journey, as described by the Outside author:
"a four-day, five-night, fine-wine-and-slide luxury tour that zips skiers around the country's top resorts in privately chartered B3's and Bell 407's. You start in Verbier (about 1,000 miles east of Geneva), then fly east to Zermatt and Saas Fee, making backcountry drops in between—wherever the snow is best. Doing 5,000- to 7,000-vertical-foot runs in a single push can hurt, but returning every evening to top-notch digs and massages blunts the pain."
Bring it on! Can anyone advise me-- additionally-- about good operators in the Rockies?
---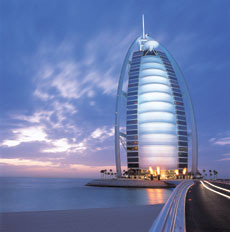 A recent article in The Guardian got me thinking about the hotel rating system—those hotels that strangely surpass five stars. The best-known example worldwide? Why the seven-star, sail-shaped Burj Al Arab takes that prize. Perched on its own island, its tower soaring above the skyline, the hotel is the landmark visible for all of Dubai. What's so special about a pad here? Personalized butler service, a laptop and private fax in every suite, an underwater seafood restaurant (reached by a simulated three-minute submarine ride), and an 18th floor spa with sweeping views of the Arabian Sea. The price tag starts at $1,000 a night.
With such over-the-top perks at luxury hotels these days (personal iPods and PSPs, and all the good stuff I've recently blogged about), it's no wonder that hotel PR departments are getting creative with their rating systems. After all, there is no global, standardized rating system. Sure, different tourist boards around the world have their own ratings, and Mobil and AAA are widely known, but a universal system? Nope.
That's pretty bogus if you ask me. What should we do about it?
---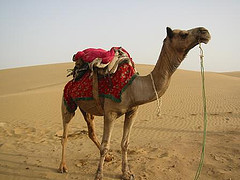 Last Stop: Hope You've Enjoyed Today's Ride
The city of Jaisalmer is like a fairy-tale castle out of "Arabian Nights." Dating from 1156, its amber-colored walls blend with the surrounding elements and seem to emerge from the desert sand. Located at the edge of the Thar Desert, near the border of Pakistan, Jaisalmer was founded on the historic crossroads of lucrative trade routes. The "Golden City" was an important gateway for the camel caravans from Central Asia and grew prosperous from this trade. Thus within the scorching heat of the desert, this remote frontier settlement developed a beautiful and isolated cultural tradition. For years the city was unscathed by outside influences, its rulers the last to succumb to British rule.
The 800-year old Jaisalmer Fort looms 30 meters over the city. Enclosed within its ramparts is an entire living city, the narrow lanes lined with shops and beautiful Jain temples dating from the 12 century. The citadel preserves a medieval way of life, its resident craftsmen weaving traditional rugs and designing silver jewelry. Stroll through the cobblestone streets of the old city and see the havelis, the mansions of the rich and powerful Jain merchants. These businessmen hired stonemasons to design their sandstone mansions, the facades delicately carved like intricate sculptures. Patwon ki Haveli is the most elaborate and magnificent of all the Jaisalmer havelis.
Where to Stay?
From Jaisalmer, visitors can venture on overnight camel expeditions into the Thar Desert. The ride? Blankets are piled high across the camel's hump, the reins in hand elaborately decorated with leather tassles. The vistas? An endless sea of sand stretching in all directions, the dunes shifting and changing in the wind. But a word of warning: camels can be full of personality, and lots of gas. I mean, so flatulent—LAWD!-- they stink to high heaven.
---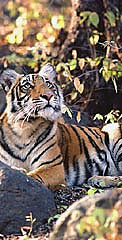 Third Stop: Tracking the Tigers
This former hunting ground of the Maharaja of Jaipur was declared a national park in 1980. Set between the Aravalli and Vindhya ranges, the park occupies 1,334 sq km of rugged, hilly terrain and deciduous forests. Ranthambore is most famous for its tigers, as the park began a conservation program in 1972 and has now stabilized the tiger population. The park offers opportunities for sighting these elusive predators on expeditions. At the lakes and water holes, visitors can also spot antelopes, sloth bears, wild boars, jackals, leopards and marsh crocodiles.
Where to stay?
Amanresorts has newly opened a wilderness retreat, Aman-i-khas, on the edge of Ranthambore. The 10 luxury tents are set in a quiet rural area, and are decorated in a rich, Mughal style, with king beds and spacious bathrooms (and soaking tubs!) The camp operates from October until the end of April-- the best period for wildlife spotting.
(Aman has a second resort in Rajasthan, called Amanbagh. Opened in February 2005, the resort's 24 havelis and 16 pool pavilions are set within a walled oasis, within the Aravalli Hills near Alwar. Not far from Jaipur, the resort echoes the region's Moghul architecture. Swimming pools, gardens, a decadent spa, and a Roof Terrace for dining beneath the stars.)
Aman-i-khas, Official Site
Aman-i-khas, Five Star Alliance
---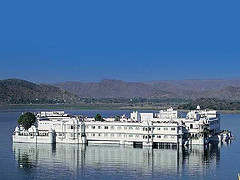 Second stop: The City of Lakes
Founded in 1567 by Maharana Udai Singh on the advice of a sage, Udaipur was the last of the Mewar capitals. Its romance and intrigue are almost mythical, the enduring source of inspiration for poets and artists. (And, um, this was the setting for that James Bond flick, Octopussy.) Surrounded by mountainous terrain, situated next to three lakes-- Pichola, Fateh Sagar and Udai Sagar—the city is like an oasis in the desert. The maze of narrow streets are lined by colorful markets, temples and gardens exploding with color. Set on a hill along the shores of Lake Pichola, the white City Palace seems to soar above the city. Enter through the Elephant Gate, wander the courts with carved arches, through pavilions and terraces with hanging gardens, and notice the blue tiles, inlaid mirrors, and miniature paintings depicting heroic historical scenes. Head to the markets for excellent shopping: pick up a few of the engraved miniature paintings depicting historic battles and epics, and leather books made with handmade paper (pressed with dried flowers).
Udaipur's Lake Palace is one of the most romantic spots in the world. It appears like a brightly lit castle floating on water. Though when we visited last year, Rajasthan was suffering a serious drought, so the lake had dried up to nothing. We walked along the treeless plain of the lake-bed and noticed the water buffalo navigating the emptiness. In the distance, women's saris appeared like billowing sails of color. The white marble palace seemed to be its own solitary island. And to think-- this 250-year old palace has been transformed into a magical luxury hotel. The Taj Lake Palace was originally built as a summer residence, designed with marble pillars, elaborate glasswork, colorful murals, and all the sumptuous details of a royal residence. Rooms offer stunning views of the Lake and Aravali mountain range. The Grand Royal Suites offer Jacuzzi tubs, marble bathrooms with rainforest showers, beautifully detailed artwork and crystal chandeliers.
The Taj Lake Palace, Official Site
The Taj Lake Palace, Five Star Alliance
---