LUXURY HOTEL INSIDER
The Luxury Hotel Insider
: Exclusive luxury hotel deals, features and special rates from the luxury hotel experts at Five Star Alliance.
Named one of Tripbase's
Best Luxury Travel Blogs for 2011
, below are Five Star Alliance's newest articles featuring exclusive information on luxury hotels worldwide including special offers and deals at the world's best hotels.
---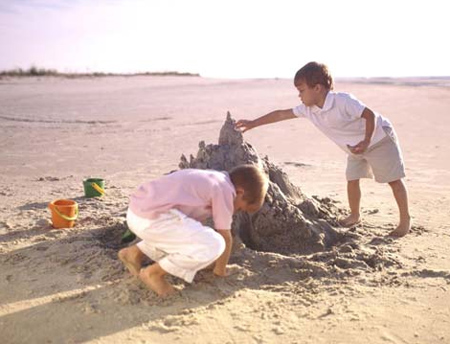 It's a common misconception that traveling with kids means you cannot stay in 5-star, luxury hotels. While it is true that the industry standard is double occupancy, many luxury hotels are willing to make adjustments and modifications to best accommodate you and your travel companions. In order to choose the best room(s) at the best rate(s), we've come up with 5 tips to help you plan your next travel excursion, and ensure an enjoyable trip with kids.
#1: Provide the hotel with details including the number of kids traveling with you as well as their ages. This is to make sure the hotel is prepared for your arrival and has time to make the necessary adjustments to your room. Providing this information will also ensure that the appropriate adjustments are made, and that a crib is not added for the 13-year-old teenager traveling with you.
#2: Many hotels will be able to provide extra bedding for one child, but it is unlikely that they will be able to provide bedding for two or more children in one room. If you're traveling with another adult and two or more kids, consider booking a suite, but be sure to double check with the hotel to find out how many people the suite sleeps, and make your travel plans from there.
#3: If you are traveling with children that are older, and the hotel of your choice does not have suites that suit your needs, consider reserving 2 rooms and requesting that they be adjacent, adjoining, or connecting rooms.
#4: If you are traveling with children that are younger and two adults, we advise that you book two rooms, request that they be adjacent, adjoining, or connecting rooms, and have one adult stay in each room.
#5: Be flexible, open, and willing to take advice and make adjustments as need be. Please be aware that all requests are simply requests only, and cannot be guaranteed until confirmed with the hotel.
We hope these tips ease the stress of planning your next trip with kids, and we wish you happy travels and a truly memorable experience!
Posted in:
North America
,
Orlando, FL
,
St Petersburg, FL
,
Sea Island, GA
,
Articles
,
Type of Travel
,
Travel with Kids
,
Special Luxury Travel Offers
,
The Practical Traveler
---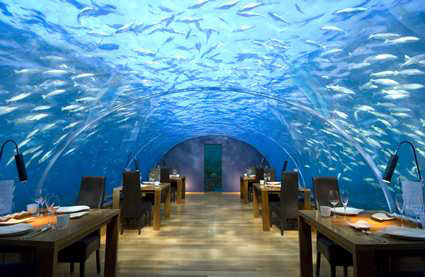 Hilton's Conrad brand of luxury hotels has been around for a quarter century. And to celebrate that milestone, they're giving away hotel credits to guests who check into their hotels around the world- from Indianapolis to the Maldives (pictured)- this fall. So whether you're craving chocolate in Brussels, doing business in Tokyo, or shopping Chicago's Magnificent Mile, choose Conrad and you'll get a nice little birthday present. Simply book the "Conrad 25th Anniversary Promotion" rate for stays through November 30th, 2011, and receive a $25 hotel credit for each night of your stay.
---
Hello friends/acquaintances/internet (wo)men,
Today I want to take some time out of my busy schedule to address an important issue in the hotel world. Randall Munroe of XKCD has been kind enough to bring to our attention one of the problems plaguing hotels and travelers alike: The bogus hotel review. Who are these evil people who are out to ruin the reputation of perfectly good hotels and steer you wrong in your vacation plans? Are they fun-hating scrooges who kick puppies and steal candy from babies? Maybe. But that doesn't have much to do with writing reviews. Maybe instead they're hired guns engaging in intricate plots of corporate espionage, compromising their rivals with claims of bed bugs and sticky-fingered staff. Or maybe they're just entitled people full of rage at some perceived slight: "Agh, my muffin wasn't cut in half for me! Worst hotel ever!!!"
We may never know for sure. But what we do know is this: Telling the real reviews from the fake is just as important as any step in the booking process. And it can be really difficult to do so. Here's a couple of tips I've picked up in my time working with online reviews.
1. Don't base your decision off a single negative review. Look at the aggregate of a hotel's reputation online and across more than one site. Some of the biggest review sites are so worried about trustworthiness, they're changing their slogans. Any mistake can be made once, but the mark of a problem is when more than one person on more than one site points out the same bad service.
2. Go to the experts. If industry staples are reviewing a hotel well, it's unlikely that poor reviews are anything but an anomaly. And conversely if it's getting bad reviews, you might want to think twice about booking. This isn't to say you should ignore customer reviews, however. Professional reviews are great at getting drilling deep into the nitty-gritty of a hotel stay and evaluating across multiple hotels, but customers are more likely to spot the most recent changes in a hotel's practices. If a hotel has taken a turn for the worse, customers will be the first to know.
3. Pay attention to the language. According to a study by Cornell researchers, if a reviewer itemizes every experience they had, mentions the name of the hotel, and uses a lot of exclamation points, there's a chance that it's been generated by the hotel itself. Plenty of people enjoy their stays and want to gush about them, but very few will take the time to give you an itemized list of everything you can see and do there.
4. Above all, trust your instincts. Ultimately, reading online reviews is about reading the people who wrote them, and even after only a couple of sentences you'll have a good sense of who is trustworthy. If you think someone sounds like a fake or is completely irrational, don't let them color your judgment.
Reading reviews is certainly anything but a science, but hopefully with these tips, you can be a little more confident in your next choice to book some of the world's top hotels.
---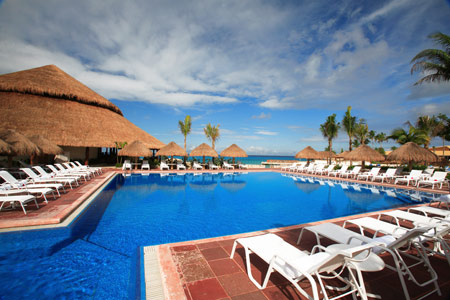 From supporting local craftsmen in Romania to clean-ups of the reefs in Cozumel, InterContinental Hotels & Resorts knows responsible business. In fact, they've partnered with National Geographic's Center for Sustainable Destinations to celebrate Responsible Business Week. Hotels around the world are "taking part in activities that ensure their location remains an appealing place to visit for future generations"- to quote the official press release. The protection and preservation of local environments is key. Examples of these geotourism initiatives include: InterContinental Boston's rooftop beehives that pollinate the flora in surrounding parks and provide local honey for the kitchen; InterContinental Bora Bora Resort's salt water air-conditioning system, the first in the world; Presidente InterContinental Cozumel Resort's environmental work to protect the reefs and marine life, teaching guests how to scuba dive responsibly. More details can be found here.
---
From special spa treatments to private guitar lessons for adolescents, hotels are noticing the teenager set. The latest trend in the hospitality world is the teen lounge created exclusively for teenagers at luxury hotels. Read: no adults allowed. At the JW Marriott Starr Pass Resort & Spa, the Blur Teen Lounge was an instant hit when it opened in April. Traveling with an adolescent can be tricky, but the Teen Lounge provides a separate area for independent-minded teens to hang out and relax, while still on hotel property. Another big attraction? All the technology, like iPads, an Xbox 360, a Playstation 3, a 46-inch LCD HDTV, and a DVD library. Also in Arizona: the Fairmont Scottsdale Princess has an exclusive teen lounge called The Hang Out.
---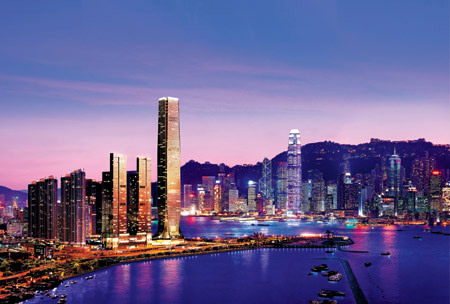 The 2011 World Luxury Hotel Awards have announced their Global Winners across a variety of categories, and we're confident that each of these hotels represents the finest in luxury accommodations. We'll be spotlighting many of these individually in the coming weeks and offering our critical commentary, but for now, take a look at the winners such as the Ritz Carlton Hong Kong, winning Best Luxury Hotel overall, and the Sandals Royal Plantation, the Best Luxury Island Resort.
Click here to check out the full list of best hotels, listed alphabetically by location so you can find the names of the top hotels in your vacation spot of choice, and search here if you're interested in booking any of the top hotels of 2011.
Posted in:
North America
,
Central & South America
,
Bermuda & The Caribbean
,
Europe
,
Asia
,
Africa
,
Middle East
,
Australia & The South Pacific
,
Hong Kong
,
Articles
,
Business Travel
,
Beach and Island
,
Hot Spots
,
'Best Of' Lists
,
Our Favorite Sites
,
Events
,
Casino Hotels and Resorts
---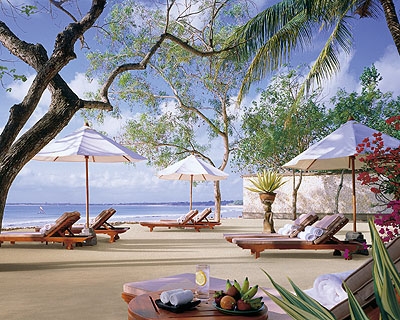 Leave it to Four Seasons to put together the ultimate globe-trotting adventure: Around the World by Private Jet. Departing from Los Angeles on October 29, 2012, this 22-day adventure will hit up Four Seasons destinations in Hawaii, French Polynesia, Australia, Bali, Indonesia, Thailand, India, Egypt and the UK. Just 78 guest will be whisked away on a specially-outfitted Boeing 757 provided by TCS & Starquest Expeditions. (Jetsetters will feel right at home in the VIP seats, attended to by a Four Seasons concierge, and debriefed on destinations by onboard experts in art history, cuisine, and more.) On the ground, personalized itineraries will include local specialties, behind-the-scenes tours, and off-the-beaten path treasures. Here are a few of the highlights of this three-week trip:
Two of the world's most active volcanoes in Hawai'i, the vibrant coral gardens of the South Pacific, Sydney's iconic buildings and scenic gorges, the mystical allure of Ayers Rock, Bali's Goa Gajah (Elephant Cave) and Yeh Pulu temples, Thai cooking classes in Chiang Mai, Agra's Taj Mahal, Mumbai's Mani Bhavan Gandhi Museum, and a private, lantern-lit dinner amid the pyramids of Gîza.
Pictured: Four Seasons Bali Jimbaran Bay.
Posted in:
Articles
,
Featured Luxury Hotels
,
Adventure/Ecotourism
,
Romantic Travel
,
Food and Wine
,
Luxury Spas
,
Beach and Island
,
Travel Industry News
,
Special Luxury Travel Offers
,
Luxury Airlines
,
Luxury Golf Resorts
,
Luxury Suites
---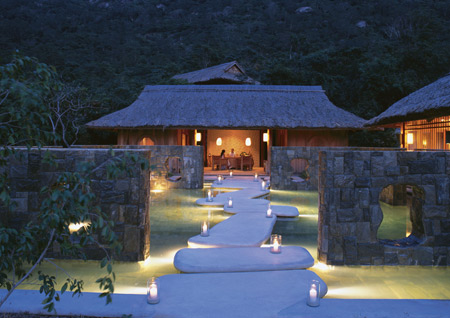 I'm about to depart from my normal articles to give you an important notice. So sit up straight, get out your quill and inkwell, and start taking notes. Are you listening? Good. Because September 26, a week from now, is National Love Note Day. Largely created so your significant other has an opportunity to critique your writing skills, this important landmark in a relationship is a chance to really step up the romance. So get ready to tell her how you really feel, using the liberal application of glitter.
One of the hallmarks of a good card (hah!) is its presentation, so don't just give it to them in your kitchen over Chinese takeout (although major bonus points if you hide it in a fortune cookie). Instead take them to your favorite destination, spend a night away in a wonderful hotel, and give them the royal treatment. Some hotels, like the Four Seasons Boston, are even offering to help you out if you don't fancy yourself clever enough to match the words of Keats or Longfellow. Using some famous expressions of love to liken your relationship to the great romances in history, the Four Seasons will craft a card with whatever turn of phrase you desire. Need some ideas for locale? Check out the Reuters top ten romantic hotels. Honestly, I can't think of a better time for a romantic getaway.
---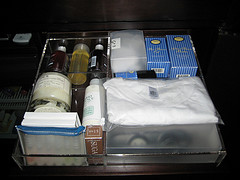 Whether you love it for late-night snack binging, or hate it for its over-priced bag of peanuts, who doesn't have an opinion about the hotel mini-bar? (No surprise that this is one of our favorite subjects; one of the first things we do upon check-in is swing open the door to the mini-bar to check out the goods. Curious about the history of the mini-bar? Check out our article on its "Fabulous Evolution" here.) So imagine our delight when we stumbled upon a recent Wall Street Journal article about how hotels are overhauling their mini-bar offerings, substituting gourmet local goodies for the boring standard items. Surprisingly, hotels actually lose money on mini-bars; the contents expire, have to replenished, need to be checked by employees daily. To quote:
In an attempt to convince guests to spring for pricey treats, some hotels are swapping out the standard potato chips and candy for unique local snacks or other items you can't get at the nearest 7-Eleven. The Ritz-Carlton, Santiago, for example now offers ham-flavored Chilean almonds. The Enchantment Resort in Sedona, Ariz., swapped out bottles of its lowest-selling beer, Heineken, with Grand Canyon Pilsner, a local brew. Loews Hotels is in the process of adding more locally sourced items to the minibars at its 18 hotels, such as chocolates from Dylan's Candy Bar in New York. Omni Hotels & Resorts will soon test a gluten-free pretzel in its minibars.
Pictured: Some items from New York City's Gramercy Park Hotel mini-bar, circa 2008
Related Articles:
Best Hotel Mini-Bars: Trump International Hotel and Tower in Chicago Gets Props

Personalized Mini Bars at the Peabody Hotel Orlando
---
After reading CNN's own list of great hotel pools, we decided to put our heads together and write up our thoughts on the matter. Who has the 10 best hotel pools in the world? To truly know, you'll have to visit yourself and see. But these are certainly our favorites.
10. The Banyan Tree Seychelles
With the simple application of basic mathematics, the Banyan Tree has figured out how to improve upon the tried and true concept of the private pool: By giving its two-bedroom suites two private pools – and what a sight they are. That's the kind of thinking I can get behind.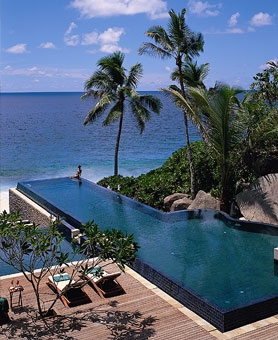 9. Le Palais de la Mediterranee, France
Le Palais de la Mediterranee in Nice rolls in at number 9 with its incredible 3rd floor indoor/outdoor pool. Just feet from a sun terrace with a gorgeous view of the Mediterranean, this is a pool that was tailor-made for lounging. If to you a vacation means leaning back, lowering your sunglasses over your eyes and relaxing the afternoon away, then this is the hotel for you.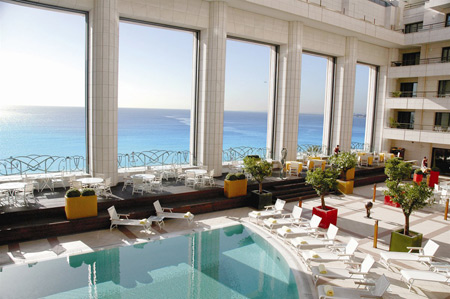 8. The Berkeley, London
While some other pools may be more spectacular, as you'll see in a moment, none offer the same level of comfort year-round as The Berkeley rooftop pool in London. The heated pool features a wonderful open-air swimming experience in the summer, but unlike most hotels, when it gets a bit colder, you don't have to take the party inside. The Berkeley instead rolls out its retractable roof, and you can now enjoy the comfort of a perfectly climate-controlled rooftop pool in winter.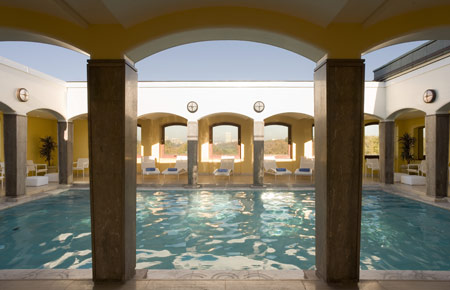 7. Villa d'Este, Italy
The pool at Villa d'Este on Lake Como would make Archimedes blush. Floating above the very lake that the Villa rests against, the pool features a built-in Jacuzzi and fantastic view of the surrounding mountains. It's like swimming in the lake just inches below your feet, but it's always the perfect temperature.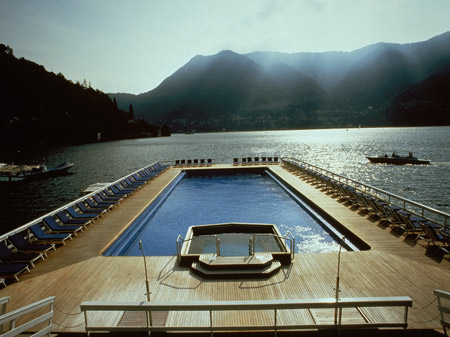 6. Blue Palace Resort and Spa, Crete
The Blue Palace Resort and Spa is truly deserving of its sixth place finish, and really if we were fair it'd be on this list twice. The aptly-named Blue Palace is renowned for the private pools that come standard with most of their rooms and suites. With pools up to 40 sq. meters in size for just you and your companion(s), there couldn't be a more private or luxurious swimming experience. And if that weren't enough, the Blue Palace is famous for its unique Grecian Thalassotherapy, which combines the relaxing powers of a world-class massage with water-cleansing rituals guaranteed to revitalize your body.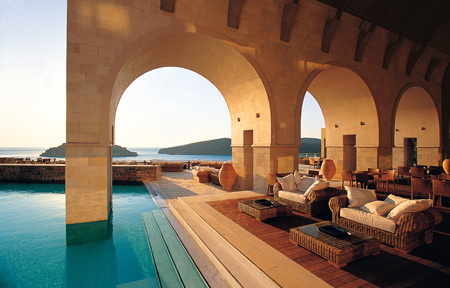 5. The Library Koh Samui, Thailand
In this case, the picture speaks for itself. The Library Koh Samui is built around the innovative concept that a vacation is about relaxation and people should be allowed to free their minds from stress by engaging in the simple pleasures of cracking open a book and enjoying the company of their family or friends. They've also turned their pool red - which is both surreal and strangely captivating, like green ketchup or a fish riding a bicycle.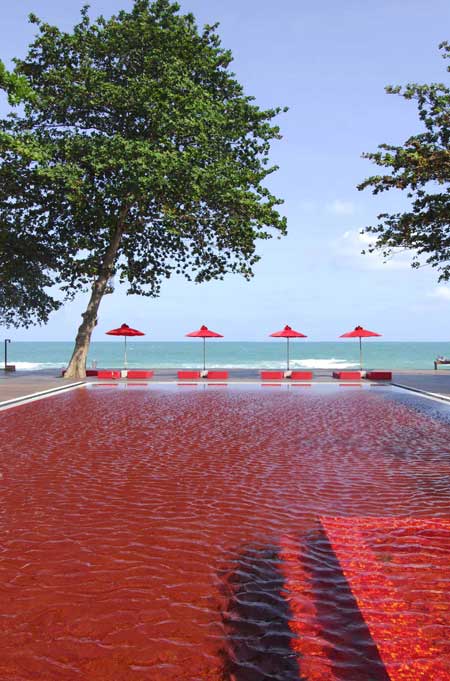 4. Rawi Warin Resort and Spa, Thailand
The 1000 sq. meter infinity edge pool at Rawi Warin looks as if the water is fading into the ocean, with only little beach umbrellas poking above the water line to let you know that it doesn't go on forever. The illusion is compelling and gorgeous. As if that weren't enough, Rawi Warin also has Asia's first ocean swimming pool, extending 100 meters into the water and allowing you to swim with the fishes in an entirely literal way.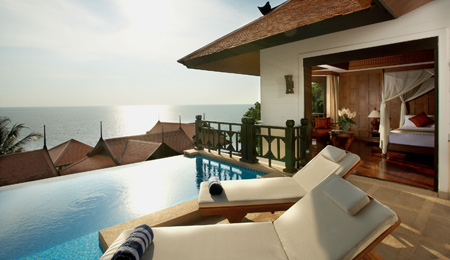 3. Palazzo Sasso, Italy
The Palazzo Sasso has one of the more innovative designs for a hotel pool we've ever seen. Situated on the edge of a cliff 1000 feet above sea level, the pool at Palazzo Sasso offers underwater windows with a view of the sea below, thus discovering the heretofore unknown condition of subaqueous vertigo. But seriously, it is the single most impressive thing I've seen at the bottom of a pool.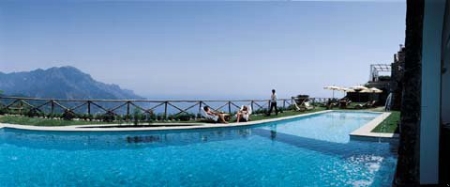 Atlantis the Palm Dubai may just be the best thing ever. If you got all the things together in one place, and made me pick, I'd say, "I want that thing. It looks like the best thing." So what is this thing I'm so excited about? Well, it just might be a standard luxurious hotel pool, only it's attached to a full water park! I don't bandy about with exclamation points lightly, but this seems to be worth one. If you, like me, have ever thought, "wow, this vacation is really relaxing, but what I'd really like is to go launching out of a ziggurat at high speeds into a pool of water," then this is the destination for you. And even more than that, much of the hotel is themed around this aquatic experience. There are underwater mazes, a four-and-a-half hectare dolphin habitat, and something they just call Aquaventure.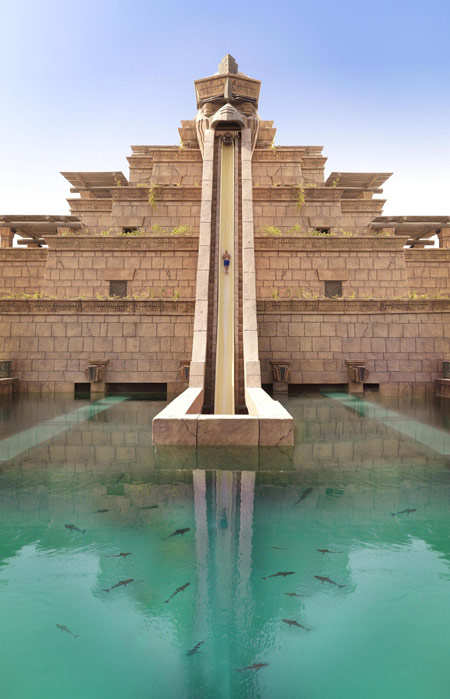 Occasionally, a feat of engineering comes along that's so remarkable, you have to doff your hat to the architects of its design. The Marina Bay Sands Infinity Pool in Singapore is more like what would result if Leonardo da Vinci were in the hotel business. Resting 200 meters above the ground in the Sands SkyPark, the Infinity Pool is as breathtaking as it is surreal – the edge of the pool seems to fade into the horizon itself. Swimmers are greeted with a panoramic vista unequaled anywhere. Without a doubt, the Infinity is the coolest hotel pool we've ever seen and not just for the breeze.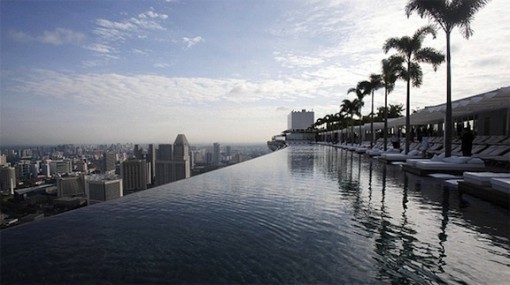 So throw on your swim trunks and book a room at any of these amazing hotels (maybe in the other order), and soon you'll be enjoying the sun by some of the most amazing pools in the world.
Posted in:
France
,
Italy
,
Thailand
,
Seychelles
,
Nice
,
Crete
,
Lake Como
,
London
,
Singapore
,
Koh Samui
,
Krabi
,
Mahe Island
,
Dubai
,
Articles
,
Featured Luxury Hotels
,
Travel with Kids
,
Luxury Spas
,
Beach and Island
,
Hot Spots
,
'Best Of' Lists
,
Luxury Suites
,
Our Favorite Sites
---