LUXURY HOTEL INSIDER
The Luxury Hotel Insider
: Exclusive luxury hotel deals, features and special rates from the luxury hotel experts at Five Star Alliance.
Named one of Tripbase's
Best Luxury Travel Blogs for 2011
, below are Five Star Alliance's newest articles featuring exclusive information on luxury hotels worldwide including special offers and deals at the world's best hotels.
---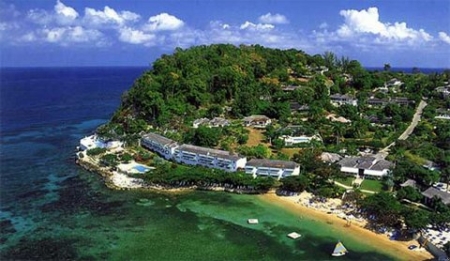 The Round Hill Hotel and Villas has been playing host a panoply of stars lately, and this holiday period was so covered with them, we'd advise the use of shades for more than just the sun. If you were down there in your post-Christmas festivities, you would've been enjoying the company of honeymooning Paul McCartney along with his daughter Stella McCartney, Ewan McGregor and wife, and if that weren't enough, the entire Ralph Lauren crew decided to come along for the ride. So next time you're there, don't be surprised if you can't walk five feet without having to play it cool.
And it's no wonder. The Round Hill has always been one of, if not the top, resorts in Jamaica and the whole of the Caribbean. Situated on Montego Bay, the cashmere sweater of luxury hotels is both soft and inviting and not showy in the least. The 18th century great house turned luxury resort is one of the most low-key in our collection, and that's exactly as it should be. If you're interested in the all-inclusive programs offered by the resort, simply make sure to mention the All-Inclusive Platinum Plan to it added into your room rates. As you're looking to shake off the winter snow and head to warmer climes, the Round Hill Hotel and Villas is definitely one to check out.
---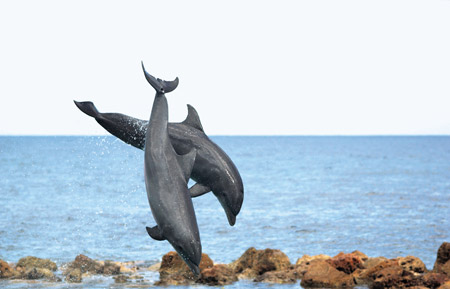 In the final days of 2011, Five Star Alliance is counting down the Top 20 Luxury Hotels & Resorts Worldwide, as decided by our guests.
In the #6 spot we have the Half Moon, a RockResort located in Montego Bay, Jamaica.
Quick facts about the Half Moon:
- Stretches across 400 landscaped acres, with 33 incredible 4 to 7 bedroom villas, each with its own personal staff and pool.
- 152 luxurious suites and 46 breathtaking rooms.
- Offers a 72-par golf course, 18-hole putting green, 13 lit tennis courts, a full range of water sports, and a natural Dolphin lagoon.
- Offers both all-inclusive and room only rates.
- Over 26,000 square feet of meeting space with state of the art audio/visual equipment and internet access.
- 51 swimming pools, including an Olympic size lap pool and swim-up pool bar.
- Children activity center, Hype Zone teen center, and babysitting services available.
- Recipient of the 2009 Virtuoso Best Family Program Award.
View photos, learn more about the hotel, and check availability at the Half Moon, a RockResort.
Posted in:
Bermuda & The Caribbean
,
Jamaica
,
Montego Bay
,
Romantic Travel
,
Travel with Kids
,
Business Travel
,
Beach and Island
,
Hot Spots
,
'Best Of' Lists
,
Luxury Golf Resorts
,
Luxury Suites
,
All-Inclusive Resorts
---
It's not every day that an infographic so awesome comes around. Over at Cheap Sally, an online discount site, their travel experts have aggregated a list of some of the wildest hotel and vacation sites in the US, and it features some of our favorite US properties. For the whole list, check out the infographic below, but I'd like to highlight some of our favorites.
Long at the top of our list of the Best Luxury All-Inclusive Resorts in the world, The Point at Saranac Lake, NY, is so exclusive, you aren't told where exactly on the pristine Adirondack lake it is until you've confirmed your reservation. Complete with a 3-star Michelin chef and only 11 rooms on the property, you are guaranteed to experience a personalized, secluded stay in one of the world's most elite properties.
In terms of crazy spa treatments, it's hard to top the over 250-gallon Evian bath only available in the penthouse suite of the Hotel Victor on Miami Beach. This spa treatment costs only slightly less than the suite itself and features a bath of pure Evian water sprinkled with rose petals.
But if you're like me and you like your baths with a little more kick to them, then the Kenwood Inn and Spa vinotherapy treatment is just what you're looking for: Bathe in wine and grape seed extract to soak your skin in the antioxidant polyphenol which powerfully slows the aging of skin. You'll come out looking and feeling younger than even a couple glasses of the same wine would make you feel.
There's a just a few of the wonderful and crazy hotels and spas located around the US, and you can some more great examples below. Make sure to check out Five Star Alliance to book these great destinations or if you're looking for a deal or digital coupon for any of over 11,000 retailers, Cheap Sally is your girl.
Click for full image.
Infographic courtesy of Cheap Sally
Posted in:
North America
,
Albany, NY
,
Miami, FL
,
Sonoma, CA
,
Articles
,
Food and Wine
,
Luxury Spas
,
Hot Spots
,
Luxury Suites
,
Our Favorite Sites
,
What a Hotel!
,
Deals
,
All-Inclusive Resorts
---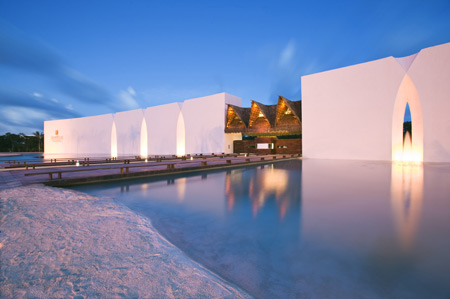 Hurry, it's the last week for newly-engaged couples to enter the Velas Weddings' contest to win a tantalizing, $25,000 dream wedding at Grand Velas Riviera Maya! All you have to do is submit the story of your creative marriage proposal along with a photo (optional) of your best moment together on the on the Velas Weddings, Xcaret, and Xel-Há Facebook pages. Ten finalists will be chosen by Velas Resorts in a random drawing on November 1st. On November 2nd the 10 finalists will be notified, and public voting will take place from November 2nd - 19th on the Velas Weddings Facebook Page. The winners will be notified on November 20th, 2011. To see the winning couple from this past spring's contest tie the knot in paradise at Grand Velas Riviera Nayarit, tune in to www.velasresorts.com/grandwedding for live coverage on October 30. .
Curious to hear more about the winning prize? Read on to learn the details about this all-expenses paid beach wedding on Mexico's idyllic Riviera Maya...
The winning couple will enjoy a unique Mayan ceremony at Xel-Ha, known to be one of the most beautiful natural aquariums in the world, followed by a symbolic or legal ceremony complemented with flowers and music at Xcaret eco-archeological park, which showcases Mexico's mystical natural wonders, biodiversity and cultural heritage. The prize package includes four days and three nights in a luxury ocean-front Ambassador Pool Suite, a beach-side cocktail hour, a three-course wedding reception, live music, hair and makeup for the bride, decorations, wedding cake, $250 gift certificate courtesy of Diamonds International, event photography by Humberto Castilla, "Trash the dress" photo session by Dream Art and a Ultrafemme gift certificate. The couple and guests will also enjoy a welcome dinner at the resort's exclusive Piaf restaurant, dolphin swim courtesy of Delphinus, special shopping excursions to Luxury Avenue and nature tours courtesy of Rio Secreto.
Posted in:
Mexico
,
Playa del Carmen
,
Featured Luxury Hotels
,
Romantic Travel
,
Food and Wine
,
Beach and Island
,
Travel Industry News
,
The Practical Traveler
,
Events
,
All-Inclusive Resorts
,
Weddings and Honeymoons
---
The Beach Boys sang it best, and we've decided to embrace their lyrics and feature every place they sang about in their hit, "Kokomo." Kokomo, however doesn't actually exist off the Florida Keys, but Aruba, Jamaica (oo I wanna take you) are all quite real, so be sure to keep up with our blog series and check out the incredible places the Beach Boys deem worthy of your stay!
The first featured locale mentioned in the song is Aruba, and we're going to take it a step further and recommend Palm Beach as a top destination. Consider checking into the Westin Resort and Casino Aruba where you'll be steps away from the magnificent ocean and soft sand beaches. Enjoy sailing, scuba diving, and deep sea fishing while staying in one of 481 spectacular rooms, of which over 200 rooms offer an ocean view. Outdoor adventures not your cup of tea? Then rejuvenate at the recently renovated spa or try your luck at the casino. "Wouldn't It Be Nice" if you were enjoying the gorgeous weather and relaxing on the beach right now? Well, there's no need to daydream about a vacation when the Westin Resort and Casino Aruba could be your reality, so book your reservation today!
---
News from the postcard-perfect Caribbean island of Saint Lucia. The BodyHoliday-- the all-inclusive resort famous for its promise "Give us your body for a week and we'll give you back your mind"-- has opened its doors after a $20 million makeover. The renovation added a brand new infinity pool; doubled the size of the Watersports Center; and upgraded the resort's public spaces and dining venues. Not to mention the all-new, open-plan Penthouse Suite-- complete with a marble hammam and a soaking tub for two with sea views. What's more- the resort is introducing two new beauty partnerships to guests: THALGO, a high-end marine-based skincare and beauty line available at the wellness center, and REN, a bioactive skincare line available in-room.
Posted in:
Bermuda & The Caribbean
,
Saint Lucia
,
Marigot
,
Featured Luxury Hotels
,
Adventure/Ecotourism
,
Romantic Travel
,
Food and Wine
,
Luxury Spas
,
Beach and Island
,
Travel Industry News
,
The Practical Traveler
,
Luxury Suites
,
All-Inclusive Resorts
,
Adults Only
---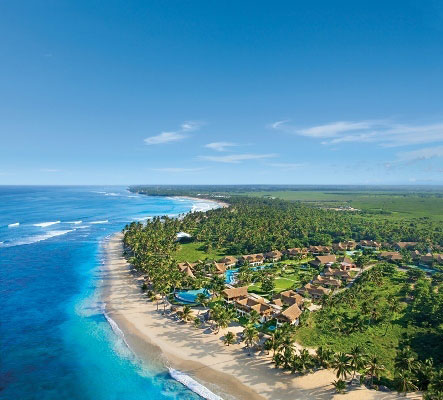 Some resorts claim to be all-inclusive but only include a few meals and your typical amenities like pool access and free shampoo. Looking for a vacation that actually has it all? Consider staying at the Zoetry Agua Punta Cana in the Dominican Republic!
The Zoetry Agua is an all-suite, all-inclusive resort that offers everything you can imagine, and the price of your stay includes it all, so you don't have to think or worry about charges or gratuities for the entirety of your stay. At Zoetry Agua, you automatically receive the Endless Privileges experience, and this package offers you limitless access to almost everything Zoetry Agua has to offer. Some of the special perks included in the Endless Privileges experience are a welcome bottle of rum, daily breakfast, lunch, and dinner dining options, complimentary horse-back riding, unlimited cocktails and specialty beverages, a 20 minute spa treatment per stay, and so much more! The Zoetry Agua Punta Cana truly embraces the philosophy of offering a stress-free and relaxing environment, taking care of everything so you can have the time to fully unwind and enjoy yourself. This hotel's definition of wellness goes beyond the usual and encompasses a full range of activities to stimulate your body and mind. Whether you're planning your honeymoon, a romantic trip with your significant other, or even a thrilling getaway with a group of friends, the Zoetry Agua is the perfect place for all of the above. So start practicing your bachata dancing and get ready for the time of your life at the Zoetry Agua Punta Cana.
---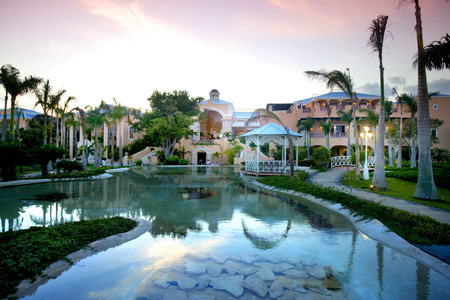 We understand that no one aims to come in second place; there is no recognition for mediocrity. We at Five Star Alliance know better than anyone the importance of offering the most luxurious resorts in the world, so we notice what's going on in the industry, and it matters to us, because it matters to you. We'd like to welcome you to our new blog series, Best of the Best, where we'll be featuring the best and most luxurious resorts in various categories. But don't take our word for it. These resorts have been recognized as the best in the business by the prestigious World Luxury Hotel Awards, so you can relax and stop worrying about your upcoming trip, knowing that it truly will be the best of the best.
It's probably a little out of place to use a gambling metaphor for a coastal resort, but with a name like Royal Hideaway Playacar, it's hard not to resort [Ed: stop that!] to it when such a shameless pun is on the line: Play your cards right, and you'll be staying at the Playacar in no time.
Located in Playa del Carmen, Mexico, the Royal Hideaway lies on the bluest, clearest waters you'll ever see. The major selling point? The Hideaway has a minimum age of 13, so there won't be any of those pesky kids running about and distracting you from the pure relaxation of the Mexican coast. The adult-oriented resort boasts a AAA Five Diamond award and boy has it earned it. Sandy tropical beaches accent the colonial Mexican architecture and leafy palm trees that shade you from the tanning sun. And now that fall is upon us, there's no better time to escape to a place where the changing of the seasons hasn't brought a slight chill to the air. Take in the warm rays of sunlight on the furnished balcony or terrace that comes with every single room, and avail yourself of world-class spa treatments. So make sure you check out the Best Luxury Coastal Resort of 2011.
---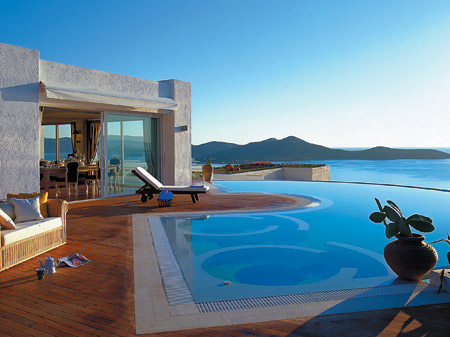 Hello, Sir or Madam. Welcome to my little corner of the internet. You've probably come because you Googled something like "luxury hotels + minotaur" or "best hotel in Crete + part 2 of a series of real-life destinations that will spark the imagination and transport you to another world." You didn't? Well, in any case, do have a seat; and, if you'll let me, I'd love to tell you a bit about another destination as well known for its fantasy as its reality. Check out Part 1 here.
Part 2 - Crete
What do you call someone from Crete? A Cretin? Cretacious? Creatine? Well, four thousand years ago, it was the Minoans who called it home. Besides having the most powerful mercantile fleet in the Mediterranean, the Minoans are most well-known for their namesake, King Minos. As the stories tell it, Minos was beholden to the legendary Minotaur who lived in a vast labyrinth and demanded a sacrifice of 14 young men and women every nine years. For decades, the king complied, until the hero Theseus promised to slay the Minotaur. As much a ladies' man as beast-slayer, Theseus killed the minotaur and survived only with help from his lover, Ariadne, who provided him with a ball of string he used to track his path through the maze. Theseus returned home in triumph, but unfortunately for his father, raised the black sails that indicate he had died on the voyage, and his father threw himself from a cliff in anguish before Theseus reached the port. Little did we know the whole story was just an allegory for calling your family.
Not surprisingly, modern-day Crete is better known for its beaches than its endless mazes. Situated in the middle of the Mediterranean, the coastal waters are as blue as the summer sky. And while your journey to Crete is unlikely to involve slaying a legendary beast, you might vanquish a few canapés as you enjoy the pristine waters and unequaled service at Elounda, one of the world's most exclusive beach resorts. While you're there, make a trip to Knossos to check out the ruins of the 1000-room palace that was the site of the myth of the Minotaur. Just remember to raise your white sail on the return home.
---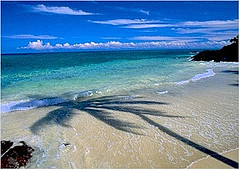 Escape to a private island resort in the South Pacific for a romantic getaway. Turtle Island, a favorite haunt of celebrities, is giving away an $1,000 air credit when you book a five-night stay. What's more, they'll throw in two extra nights for free. With over 500 acres for just 14 couples at a time, Turtle Island is the ultimate honeymoon hideaway. Discover what Andrew Harper calls "as close to heaven on earth as you're likely to get." Rates include all meals, drinks, and activities like sport fishing and scuba diving. The Washington Post researched the rates: A seven-night stay is $12,495 in a two-room beachfront cottage. Stay December 1, 2011-April 30, 2012.
Posted in:
Fiji
,
Nadi
,
Featured Luxury Hotels
,
Adventure/Ecotourism
,
Romantic Travel
,
Food and Wine
,
Luxury Spas
,
Beach and Island
,
Special Luxury Travel Offers
,
The Practical Traveler
,
Air Travel
,
All-Inclusive Resorts
,
Weddings and Honeymoons
---