LUXURY HOTEL INSIDER
The Luxury Hotel Insider
: Exclusive luxury hotel deals, features and special rates from the luxury hotel experts at Five Star Alliance.
Named one of Tripbase's
Best Luxury Travel Blogs for 2011
, below are Five Star Alliance's newest articles featuring exclusive information on luxury hotels worldwide including special offers and deals at the world's best hotels.
---

Globetrotters rejoice: American Airlines, British Airways and Iberia have launched a joint Premium lounge in Miami International Airport, located in Concourse E — so first-class and business passengers can kick back, relax, or get down to business — before ever stepping foot on their flight.
Spanning 6,000 feet and offering seating for 120 guests, the new lounge boasts a business center with high-speed PCs, flat-panel TVs, spa-like showers for an on-the-road freshening, and a children's room outfitted with age-appropriate programming.
Travelers visiting the lounge can also order up a stiff cocktail or crisp bubbling beer, as well as choose from a complimentary lunch, afternoon tea or light supper menu, offering rotating soups and mini sandwiches among other edible delectables.
The AA, BA, IB Premium lounge is open daily from 1 p.m. to 9 p.m. and welcomes eligible International First Class, Business Class and Emerald and Sapphire customers.
Customers traveling on an AA-operated transcontinental full fare First Class (F and Z inventory) or full fare Business Class (J and U inventory) ticket, as well as Admirals Club members departing from Concourse E, may also access the lounge.
---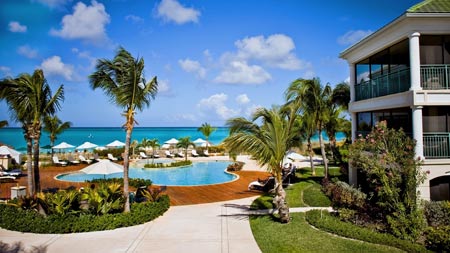 You need a break from the frigid temperatures and wintry mix. Flee the sidewalk/driveway shoveling and bask in the sunshine on one of the prettiest beaches on earth. Though only 80 minutes by air from Miami, the Turks and Caicos feel like a world away. The Sands at Grace Bay is a secluded hideaway with pristine sand, turquoise water, and spacious balconied suites. Trade the winter for a little piece of heaven, and enjoy 25% off room rates for a limited time. (Act fast to get these sweet savings; discount available for stays through February 12, 2011.) Whether you end up relaxing in the free-form swimming pool or scuba diving the pristine reefs, you'll appreciate a taste of the islands in the middle of the dreary winter.
Psst. We hear that JetBlue will offer new nonstop service from New York and Boston to Providenciales and Continental Airlines will offer non-stop service from Newark starting in February.
---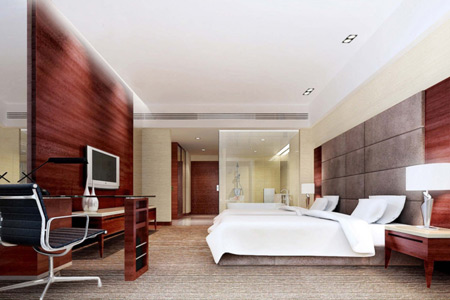 As we reported last month, the buzz in Beijing is the September opening of a snazzy new Langham hotel at the international airport. The press has gone wild about this sleek, "tech-tastic" hideaway, the antithesis of a normal airport hotel. As Travel Agent Magazine points out, "Airport hotels are notoriously drab and boring; their only main draw is their location. And while location is a start, spice should never be sacrificed." Enter Langham Place Beijing Capital Airport, a revolutionary new addition. Here's the latest press love from The Boston Globe:
In Beijing's new Langham Place hotel there are DJs in the lobby, a 24-hour high-tech lounge, and loft-style soundproofed rooms. The five-star hotel just steps from Beijing Capital Airport's new Terminal 3 offers such attractions as Club L lounge: four zones with gaming stations, massage chairs, a complimentary bar with drinks and snacks, and two "revitalize'' rooms for early check-ins and late check-outs. There are also a full-service spa, indoor pool, and four onsite restaurants. Rates start at $198.
---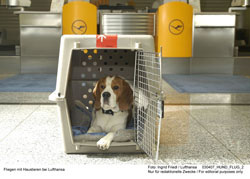 Traveling across the continents with your pet? Fly with Lufthansa, and Fido will be privy to some VIP pampering at the "Animal Lounge" in the Frankfurt Airport. The airline recently opened a specialized animal station for pets during transit, billed as the "world's most modern animal airport facility." Spanning 4,000 square meters, the dedicated space offers care, handling, feeding, and shelter facilities as well as veterinary care. "The name 'Animal Lounge' is very appropriate for the new animal station because just like in an airport lounge for passengers, the animals can relax and rest there before and after transport," said Axel Heitmann, director, Competence Centre Animals of Lufthansa Cargo. Some 14,000 household pets and 1,500 horses and wild animals pass through the Animal Lounge annually (ranging from polar bears to tropical fish), and Lufthansa promises that these animal "passengers" are ensured "the ultimate comfort."
---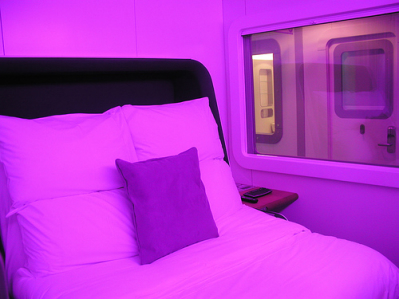 Ever bed down in a "pod" hotel at the airport? Managed by Yotel, these genius "pods" offer a place of rest for international globetrotters between flights. (Book a four-hour stay in a tiny capsule for pennies.) Yotel runs pod hotels at Gatwick, Heathrow, and Amsterdam's Schipol airport. Up next for Yotel: a 669-rom hotel in New York's Times Square, slated to open in 2011. To quote The Financial Times: "Rather than four-hour stopovers, the New York Yotel will offer conventional overnight stays, charging $200-$250 a night in capsules about twice the size of Yotel's airport accommodation, and incorporating motorised beds, "monsoon rain showers" and purple mood lighting."
---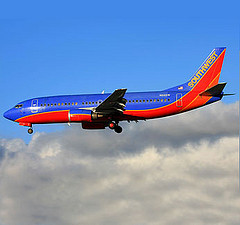 Southwest Airlines rejecting overweight passengers from flights... Air France instituting a new policy on forcing obese fliers to buy a second seat... The debate continues around a delicate issue. A recent Practical Traveler column in The New York Times shines the spotlight on airlines' policies towards the obese:
Flying in coach is never comfortable, but it's getting downright awkward for bigger passengers as airlines increasingly single out customers they deem too fat to fly. The issue made headlines in early February when the director Kevin Smith, best known for "Clerks" and "Chasing Amy," was thrown off a Southwest Airlines flight from Oakland to Burbank, Calif., because the crew determined he was too big. Mr. Smith turned to his Twitter account to vent: "I broke no regulation, offered no 'safety risk' (what, was I gonna roll on a fellow passenger?). I was wrongly ejected from the flight."
---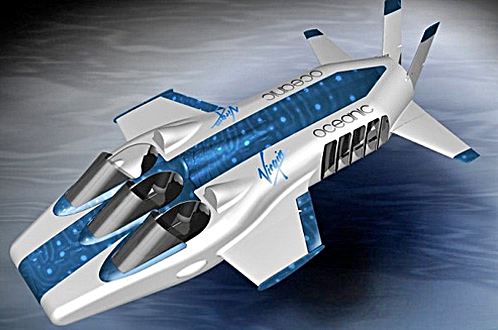 Back in December, we reported on Virgin Galactic's tourist spaceship, a pet project of Sir Richard Branson's. Come 2011, travelers will be able to zoom through outer space for $200K. Next up for the business mogul? "A first-of-its-kind underwater plane." Virgin Limited Edition made the announcement about Branson's big purchase this week. An engineering marvel, the vessel can undertake underseas flights, moving through the water as if it were air. Here's the word from ABC News:
The "aero submarine" -- Branson's is named the Necker Nymph -- can dive to a depth of about 130 feet below the water's surface, carrying two passengers and a pilot. The three-person submersible will be delivered later this month to Branson's private Caribbean resort, Necker Island, and will be anchored to the deck of Branson's luxury catamaran, the Necker Belle. For guests who spend $88,000 to rent the high-end yacht for one week, the Necker Nymph can be hired out for an equally princely sum -- $25,000 per week.
---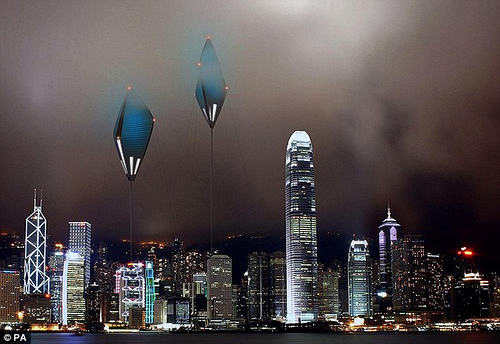 Continuing our quest to bring you deets on the newest (and often weirdest) hotel accommodation options out there... CNN is reporting that "floating hotels" may be the way of the future. We're not talking floating hotels like the pyramid bobbing in the currents off Cancun, or permanently anchored luxury cruise ships... No, this floating hotel is an airship powered by natural energy:
The Aircruise is a radical new design that promises to accommodate guests in a 265-meter tall hotel that could float above city skylines or over dramatic landscapes according to its designers at Seymourpowell.
The experience is described as like taking a cruise, but high above the earth, so that the 100 lucky passengers can take in vistas of the Serengeti, or the tallest skyscraper in the world, in a serene environment. The beauty of this luxury airship? The head of transportation at Seymourpowell says it best: "The Aircruise concept questions whether the future of luxury travel should be based around space-constrained, resource hungry, and all too often stressful airline travel."
---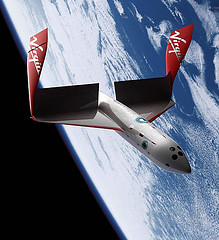 Virgin Galactic will be unveiling its new tourist spaceship today with Sir Richard Branson on site in the Mojave desert to talk about his pet project. For a mere $200,000 a pop, tourists will soon be able to go for a cruise through outer space. Test flights for SpaceShipTwo will begin next year, with commercial flights starting in 2011 or 2012. The New York Times reports that "Virgin Galactic, owned by Mr. Branson's Virgin Group and Aabar Investments of Abu Dhabi, says about 300 people from around the world have paid a total of $40 million in deposits to guarantee spots on the carbon composite aircraft."
Related Articles:
The Galactic Suite Space Resort: The First Hotel in Space to Open in 2012
---
What down economy? In true Wynn jet-set style, the Encore and Wynn Las Vegas Resorts are wooing visitors to Sin City with a glam package deal. You'll get private jet service (roundtrip airfare from Burbank-Glendale-Pasadena Airport or John Wayne Airport in Orange County) coupled with luxe accommodations for three nights. On the jet, a Wynn concierge will hand over your room keys and get you drunk spoil you with Champagne. When you arrive, a limo will whisk you away to the resort so you can dodge that notorious Vegas taxi line. The price tag? A cool $780 per person for double occupancy, or $260 per night. Not bad when you factor in the perks. Available through November 29, 2009. [Map]
---