LUXURY HOTEL INSIDER
The Luxury Hotel Insider
: Exclusive luxury hotel deals, features and special rates from the luxury hotel experts at Five Star Alliance.
Named one of Tripbase's
Best Luxury Travel Blogs for 2011
, below are Five Star Alliance's newest articles featuring exclusive information on luxury hotels worldwide including special offers and deals at the world's best hotels.
---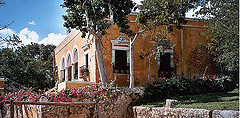 Head west from the Cancun airport, away from the glass and glitz of Mexico's cheesy Caribbean resort capital, and colonial Mexico will hit you smack in the face. The less touristed towns of Merida and Campeche—with cobblestone streets lined by palms and colorful pastel facades and ornate wrought-iron lampposts—are just a few hours drive from the more crowded Disney-esque capital of booze, surf and sun. Here you can discover the exquisite culinary delights (tacos al pastor are my absolute fave), rich history and stunning and secluded Mayan ruins of the Estado de Campeche. The ruins at Palenque and the jungle-shrouded Calukmul are empty compared to Chichen-Itza and sea-facing Tulum. Where to stay? The Hacienda Uayamon is a gracious colonial masterpiece, its ten villas and two suites complete with terraces overlooking the lush jungle gardens, stone plunge pools and day-beds for dreamy afternoon siestas.
The Hacienda Uayamon, Official Site
The Hacienda Uayamon, Five Star Alliance
---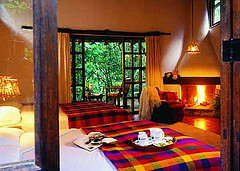 Discover the "Lost City of the Incas" and the incredible natural beauty of the Amazon Basin while cocooned in luxurious comfort at this rustic boutique hotel. Located in the heart of Machu Picchu's Historical Sanctuary in the cloud forest (formerly known as Aguas Calientes), the hotel consists of 83 rooms and suites set in whitewash cottages spread over 12 acres of streams, waterfalls and lush forest, reached by stone walkways. The hotel itself is the setting for enormous biodiversity: the world's largest collection of native orchids (372 species) as well as wild hummingbirds and butterflies. Rooms are charming yet sumptuous, decorated with local handcrafted Andean architecture, alpaca bedspreads, and deluxe kits of handmade, organic amenities and aromatherapy products. Likewise, the utterly-divine spa incorporates a mystical Andean approach, with 100% natural botanical products.
---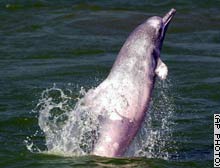 You've got to be kidding me. But as CNN reports, HK is no longer just about glitzy skyscrapers, designer shopping and gourmet eats. Throw ecotourism in the mix; the city is one of the best spots to see Indo Pacific humpback dolphins, which just happen to be totally, completely bubblegum-pink. Sign up with tour operator Hong Kong Dolphinwatch, who normally spots these uncanny creatures 97 percent of the time on tours in the South China Sea.
---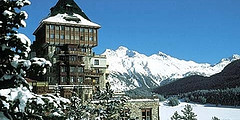 The Alps are melting. According to an important feature in the February issue of National Geographic (RUN, don't walk, to the newsstand for this one), scientists are estimating that "the Alps have lost half their glacier ice in the past century, 20 percent of that since the 1980s; glaciers in Switzerland have lost a fifth of their surface area in the past 15 years." The glaciers are receding—driving some resort owners to drastic measures like buying white blankets to cover 15 acres of glacier during the summer—and the snow has stopped falling. Which isn't helped by the 12 million trucks and 50 million cars that cross the Alps each year, their fumes trapped in a nasty greenhouse of emissions within the valleys. This is more than bad news for the region that worldwide symbolizes a wondrous winter playground for international jetsetters and local farmers alike. There are 600 ski resorts nestled in this dramatic mountain range that stretches across eight nations, half of which are predicted to close in the coming decades. For those passionate about Alpine adventures, this means adopting a philosophy of environmental sustainability while packing your bags ASAP for St. Moritz. Badrutts Palace Hotel, of course, here in the birthplace of the Alps winter tourism.
---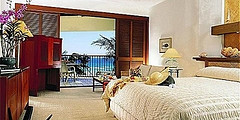 Located on the Big Island's Kohala coast, the AAA five-diamond resort is surrounded by a lush volcanic landscape chock full of waterfalls, rainforests, active lava flows and even snow-capped mountains. And Mauna Lani is a destination even among these wonders, recognized worldwide (almost suffocating with accolades) for its 25,000 sq ft spa, top tennis facilities at the Sport and Fitness Club, and white sand beach, where lucky guests can witness the whale migration just offshore. Escape this winter to an ocean view room or private bungalow, and get a fifth night free! In addition, the hotel is offering a $100-$200 per room per night resort credit (depending on room type) for stays March 1-May 30. But hurry! You must book the "Springtime Early Bird Special" by the end of Jan.
Via Washington Post Weekly Travel Deals
Mauna Lani, Official Site
Mauna Lani, Five Star Alliance
---

Racing, ski jumping, chariot racing, snowboarding jam session, ski jöring events down Lincoln Avenue: the Steamboat Springs Winter Carnival takes over the entire town come February. And it's a spectacle you won't want to miss. After all, it's been around for 93 years (that's the oldest Winter Carnival west of the Mississippi!) and is sponsored by the oldest winter sports club in the US of A! And of course there's the much-anticipated nighttime event, featuring the legendary "Lighted Man" (one of the famous exhibitionists, clad in a glowing suit of lightbulbs, launches fireworks as he skis down the mountain). Intrigued? Get yourself to Steamboat Feb 8-12!
---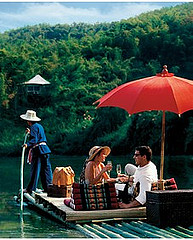 Four Seasons has set up camp (literally) in Thailand's mysterious Golden Triangle (didn't this used to be scary, opium-producing backcountry?) It seems the hotelier is jumping on the "rustic luxury" bandwagon, catering to a crowd that yearns for adventure, yet can't do without the spa touch of Four Seasons. Thus you can mount an elephant, raft down the Mekong, and meet the local hill tribes-- and return at night to one of 15 Four Seasons tents, with hand-hammered copper bathtubs (imagine hauling that into the wilderness on the back of some beast-of-burden), down pillows and supersized robes, and wifi access. Yep, you heard that right. A riverbank tent with wifi and multi-line phones. Other swank services include five-course dining, spa, and free-form pool.
---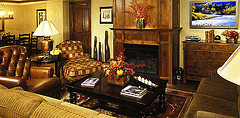 Welcome to Aspen's newest resort. Steps away from Ajax Mountain, and all of Aspen's fabulous shopping and nightlife. One-, two- and three-bedroom accommodations with cozy, yet luxurious interiors designed in stone, polished woods, granite and marble. All equipped with multiple fireplaces, private balconies, absurdly large kitchens, spa tubs and steam showers. Now through Sept. 30, enjoy savings up to 30 percent off at the Hyatt Grand Aspen.
---
Originally published in the Bangkok Post, Wednesday 21 December 2005By George RomanykEven as I write this, the guttural growl of a Harley Davidson (not to mention a roaring chorus of other Harleys, BMWs and Japanese superbikes) is still echoing in my ears. You see, I've just returned from a five-day road trip to the Golden Triangle, along with an assortment of biker friends who also happen to be company presidents, CEOs and entrepreneurs. Now, before you start wondering what this has to do with a column on branding (or start snickering "born to be mild''), I'd like to share some insights I garnered during the course of this challenging and exhilarating journey. While our group was on the road during the days, we certainly weren't averse to roughing it. We got our motors running, we headed out on the highway, and when the highway occasionally deteriorated into a rutted, muddy track, we were well up for it. Ah, but at the end of each day, the discomforts of the road were eased by the unique boutique resorts on the Mekong our assistants had booked us into, as well as some first class meals, and the imported wines and cheeses and some truly tasty Cuban cigars we had smuggled along in our saddlebags. My point (besides making you green with envy) is that our little jaunt was a good example of a major change sweeping the world right now in how luxury is perceived and experienced. For many of the "baby boomers'' and the swelling ranks of "Generation X'' (people born between 1964 and 1976 or thereabouts), the era of ostentatious luxury is over, and instead they are demanding authenticity and adventure. We still want our luxuries, but we want them contemporary, with a hip twist; luxury that "keeps it real'', as it were. Particularly in the luxury hotel and travel sector are these demands being felt. At the recent International Luxury Travel Market in Cannes, the age of ostentatious travel was proclaimed to be over, with new research unveiled showing today's wealthy travellers needed "authenticity, exclusivity and attention to detail'' to keep them happy. "Personalised'' and "private'' were also big buzzwords. In a survey of 248 travel suppliers from around the world who service the needs of the affluent, 84% agreed their clients sought a more subtle form of luxury than in the past. The survey, by the Future Foundation, concluded: "No longer content to visit the classic haunts of the rich and famous, today's luxury traveller would prefer to be a trailblazer, albeit in great comfort, and visit new and less discovered destinations.'' According to ILTM's founder, Serge Dive: "The tastes of the rich don't stay still. Our research shows that the luxury traveller of today doesn't just want to be pampered-- they want a total escape from their highly pressured lives and they want to come back from their holiday having experienced something new.'' Another trend is that as more people get rich younger, they take less formal but shorter trips, with technology allowing them to blur the line between business and leisure travel. Also, little things often count for much: 65% of those surveyed said the toiletries on offer in a hotel were important, with recognised luxury brands meriting maximum brownie points. After our trip, I can heartily agree with that last point: eight windblown hours in the saddle of your steel steed, and you really appreciate little treats like a scented hot towel, some luxurious shampoo and shower gel, and a unique hotel experience. These findings also echo research our own firm has conducted during the course of a major re-branding project with one of our major hotel clients. Our research results concur that well-heeled travellers prefer service that gives them space to be themselves and to feel totally relaxed (while still meeting their every need of course) rather than the more intrusive and obsequious style of service offered by many five-star hotels in the past. A recent article in Newsweek notes: "Travel used to be divided into two basic categories: luxury and no-frills. The former consisted of flying first class, dining at three star restaurants and staying in decadent comfort; the latter involved backpacking and camping out in some of the world's most beautifully remote spots. Now, tourists can have their wine and see the wildlife too; communing with nature and living the good life are no longer mutually exclusive.'' Newsweek defines this as "rustic luxury'': a group of wealthy "new nomads'' toting Mount Everest-ready backpacks by luxury luggage-makers like Tumi, who want to visit the most rugged deserts, jungles, mountains and forests, and go rock-climbing and wreck-diving, but want their designer coffee and Egyptian cotton sheets when the day's adventuring is done. There is also the element of one-upmanship among this growing demographic. As one new nomad tells Newsweek: "It's a status game. Staying at the Four Seasons seems kind of bourgeois, since any doctor from the Midwest will know about it.'' To me, getting wild without losing the luxury is like a marriage made in heaven. There's nothing like zipping through rugged jungle tracks on your hog, getting down and dirty, when you know that some prime rib, a nice glass of Bordeaux and a fat stogie have your name on them.George Romanyk is chief executive officer of Creative Inhouse, a local branding consultancy and ad agency.
---
IHT's got the skinny on a newly released study on the health dangers for those traveling to developing countries. Fun stuff like mosquito-born dengue fever (aka bone-crushing disease) and parasite infections. Two thirds of travelers to the developing world get sick, and the study-- which contains the most comprehensive records of those travelers treated at travel clinics-- provides a real blueprint for doctors. For more gory deets (parasites, bugs, worms, mosquitos...), check out the related CNN.com article.
---