LUXURY HOTEL INSIDER
The Luxury Hotel Insider
: Exclusive luxury hotel deals, features and special rates from the luxury hotel experts at Five Star Alliance.
Named one of Tripbase's
Best Luxury Travel Blogs for 2011
, below are Five Star Alliance's newest articles featuring exclusive information on luxury hotels worldwide including special offers and deals at the world's best hotels.
---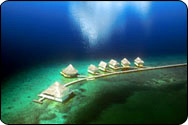 Beautiful white sand beaches framed by tropical forest. A small-town Caribbean vibe. Marine parks with abundant coral reefs attracting marvelous fish and animal life. A snorkeling and scuba-diving paradise. Welcome to Bocas del Toro, Panama. To reach these islands off the country's Caribbean coast (close to the Costa Rica border), one could opt for a short flight. Or one could be more adventurous and choose the water taxi, an experience in and of itself. The boat ride travels through old canals formerly used by the banana plantations. Peer down into the clear Caribbean-blue water, and you can see fish swimming beneath the gnarled roots of the mangroves. Where to stay? The (still-quaint) town has undergone development in recent years so that there are luxurious accommodations aplenty, in addition to cheaper hospedajes. Check out the environmentally-friendly Punta Caracol Aqua Lodge, which topped Luxury Travel Magazine's 2005 A-List. Each bungalow is built on stilts over the crystal clear sea, your own private terrace providing vistas of jumping dolphins at sunset.
---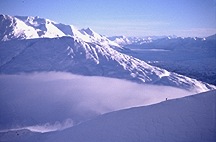 I admit it; I've never done it. But after a few beers the other night with a couple who lead springtime Heli-skiing tours in Alaska, I was well on my way out the door. Who needs the tropics when I could ski snow-capped peaks and glacier-carved mountains all by my lonesome?! (And I'm no ski junkie.) Up in Alaska, the winter season runs from late February until May. Heli-skiing operations like Points North Heli-Adventures (utilizing over 1,000 sq miles of skiable terrain in the Chugach mountains) provide an average of 20-25,000 feet of vertical per day. (Excursions average 6-10 heli runs and $850-900 a day.) I checked out a feature in Outside Traveler's Winter issue, which was equally as convincing about heli-ski tours in the central Alps. Apparently heli-skiing trips in Switzerland used to be rather boring—a daytrip appended to a traditional lift-skiing vaca at the big resorts. But this season, adrenaline hounds can experience SwisSkiSafari's Ultimate Journey, as described by the Outside author:
"a four-day, five-night, fine-wine-and-slide luxury tour that zips skiers around the country's top resorts in privately chartered B3's and Bell 407's. You start in Verbier (about 1,000 miles east of Geneva), then fly east to Zermatt and Saas Fee, making backcountry drops in between—wherever the snow is best. Doing 5,000- to 7,000-vertical-foot runs in a single push can hurt, but returning every evening to top-notch digs and massages blunts the pain."
Bring it on! Can anyone advise me-- additionally-- about good operators in the Rockies?
---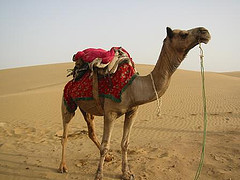 Last Stop: Hope You've Enjoyed Today's Ride
The city of Jaisalmer is like a fairy-tale castle out of "Arabian Nights." Dating from 1156, its amber-colored walls blend with the surrounding elements and seem to emerge from the desert sand. Located at the edge of the Thar Desert, near the border of Pakistan, Jaisalmer was founded on the historic crossroads of lucrative trade routes. The "Golden City" was an important gateway for the camel caravans from Central Asia and grew prosperous from this trade. Thus within the scorching heat of the desert, this remote frontier settlement developed a beautiful and isolated cultural tradition. For years the city was unscathed by outside influences, its rulers the last to succumb to British rule.
The 800-year old Jaisalmer Fort looms 30 meters over the city. Enclosed within its ramparts is an entire living city, the narrow lanes lined with shops and beautiful Jain temples dating from the 12 century. The citadel preserves a medieval way of life, its resident craftsmen weaving traditional rugs and designing silver jewelry. Stroll through the cobblestone streets of the old city and see the havelis, the mansions of the rich and powerful Jain merchants. These businessmen hired stonemasons to design their sandstone mansions, the facades delicately carved like intricate sculptures. Patwon ki Haveli is the most elaborate and magnificent of all the Jaisalmer havelis.
Where to Stay?
From Jaisalmer, visitors can venture on overnight camel expeditions into the Thar Desert. The ride? Blankets are piled high across the camel's hump, the reins in hand elaborately decorated with leather tassles. The vistas? An endless sea of sand stretching in all directions, the dunes shifting and changing in the wind. But a word of warning: camels can be full of personality, and lots of gas. I mean, so flatulent—LAWD!-- they stink to high heaven.
---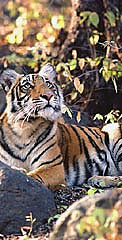 Third Stop: Tracking the Tigers
This former hunting ground of the Maharaja of Jaipur was declared a national park in 1980. Set between the Aravalli and Vindhya ranges, the park occupies 1,334 sq km of rugged, hilly terrain and deciduous forests. Ranthambore is most famous for its tigers, as the park began a conservation program in 1972 and has now stabilized the tiger population. The park offers opportunities for sighting these elusive predators on expeditions. At the lakes and water holes, visitors can also spot antelopes, sloth bears, wild boars, jackals, leopards and marsh crocodiles.
Where to stay?
Amanresorts has newly opened a wilderness retreat, Aman-i-khas, on the edge of Ranthambore. The 10 luxury tents are set in a quiet rural area, and are decorated in a rich, Mughal style, with king beds and spacious bathrooms (and soaking tubs!) The camp operates from October until the end of April-- the best period for wildlife spotting.
(Aman has a second resort in Rajasthan, called Amanbagh. Opened in February 2005, the resort's 24 havelis and 16 pool pavilions are set within a walled oasis, within the Aravalli Hills near Alwar. Not far from Jaipur, the resort echoes the region's Moghul architecture. Swimming pools, gardens, a decadent spa, and a Roof Terrace for dining beneath the stars.)
Aman-i-khas, Official Site
Aman-i-khas, Five Star Alliance
---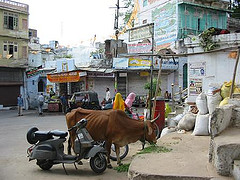 Opening Scene: Backdrop and History
The Rajasthan landscape flies by outside the car window. A wash of sandy beige interrupted by dazzling color: the bright-orange turban tightly coiled on the head of a passing motorcyclist, women clad in magenta or turquoise saris with water jugs balanced on their heads, carts of lemons piled high. And the ubiquitous water buffalo and Brahmin cows with their cute, dropping ears.
Even on a short trip to India, it's easy to become intoxicated by the country's chaotic energy, noise, and cultural history. Rajasthan's temples, palaces and forts are architecturally magnificent. The bazaars are brimming with handicrafts and clothes you'll see in trendy Soho boutiques (marked up umpteen hundred times.) But more than that, traveling through Rajasthan is an experience of the senses: tiny clay pots of sugary chai tea, the smells of spices and sweet fragrances, the kaleidoscope of color in the markets, delectable tastes dancing on the tongue. It's a constant sensory explosion.
Rajasthan's history is shrouded in myth. For over 1,000 years, the northwestern desert state was fiercely guarded by the Rajput clans. These legendary warriors defended their turf with a serious code of chivalry and honor. Thus Rajasthan remained independent from all the encroaching great empires throughout history. Indeed, Rajasthan's city of Jaisalmer was the last kingdom to succumb to British colonization.
No longer just a budget backpacker's paradise, India has become an inspiration for the international jet-set as well. Rajasthan's beautiful Palace hotels can make anyone feel like a modern-day maharajah. The winter is the perfect time to make the trip; the monsoon rains are kept at bay for at least half a year. Hire a driver, bring out the map, and dream up your perfect itinerary.
---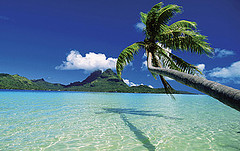 Islands Magazine has put together a pretty snazzy events calendar for this November. Their picks? Hawaii, for the incredible star-gazing of the Taurid meteor showers. (You've never seen falling stars like this!) Moorea, on November 3-6, for Tattoonesia, the island's first International Tattoo Convention. (Ooops, the revival has already come and gone.) St. Barts on November 16, to taste the first Beaujolais Nouveau wine of the year (six hours ahead of France, confined to the traditional midnight uncorking). And Australia, on November 4-13, for the Whitsunday Fantasea Reef Festival, celebrating the marvels of the Great Barrier Reef.
---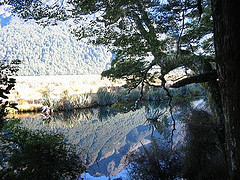 No offense to my kiwi friends. But there's got to be a good reason to fly halfway around the world to some isolated islands in the colder, less redeeming part of the Pacific. (This is, after all, the jumping-off point for all those crazy scientists doing work in Antarctica). The landscape? Snow-capped mountains, sheep-dotted valleys, blue lagoons, and rivers frothing with white water. Hmmmm, sounds a lot like someplace I know in this hemisphere. The cultural history? Again, sadly similar to the United States (outcast Brits, no longer welcome in England, settling a new land and doing their damnest to marginalize the native peoples. Though the Maoris are thankfully outspoken about the history of repression and have flamboyantly preserved their cultural traditions.) Does this explain why travelers to New Zealand are compelled to do crazy, dare-devil, adrenaline-pumping activities when they get to Queenstown? Like bungee jumping, sky-diving, or jetboating? If they didn't challenge themselves, they'd be bored to tears. To top it all off-- the icing on the cake confirming my opinions—is a recent article condemning NZ's luxury lodges. So, dear reader, I challenge you: What are your reasons for heading to the land of the Hobbits?
---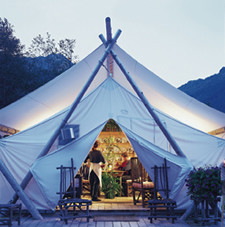 In the rugged wilderness of Canada's Vancouver Island lies the Clayoquot Sound UNESCO Biosphere Reserve, its temperate rainforest deemed one of the most important habitats in the world. On show here is a year-round spectacle of some of the best wildlife viewing in the world. Spawning salmon, nesting eagles, otters, porpoises, and migrating whales. Did I mention the bears? Clayoquot Wilderness Resorts offers two luxury eco-resorts within this untouched wilderness. The Quait Bay Floating Resort is Clayoquot's flagship property, with full-service spa and conference center with gorgeous views. A 30 minute boat ride away, the 18 ultra-luxurious white canvas tents of the Wilderness Outpost at Bedwell River were inspired by late 19th century Great Camps. Who says you can't get pampered while roughing it? The suite tents are outfitted with Adirondack-style beds covered in down duvets, antique dressers, pressed-glass oil lamps, heirloom accessories, and a plethora of candles. Who needs in-room telephone or flat screen TV when you can lounge in a terry cloth robe, hook up your laptop to wireless internet, and bask in the heat of your remote-controlled propane wood-stove?
The site includes luxurious spa tents, dining tents, and lounge tents. The food is all organic, as regional growers and producers supply cheese, giant oysters and scallops, free-range hens, wild fish and just-picked berries. I'm drooling at the sample Outpost Table d'hote menu: local albacore tuna tartare with grilled vegetable ratatouille. Pan-seared wild pacific halibut with marinated spaghetti squash salad, oven-dried tomatoes and red bell pepper reduction. Or maybe the oven-roasted venison loan with sweet potato tarragon flan? Followed by a white chocolate pumpkin mousse with local organic fieldberry blintz and vanilla sour cream sauce. Mmmmmm. Guided (and unguided) activities abound—from horseback riding, whale and bear watching, salt and fresh water fishing, kayaking, canoeing, mountain biking, Hot Springs Cove day treks, and naturalist hikes.
---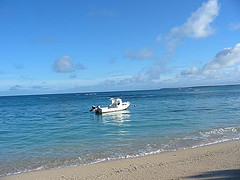 Where on earth is Tonga? Sure, I used to sip those elaborate tropical concoctions at the Fairmont Hotel's Tonga Room in SF, soaking in the kitschy atmosphere, complete with faux-Polynesian glasses and timed thundershowers, that would rain from the ceiling in synch with the cheesy tunes played by the live band (stranded on the—um-- floating "island" that moved across the artifical lake.) But before last year's adventure, I could barely find Tonga on a map, let alone trust the captains of my Air New Zealand flight to spy the air strip among the hundreds of islands in the middle of the Pacific. I was only about to discover this tiny island kingdom in the South Pacific: the first place in the world—positioned just to the west of the International Dateline—to see the dawn of a new day.
Unequivocally, Tonga is paradise: Long stretches of white sandy beaches. Not a soul in sight. A coastline marvel of magnificent blowholes, the surf erupting like geysers out of holes in the reef. Unique and lush vegetation on islands mostly uninhabited, though the main island—Tongatapu—is largely cultivated with fields of taro, sweet potatoes, breadfruit and mango trees. For the adventurous: caves to be explored (bring a torch, and candles to stick in fissures between stalagmites, so that you can swim in the cool freshwater pool in the pitch black of 'Anahulu Cave), snorkeling and diving, yachting in the sailing capital of Vava'u Island, whale-watching tours where you can actually swim with the humpback whales. I laughed in disbelief when the Peace Corps workers in Tonga advised me to track down a local boat operator to ferry me to an outlying island to camp for a day or two. Roughing it "Survivor"-style-- surviving on fish, more fish, and fruit).
The group of islands that comprise Tonga are undeveloped, untouristed, and largely rural. Pigs and dogs root around in the foliage, and lounge roadside, in traditional villages. Above and beyond the very real paradise landscape, Tonga is a place utterly distinguished by its culture, and very serious sense of hospitality. A word of warning: Be prepared to eat. Eating a lot in Tonga gives great joy and pride to your hosts, who will no doubt serve portions bigger than anything you've ever seen. (Guidebooks love to point out how Tongans embrace fatness. After all, the king was in the Guiness Book of World Records for his weight. And I'm yet to find another place in the world where the national airline requires each passenger to step on a scale before departure.)
Christianity pervades all aspects of Tongan culture. It seems (that terrible flick) Mel Gibson's The Passion of Christ generated more excitement in Tonga than anywhere else in the world. On Good Friday, I chatted with a girl in the airport who was on her way home to the neighboring island group of Ha'apai, who complained that it had been impossible to rent it from the video store in town. She was desperate. I watched pirated versions make their rounds around town. Discreetly changing hands in brown paper bags.
On the one hand, Tongans are very proud to say that they have never been colonized—that all the other Pacific Islands are under the jurisdiction of some foreign power-- but on the other hand, Tonga is very much colonized by religion. Indeed, it seems there are more churches in Tonga than there are villages (there are often multiple churches of different denominations in one village.) And all businesses—even Royal Tongan Airlines—are closed on Sunday. This same Good Friday, I saw a man walking down the road, burdened by the weight of a large white cross, with a trail of people behind him. We were in a Catholic village, and a series of shrines had been erected all along the road. These towering crosses—draped with woven pandanus mats and artificial flowers and images of Jesus—seem to be the ultimate fusion of cultures.
Ready to lounge and eat, lounge and eat, like the locals? For the ultimate Tongan vacation, head to the awesome, German-run Sandy Beach Resort, in the Ha'apai island group. Bungalows are set right on the beach, with the outlying coral atolls perfect for snorkeling. Meals are lavish and delicious. Royal Tongan Airlines flies daily from the capital, Nuku'alofa, (a 45 minute flight) though the airline is notorious about delays.
Want to know more? The Tonga Visitors' Bureau has posted extensive information on their website.
---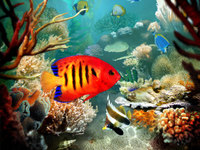 The Independent UK recently reported about the world's first sea-floor luxury resort: the Poseidon in the Bahamas. Underwater suites will boast panoramic views of unique varieties of fish on private artificial reefs, lit up by underwater lights controllable from an inside switch. And guests can enjoy use of an external fish feeder—just push a button and feed the fish outside! Additionally, each suite has a large Jacuzzi tub with spectacular views of the surrounding coral reef. Luxury underwater suites will set you back $1,500 a night. The Dude behind this development? The President of U.S. Submarines, L. Bruce Jones. Gotta figure that a submarine guy would be the one to pull off this stunt. They're shelling out US$53 million in this novel concept, so it'll (better be) good. Scheduled opening? The end of 2006.
---