LUXURY HOTEL INSIDER
The Luxury Hotel Insider
: Exclusive luxury hotel deals, features and special rates from the luxury hotel experts at Five Star Alliance.
Named one of Tripbase's
Best Luxury Travel Blogs for 2011
, below are Five Star Alliance's newest articles featuring exclusive information on luxury hotels worldwide including special offers and deals at the world's best hotels.
---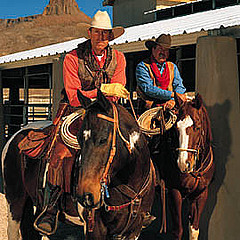 In the rugged wilderness of West Texas, between Big Bend National Park and the Mexico border, lies a unique destination resort situated on a 25,000-acre private estate. Lajitas is surrounded by the awesome scenery that—as Architectural Digest explains—inspired Franklin Delano Roosevelt to sign into law the creation of Big Bend National Park. This exquisite landscape is etched with the history of the infamous characters from the Old West. The lodging? This ain't tents around the campfire. Along with the resort's endless array of activities, Lajitas offers luxurious cowboy chic. Of the 92 rooms, no two are alike—each outfitted with plush robes and lavish Agave amenities. (Suites and private haciendas also available.) The resort has designed a host of fun and clever packages. The "Ultimate Golf Package"—with unlimited golf and lunch on the course—is $250 a night. With the optional 19th hole in Mexico, Ambush at Lajitas is the world's only international course. Unlimited rounds of golf are complemented by unlimited carts, balls, and beverages. My fave is the "So You Wanna Be A Cowboy" package, where guests participate in a slew of activities, starting with a custom-fitting of cowboy boots. Next on the agenda? Learn how to use a gun of the Old West at Greasewood Flats, Lajitas' very own cowboy action shooting range. After breakfast on Day 2, head out on a trail ride to the Buena Suerte Mine and Ghost Town, then star-gaze by a roaring campfire while enjoying a gourmet feast. Starting at $400 per person.
Lajitas, The Ultimate Hideout, Official Site
Lajitas, The Ultimate Hideout, Five Star Alliance
---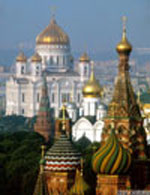 Thrilling news: the Sunday Herald reports that the Trans-Siberian railroad is about to go lux. The adventure across eight time zones of Europe and Asia used to be about stamina and endurance, rather than Orient-Express style opulence. (Seven days and 5,772 miles across the vast, empty landscape of the world's largest country.) Manchester-based GW travel is spending $23 million on 12 new carriages, each new compartment to be equipped with en-suite shower, double or twin beds, a sound and video system, individual air conditioning and a safe. And of course there's the bar car, enhanced by live musical entertainment each evening. Starting in 2007, a two-week journey in the Gold Class compartments will cost $11,000-- while accommodations in the silver class will set you back $9,000.
---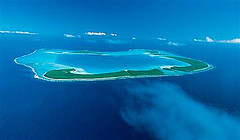 After yesterday's verbiage—sheesh! I'm wiped out!—I'll try to keep it short and sweet. There are rumors milling that Tetiaroa-- Marlon Brando's private atoll in Tahiti—will be an exclusive eco-resort in 2008. The Brando (as it's been dubbed) will require a $40 million investment, as there's no electricity or running water on the island. I wonder if there's a line already queuing for the 30 bungalows?
---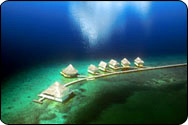 Beautiful white sand beaches framed by tropical forest. A small-town Caribbean vibe. Marine parks with abundant coral reefs attracting marvelous fish and animal life. A snorkeling and scuba-diving paradise. Welcome to Bocas del Toro, Panama. To reach these islands off the country's Caribbean coast (close to the Costa Rica border), one could opt for a short flight. Or one could be more adventurous and choose the water taxi, an experience in and of itself. The boat ride travels through old canals formerly used by the banana plantations. Peer down into the clear Caribbean-blue water, and you can see fish swimming beneath the gnarled roots of the mangroves. Where to stay? The (still-quaint) town has undergone development in recent years so that there are luxurious accommodations aplenty, in addition to cheaper hospedajes. Check out the environmentally-friendly Punta Caracol Aqua Lodge, which topped Luxury Travel Magazine's 2005 A-List. Each bungalow is built on stilts over the crystal clear sea, your own private terrace providing vistas of jumping dolphins at sunset.
---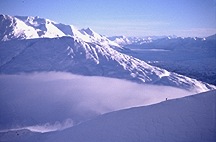 I admit it; I've never done it. But after a few beers the other night with a couple who lead springtime Heli-skiing tours in Alaska, I was well on my way out the door. Who needs the tropics when I could ski snow-capped peaks and glacier-carved mountains all by my lonesome?! (And I'm no ski junkie.) Up in Alaska, the winter season runs from late February until May. Heli-skiing operations like Points North Heli-Adventures (utilizing over 1,000 sq miles of skiable terrain in the Chugach mountains) provide an average of 20-25,000 feet of vertical per day. (Excursions average 6-10 heli runs and $850-900 a day.) I checked out a feature in Outside Traveler's Winter issue, which was equally as convincing about heli-ski tours in the central Alps. Apparently heli-skiing trips in Switzerland used to be rather boring—a daytrip appended to a traditional lift-skiing vaca at the big resorts. But this season, adrenaline hounds can experience SwisSkiSafari's Ultimate Journey, as described by the Outside author:
"a four-day, five-night, fine-wine-and-slide luxury tour that zips skiers around the country's top resorts in privately chartered B3's and Bell 407's. You start in Verbier (about 1,000 miles east of Geneva), then fly east to Zermatt and Saas Fee, making backcountry drops in between—wherever the snow is best. Doing 5,000- to 7,000-vertical-foot runs in a single push can hurt, but returning every evening to top-notch digs and massages blunts the pain."
Bring it on! Can anyone advise me-- additionally-- about good operators in the Rockies?
---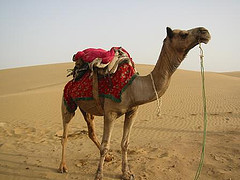 Last Stop: Hope You've Enjoyed Today's Ride
The city of Jaisalmer is like a fairy-tale castle out of "Arabian Nights." Dating from 1156, its amber-colored walls blend with the surrounding elements and seem to emerge from the desert sand. Located at the edge of the Thar Desert, near the border of Pakistan, Jaisalmer was founded on the historic crossroads of lucrative trade routes. The "Golden City" was an important gateway for the camel caravans from Central Asia and grew prosperous from this trade. Thus within the scorching heat of the desert, this remote frontier settlement developed a beautiful and isolated cultural tradition. For years the city was unscathed by outside influences, its rulers the last to succumb to British rule.
The 800-year old Jaisalmer Fort looms 30 meters over the city. Enclosed within its ramparts is an entire living city, the narrow lanes lined with shops and beautiful Jain temples dating from the 12 century. The citadel preserves a medieval way of life, its resident craftsmen weaving traditional rugs and designing silver jewelry. Stroll through the cobblestone streets of the old city and see the havelis, the mansions of the rich and powerful Jain merchants. These businessmen hired stonemasons to design their sandstone mansions, the facades delicately carved like intricate sculptures. Patwon ki Haveli is the most elaborate and magnificent of all the Jaisalmer havelis.
Where to Stay?
From Jaisalmer, visitors can venture on overnight camel expeditions into the Thar Desert. The ride? Blankets are piled high across the camel's hump, the reins in hand elaborately decorated with leather tassles. The vistas? An endless sea of sand stretching in all directions, the dunes shifting and changing in the wind. But a word of warning: camels can be full of personality, and lots of gas. I mean, so flatulent—LAWD!-- they stink to high heaven.
---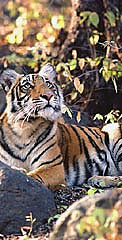 Third Stop: Tracking the Tigers
This former hunting ground of the Maharaja of Jaipur was declared a national park in 1980. Set between the Aravalli and Vindhya ranges, the park occupies 1,334 sq km of rugged, hilly terrain and deciduous forests. Ranthambore is most famous for its tigers, as the park began a conservation program in 1972 and has now stabilized the tiger population. The park offers opportunities for sighting these elusive predators on expeditions. At the lakes and water holes, visitors can also spot antelopes, sloth bears, wild boars, jackals, leopards and marsh crocodiles.
Where to stay?
Amanresorts has newly opened a wilderness retreat, Aman-i-khas, on the edge of Ranthambore. The 10 luxury tents are set in a quiet rural area, and are decorated in a rich, Mughal style, with king beds and spacious bathrooms (and soaking tubs!) The camp operates from October until the end of April-- the best period for wildlife spotting.
(Aman has a second resort in Rajasthan, called Amanbagh. Opened in February 2005, the resort's 24 havelis and 16 pool pavilions are set within a walled oasis, within the Aravalli Hills near Alwar. Not far from Jaipur, the resort echoes the region's Moghul architecture. Swimming pools, gardens, a decadent spa, and a Roof Terrace for dining beneath the stars.)
Aman-i-khas, Official Site
Aman-i-khas, Five Star Alliance
---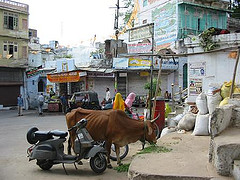 Opening Scene: Backdrop and History
The Rajasthan landscape flies by outside the car window. A wash of sandy beige interrupted by dazzling color: the bright-orange turban tightly coiled on the head of a passing motorcyclist, women clad in magenta or turquoise saris with water jugs balanced on their heads, carts of lemons piled high. And the ubiquitous water buffalo and Brahmin cows with their cute, dropping ears.
Even on a short trip to India, it's easy to become intoxicated by the country's chaotic energy, noise, and cultural history. Rajasthan's temples, palaces and forts are architecturally magnificent. The bazaars are brimming with handicrafts and clothes you'll see in trendy Soho boutiques (marked up umpteen hundred times.) But more than that, traveling through Rajasthan is an experience of the senses: tiny clay pots of sugary chai tea, the smells of spices and sweet fragrances, the kaleidoscope of color in the markets, delectable tastes dancing on the tongue. It's a constant sensory explosion.
Rajasthan's history is shrouded in myth. For over 1,000 years, the northwestern desert state was fiercely guarded by the Rajput clans. These legendary warriors defended their turf with a serious code of chivalry and honor. Thus Rajasthan remained independent from all the encroaching great empires throughout history. Indeed, Rajasthan's city of Jaisalmer was the last kingdom to succumb to British colonization.
No longer just a budget backpacker's paradise, India has become an inspiration for the international jet-set as well. Rajasthan's beautiful Palace hotels can make anyone feel like a modern-day maharajah. The winter is the perfect time to make the trip; the monsoon rains are kept at bay for at least half a year. Hire a driver, bring out the map, and dream up your perfect itinerary.
---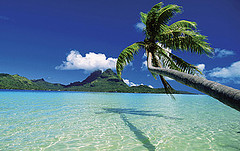 Islands Magazine has put together a pretty snazzy events calendar for this November. Their picks? Hawaii, for the incredible star-gazing of the Taurid meteor showers. (You've never seen falling stars like this!) Moorea, on November 3-6, for Tattoonesia, the island's first International Tattoo Convention. (Ooops, the revival has already come and gone.) St. Barts on November 16, to taste the first Beaujolais Nouveau wine of the year (six hours ahead of France, confined to the traditional midnight uncorking). And Australia, on November 4-13, for the Whitsunday Fantasea Reef Festival, celebrating the marvels of the Great Barrier Reef.
---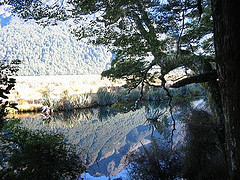 No offense to my kiwi friends. But there's got to be a good reason to fly halfway around the world to some isolated islands in the colder, less redeeming part of the Pacific. (This is, after all, the jumping-off point for all those crazy scientists doing work in Antarctica). The landscape? Snow-capped mountains, sheep-dotted valleys, blue lagoons, and rivers frothing with white water. Hmmmm, sounds a lot like someplace I know in this hemisphere. The cultural history? Again, sadly similar to the United States (outcast Brits, no longer welcome in England, settling a new land and doing their damnest to marginalize the native peoples. Though the Maoris are thankfully outspoken about the history of repression and have flamboyantly preserved their cultural traditions.) Does this explain why travelers to New Zealand are compelled to do crazy, dare-devil, adrenaline-pumping activities when they get to Queenstown? Like bungee jumping, sky-diving, or jetboating? If they didn't challenge themselves, they'd be bored to tears. To top it all off-- the icing on the cake confirming my opinions—is a recent article condemning NZ's luxury lodges. So, dear reader, I challenge you: What are your reasons for heading to the land of the Hobbits?
---