LUXURY HOTEL INSIDER
The Luxury Hotel Insider
: Exclusive luxury hotel deals, features and special rates from the luxury hotel experts at Five Star Alliance.
Named one of Tripbase's
Best Luxury Travel Blogs for 2011
, below are Five Star Alliance's newest articles featuring exclusive information on luxury hotels worldwide including special offers and deals at the world's best hotels.
---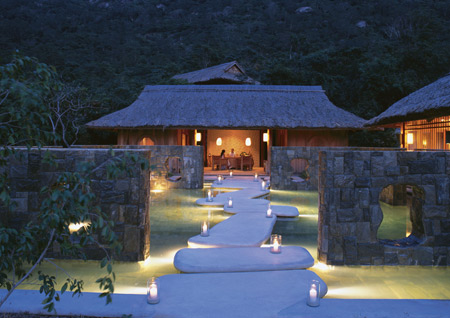 I'm about to depart from my normal articles to give you an important notice. So sit up straight, get out your quill and inkwell, and start taking notes. Are you listening? Good. Because September 26, a week from now, is National Love Note Day. Largely created so your significant other has an opportunity to critique your writing skills, this important landmark in a relationship is a chance to really step up the romance. So get ready to tell her how you really feel, using the liberal application of glitter.
One of the hallmarks of a good card (hah!) is its presentation, so don't just give it to them in your kitchen over Chinese takeout (although major bonus points if you hide it in a fortune cookie). Instead take them to your favorite destination, spend a night away in a wonderful hotel, and give them the royal treatment. Some hotels, like the Four Seasons Boston, are even offering to help you out if you don't fancy yourself clever enough to match the words of Keats or Longfellow. Using some famous expressions of love to liken your relationship to the great romances in history, the Four Seasons will craft a card with whatever turn of phrase you desire. Need some ideas for locale? Check out the Reuters top ten romantic hotels. Honestly, I can't think of a better time for a romantic getaway.
---
After reading CNN's own list of great hotel pools, we decided to put our heads together and write up our thoughts on the matter. Who has the 10 best hotel pools in the world? To truly know, you'll have to visit yourself and see. But these are certainly our favorites.
10. The Banyan Tree Seychelles
With the simple application of basic mathematics, the Banyan Tree has figured out how to improve upon the tried and true concept of the private pool: By giving its two-bedroom suites two private pools – and what a sight they are. That's the kind of thinking I can get behind.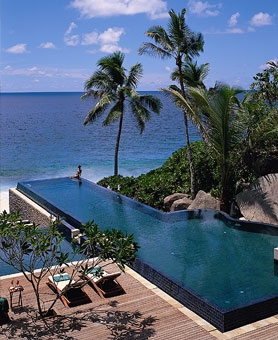 9. Le Palais de la Mediterranee, France
Le Palais de la Mediterranee in Nice rolls in at number 9 with its incredible 3rd floor indoor/outdoor pool. Just feet from a sun terrace with a gorgeous view of the Mediterranean, this is a pool that was tailor-made for lounging. If to you a vacation means leaning back, lowering your sunglasses over your eyes and relaxing the afternoon away, then this is the hotel for you.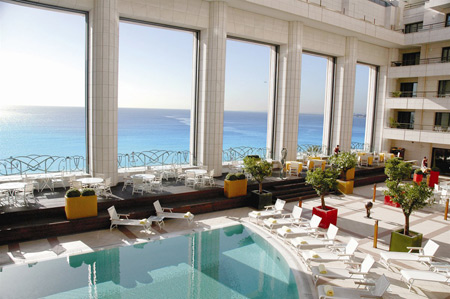 8. The Berkeley, London
While some other pools may be more spectacular, as you'll see in a moment, none offer the same level of comfort year-round as The Berkeley rooftop pool in London. The heated pool features a wonderful open-air swimming experience in the summer, but unlike most hotels, when it gets a bit colder, you don't have to take the party inside. The Berkeley instead rolls out its retractable roof, and you can now enjoy the comfort of a perfectly climate-controlled rooftop pool in winter.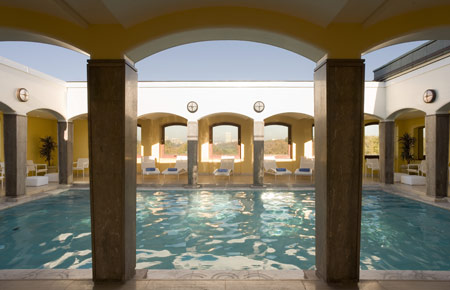 7. Villa d'Este, Italy
The pool at Villa d'Este on Lake Como would make Archimedes blush. Floating above the very lake that the Villa rests against, the pool features a built-in Jacuzzi and fantastic view of the surrounding mountains. It's like swimming in the lake just inches below your feet, but it's always the perfect temperature.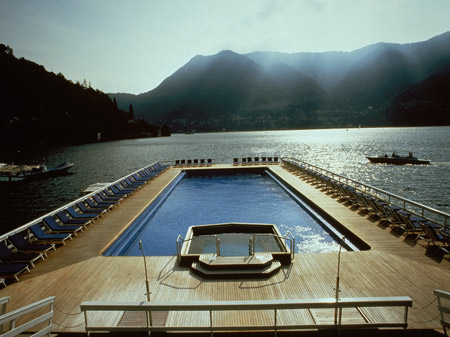 6. Blue Palace Resort and Spa, Crete
The Blue Palace Resort and Spa is truly deserving of its sixth place finish, and really if we were fair it'd be on this list twice. The aptly-named Blue Palace is renowned for the private pools that come standard with most of their rooms and suites. With pools up to 40 sq. meters in size for just you and your companion(s), there couldn't be a more private or luxurious swimming experience. And if that weren't enough, the Blue Palace is famous for its unique Grecian Thalassotherapy, which combines the relaxing powers of a world-class massage with water-cleansing rituals guaranteed to revitalize your body.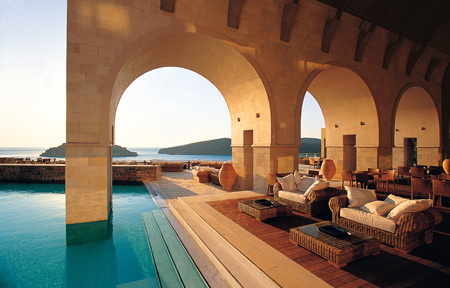 5. The Library Koh Samui, Thailand
In this case, the picture speaks for itself. The Library Koh Samui is built around the innovative concept that a vacation is about relaxation and people should be allowed to free their minds from stress by engaging in the simple pleasures of cracking open a book and enjoying the company of their family or friends. They've also turned their pool red - which is both surreal and strangely captivating, like green ketchup or a fish riding a bicycle.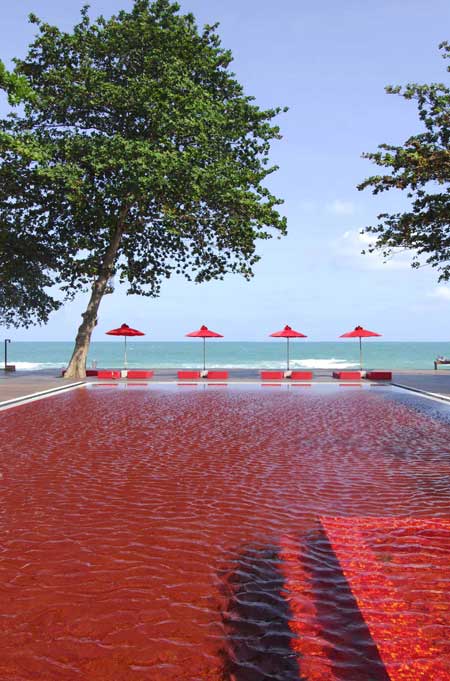 4. Rawi Warin Resort and Spa, Thailand
The 1000 sq. meter infinity edge pool at Rawi Warin looks as if the water is fading into the ocean, with only little beach umbrellas poking above the water line to let you know that it doesn't go on forever. The illusion is compelling and gorgeous. As if that weren't enough, Rawi Warin also has Asia's first ocean swimming pool, extending 100 meters into the water and allowing you to swim with the fishes in an entirely literal way.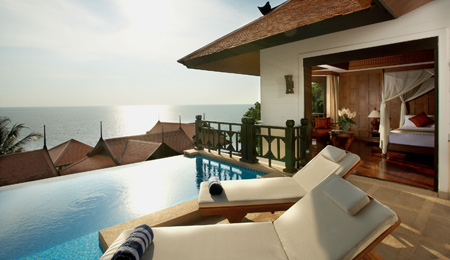 3. Palazzo Sasso, Italy
The Palazzo Sasso has one of the more innovative designs for a hotel pool we've ever seen. Situated on the edge of a cliff 1000 feet above sea level, the pool at Palazzo Sasso offers underwater windows with a view of the sea below, thus discovering the heretofore unknown condition of subaqueous vertigo. But seriously, it is the single most impressive thing I've seen at the bottom of a pool.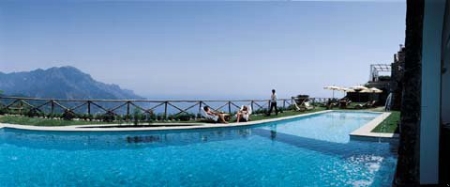 Atlantis the Palm Dubai may just be the best thing ever. If you got all the things together in one place, and made me pick, I'd say, "I want that thing. It looks like the best thing." So what is this thing I'm so excited about? Well, it just might be a standard luxurious hotel pool, only it's attached to a full water park! I don't bandy about with exclamation points lightly, but this seems to be worth one. If you, like me, have ever thought, "wow, this vacation is really relaxing, but what I'd really like is to go launching out of a ziggurat at high speeds into a pool of water," then this is the destination for you. And even more than that, much of the hotel is themed around this aquatic experience. There are underwater mazes, a four-and-a-half hectare dolphin habitat, and something they just call Aquaventure.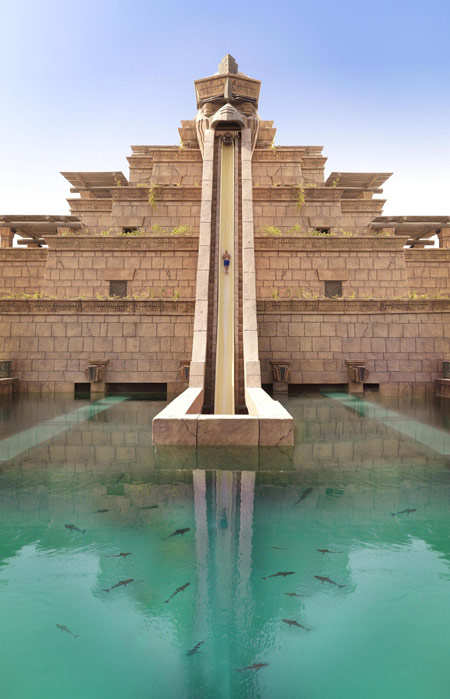 Occasionally, a feat of engineering comes along that's so remarkable, you have to doff your hat to the architects of its design. The Marina Bay Sands Infinity Pool in Singapore is more like what would result if Leonardo da Vinci were in the hotel business. Resting 200 meters above the ground in the Sands SkyPark, the Infinity Pool is as breathtaking as it is surreal – the edge of the pool seems to fade into the horizon itself. Swimmers are greeted with a panoramic vista unequaled anywhere. Without a doubt, the Infinity is the coolest hotel pool we've ever seen and not just for the breeze.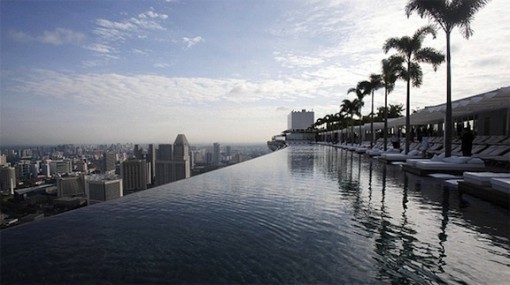 So throw on your swim trunks and book a room at any of these amazing hotels (maybe in the other order), and soon you'll be enjoying the sun by some of the most amazing pools in the world.
Posted in:
France
,
Italy
,
Thailand
,
Seychelles
,
Nice
,
Crete
,
Lake Como
,
London
,
Singapore
,
Koh Samui
,
Krabi
,
Mahe Island
,
Dubai
,
Articles
,
Featured Luxury Hotels
,
Travel with Kids
,
Luxury Spas
,
Beach and Island
,
Hot Spots
,
'Best Of' Lists
,
Luxury Suites
,
Our Favorite Sites
---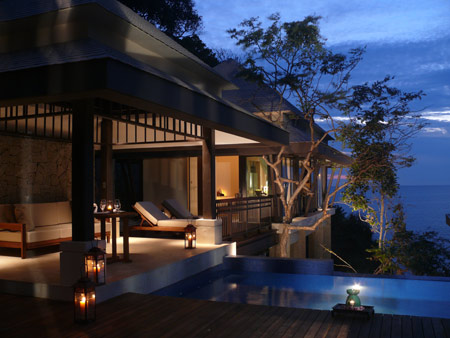 It's that time of year again. Conde Nast Traveler recently published their 2011 Hot List of the best new hotels in the world. The venerable rag describes this year's Hot List as "an eclectic group- from tree houses to farmhouses" in some 43 countries on six continents. What unites them? "A common standard in their artful blend of high style and a strong sense of place." We've selected a few of our favorites below. To gawk over the full list (and some splendid photography), check out the magazine's website.
North America: Thompson Toronto, Banyan Tree Cabo Marques, Rosewood San Miguel de Allende, Andaz Fifth Avenue, The Chatwal, The Cosmopolitan of Las Vegas, The James New York City, The Redbury, Waikiki Edition...
Europe: Sofitel Vienna Stephansdom, Four Seasons Hotel London at Park Lane, The Savoy, Le Burgundy, Le Royal Monceau, Radisson Royal Hotel Moscow...
Asia: Fairmont Peace Hotel Shanghai, St. Regis Lhasa Resort, Waldorf Astoria Shanghai on the Bund, Fullerton Bay Hotel Singapore, W Retreat Koh Samui...
---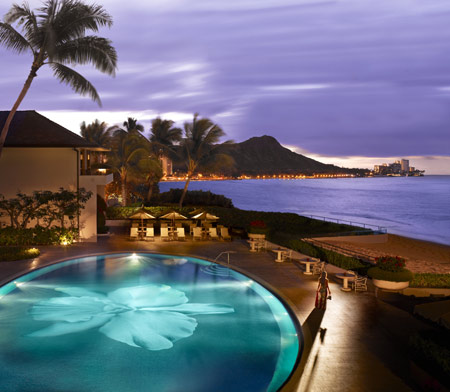 We admit it. We're suckers for a good Top 10 List. (And who isn't?) So when the Toronto Sun recently published their list of the "World's Top Beachfront Hotels," we ate it up. They single out the following:
But where's Peter Island? And those swanky resorts in the Maldives? Or the celeb-mobbed hot spots on St. Barths?
Posted in:
Articles
,
Featured Luxury Hotels
,
Romantic Travel
,
Food and Wine
,
Luxury Spas
,
Beach and Island
,
Europe
,
North America
,
Bermuda & The Caribbean
,
Central, South America
,
Asia
,
Travel Industry News
,
Hot Spots
,
'Best Of' Lists
,
The Practical Traveler
---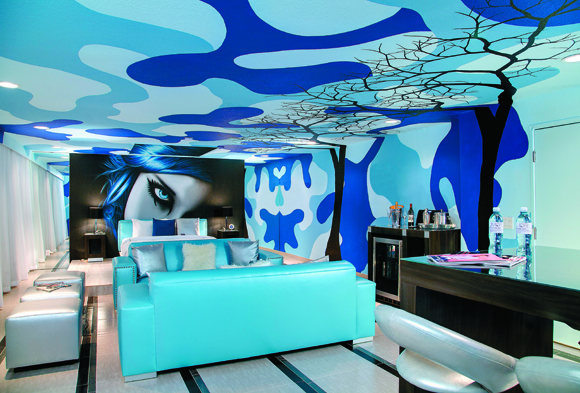 The savvy editors at Travel Agent Magazine have published their annual list of Hot New Hotels (and it has us drooling). "While boutique hotels continue to be all the rage in the U.S. and Europe," says the mag, "mega resorts dominated the Asian market in 2010." Below find a selection of some of these gorgeous properties. For the full global list, check out the article.
U.S. and Canada
Eventi, a Kimpton Hotel, New York City
Four Seasons Resort and Residences Vail
Hotel Le Germain, Maple Leaf Square, Toronto
The Ritz-Carlton, Dove Mountain, Arizona
---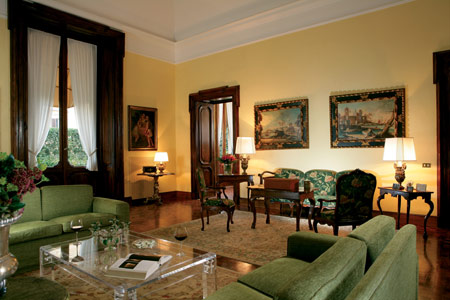 Hotel-obsessed travel addicts will want to check out the list of the "50 Best Hotels in the World" compiled by The Telegraph. Encompassing all budgets, the list of all-time favorites includes off-the-beaten path gems alongside the more popular icons. We weren't surprised to see the Hotel Villa Spalletti Trivelli-- among some of our other favorites-- make the cut. Here's what the editors had to say about the Villa:
The spectacular Roman town house of the blue-eyed and blue-blooded Count Giangiacomo Spalletti Trivelli has been turned into the city's most aristocratic luxury hotel. Ideally placed between the shopping street of Via Nazionale and the presidential palace, this antique and art-stuffed palazzo boasts opulent interiors of such historic significance that they are listed by the Italian heritage ministry. But there's no haughtiness or condescension: the customer is king here and from the spa to the turndown service, it all works to perfection.
---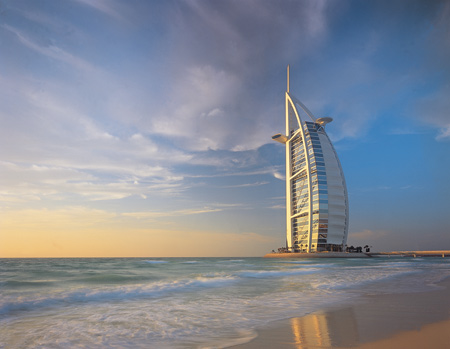 Curious about the tallest hotels on the planet? Do any hotels in the Americas make the cut? Web Urbanist just published the Top 10 List, and it's making the Internet rounds. Burj Al Arab-- the sail-shaped wonder soaring over the beach in Dubai-- lands on the list, along with two other Dubai properties: The Rose Rayhaan by Rotana and Jumeirah Emirates Towers. The rest of the buildings can be found in cities across Asia: The Baiyoke Tower II in Bangkok, The Cullinan I in Hong Kong, the Grand Lisboa in Macau, The Lanko-Grand Hyatt Hotel in Chongqing, Swissôtel The Stamford in Singapore, Oasis Skyway Garden Hotel in Shanghai, JR Central Hotel Tower in Nagoya, and Ryugyong Hotel Tower in Pyongyang. Check out all the photos here.
---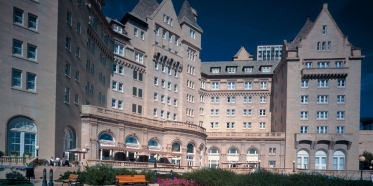 Most people want romance on Valentine's Day, but sometimes when thing just aren't going our way, that's the exact opposite of what we seek. So I figured I'd save you some time and find the most un-romantic place on Earth. First a couple ground rules: I ruled out anywhere that is currently in the midst of major turmoil, and I fully acknowledge that ANYWHERE can be romantic if you're with someone you love. So take all this with a grain of salt. Now without further ado, the most un-romantic place on Earth is Edmonton, Alberta, in Canada.
And before they get their lawyers ready to sue me, let me state for the record that the lack of romance doesn't mean a lack of luxury. Nor does it mean a lack of adventure, in fact quite the opposite, Edmonton is filled with adventure. The skiing is top class, in fact all the winter sports are unrivaled in this part of Alberta, with the Canadian Rockies within sight from any vantage. Winter sports, of course, dominate this part of the world, especially with a day time temperature of 18 degrees as I write this. Fahrenheit, mind you, and if you don't think being frozen is so bad, Edmonton just might be right for you.
Again, though, this is for the adventurous, and Edmonton has adventure in a more temperate setting: The West Edmonton Mall. Before you scoff, let me point out that this is not just any mall. In fact, it's the largest in North America and boasts not just a full-sized amusement park, not just a waterpark, not just a miniature golf course designed to look like Pebble Beach, not just an indoor aquatic habitat for sea lions that includes a replica of Christopher Columbus' Santa Maria, but also a bowling alley, arcade, movie theater, pool hall, and performance arena that some of the world's hottest acts have graced. That goes along with more than 800 stores and restaurants. I'm almost out of breath as I type this!
And while the West Edmonton Mall is incredible, and worth the visit, it's hardly romantic. But it sure is fun!
There are two hotels worth your time in Edmonton, and I can't recommend them highly enough. The first, alphabetically of course, is the Fairmont Hotel Macdonald, a luxurious property that will fulfill all of your un-romantic notions (and gosh darnit, if you must, a few romantic ones too). Built in 1915 and resembling a French castle, this Chateau on the River will charm you from the word go.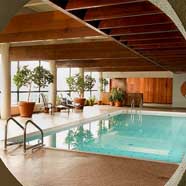 Also in Edmonton is The Sutton Place Hotel. Modern and warm, this sultry property will indulge your every whim. For the highest rollers in the audience, ask for the Royal Suite, a two-story indoor palace.
Finally, if you're dead set on romance, you can always take a short drive to Banff, where the Post Hotel in Lake Louise will knock your socks off! I suggest keeping them on, though, as it gets a wee bit chilly in the Great White North.
As they say in Canada, "Have a nice trip!"
Editor's Note: Disagree with our writer about Edmonton? Let him know in the comments section below why you think Edmonton is romantic, or where you think the least romantic destination might be...
---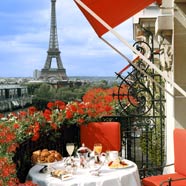 There are two things I value above all else: Luxury and Romance. Finding each individually is hard enough, but finding them together is nearly impossible. So I did what most people do when they are looking for something. I googled it. I entered simply, "Romantic Luxury Getaways", and let the computer do the work for me. And I implore you to do the same. Go ahead, I'll wait right here until you return. Don't worry, it won't spoil the ending…
Back yet? Okay, what did we both find? First, it was some of the great hotels of the world. And amongst them, of course, the city that appeared again and again: Paris, France. Not Paris, Texas, nor Paris, Arkansas, both of which I've visited and can say are truly unromantic. Paris, France, on the other hand, is, cliché or not, simply the most romantic city in the world. Luckily for us, it also offers some of the most luxurious hotels in the world.
Before I get into that, and therefore before I list which of Paris' finest are my favorites, I want to tell you why Paris is romantic. You may now be grumbling about your last visit, or maybe your last 5 visits, and how you know very well what is and is not true about la belle ville. I've been several times myself in the last few years, and in fact lived two years in Paris on the Left Bank in my marauding early-20s. And yes, while I have the advantage of ordering a Domaine Romanée-Conti in heavily accented French, I've learned that in Paris anyone can find romance.
Where? I found it on the terrace of a café in an alley at a hole-in-the-wall Moroccan restaurant that no longer exists. The place was run down, the couscous overcooked, and yet when I raised a glass of Burgundy and toasted with the sweet, brown-eyed girl underneath a canopy of stars illuminating the French summer night, I didn't want to be anywhere else in the world. Months later, a ring tucked deep in my pocket, I strolled down to the banks of the Seine, heard the muted stir of the river below, and found myself on one knee asking her to be with me forever. We returned for our honeymoon, and several trips thereafter, and Paris never let us down. The gray hair on my temples has never kept the romance at bay, and I still raise a toast with the brown-eyed girl on the other side of the table.
Now, though, when I go to the world's most romantic city, I stay at the world's most luxurious hotels. And why not? Luxury and romance go hand in hand, just as my hand goes with hers each and every morning when I wake up, and just as our lips come together each evening to say goodnight.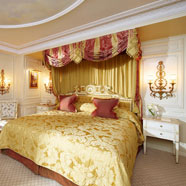 So make romance yours at L'Hotel de Crillon. This hotel is not for the overnight traveler. In fact, the pre-revolutionary construction is in classic Louis XV style, and will tantalize patrons with a stunning location only steps from Les Champs-Elysees, and make a stay of any length too short.
If you're looking for a taste of the Belle Époque, seek out the Ritz Paris. Erected in 1898, the Ritz underwent a stunning renovation in 2010, and is known for its famous guests, more recently (Elton John) and a few years ago (Marcel Proust).
Finally, if you prefer views of the Eiffel tower from your flower-filled balcony, charm your loved one with a stay at the Hotel Plaza Athenee. Luxury is a given, romance an absolute, and with four restaurants on site overseen by the eminent Alain Ducasse, you'll have the best of Parisian dining just steps away.
One final note: If you're thinking of buying her that ring, or perhaps telling him that you love him all the more after all these years, don't wait! Seize the moment! Paris may endure and always be waiting, but perhaps he or she won't. Bon voyage!
Posted in:
Articles
,
Featured Luxury Hotels
,
Romantic Travel
,
Food and Wine
,
Luxury Spas
,
Europe
,
'Best Of' Lists
,
Museums
,
Luxury Suites
,
Luxury Shopping
,
Weddings and Honeymoons
---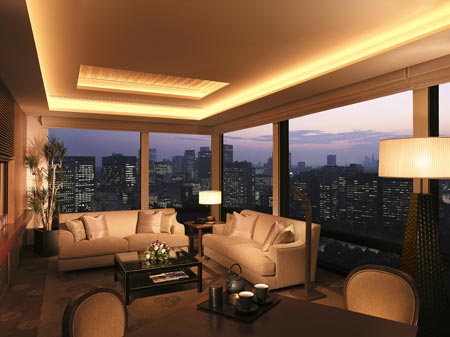 Awards season is upon us. Not only are we getting our red carpet fix (celebrities in haute couture dripping Fred Leighton diamonds), but we're also getting the scoop on where to sleep around the world-- as top travel magazines are coming out with their lists of the world's best hotels. It's no surprise to see that The Peninsula Tokyo nabbed the award for "Best Asian Hotel" in Conde Nast Traveler's 2010 Reader's Choice Awards. The awards ceremony was held recently at the IAC Building in Manhattan and hosted by Angie Harmon and Liev Schreiber. The Peninsula's General Manager accepted the award from actress Kelly Rutherford. The Peninsula Tokyo deserves top honors-- for its in-room technology, jaw-dropping views, and hip hotel bar.
---